Google+ Still Getting Buzz, Making Waves
Google+, Google's latest answer to the Facebook question, launched last week, and the fact that people are still talking about it could be a good sign for the search giant/social giant wannabe. Could it be that Google+ isn't destined for the Google graveyard?
On the Plus Side, It's Better Than Buzz
Danny Sullivan took a look at Google+ one week after launch and finds that users are gaining followers and traffic. He points out that it took 17 months for Search Engine Land to get almost 1,000 followers on Google Buzz. In the same time period, its Facebook fans increased by nearly 16 times as much, and Twitter followers increased by about 35,000. And in just one week, Search Engine Land has 1,000 followers on Google+, indicating that it's a lot more successful than Buzz right out of the gate.
Danny also notes that Google+ is driving real traffic:
MG Siegler did a post yesterday saying that TechCrunch was noticing "large" amounts of traffic coming from Google Plus. That resonated with me, because I'd just checked our stats before his piece came out and had the same "wow" reaction.
In particular, for the past three days, links that we've put out through our Search Engine Land account have generated about 750 visits per day from Google Plus. That's not far behind our Facebook page, which has sent about 900 visits per day. 
The bottom line, he says, is that Google+ is definitely beating the pants off Buzz as a social network, even it's too soon to make any declarations about its success overall:
It's still incredibly early for anyone to be declaring the success or failure of Google Plus. The service has a long way to go, and still much to prove, as the new social network smell begins to wear off. Will people stick with it, especially those who aren't early adopters with the special invites?
We'll see. But I do feel confident in saying that after its first week, Google+ seems a far better success than Google Buzz was.
Is There Hope for Google+ In the Long Run?
This question of whether or not Google+ can or will succeed is definitely top of mind. And of course, the comparisons to reigning social king Facebook are inevitable. On Wednesday, Facebook held a press conference to announce an "awesome" new feature: Skype-powered video chat, as covered by Megan yesterday. But, as The Next Web points out, it really doesn't seem all that awesome next to Google+ Hangouts, which enable group video chat. In comparison, Facebook's "Fype" feature doesn't look very social. Brad McCarty writes:
Facebook has announced a very simple, quite elegant way to do 1-to-1 video calling. While that's great for many users, it's missing the overtly-social aspect that Google+ already has with its Hangouts feature which allows for group video calling. That 1-to-1 fact, though Zuckerberg correctly states that it's the vast majority of video calling, is simply too limiting…
What's more, assuming Facebook plans to launch group video calling in the future, by then Google+ will have been doing it for some time, leaving Facebook to appear 'behind the times'. Secondly, how will it do so in partnership with Skype when Skype currently charges for group video calling? Can we assume Facebook will have to charge its users for group video calling? Will Facebook pay Skype for the feature? These are the limitations and complexities of working with a company that specialises in a certain feature as opposed to building the product internally yourself. In that respect, Google will forever remain a step ahead.
The Next Web also released the results of a survey of Google+ users. Of more than 1,000 respondents, about 90% said they like the new platform, and about 2/3 said they prefer it to Facebook! Surely, these results are biased, since early adopters of Google+ might have signed up due to existing disillusionment with Facebook, while diehard Facebook fans are ignoring Google+ altogether. Still, it's promising that users are finding value and not just saying, "What's the point? Why would I leave Facebook for this?" Or, as Paul Sawers writes, "With around 700m users, Facebook isn't likely to be overtaken by Google+ any day soon, but at last Facebook just might have a genuine competitor."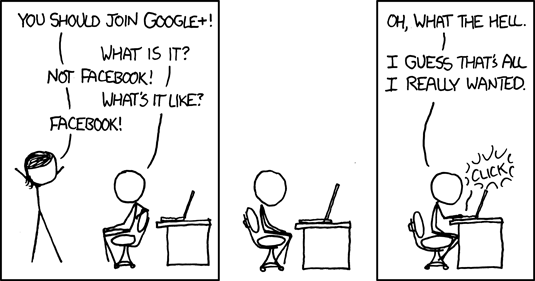 Will Businesses Be Forced to Use Google+?
Jay Baer of Convince & Convert also thinks Google+ has a legitimate shot at success, especially when it comes to business use. His "initial, abbreviated take" on the platform is that's it's "essentially a Facebook Twitter hybrid with outstanding ease-of-use and eye-popping potential." But in this post, he focuses on the business potential. He says that Google realized a while ago that web currency is not all about pages and links anymore:
That huge shift away from Pages and toward smaller pieces of sharable content ("Edges" in Facebook's parlance) created a major problem for Google, whose empire is built on the primacy of the page, and the latticework of connections between them.
PageRank was devised to provide for Google users the best possible search engine results. Philosophically, Pages with more and better other Pages linking to them must be better content, and each link counts as a "vote" for that Page. But when the dominant form of expression became something smaller than a Page, and our votes of content confidence became expressed by social sharing and other behaviors that differ from "I'm going to link to this website from my website" Google found itself trying to play web page ranking poker with less than a full deck of cards. It was trying to do a very difficult job with incomplete information.
So the answer was to create a platform that would give it that social information:
This leaves Google with more "social signals" to bake into their search algorithm than they had originally – because they have Twitter data – but Twitter is used by just 8% of the U.S. and Google isn't in the 8% business, it's in the "we're taking all the marbles, and the sack they came in, and you might as well give us the chalk you used to draw the circle while you're at it" business. Consequently, Google has tried to invent a source of social signals to give it the scoring information it needs to stay on top of the relevancy heap in an ever-expanding Web. Orkut. Google Buzz. To some extent Google Wave. Picasa. None of them got even Twitter-level traction, much less Facebook.
Google+ will succeed where Wave failed, Baer says, because instead of trying to reinvent the wheel, they've taken the best of what Facebook and Twitter already offer and put them in a new package – they "simply did it better." And because Google has baked-in integration with so many other applications and tools, including Gmail, YouTube, Analytics, Maps and of course its browser, Chrome, it's poised to do a lot of things that Facebook can't do. And, it has a lot of traction with businesses because "Any clicks and +1 (Google's version of Facebook 'like') your business content receives on Plus has a direct impact on your organic search engine rankings, while your Facebook activity continues to have no impact."
Meanwhile, at Search Engine People, Ruud Hein says that "Will Google+ Succeed" is simply the wrong question. You have to ask what it's trying to do first. Like Baer, Ruud believes that Google+ exists to give the company a reliable source of social signals to assist in search rankings. And by that measure, the platform already is succeeding:
The beauty is that it's a win-win project.
If a large enough number of people participate the signals matter in one way. If a smaller number of people do, the signals matter another way.
In the end social signals matter. Always.
In other words, even if Google+ remains on the fringe, it could provide huge value to the company. It doesn't have to beat Facebook to give the company what it needs.
So How Do You Use Google+?
Convinced it's a winner? Want to get started? At this point, it's only open to a small group, but if you've got an invitation, here's a complete guide to getting started with Google Plus from Kristi Hines at Social Media Examiner.
More Web Marketing Highlights
Will Critchlow thinks there's huge untapped potential in Q&A content. There's a "a clear need and opportunity" for this kind of content in the SERPs: Why not provide it?
Julie Joyce has some creative tips for budget-conscious linkbuilders, such as answering questions on Q&A sites (see above!).
Alex Cohen wrote a long, interesting post on how inventory feeds are changing paid search advertising. Key quote: "It used to be that a product could only be marketed towards a particular set of keywords with a text result. Now, one product can appear in up to three places with different messaging and presentation in each place. The question for retailers, then, is 'How do we increase our exposures as profitably as possible for our product catalog and data feeds?'"
And, just for fun, please check out these delightful self-portraits taken by monkeys. You won't be sorry.
Have a great weekend, folks!
Find out if you're making mistakes with Google Ads.
Find out if you're making mistakes with Google Ads.