3 Tools for Pinterest Analytics and Monitoring
I have to assume that by now you know what Pinterest is. If you don't, I have only one question for you: How long have you been living under that giant rock? Because Pinterest is one of the fastest growing sites and trends on the web, with people going crazy over it.
Where once the major addiction was Twitter and Facebook, now there are users constantly pinning images to their Pinterest board and sharing pictures with friends.
Pinterest has been announced as the #1 traffic referral for many image-friendly sites. While being an effective buzz marketing tool, it's yet that effectively tracked. Feel free to skip ahead to a tool of your interest.

Pinterest Analytics Tools: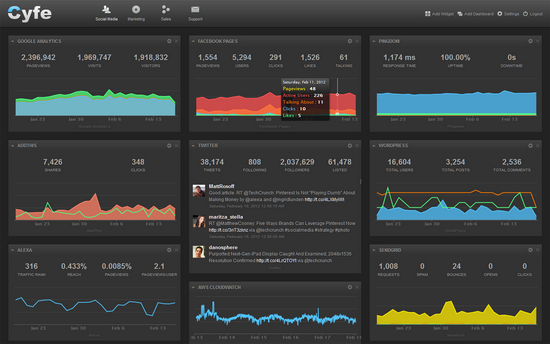 This program doesn't just cover single site analytics. It monitors all of your business and social media profiles for data, and puts them all in one place for real-time reports. They have a very basic version for free that has five widgets and unlimited dashboards. From there, you get more features, such as users, real-time sharing and custom branding for $9, $29 and $49 per month.
The free option is a good way to go if you want to try it out and see if you like it before committing to spending any money. It is one of the few dashboards that have been created with Pinterest as a monitoring option, but it has a number of others like Pingdom, Constant Contact, SalesForce, Add This and dozens of others.
Two ways to monitor your Pinterest activity using Cyfe:
Add "Pinterest" widget to track your pins, likes and following numbers.
Create an RSS feed of the Pinterest "source" URL (see the above section for instructions) and feed it into Cyfe.

An obvious tool that many use for their site referral monitoring is Google Analytics. But it might not have occurred to you to put it to use as a social media monitor.
Here are detailed instructions on how to set Google Analytics to track your website referrals from Pinterest.
Pinerly is your Pinterest account analytics tool.
This dashboard is specifically designed for Pinterest. It allows you to follow and unfollow pinners, schedule pins on your own board, find popular pins and get stats on what is being pinned right now, or involving you and your brand.
Conclusion
Pinterest is becoming an ever more important part of social media marketing. If you have thought of using it, these tools will allow you to monitor your progress and get real data to help you along the way.
Find out if you're making mistakes with Google Ads.
Find out if you're making mistakes with Google Ads.