Take a trip back to high school with me real quick. The day everyone looks forward to. The release of…

 🙌    the y e a r b o o k   🙌
You paid to be in it. You paid to get your copy. And now it's yours. But do you start at page one? No no. The order is as follows: Your own picture. The senior superlatives. The teams or clubs you belong to. The rest.
My point is, we don't just love to reminisce. We love to read about ourselves. See the fruits of our investments. Feel a part of something bigger. And it is with this point in mind that I'm sharing with you today how to write a year-in-review email for your customers that they will actually read! Read on to learn:
Why write a year-in-review email
How to keep it customer-centric
Lots of ideas and examples to inspire you
Why write a year-in-review email?
In addition to being something people are generally interested in, sharing a recap also has business benefits. It can:
Strengthen confidence in your business: Celebrating your growth and achievements from the year reinforces your dedication and competency within your industry and affirms your customers' decision to choose your business over competitors.
Maintain loyalty: Customers appreciate when you share what you're proud of with them. It tells them they are a part of your community and you value their opinion. It also reminds them of how hard you work and gives them reason to continue supporting you. And on the flip side, when you express appreciation for their support, you strengthen the bond that keeps them coming back to you.
Reduce churn: When your email tells your customers what they have accomplished, it reminds them how much your product or service helped them achieve success and inspires them to accomplish even more next year—keeping them engaged with your product.
Take a look at the example below by emagazine platform Texture, which shares a reader's minutes reading compared to all users and even money and trees saved.

If I were a Texture customer, I'd be motivated to beat everyone's average,
save more money, and spare more trees next year. (Image source)
End-of-year/year-in-review email ideas
There are a few different ways to write a year-in-review email. Depending on your industry, audience, and resources, you might choose one or any combination of the following:
1. Growth stats
Share stats and facts that show how you've grown, such as: reached x customers, welcomed x new team members, opened a new location, moved to a bigger office, launched a new partnership.
Avoid vanity metrics or offputting stats like number of social media followers or upgrades.
2. Milestones & achievements
Look back on some of the intangibles, like awards or nominations, successful events, new or improved products, features, or services,  anniversaries, or big projects like a rebrand, new site launch, or acquisition.
3. Account-specific reports
People love when someone else talks about them or celebrates their achievements. Spotify's Wrapped is a quintessential example of this type of year-end recap, but it's great for any device, app, or account with individual stats,
This is also popular for SaaS platforms with analytics.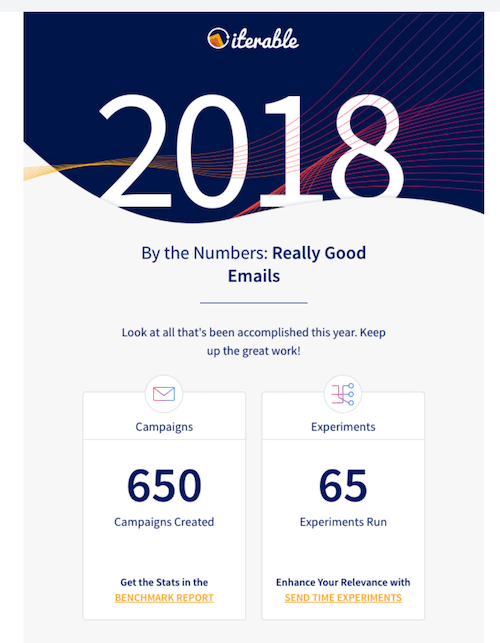 4. Superlatives
Sharing stats and data for every account can be resource-heavy and sometimes runs the risk of syncing issues or data not loading. Instead, you might take a look at your behavioral data and identify trends from your customer insights, like the top-selling products, most popular blog posts, most shared social media posts, most popular product of each month, and more.  
5. Industry stories
Some businesses will have access to more interesting information than others for the above ideas. If you can't quite come up with something compelling, consider recapping some top stories or interesting stats of the year in your industry and for each one, share a brief reflection, action you took, or relevant tip. 
Year-in-review email tips
In addition to regular email marketing best practices, follow these tips to make your year-end email the best it can be:
1. Keep it separate from your holiday greeting or promotional emails
A year-in-review email should be different from your customer holiday greeting email and promotional emails. Your greeting email should be 100% customer-centric, focused on appreciation and gratitude. Your promotional emails will of course be conversion-focused. Your YIR email falls in the middle of those two, showing appreciation but in a way that encourages the reader to continue using your business. 
2. Use numbers
You'll notice in just about all of these examples there are numbers. The people love the numbers and the tangibles.
3. Visualize it…
Don't just give your readers a bunch of text. Create a timeline or a journey path, include pictures or graphics, or even create a video.'
4. …but keep it mobile-friendly
This is a great visual by Big Cartel, and even though it appears as though it has a link to a page with the graphic and perhaps more details, the image in the email requires zooming and shifting, not a natural scroll.

5. Make it customer-centric
Always make it about them! This is easy if you have customer data or achievements to share, but not necessary. The example above reads:
2015 was a huge year for Big Cartel –  not only for our team, but for the army of talented artists who build their businesses with us. Thank you for making our favorite moments from this year possible, and for being a part of this incredible community.
The example by Wix below does this as well, saying, "Before we jump into 2018, let's look back at the most memorable moments of last year and see what we achieved together."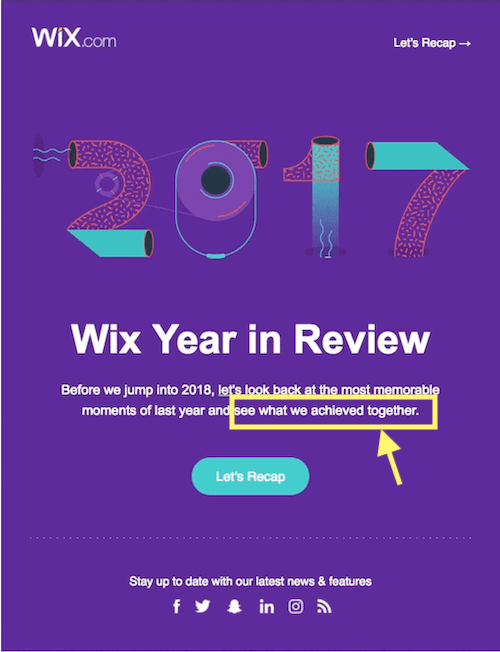 So frame your accomplishments as achieved because of your customers—through their support, their use of your product, their reviews, feedback, votes, social shares, and more. 
5. Thank your readers
Do NOT forget this part. The Wix email above nails the "togetherness" but fails to thank its customers. I'm sure the post it links to includes this, but it's still important to include it in the email itself.
Thank you for choosing Texture for all your reading needs!

It's all possible because of our incredible community of customers and contributors! THANK YOU!

Great work this year and thank you for being such an integral part of our growth in 2021.
6. Don't create a landing page disguised as a thank you
Remember, frame this email as a celebration of growth, achieved with or made possible by your customers. The email below has an attractive, clean, and readable design, but although it reads "A year in review," and "Thanks for being a part of our creative community," the email copy does not support that.
Moreover, it closes with "Haven't taken a class yet? Start today and join our growing number of students!" with a CTA to enroll.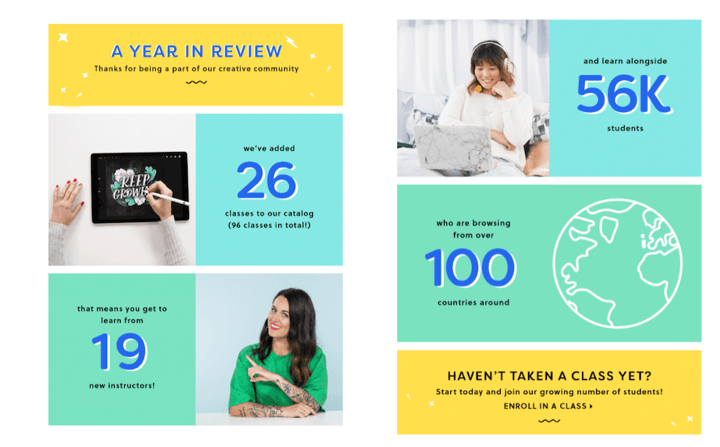 Great design, not a year-in-review. (Image source)
The numbers could still work in a year-in-review email, but the language is not framed as accomplishments made together. It feels like a sneaky disguised landing page—a good way to lose customers.
7. Make it actionable
There are a number of ways to make your year-in-review email actionable:
Provide recommendations based on the information you include.

Share only a snippet and include a link for them to view the full review in a blog post—a good way to drive traffic to your site.

For B2C, give them the option to share their numbers on social.

For B2B, make it easy for them to share the report with the rest of their team. 


Year-in-review emails are great for generating leads and conversions, engaging your audience, and retaining customers. This is not your holiday thank you greeting to your customers, so it's also okay—and encouraged—to include a call to action phrase, such as to
Sign up for your newsletter
Follow your social channels
Shop your store
Learn about an upgrade
Continue using your platform or app
That's a wrap for 2017. But we can't wait to share what next year has in store for creators, brands, and video lovers like Y-O-U. Until then, upload away and keep our screens glowing bright.
8. Get customers excited for the new year
Having a CTA at the end adds in the element of a continued relationship with your customer into the next year, but you can turn things up a notch with a little teaser.
In a weird way, 2018 was all about 2019. We can't tell you everything that's coming this year, but take our word for it—there's never been a better time to upload and do more with your videos.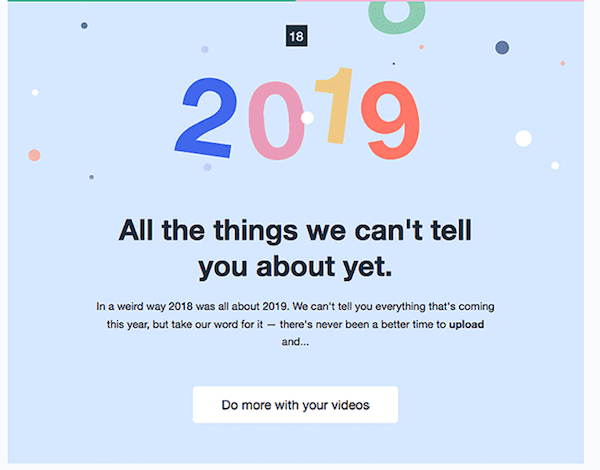 Year-in-review email examples
Let's take a look at a few more year-in-review email examples that you can steal ideas from. 
1. SiteGround—coverage turned into a contest
SiteGround's year in review also doubles as a raffle for a pair of custom Bose headphones. It takes you through a journey of updates, announcements, and milestones, collecting points for you along the way. The further you scroll down the page, the more points you collect and then those points go into your raffle. This is a great way to highlight your accomplishments and brag a bit about your business while keeping it customer-centric.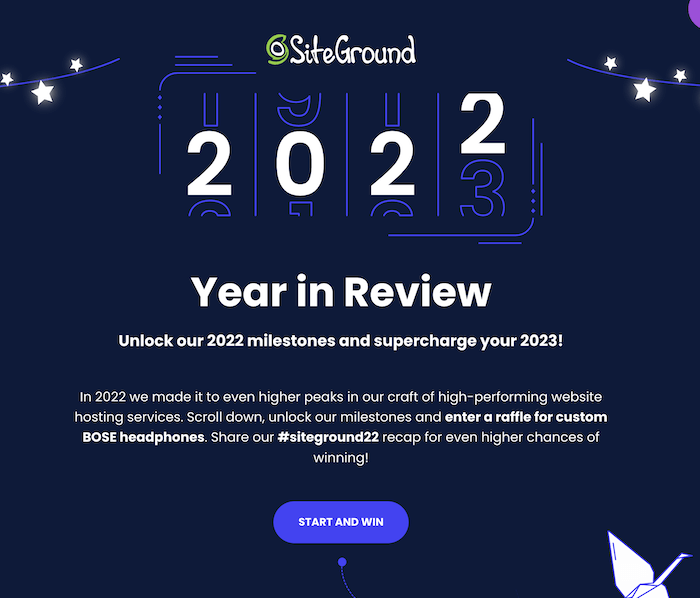 2. Vimeo—engaging, but one thing missing
Vimeo's Top 18 Hits of '18 email shows some impressive design work: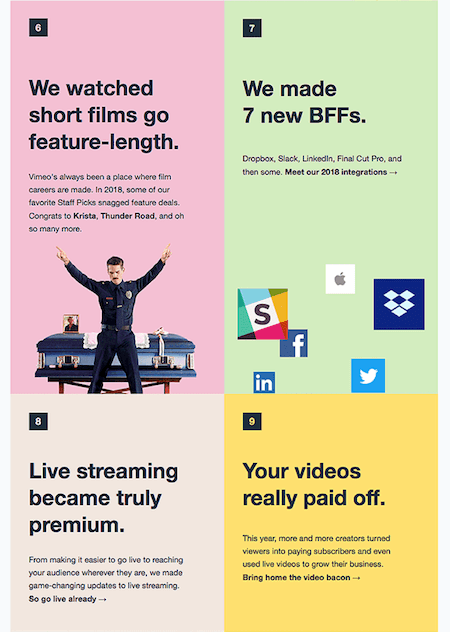 It's clean, colorful, and readable, and shares a mix of information types. But while this year-in-review email is engaging, it's all about Vimeo. There is no customer appreciation!
We couldn't be more excited for 2019. But before we get ahead of ourselves, lets remember that a lot happened in 2018. Like, a lot. Let's wrap an amazing, video-opacked year with our greatest Vimeo Hits.
I'd be willing to bet that Vimeo had a separate end-of-year customer appreciation email, but it's still important to incorporate it here as well. 
3. Campaign Monitor—superb customer centricity
This is actually a blog post, but Campaign Monitor does such a fantastic job of sharing its growth and achievements of the year in a customer-centric and creative way, I had to share it.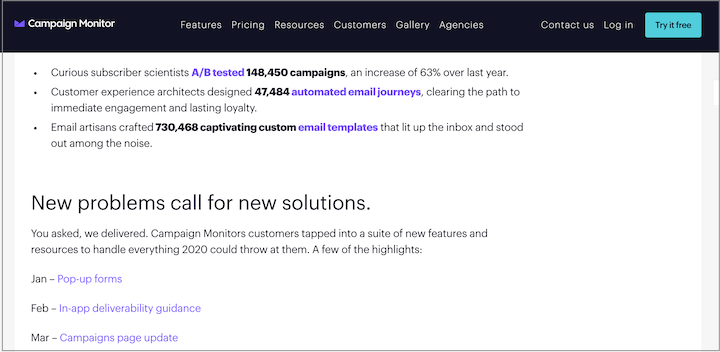 Some key callouts:
When sharing platform usage stats, Campaign Monitor makes its customers feel proud by calling them "curious subscriber scientists," "customer experience architects," "email artisans," and more. In fact, we could add these to our power words list!
Instead of boasting that its platform was used by 416,422 marketers to send 30.7 billion emails in 192 countries—the simple heading of "Your subscribers turned to the inbox more than ever," shifts the tone to celebrating its customers' importance.
Before sharing the new features it released each month, the heading turns it into a collaborative achievement with "You asked, we answered" and what its customers "tapped into."

Campaign monitor shows genuine appreciation for its customers with phrases like: 

"

When times got tough, Campaign Monitor customers got smarter," and "

You rose to the occasion with tenacity and ingenuity, " and

​​​​ "

We were honored to be with you every step of the way."

"It's all possible because of our incredible community of customers and contributors! THANK YOU!"

Finally, you get something to look forward to:
Look forward to a long list of new tools, resources, and inspiration coming in 2021, starting with our much-awaited annual Email Marketing Global Benchmarks Report. Keep an eye out for it early January!"
4. Wix—short & (mostly) sweet
Wix's approach makes this a short and sweet email that grabs your attention at the start and sends you to its website to view more.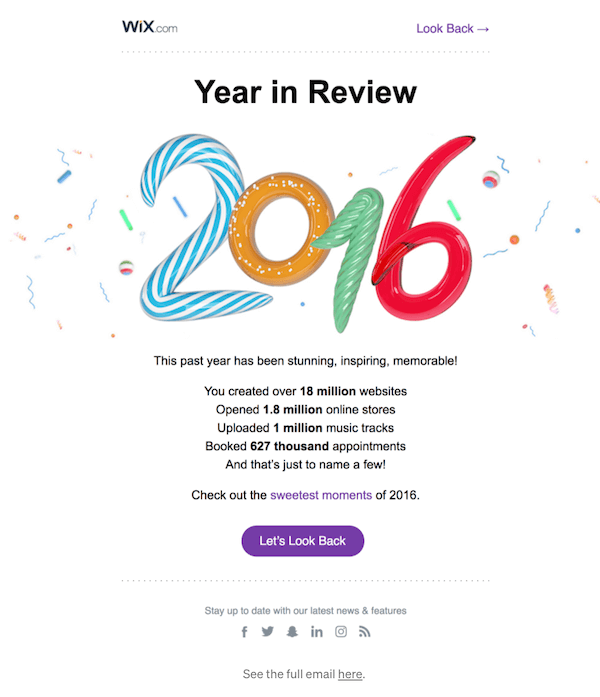 Again, the full post most likely ends with an expression of gratitude, but there's enough information here for a reader to leave it at that, so something like "Check out the sweetest moments of 2016, made possible by you!"
5. Strava—comical, relatable, watchable
As a cycler myself, I appreciated this email example. Plus, not only did Strava make the email more engaging with a recap video and super conversational tone, but it also included some numbers right in the email to make it satisfying on its own.

It's time to celebrate your 2017 on Strava. You toed the line, you dug deep, you achieved (and maybe made some crazy faces and noises along the way). Check out this personalized recap of your year, and kudos for being a part of Strava's incredible community of athletes.
6. Classy- top blog posts
This email starts with:
Grow, engage, convert. Fundraising tips and donor relations were the top themes on Classy this year. In case you missed 'em, here they are again…the 10 most popular posts from 2016.

7. Maison Miru—conversational & cute
This email is the perfect example of how to write emails like a human being. Just the right number of emojis, parentheses, puns, and exclamation points to give the copy and the CTAs a friendly, personable feel.
Hi Stephanie!
Another crazy year (almost) in the books. We're just feeling so lucky we get to do what we do. Some highlights of our year:

We launched our now-signature Nap Earrings 😴 (Poke free and designed for 24/7 wear!)
Our team grew! We hired 2 new awesome Customer Care Associates: Bobbi and Sophie.
We launched 100 Days of Ear Parties, an amazing campaign where we get to spotlight our creative community of dreamers, thinkers, and makers.

We don't want to make any promises we can't deliver on for Christmas shipping (pun intended) – but it's never too late for a gift card! No shipping required, no stress involved.

It's also never too late to get yourself a little something for being such a great and thoughtful gift-giver this year. There's no deadline to treat yourself and you totally deserve it.
With ❤️  from NYC,
Trisha

9. Todoist—a personalized & practical churn buster
Todoist nails it with its "Your Year in Productivity" email, leaving you practically begging to renew your subscription for next year.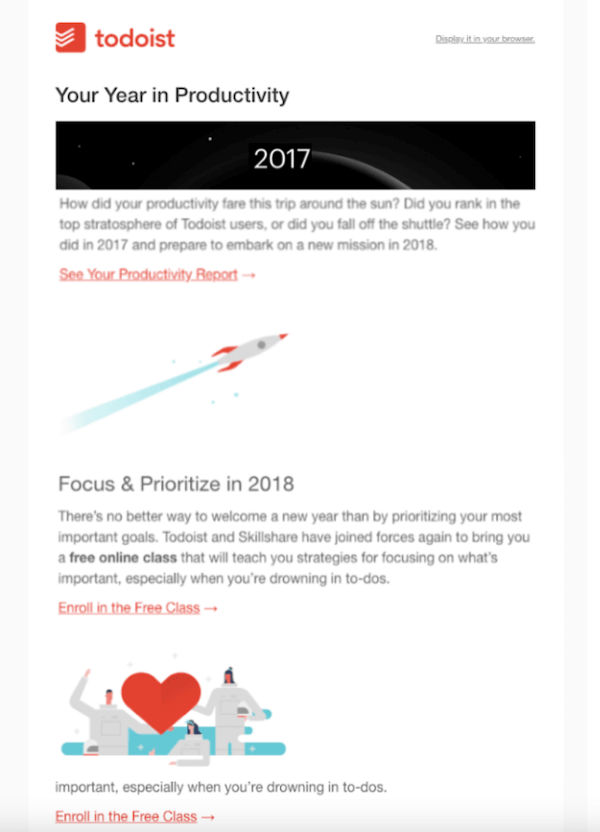 There are three CTAs in this email, but they all work nicely together. The first is to view your report. The report itself is packed with stats, superlatives, and comparison information that will inspire you to use the platform even more in the coming year, and the preceding copy encourages this:
"How did your productivity fare this trip around the sun? Did you rank in the top stratosphere of Todoist users, or did you fall off the shuttle? See how you did in 2017 and prepare to embark on a new mission in 2018."
It then has a CTA to enroll in a free class to improve your productivity in the coming year, and to claim a discount for certain industries.
The only thing it's missing is a thank you! A little customer appreciation goes a long way!
10. LocaliQ
Our year-in-review email provides clients with a full overview of their search marketing achievements for the year, including impressions, clicks, click-through rate, leads, and calls—plus a special promo for 20% off an additional advertising solution. Good stuff if we don't say so ourselves!
With the power of LocaliQ behind you, 2022 was an exciting year of growth. Here are some of your top search marketing achievements that helped you take control of your business goals and prosper. Plus, a special offer to help you continue to seize your potential in 2023.

Share your year-in-review emails!
As you can see, year-in-review emails are a gem of a method to drive business goals at the end of the year while also engaging and delighting your customers and readers. Plus, they're fun. What yearly recap emails do you look forward to receiving? Let me know in the comments!
Want more email ideas and templates? Head on over to these copy-and-paste email templates for any business or download our free PDF: 30 Free Small Business Email Examples & Templates. Enjoy!