How do your Facebook Ads stack up against your competitors?
Find out if you're racing ahead or falling behind—in minutes, for free.
Our promise: We will never share your data or access your contacts. By continuing, you're agreeing to our terms of use and privacy policy.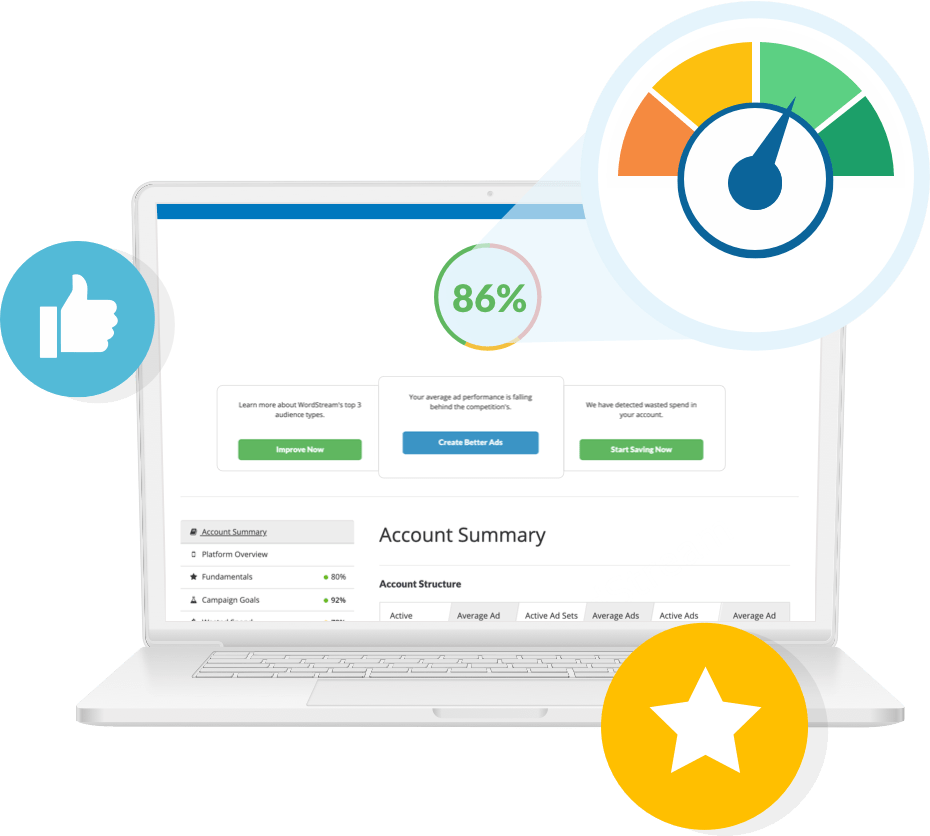 Unlock valuable insights about your Facebook Ads—without paying a cent
Designed especially for small businesses and agencies, our Free Facebook Ads Grader will reveal where you're missing opportunities to reach more people, drive more leads, and capture more conversions for your business. It's the actionable knowledge you need to drive your business goals forward. And it's totally free!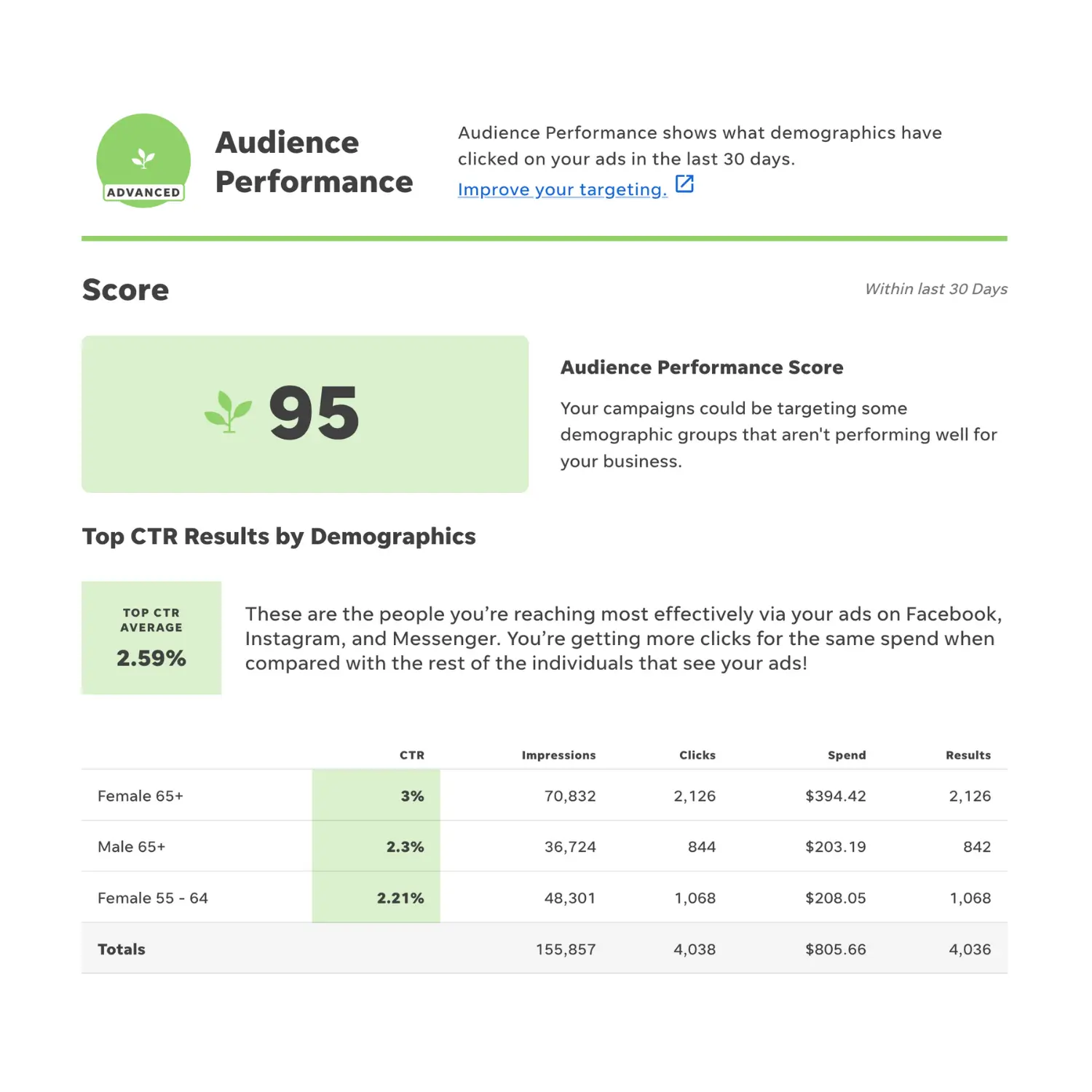 UNDERSTAND YOUR
Audience Performance
See exactly who you're reaching—and how well—with your Facebook, Instagram, and Messenger ads.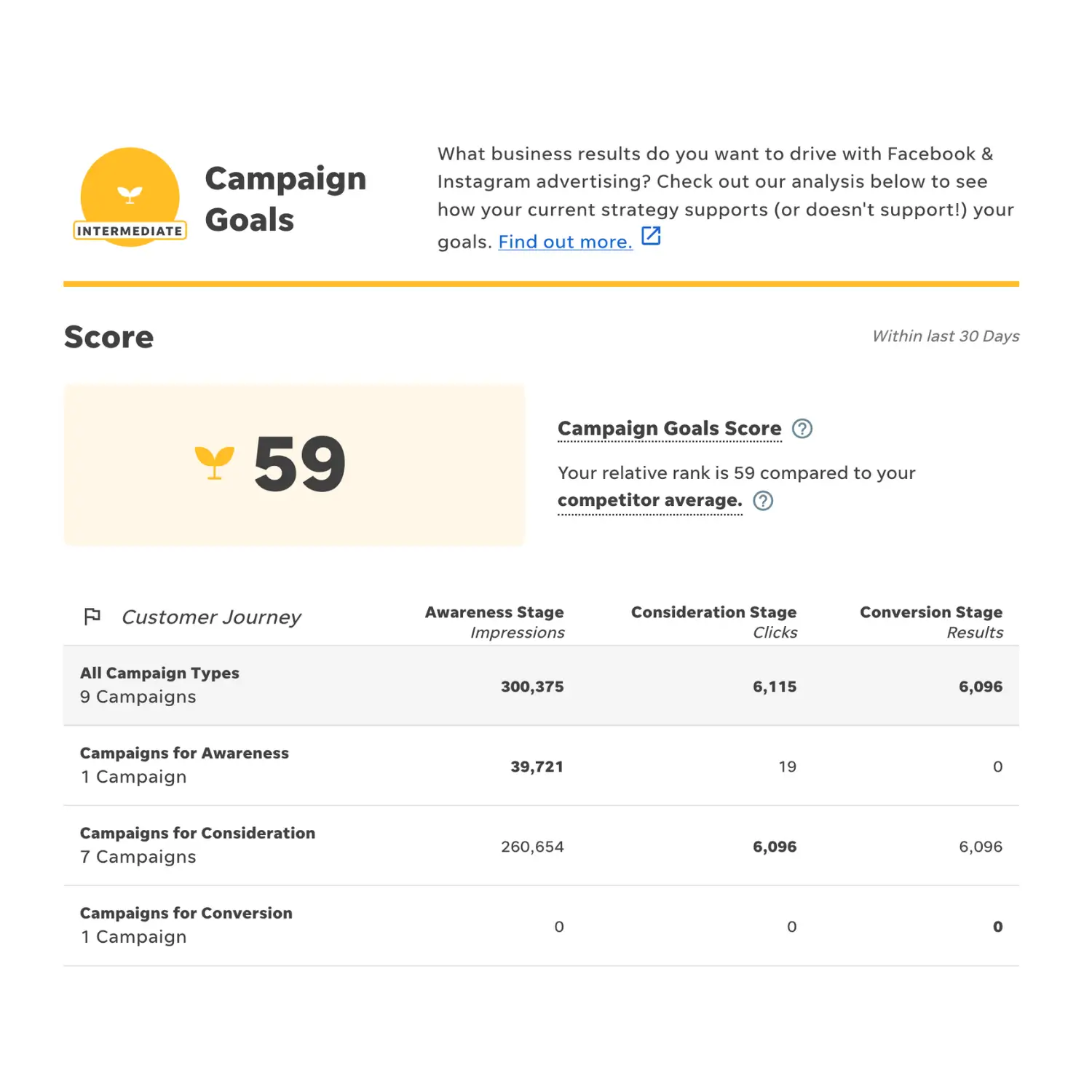 EXCEED YOUR
Campaign Goals
Find out whether your campaign objectives are supporting your larger business goals.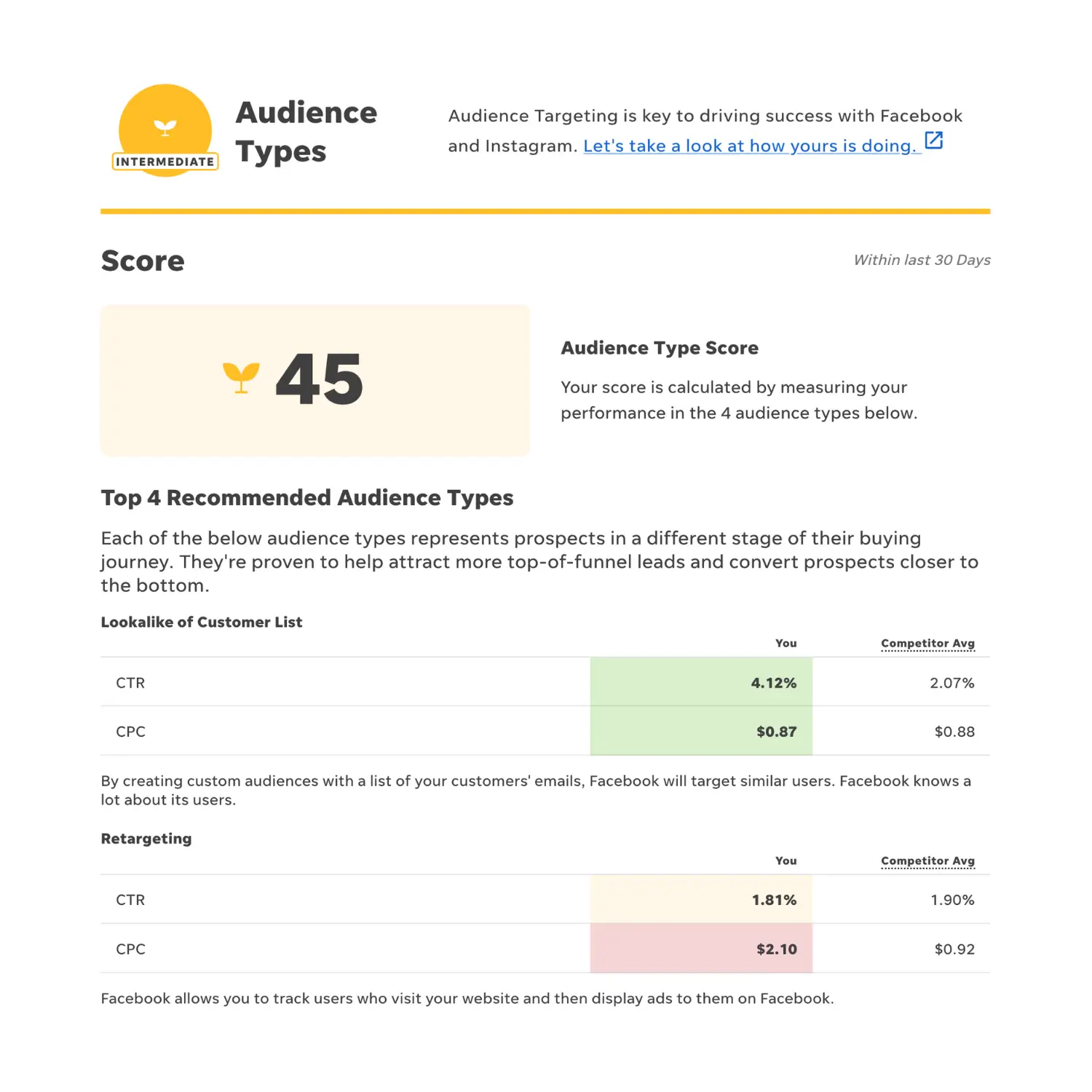 OPTIMIZE YOUR
Audience Types
Make sure you're using Facebook's powerful audience targeting to its fullest potential.

MONITOR YOUR
Account Activity
Keep up with key areas of your account so you can stay ahead of competitors.
Stop guessing—get your grade
Get your detailed report now and start getting more out of your Facebook Ads budget!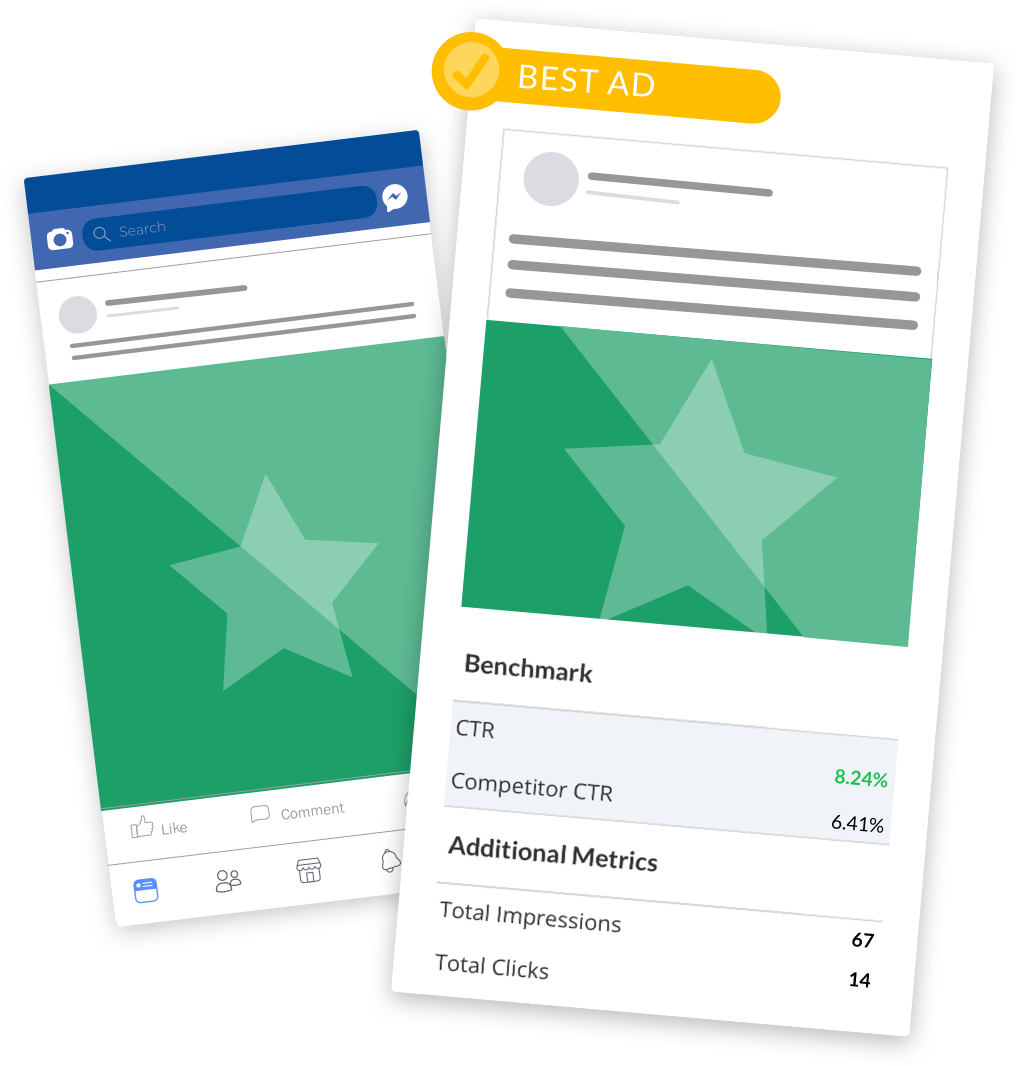 Our expert-identified, tried-and-true Facebook Fundamentals
Audiences your ad sets should be targeting
Placements and platforms you've got to use
Potentially mismatched campaign objectives and account goals
How frequently you're working in your account
Best (and worst!) performing ads in your account
How your ad account stacks up against competitors in your industry
THE FACEBOOK ADS PERFORMANCE GRADER IS
Powered by our Meta Marketing Partnership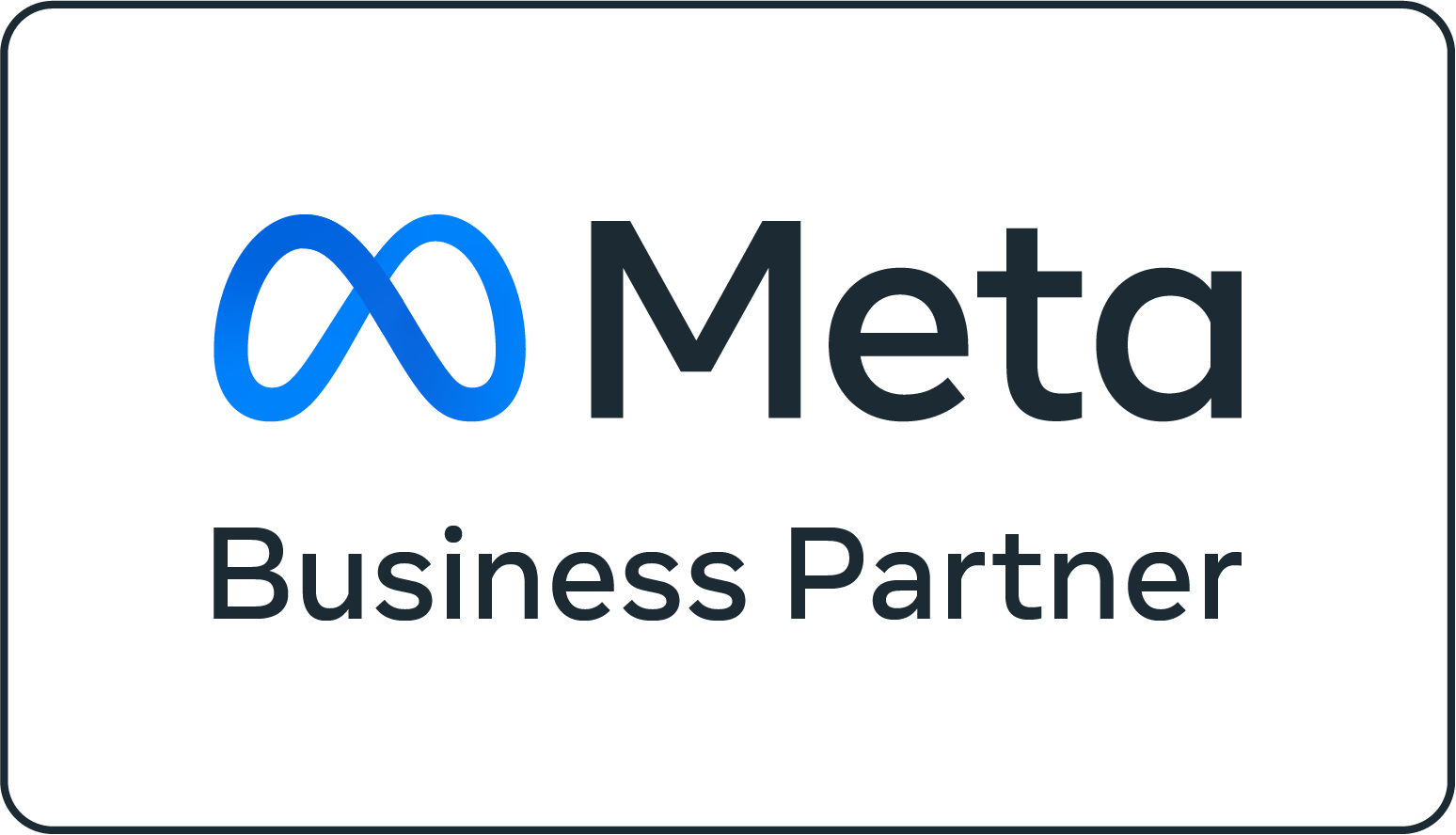 WordStream will only use your personal information and Facebook Ads credentials to analyze your account. We'll never share your Facebook Ads data for any reasons (see our Privacy Policy).
Start driving better results for your business with Facebook Ads
Get your personalized Facebook Ads score today, for free.
Our promise: We will never share your data or access your contacts. By continuing, you're agreeing to our
terms of use
and
privacy policy.
Frequently asked questions
What if my grade isn't what I expected?
Facebook Advertising is incredibly complex, and figuring out how to drive results for your business can feel overwhelming. Good news—you don't have to go it alone!
Regardless of your marketing role or responsibilities, our team of experts can help you identify and build an effective Facebook Ads strategy. Our software and service options provide the tools or extra help needed to resolve any problems revealed in your account. The best part? Our expertise isn't limited to Facebook— whether you're looking to grow your business through Instagram, Google Ads, or Microsoft Ads, we offer a full spectrum of solutions that can be tailored to fit your business needs. You can count on us, as a trusted partner, to help drive meaningful results in your ad accounts!
Why use the Facebook Ads Grader?
Facebook's ad platform gives you a wealth of information on your potential customers and dozens of ways to reach them. It's a great place to introduce your business to prospects you'd never have found otherwise, and sell to the ones who already love your brand.
But with its growing number of targeting options and ad types, and an ever-changing interface, Facebook ads can be frustrating. It's easy to waste your advertising spend, chalk it up as a failed experiment, and walk away.
We don't want to see you miss out on an opportunity to grow your business. That's why we created the Facebook Ads Performance Grader.
The Facebook Ads Grader is a report-based tool that analyzes your Meta (formerly Facebook) Business account, using a combination of best practices and recent performance data to identify existing inefficiencies and surface new opportunities. Use your report's insights to find out where you stand, then optimize your Facebook account and earn more sales and leads through Facebook advertising.
How does the Facebook Ads Grader work?
The Facebook Ads Grader is designed to help advertisers and agencies better understand their Facebook performance. From ad sets to audience creation, conversion tracking to bid optimization, this free tool provides a baseline for both current account health and future optimization.
If you're currently advertising on Facebook, we can securely access and assess your activity (with your permission) to generate a report that details the areas in which you're succeeding and where your account could use some work. Points of analysis include:
Account activity – How often are you making changes in your Facebook ads account?
Performance by audience – How much do your key performance indicators differ based on who you're advertising to?
Ad performance – What are your best and worst performing ads, and how do they stack up to your competition?
Wasted spend – Are your Facebook ads being over-served to the wrong people? Are you paying too much per click?
Best practices – Do your campaigns, ad sets, and ads adhere to the industry standards established by Facebook? Are you making the most of your Facebook budget?
You'll see a score in each of these five areas, with each section's score contributing to a single, overall report score that summarizes the health of your Facebook account.
Throughout the report, we also provide competitors' average performance data based on advertisers in your industry with similar budgets. This will help you see how your Facebook campaigns stack up against other advertisers targeting similar prospects.
If you want to save your report, the Facebook Ads Grader integrates with Facebook, Twitter, and LinkedIn, making it easy to share results with your team.
It's a fast and easy way to audit your Facebook ads account and find any mistakes you could be making. Simply connect your Facebook Ads account to get started!
Does Facebook advertising work?
In short: yes. Why does Facebook advertising work?
According to data from Pew Research Center, 70% of U.S. Facebook users access the site daily and 43% log on multiple times per day. 82% of the millennial demographic are among the most engaged Facebook users. Further, Facebook ads generate 22 billion clicks per year with a reach of 1.6 billion active monthly users.
Not only do Facebook ads have extensive reach already, Facebook itself continues to grow. By utilizing the data on active Facebook users, you can access thousands of custom audience parameters to create targeted audience segments for your campaigns. You can also create custom audiences by uploading data on existing customers that you already have, which enables Facebook to create "lookalike" audiences based on parameters that you choose. These ads can drive quality traffic—social advertising allows your business to seek out prospective customers in a unique way that is not possible through organic posting.
Additionally, Facebook advertising is one of the most cost-effective platforms available.
How do I advertise on Facebook? What are some guidelines for Facebook advertising?
Before creating any Facebook ad campaigns, have a clear objective or goal for your Facebook advertising, i.e. lead generation, branding, event sign-ups, product awareness, etc. Determining these goals will help you measure your success after launching your Facebook ads.
Think about how you want to present your brand through your ads. Make sure it is authentic to what your business offers and represents. This will help create relevant ads, which can generate better quality traffic.
Identify which aspects of your brand are intrinsically social—what will make your audience want to engage with your ads on a social platform?
Don't let your Facebook ad content go stale. Refresh your images and ad copy frequently, keep it simple and try to reward your customers for their loyalty to establish relationships.
Use the reporting tools at your disposal from Facebook to learn more about your audiences and the content they are most interested in. As you learn, adjust your ads to be more relevant for each target audience.
How do I create effective Facebook ad campaigns?
Consider the size of your audiences. Your ability to stay relevant (to an extent) is extremely important when looking at Facebook costs. Use the tips below to build the best audiences:

Start with remarketing
Build lookalikes off of remarketing
Combine these two or use interests, behaviors, and demographics to construct a relevant audience toward your previously defined objective

Focus on the value proposition of your promotion when building Facebook audiences manually (using interest/ behaviors). You can then work backward to target the people that it would benefit the most highly. Try to hit a sweet spot with the audience—reach and costs will be directly correlated to audience size and, ultimately, the relevance and quality of your ad.
A/B test ad sets and ads using multiple targeting combinations and ad copy – optional use of multiple images and messaging. After they run for a period of time you can go into each and optimize by allocating budget to higher performing Facebook ads and cutting out the lower performers.
Identify the placements in each ad set that are driving the highest, best quality results. You can break the ad set up further and have individual budgets for specific placements. For example, if the desktop newsfeed is driving more leads than the app network and mobile newsfeed. You can break out that placement and devote all of your budget to the desktop newsfeed. Facebook will automatically optimize and pay more attention to higher performing placements. This can be deceiving; for example, in a web clicks campaign you could drive high traffic from the app network, but in reality these clicks are accidental. Facebook will think that particular placement is the highest performer and shift to spend more money there.
What are some common Facebook ad types?
Facebook advertising campaigns have a variety of formats and features which can push your different objectives. The best way to find which ad type is right for you is to first examine your business goals:
Page Post Engagement and Likes: Boost your Facebook page posts to garner more likes. Promote your page to connect with more people who matter to your business.
App Installs and Engagement: Facebook Advertising allows a user to install an app straight from an ad, which increases the engagement within your app.
Local and Brand Awareness: Reach people in the area, or reach people who are more likely to become customers of your brand.
Event Responses: Effective Facebook Ads can raise attendance at your event.
Lead Generation: Easily collect leads for your business by advertising on Facebook.
Video Views: Create ads that entice more people to view your video.
Product Catalog Promotion: Show products from a catalog to people most likely to be interested through a targeted audience.
Clicks to Website and Website Conversions: Send people to your website through Facebook ads as well as increase conversions; these can be tracked through a conversion pixel.
Offer Claims: Generate offers for people to redeem in store.
What are some of my targeting options with Facebook ads?
Life Events: The Life Events parameter in Facebook Advertising is unique to the platform, allowing you to target people at specific intervals of time after the event takes place; i.e. a year after getting married, 3 months after starting a new job, etc.
Recent Purchases: Facebook allows you to take advantage of past purchase behaviors to target people broadly, i.e. Clothing, Food & Drink, Health & Beauty, to more specific subcategories, i.e. Fashionistas, DIYers and Foodies.
Custom Audiences: Advertisers can upload existing contacts onto the Facebook platform to create audiences and get in front of customers in a new way; this is a great opportunity to nurture leads and build loyalty with existing customers or target fans of your competitors' Facebook pages.
Lookalike Audiences: After establishing a custom audience, Facebook can help you generate new audiences that have similar interests to the existing contacts. If you do not have contacts to create a custom audience, you can use your Facebook fan base or tracking pixels to create custom audiences to imitate.
Layered Targeting: Because Facebook has such a stock of information on its user base, it is able to offer many options to target the perfect audience, i.e. Household Composition, Net Worth, Interests, Behaviors, etc. Using these together, you can generate a highly specific segment to which you can serve ads.
How much does advertising on Facebook cost? / How are ads priced on Facebook?
Costs of advertising on Facebook vary, just like that of other forms of paid advertising. With a focused goal and simple strategy, Facebook advertising can be extremely cost effective. WordStream can help guide you through the basics of Facebook campaign optimization through our free guides and this tool.
There are average costs associated with advertising on Facebook as well as different ways your account can be charged. Within your objective, you can select to pay per impressions, pay per link click, pay per thousand impressions, or simply have your ad served to your audience once per day.
The average CPC on Facebook for campaigns using the conversion objective ranges from $0.42 to $3.89 and the average CPM ranges from $2.28 all the way up to $30.97, once again depending on campaign type.