Home
—
Google Goggles: Image-Recognition Mobile App
The Google Goggles app was an image recognition mobile app using visual search technology to identify objects through a mobile device's camera. Users take a photo of a physical object, and Google searches and retrieves information about the image.
The Google Goggles mobile app can:
Recognize and offer information for historical landmarks
Scan barcodes and QR codes
Recognize books, CDs, artwork, logos, and other 2D objects
Add contacts by scanning business cards
Translate foreign language text
The Google Goggles translate feature can translate foreign text (like a dinner menu) for travelers visiting foreign-speaking countries. A very handy feature for those with wanderlust.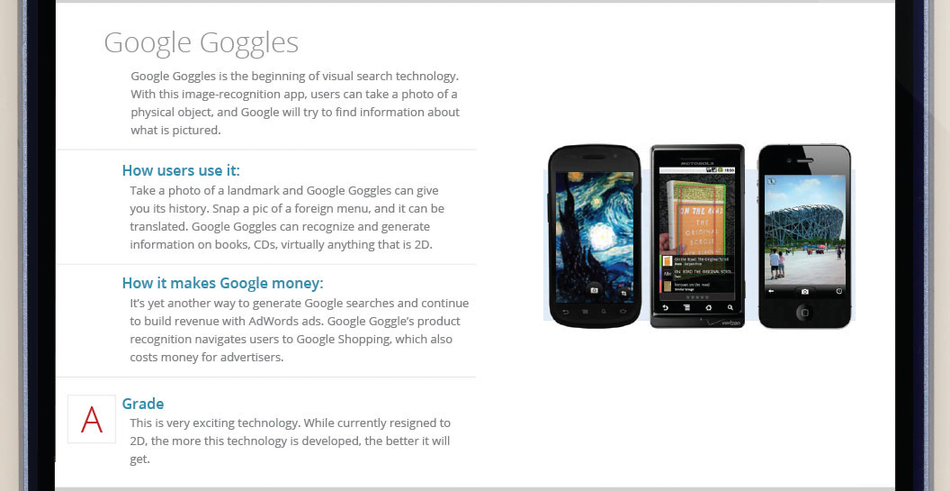 Google Goggles is now Google Lens
In August 2018, Google Goggles was retired and replaced by Google Lens. The idea is the same: Someone can view or take a picture of an item and Google will tell you what it is. But while barcode-based Goggles had its limitations, artificial intelligence-based Lens has greater capabilities.
In addition to the above Goggles features, Lens can also:
Recognize and share real-time information about stores and restaurants.
Transcribe images of complicated codes or long paragraphs.
Add events to your calendar from a poster.
Shop from images of clothes, furniture, and decor.
Identify plants, animals, and popular dishes.
Download Google Lens Mobile App
Have you ever asked Google "If I take a picture of something can you tell me what it is?"
Well, now you know the answer is yes! On any mobile device.
For Android users, download Google Lens from Google Play Store. For iPhone users, download the Google app from the App Store (not to be confused with the Chrome app)
To learn more about Google Lens, you can watch this Google Lens video on YouTube
Download Google Goggles Mobile App
You can no longer download the Google Goggles app, but to see what Google Goggles used to look like, you can watch this Google Goggles video on YouTube