Growing your business is all about finding ways to widen your reach but refine your touch. Social media and search engines are great for reach, but personalization is tough. Email is great for personalization, but inboxes are crowded.
SMS marketing is the perfect solution for this, giving you wide reach but also the ability to deliver customized messages to your target audience on a channel they use all the time. In fact, Americans check their phones 96 times per day.
In this post, we'll go over the basics of SMS marketing, why content marketers love to use it, and how to use SMS marketing to create a marketing campaign.
What is SMS marketing?
SMS marketing, or text message marketing is the use of text messages to reach your audience—and you are free to use it in any way you can imagine. You can use it for:
Flash sale deals and other promotions
Announcements
Shipment notifications
Order tracking
Custom notifications
Customer support
Location-based marketing tactics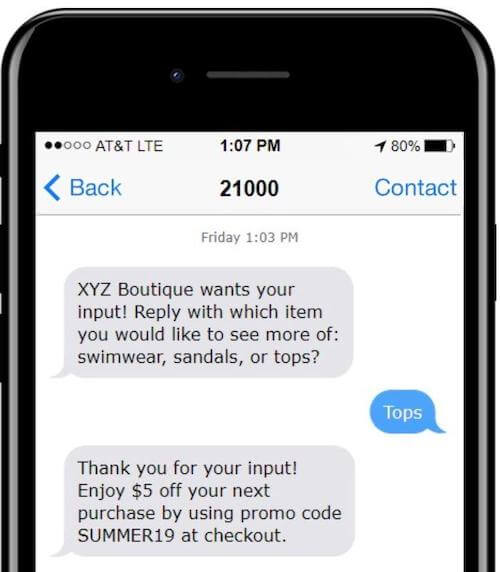 Why SMS marketing works
SMS marketing is an excellent marketing strategy for many businesses, and for three key reasons.
People would rather text than talk
So, why do marketers love SMS marketing? Well, because it works. And there's no surprise why — seeing as how 89% of surveyed people said they would rather text with a business than talk on the phone. And that's not even scratching the surface when it comes to the money that you'll keep in your pocket with an SMS marketing strategy.
It enables omnichannel marketing
SMS marketing is also an essential component to omnichannel marketing, which ensures that your customers have a seamless experience as they move from their computers to their mobile devices to your actual store. This kind of thorough communication will allow you to remember your individual customers and their needs, ultimately building trust and establishing a relationship.
Engagement rates are high
SMS marketing is first and foremost a permission-based marketing service—meaning you'll only be reaching people who want to receive them.
And since you're reaching inboxes, you're not competing for attention on crowded social media feeds or SERPS. It's for these reasons that open rates for SMS marketing reach as high as 98% (email is usually about 20%)—making it a cost-effective way to engage with customers and prospects.
And click-through rates (CTRs) are another story entirely. Where normal marketing tactics only get a CTR of merely five percent, SMS marketing click-through rates can reach an average of 19%.
SMS marketing tips & best practices
Though SMS marketing boasts of out-of-this-world engagement, it's important that marketers still put effort into this marketing strategy to ensure that their customers actually convert. Here are our top five SMS marketing tips and best practices.
1. Don't bombard
SMS messaging allows you to reach your customers wherever they are, whenever. But that doesn't mean you should. If you text them too much, this may break trust and cause churn. The sweet spot for SMS marketing is 3 messages per week.
2. Keep it simple
When prospects and customers opt-in to text message marketing, they are giving you their trust. Don't break it with long messages and spammy clickbait language.
The best SMS marketing messages are short, provide relevant information, and cut the fluff.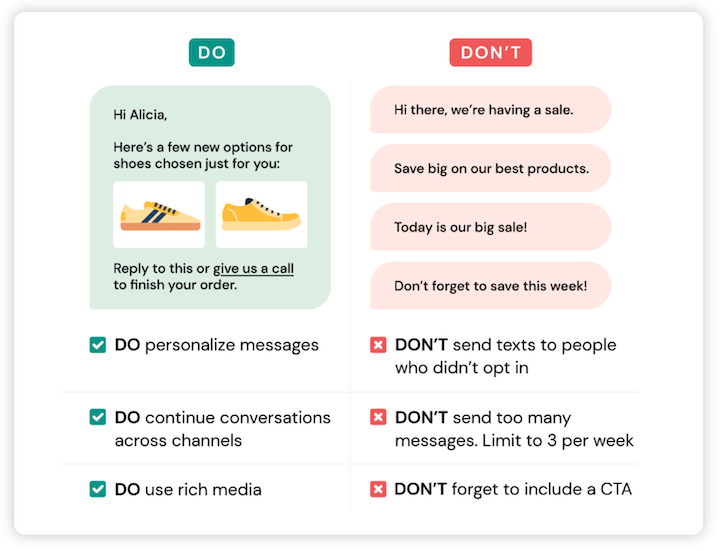 3. Segment & personalize
Don't send the same text message to your entire customer base. You want your customers to feel like they're part of something special, not just another number in the crowd. There are plenty of simple tactics to personalize your SMS content:
Greet them with their names.
Use conversational tone.
Recommend products and services based on their purchase history.
Cater the messages to their particular persona.
Send exclusive updates.
An exclusive restock alert text to your loyal customers with the product in their purchase history is a great way to make your customers happy and feel like they're getting VIP treatment before you alert the general public.
4. Try loyalty programs
Using SMS marketing to promote your business's loyalty program is an awesome way to engage and retain your customers.
Some of the best loyalty programs involve rewards for purchases, such as a free drink at a coffee shop or 25% off a future purchase if they spend a predetermined amount in a set amount of time. Offering these incentives is a temptation that many customers can't refuse.
5. Leverage surveys and reviews
Feedback is the cornerstone of any good business. Customers like to know that you are actively listening and trying to be better for them, plus you can even turn feedback into high-converting ad copy.
One way to use SMS marketing for feedback is to ask for a review on the platform of your choice with a link to that platform.
Or, try out an SMS survey with a few short questions that customers can easily answer on a scale. Notice we said short. Save the long-form feedback for an online survey through email or a dedicated place on your website.
You can even offer a coupon or promotional code to customers who complete a survey for you, no matter how they rate you. If they give you a low rating, you can use this promotion to get them to return and hopefully get a second chance to wow them in the process.
Create an SMS marketing campaign today
With all of its benefits and versatility, it's easy to see why marketers love using SMS marketing. Use it to engage your customers, keep prospects in the sales funnel, capitalize on remarketing tactics, strengthen your loyalty programs, and build trust with the people who mean the most to your business. And don't forget our five tips!
Don't bombard your subscribers.
Keep your messages simple and visual.
Segment and personalize.
Promote loyalty programs.
Ask for feedback through surveys and reviews.
About the author
David Timm is an editor and writer, headquartered in Denver, Colorado, who specializes in content marketing and search engine optimization. With years of agency experience under his belt, David is thrilled by cutting-edge marketing and analyzing SERPs and keywords.