I completely understand how difficult it can be to explain to a client the value of YouTube. It does not help when video campaigns (or YouTube campaigns) are also run through Google Ads. This can set a false expectation that video campaigns can or should perform just like Search campaigns, and in most cases this is not true.
Video campaigns in Google Ads have been my favorite way to build awareness for my clients that can help someone make the decision to buy from your company further down the road. Since that viewer of these video ads may not be ready to convert right away, we cannot look at only conversions as a success metric. There are other KPIs I like to review to see if my ads are engaging the users to perform the actions we want them to take.
Here are my four favorite, underrated metrics to help measure the true value of a YouTube ad campaign.
1. "Video played to" column
It's no surprise that the main reason people go to YouTube is to watch videos. And even if the goal is to send more people to a specific landing page, the first step in a video campaign is actually seeing the video ad. That is why understanding how long people are engaging with the ad can be a good indicator of how much a user is paying attention to your message.
To view the "Video played to" metrics, you can add the column from the Performance columns menu.
The column will only show you if a user watched the video up to four different milestones: 25%, 50%, 75%, or 100%. This means if a user watched the video up until the 45% mark, it will only count as hitting the 25% milestone. There is no rounding up for these columns.
I always recommend to try and have your most important message (call-to-action, value proposition, etc.) in the beginning of your video if you are running skippable TrueView in-stream ads. This is because if a user skips the video, you most likely don't have to pay for the ad and still get your message across. But sometimes, we're stuck with video creative that is not ideal. This is where viewing the "Video played to" metrics can help.
Understanding that video ad creative lengths can vary, let's assume your video ad's value proposition is around the 30% mark. If a good percentage of users are not even making it to the 25% mark, it is a pretty good indication that your ad is not engaging enough to keep the user wanting to watch to the 30% mark.
If you are running TrueView discovery campaigns that use longer video creatives, this column is helpful to see how long you are keeping users engaged. This is especially true for an ad format where you are paying for the video view every single time. If you are really focused on call-to-action extension testing, your main goal could be driving traffic, and that will affect how long users watched your video ad. Just try to keep in mind all possible factors on why a user may stop watching your videos early.
2. Earned actions
For a TrueView discovery campaign, advertisers pay every time a user clicks on their ad. For skippable TrueView in-stream campaigns, advertisers mostly pay for video views (at least 30 seconds or the entire video if the ad is less than 30 seconds), but if a user interacts with a call-to-action extension, companion banner, or Shopping card first, they will only get charged once. Any other action a user takes after paying for the first view is free. These actions are called YouTube Earned Actions, and they have their own set of columns within Google Ads.
After an advertiser pays for an ad, any views, shares, likes, subscribes, and playlist additions the viewer performs are free. The best part is we can track all of these post-view actions all within Google Ads. So many of my clients love hearing how we can stretch their dollar out. So even if we are not seeing direct conversions from some of our targeting, I at least want to see if users are still interacting with my brand after they have seen my video ad.
If you build enough of these Earned Action metrics (with the help of whatever organic performance you may have as well), you can actually build audiences from all of these actions in Google Ads Audience Manager. That is right. Advertisers can build audiences from channel views, likes, shares, playlist additions, and subscribers. These audiences can then be used for additional remarketing on Google Search, YouTube, and Gmail campaigns. Any conversions you receive from these YouTube user audiences can then be attributed to your original video marketing efforts, thus proving the value of video even more.
3. View-through and cross-device conversions
View-through conversions showcase conversions that occur when a user sees your ad (impression) but does not interact with it. Then, the user eventually converts on your site. To clarify, an impression is not a view. We already talked about how video views are counted for in-stream ads in the Earned Action section of this post. And those view (actually watching the video or clicking on a part of the ad) conversions are visible in the Conversions column.
Cross-device conversions are recorded when a viewer clicks on one of your ads on one device. Then that same user completes a conversion on a different device. This column has been more important to my clients running video campaigns over the past couple of years. I say this because more and more we're seeing the majority of our video views coming from mobile devices. This allows us to still attract users to our site using video ads with call-to-action extensions. Then if the site converts better on desktop, we typically see conversions happen later on a desktop. It does not mean the initial mobile video view was worthless.
Both of these columns can help show if your video campaigns succeeded in converting a viewer further down the road. You just have to be really careful with reporting your cross-device conversions. Depending on what conversion columns you use as your main conversion metrics for reporting, cross-device conversions are counted in the "All conversions" column. Cross-device conversions are also included
4. Audience performance
Remember those Earned Action audiences I mentioned earlier in this post? Well those are not the only audiences you can create from YouTube users in Google Ads. Here is the full list of audiences you can create from YouTube users in Google Ads' Audience Manager.
The first thing I do in any Google Ads account I manage that is running any video campaigns is create a basic audience from anyone who viewed any video from my client's channel. I will then max out the audience at the full 540 days. This will be the broadest type of YouTube user audience you can create and the best option for smaller accounts with not a lot of video views. I will then go and create as many of the YouTube user audiences you see above if I feel they will have a significant amount of traffic.
Next, I will want to take all of these audiences and layer them into my Search Network campaigns as Observations audiences. This is a targeting setting that is the same as saying "bid only" audiences. My initial goal is not to target the YouTube user audiences separately on search (even though it is definitely an option). My initial goal is to collect as much data on these audiences as possible.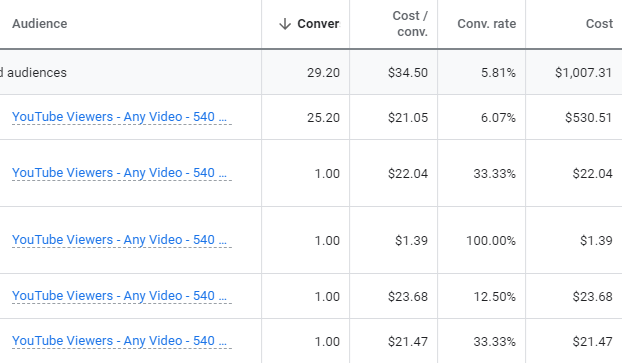 After my video campaigns are running for a while, I want to be able to go back and see if I can get any information on how my YouTube marketing efforts (yes organic YouTube efforts can be included) are impacting my Search Network campaigns. I will be able to see if people in these YouTube user audiences have higher click-through rates, conversion rates, or any other column metric that is important to your company's goals.
These are technically remarketing lists for search ads or RLSA. And for any audience to start showing data in your Search Network campaigns, the audience needs to have at least 1,000 active users within the past 30 days. That is exactly why I recommend starting with one audience including any video view in the past 540 days. Then continue to add as many YouTube user Observation audiences to your Search campaigns once they hit the 1,000 user mark.
One more grain of salt. This audience data review will only show you how many people come back and interact with your paid keywords in Google Ads. The Audiences report in Google Ads will not show you if they went back directly to your site, if they eventually came back to your site via Bing, or even Google organic. So YouTube user audiences do not show the full picture by any means, but some data is always better than no data.
Moving beyond conversions as the only success metric
Conversions are always important, and conversions should always be kept in mind. But users are not always ready to convert the first time they see an ad. This is especially true for YouTube ads. People go to YouTube to listen to music, watch funny videos, follow their favorite gamer, etc. They do not go to YouTube to with the intent to download your whitepaper or buy your products. But YouTube can definitely build awareness in front of the right user.
If your creative resonates with your target audience, you can influence the user to eventually seek out your brand or products that lead to an eventual conversion. Use the measurement features within Google Ads to find out how well your video campaigns are doing to influence future conversions. There is so much information we can pull from Google Ads to measure true campaign success beyond direct conversions. Take advantage of it.
And check out my four YouTube Studio reports you won't find in Google Ads!