Whether I'm looking for a new mascara or a new couch, I start my search by telling people I'm looking. I ask friends what they've bought, if they like it, and—most importantly—if they'd recommend it. If I don't have luck this way, and it's a big purchase I'm stuck with (like a couch or mascara) I start looking at reviews online. I want to hear from real people who have used the product.
Basically, I'm a target audience for testimonial advertising. And I'd bet lots of your potential customers are, too.
In this guide to testimonial advertising, we'll cover:
What testimonial advertising is
How testimonial and endorsements are different
Why testimonial advertising works
Examples of testimonial advertising
Let's get to it.
What is testimonial advertising?
A testimonial is a statement from a customer about how a product or service has benefitted them and often includes them recommending it. Testimonial advertising uses these authentic customer reviews in ad copy and creative to build trust in potential customers—making it one of the best ways to market your business.
Testimonial ads can be:
A testimonial ad could even be promoting a positive answer on Quora.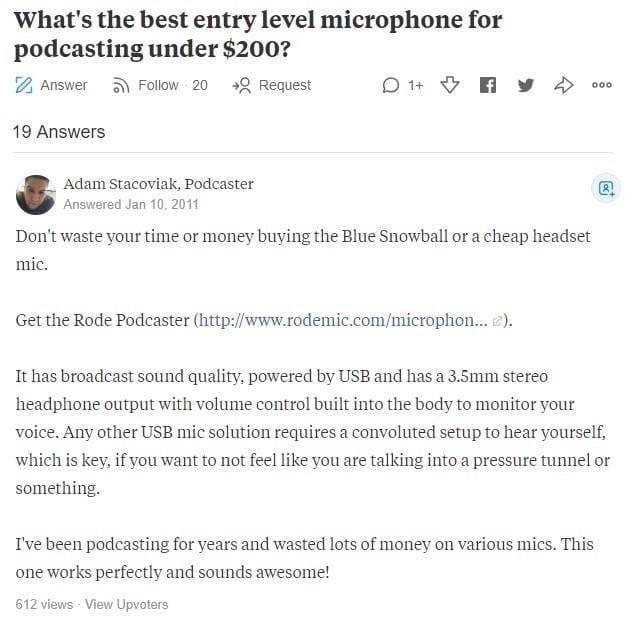 They can be one word, a few words, or full a description of how light a sunscreen feels or how quickly an emergency plumber arrived to do excellent work. The main thing to keep in mind is that these positive comments should be sincere, whether they're unprompted or prompted.
What's the difference between testimonials and endorsements?
The two key differences between testimonials and endorsements are the influence of the customer and the incentive they receive. A testimony from a regular customer might get a gift card or a discount; a celebrity endorsement is going to involve some money.
Where this distinction gets a bit murky is when it comes to social media influencers. These are people who are paid—and paid well—to review products and services for their audience. It's not always clear when it's a testimonial ad and when it's an endorsement, but in most cases it'll be closer to a testimonial ad. Very few influencers are at quite that level of celebrity—for now at least.
Why testimonial advertising?
Testimonial advertising is effective because it changes the speaker of your ads. Instead of your brand, it's consumers promoting your product or service to other consumers. This makes the recommendation more authentic and more intimate. And that's more powerful.
In fact, BrightLocal found that nearly 50% of consumers trust customer reviews as much as recommendations from friends or family. The value of word-of-mouth marketing is immeasurable, so if half of your potential customers trust your testimonial ads as much as a recommendation from their mom or a rave review from their oldest friend, that's going to mean great things for your business.
That makes the potential value of testimonial advertising huge. But it doesn't mean that any customer is going to trust any customer review. BrightLocal also found that 62% of consumers believe they have seen a fake review, so if you're using a real-life review for your ad, you need to make sure it's good. The testimonial should be authentic and unique, and the customer should seem like a real person.

So now that we're clear on what testimonial advertising is, what it isn't, and why it's so effective, let's get to some examples to get you inspired and ready to create your own.
Testimonial advertising examples you need to see
Here are 11 testimonial advertising examples that use customer recommendations in the copy and images to persuade potential buyers. These examples come from a variety of platforms—from social media networks to landing pages to print publications.
1. Alan David Custom—Facebook testimonial ad
The benefit of a testimonial ad is that it speaks directly to your potential customers from your existing customers. Take a look at this testimonial Facebook ad example Alan David Custom, a suit business in New York.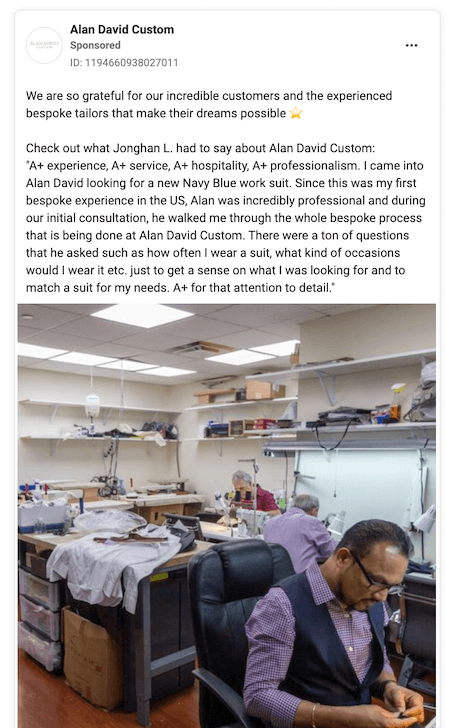 The level of detail in this testimonial makes it clear that it's a real customer who needed a navy suit and received exceptional service and a high-quality product. And more than an A+? That's excellent.
2. Glossier—Instagram testimonial ad
Glossier has great branding—its design, social, and landing pages are all cohesive and engaging. But so many beauty brands have great branding and subpar products that don't live up to the promises or the hype. That's why recommendations from real customers are so important. Glossier knows this.
Take a look at this Instagram testimonial ad.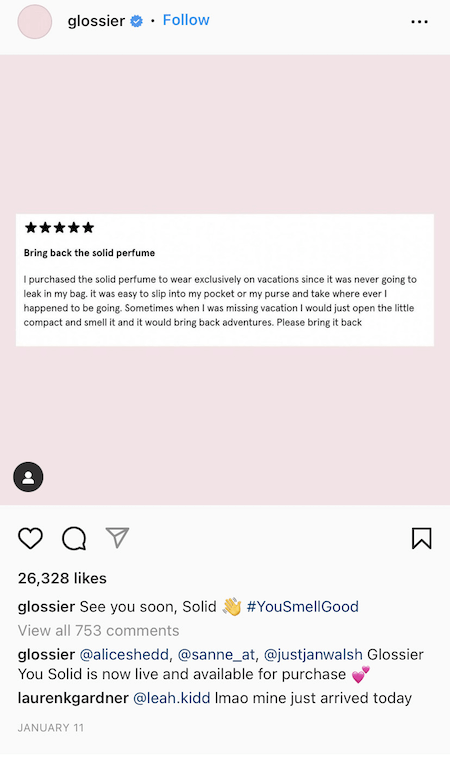 Image source
It's simple in the brand's millennial pink with a visualization of an online review in its brand font. The effect? The testimonial speaks for itself.
3. Noom—Google testimonial ad
In Noom's Google Ad below, the description starts with a testimonial: "This is the only thing that works despite having no time on my hands."-Sarah. Now had Noom itself written "The only solution for people with no time," it just wouldn't have the same effect.


Note that you can also add a sitelink extension to your testimonial page, like this ad below:


4. Ana Luisa—Instagram testimonial ad
This example pairs really well with the one above. It's an Instagram Story from jewelry brand Ana Luisa that includes a social media comment praising the product—including the user—and a product photograph.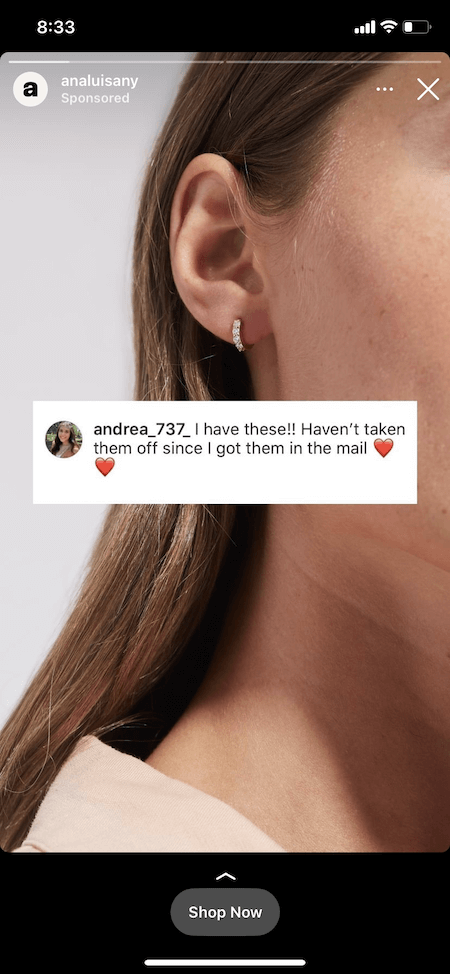 Seeing both the product and the real-life comment is a nice way to ensure your audience knows exactly what the testimony recommends. Plus, the story is shoppable (a 2022 digital marketing trend!), making it super easy to learn more on a product page or convert right then and there.
5. Raisedwithwolves—influencer testimonial ad
Earlier, we talked about the differences between testimonial ads and celebrity endorsements and how these get confusing with Instagram influencers. Here's a great example of a testimonial ad from one of these social media influencers, a momfluencer with a relatively small following at 24k. Not quite celebrity status, but a solid following and great business.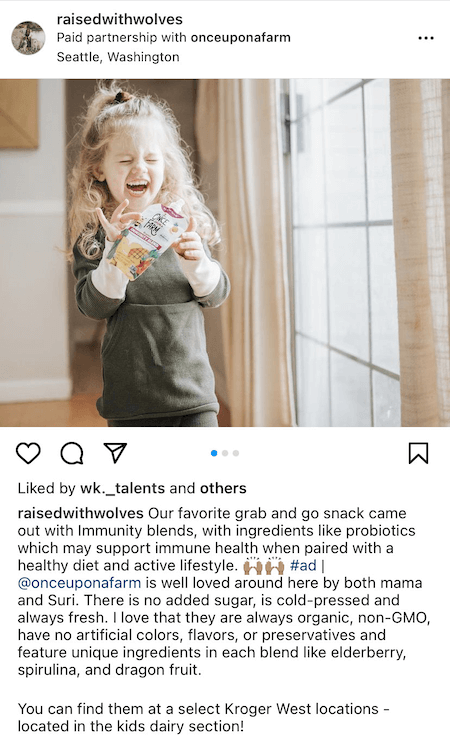 The image here is, of course, adorable, and the copy includes relevant information about the Once Upon a Farm snacks. This Instagram caption does even more. The first-person "I love" is a great personalized addition here—and an excellent testimonial.
6. Calm—LinkedIn testimonial ad
While LinkedIn might not seem like the most exciting ad platform, it has more than 800 million users, many of whom log in regularly. That's a lot of people to reach when they're applying to jobs or working during the day.
That's why Calm's testimonial ad here is so effective.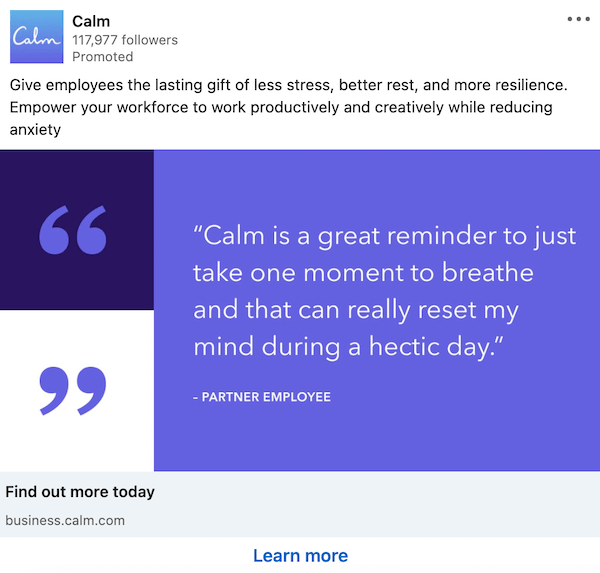 The review is anonymous and doesn't get it into too many details, but it's the context and the specific audience that makes it work so well. The people seeing this ad are busy and working, and they're hit with this solution that employers can provide for them. Better yet, it's an employee—not an HR lead who runs the program—who shares how helpful Calm has been.
I also love the quotation marks here to offset the customer's testimony. It makes the ad visually interesting, which leads us to our next example.
7. Relay—LinkedIn testimonial ad
Visual appeal is great, but your testimony doesn't always need to be visusalized. Especially when it's a review from a respected publication. Here's a great example of a testimonial ad on LinkedIn from Relay, a communication software.

The copy is the most important part here—a powerful evaluation from a respected source like Fast Company—and Relay puts it front and center.
8. Headspace—Display testimonial ad
It was unseasonably warm in Boston today, and everyone seemed to be out for a run to take advantage of the sun in February. And they looked so peaceful doing so—something I find aspirational even though I have no intention of heading out for a jog. This testimonial ad from Headspace uses bright colors to attract the eye and call your attention to the sneakers and quote about running.

The best part is that this customer, Knox, isn't not recommending running. He's recommending an app that offers guided meditation—to get you that same peace of mind, whether or not you're ready for a run.
9. Spur—Vintage testimonial ad
So far, the testimonial ad examples have all been from digital placements. But that doesn't mean that these ads are new. Far from it.
Take this example below from the 1940s. It features a testimonial and a customer drinking soda—or at least that's what the presentation suggests. Take a look.

Image source
This testimonial ad is similar to other examples in its simplicity—a customer shares how much they love the product. Plus, I haven't heard of Spur, but I can tell from this that it's a Coke alternative with this competitive copy in this ad.
10. General Assembly—landing page testimonial ad
Landing pages are a great place for testimonial ads because your leads have already indicated their interest in your offering. They've clicked through and made it to your page, so you want to outline your benefits. Using customer testimonials is a great way to highlight those.
Here's an example from General Assembly's landing page for their UX Design Immersive.


This testimony is specific to this customer, Emma, but layoffs and forced career changes are also (unfortunately) common experiences.
More testimonial advertising examples with video
All of the examples in the previous section have one thing in common: they're static images and copy. These are effective, but you can make your testimonial advertising even more compelling with a different medium: video.
With video, customer testimonials are more trustworthy and drive more sales. In fact, eight out of 10 people have bought an app after watching a brand video.

So let's take a look at some testimonial-infused video ads for inspiration.
11. Dove—TV commercial testimonial ad example
TV commercials allow for more time than other videos, and Dove takes advantage of this with multiple testimonials for its antiperspirant.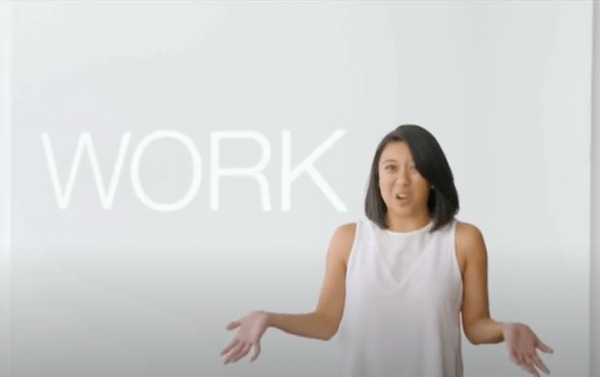 These testimonials are staged but supposedly not actors. Either way, the effect of having these women try the product on-screen works—it makes it seem like the antiperspirant feels great and works, too.
12. Secret—TV commercial testimonial ad
Here's another TV commercial testimonial for a similar product: Secret deodorant. While Dove takes advantage of the extra time to include more perspectives, Secret uses the time to get deep. The commercial profiles strong women with personal questions.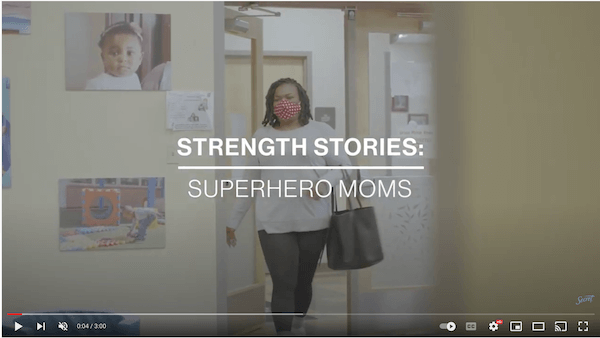 Now, this isn't my favorite commercial. But there's a reason you remember commercials like this, just like there's a reason Sarah McLaughlin's "Angel" always makes you tear up thinking of sad, neglected animals. It's emotion. Keep this in mind for your testimonial ads. If you can encourage an emotional response from your audience with the copy, the video, or the image in your ad, do so.
13. Linked Living Homes—Facebook video testimonial ad
Facebook video ads give you less time than TV commercials, but that just means you have to get creative. You can use extra-long captions, carousel ads, collections, or you can use time-lapse, like this example.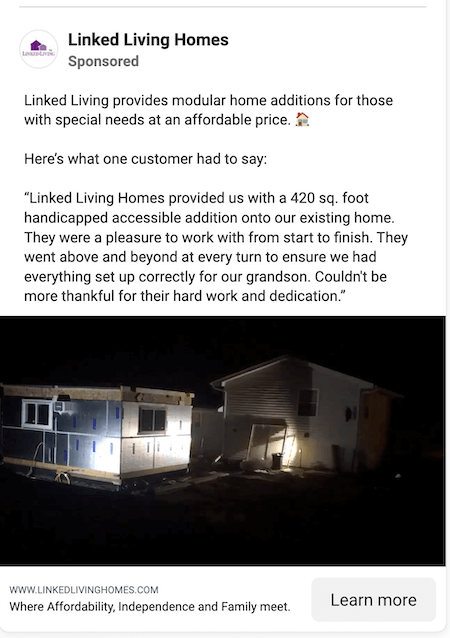 Linked Living Homes features the testimonial in the caption that praises their "dedication" and then uses time-lapse to show building an accessible modular addition.
14. V1CE—YouTube testimonial ad
If I'm looking for a review of something complicated, I go to YouTube. Recently, I was looking for new business cards and watched tons of YouTube reviews to get a better idea of whether or not reusable ones would work.
Here's a great example of a YouTube testimonial video from London-based Afro Is Massive for a V1CE card, a reusable business card (and the one we ended up going with).
This testimonial is great because it includes the hiccups—the setup takes longer than expected, the missed attempts of pulling up the contact information. These aren't necessarily dealbreakers, so knowing to expect this avoids frustration later. Plus, it makes the testimonial more real and V1CE cards more trustworthy.
15. Go-To—display testimonial ad
When you're creating a testimonial ad for the Google Display Network, you need something that's eye-catching, quick, and clear. This is my favorite example from Go-To Skincare: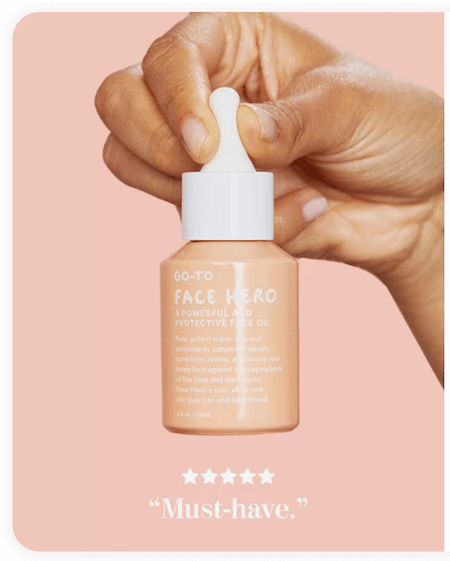 This GIF ad rotates tiny testimonials like "Must-have," "I'm hooked!" "Love it,"
"Can't live without it," and "Glowy!" Watch it here.
The movement of the text is subtle but grabs your attention, and the flashing testimonials lets the brand convey how many people love their product enough to review and rate it five stars. And those five stars staying static? A nice touch.
16. ILIA Beauty—Instagram testimonial video
If you feel like we've had a lot of Instagram ads so far, you're right. The platform is great for seeing what your friends are reading or where they went on vacation, but so much of the content is ads or product placements. And people use the platform that way. One in two people use Instagram to find new brands, and 44% use Instagram to shop weekly.
That means Instagram testimonials about your product or service would reach people when they're looking for that information to consider or make a purchase.
Here's a great example of a super subtle testimonial ad that works really well on Instagram. Ilia beauty has two women, a mother and a daughter, use their product to do a full (natural-looking) face of makeup.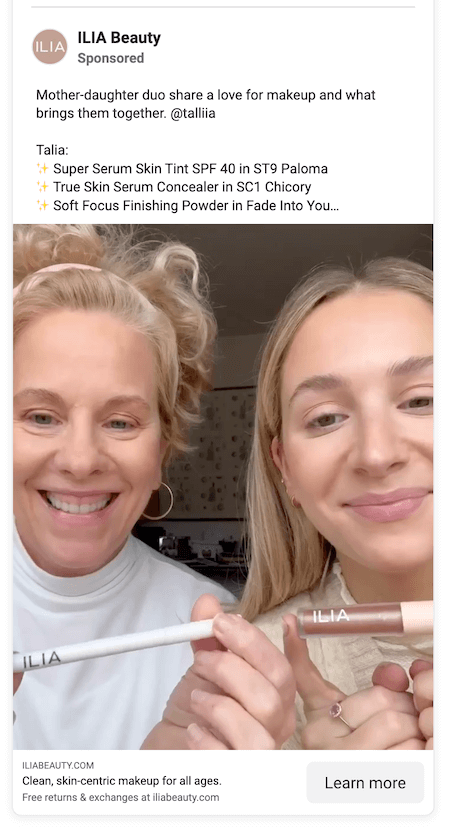 The smiles and the body language here make it clear that these women are having fun, and this video offers a view of how the products go on—how they're applied, how they feel, and how they look. This is information that people on Instagram are looking for.
17. SharpSpring—LinkedIn testimonial ad
This last example of a testimonial ad with video is a little different. It's a LinkedIn post from SharpSpring, a growth marketing platform. This video has minimal production, and that works really well, especially for LinkedIn. The platform is more professional, and the video looks like a Zoom (and, well, it probably is). In the video, the customer delivers the testimonial themselves, too, making it seem close to an internal customer interview. Take a look.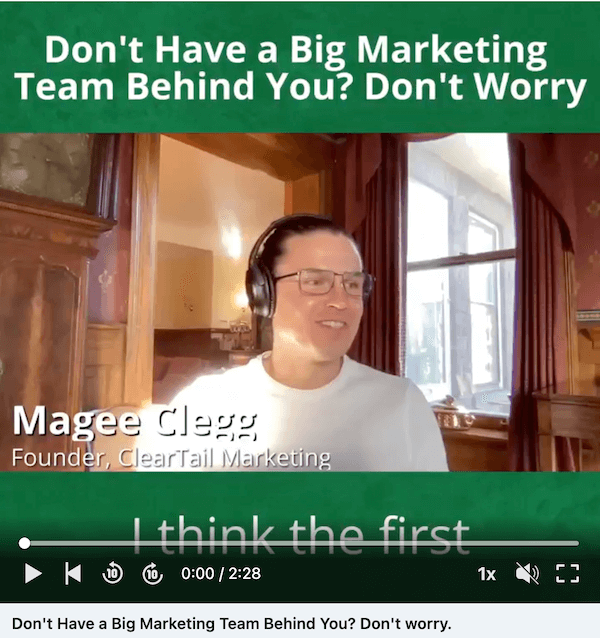 This casual video makes it feel all the more authentic—which makes the recommendation more meaningful. Plus, I love that SharpSpring includes the captions in the video. Most people on LinkedIn watch videos without sound, and this way the testimonial video still works.
Final takeaways and testimonial advertising tips
We went through a lot of examples quickly, but hopefully this gives you lots of ideas for your own testimonial ads. Whether you use a picture of an existing review, record a customer trying out your product, or ask for testimonials to create graphics, you can't go wrong letting your happy, current customers speak for you.
Let's end with some final tips and takeaways from these examples:
Keep it real. Don't omit parts that aren't as positive.  As the BrightLocal survey above shows, 45% of people are suspicious of reviews that are over-the-top in their praise.
Include a face. Include images and video of the customer if possible. This makes them more relatable and more trustworthy.
Get permission. Make sure your customer is okay with you using their words and face in your ads.
Use them everywhere! On social media, landing pages, your website, and more!