Being a content creator can be overwhelming. Keeping up with blog posts, guides, and everything else on the agenda is hard work!
Now, imagine a system that keeps track of all the content you want to create, all the steps you have to take when creating it, and where each piece of content is at in its creation process.
Sound like a distant dream? Well, it's not. It's called an editorial calendar and in this post, I'm going to show you exactly how to create one, with a free template too!
If you're looking for a way to streamline and speed up your work flow, read on.
Table of contents
What is an editorial calendar?
An editorial calendar is more than just a schedule of your content. It's a visual tool that lets one person or an entire team to plan, create, schedule, and promote content—for the next week, month, or even year. It includes the tasks, team members, and due dates involved at every stage.
Why use an editorial calendar?
The benefits of using an editorial calendar are many, but here are a few:
More cohesive content. When you plan out your content in advance, you can organize it into themes and create pieces that support one another each month.
Save time. You always know exactly what content to work on next, taking writers block out of the equation. Plus, all of your tasks are prioritized and streamlined. Some editorial calendar tools even have integrations where you can publish and promote across multiple platforms at once.
Stay on track. An editorial calendar ensures that you and every team member can progress along with the timeline of a project, and make sure no task is left undone or delayed.
Store ideas. Combining an idea bank with your content calendar is very effective idea capturing on the go, especially if you can access your calendar on mobile.
In my experience, using an editorial calendar has made a tremendous difference in the way I work and I have never looked back. Procrastination often occurs when we don't know what to do next, and so we delay the work at hand.
But for me at least, when I know that all I need to do is conduct the different tasks listed in my specific checklists, I am more productive and I procrastinate much less. Now, I hope it can do the same for you!
Keep reading and I'll show you how you can use a free template of a Trello-based editorial calendar.

How to create an editorial calendar
Here are some foundational principles to guide you in the process.
1. Establish a loose content strategy
While an editorial calendar can help you to refine your content strategy, you do need to have an initial framework to begin with. You can use our guide to creating a content strategy for a deeper dive, but here are some basic questions to start with.
What are your goals? Are you looking to increase organic traffic with blog posts, generate leads with gated content, produce sales enablement materials? This will help you answer the next question…
What type(s) of content are you making? For organic traffic, you'll need SEO blog posts. For gated content, you'll need to produce PDF ebooks. For sales enablement, you'll need to create one-sheets and slide decks. For brand awareness and link building, you'll likely need to write guest posts.
How much content do you want to publish? Based on the content type and team size, you should have some realistic goals and objectives for how much content you want to publish each week, month, and year.
2. Lay out your work flow
Once you have an idea of what content you want to produce and how much of it, you can lay out your workflow. This includes:
Your ideation process. How do you find, store, and manage your content ideas?
SEO optimizations. You'll want to include keyword research and on-site and off-site tasks.
Lay out the different stages and specific activities of your workflow, and assign any tags, color codes, or labels that are important to visualize and maintain production timelines.
3. Choose an editorial calendar software
With an understanding of your strategy, workflow, and team size, now you'll need to find out which software is most suitable for you and/or your team. Which is what this next section will cover.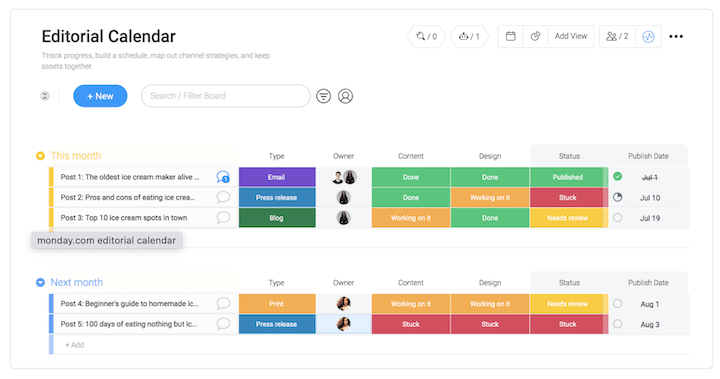 Editorial calendar tools
There are several different approaches and tools you can use to create your own editorial calendar for free.
Project management software
Project management software like Asana and Trello are often the go-to for editorial calendars. My coworkers and I use the free version of Trello and we love it! With Trello, you have a workspace and within your workspace you can create boards. Within boards are cards where you can add descriptions, checklists, labels, due dates, attachments, and more. This makes it simple to keep track of various aspects of the content creation process.
You can also invite others to work on your boards. This is great for collaboration, but not the best for large teams since it can become quite messy with too many cards and labels.
You can upgrade to the paid version for more power-ups and powerful integration features.
Keep reading to download our Trello editorial calendar template.
Spreadsheets
Spreadsheet software like Excel and Google Sheets can be used for editorial calendars if you don't have the time to learn new software, but they are more manual and not as visual. I have made an example in a spreadsheet to demonstrate what an editorial calendar in Excel/Google docs might look like. Feel free to make your own based on this suggestion.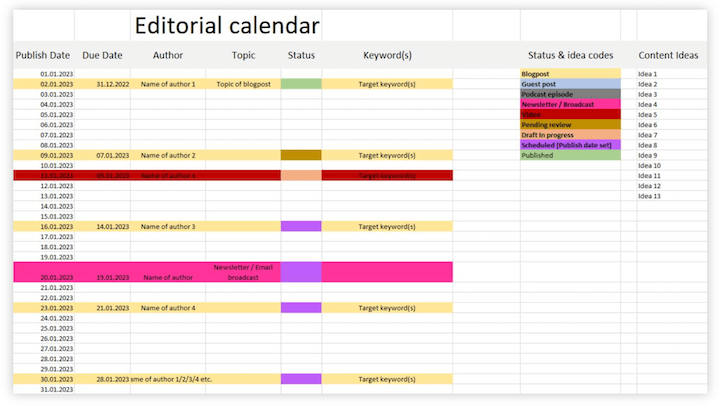 Regular calendars
Regular calendars like Outlook or Google Calendar can be good choices for visualizing and scheduling tasks fast and easy—plus you'll get built-in reminders. Furthermore, you can create checklist templates with specific tasks across the different stages of the workflow, and paste them into the calendar note field to keep track of what you have done and what's remaining.
Nevertheless, regular calendars might not be the best if you want to keep track of status in an orderly manner and see everything in one glance. Here's a simple overview of how a month's worth of planned content might look like in Google Calendar, with color codes used to identify the type of content and status.
Free Trello editorial calendar template
Ok! Let me share with you my Trello editorial calendar template. It works wonders for me in building out my content marketing funnel, so I want to share it with you!
Here's the link:
Trello editorial calendar template
Here's what it looks like:
And here are its three components:
Lists: The lists are used to represent the different stages of content, from ideation to promotion.
Checklists: The checklists are used to add tasks to cards.
Labels: Colored labels represent statuses, for example "Pending review".
When you decide to make content on one of your ideas, simply move the card into the "date assigned" list and set a date for it.
The lists
This Trello editorial calendar board consists of 6 lists:
Guest post ideas: Stores all your ideas for guest content
In-house post ideas – Stores all your ideas for own content
Date assigned – Content ideas that you have scheduled
In progress – Content that are in the making
Published – Published content
Resources – Checklist templates and other resources.
As mentioned above, each list consists of cards, which are your content ideas. You can add checklists, labels, and dates to each card.
The checklists
This editorial calendar has several different checklists, each relevant to different stages of the content creation process. Alright, but what kind of checklist am I talking about here? Well, in fact, checklists for helping you along every step of the process!
Keyword research – This is the very first checklist you conduct when creating a piece of content. Here you can choose between the free approach, or the paid approach using Ahrefs. I use both methods. I have made a post on how to do free keyword research.
Review draft checklist: Title, content structure, call to action, images identified.
Review checklist. Relevant when editing your first draft and getting it ready for publication. It's basically on-site SEO stuff, optimizing for social media sharing, quality check etc.
Publishing and initial promotion checklist. For publishing and promoting your content. It's a list of several different channels to promote your content in.
Follow-up promo checklist. Promotion activities one year after publication.
Pinterest publishing checklist: Step-by-step checklist on how to make pins and schedule them for post promotion on Pinterest.
To import any of these checklists into a card:
Go to the card in which you want to import a checklist
Click the "Checklist" option on the card's right-hand side.
Choose "Copy items from…" and choose your intended checklist from the menu.
The labels
In this template, I use labels for content type as well as status. This is great for staying organized and in control of your schedule.
You can add new labels as well to customize it as you wish. Here are the labels I use for content types:
Blog post
Video
Email newsletter
Guest post
Freebie
Podcast episode
Passive income products
Here are the labels I use for content status:
Draft in progress
Pending review
Scheduled (publish date)
Published
How to get this free editorial calendar template
Here's how you get your copy of the board:
If you don't have a Trello account already, go sign up for Trello at Trello.com
Log in to your Trello account
Once signed up / logged in, click here
Now you should be inside the board. Click the icon with the 3 dots on it at the top right, and choose "More".
Click on the "copy board" option
Now go back to your workspace overview in Trello. You should be able to access your new editorial calendar from there!
Pro tips for this editorial calendar
Now I'll leave you with some final tips for getting the most out of this template!
1. Customize to your liking
Note that this editorial calendar is a template, and you can edit it the way you want. The more detailed customization is added to it, the better. If it suits your needs as it is, great!
2. Get Trello for mobile
Download the Trello app on your mobile phone and use the widget to capture ideas quickly when you're out and about. Here's how
First, download and install the Trello app from Appstore or Google Play
Second, add the widget to your phone's widget area
Then, wait until you're hit with a content idea. Now, quickly get your phone out and click the widget's "Add card" button
Choose the Trello board and the list that you want the card to be added to. This would be one of your idea lists. Like this:
Finally, click the "Add" button, and that's it! Your new idea has been saved to your idea list.
3. Use the calendar power-up
When the calendar power-up is activated in Trello you will see the scheduled posts in the Trello calendar making up to a month's worth of content visible at a glance. Simply click the calendar power-up located at the top of your board.
Now you'll see a calendar with all your cards visible at the assigned date, with its labels. I have done some demo scheduling with cards in all the different lists to show you how it looks like in the Trello calendar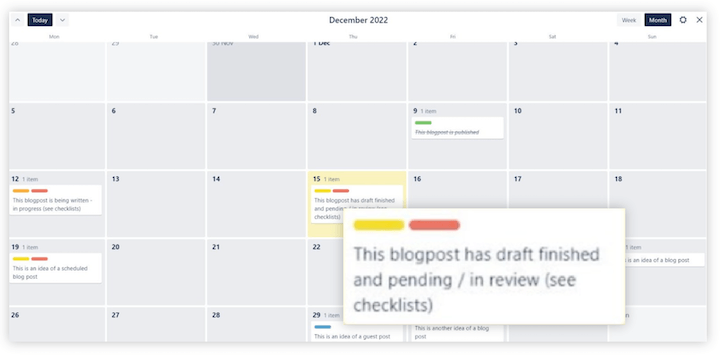 In the calendar view you may click on the cards and view them directly from the calendar interface. Notice that all the status labels are also showing, which gives you a good overview of status of all the scheduled posts. The labels are explained in more detail below together with the other features of the board.
4. Use Mammoth
If you have a WordPress site and write your content in Microsoft Word or in Google Docs, you can use a plugin called Mammoth .docx converter to import a post from your writing client easily into WordPress!
5. Use Yoast
Now you can just do the tasks in this checklist and get the stuff done! The YOAST SEO plugin is very helpful when working through this list.
Start building out your editorial calendar
Using some form of an editorial calendar is a must for every content creator. I hope you have enjoyed reading this post and that it has provided you with some constructive value.
Enjoy this editorial calendar! I hope it makes a difference in your workflow efficiency. Please leave a comment if you have any questions and I'll be happy to answer them the best I can!
Thank you!
About the author
René Frydson is a 33-year-old passionate digital marketer, blogger, and productivity enthusiast from a small city called Forde in Western Norway. Alongside his formal education in marketing management with a specialty in digital marketing, Renè has 6+ years of experience from his own ventures online. He has hands-on experience from his employment in the marketing department of a large energy company in Norway. Join him over at themarketingonion.com where he publishes interesting and informative content within the digital marketing and productivity space.