Your company sells a product or an offering, but your branding communicates so much more than this. It communicates the value your product provides. The way your offering is different from your competitors'. The personality you display in your content and embody in your company culture.
Your vision statement is a key piece of this branding that helps to communicates all this and more.
Here, we're going over everything you need to know to get started crafting your company's vision statement and how to put it to use.
We'll cover:
Plus, we'll include some of our favorite vision statement examples to help you get inspired to create your own bigger-picture company impact.
What is a vision statement?
A vision statement outlines your company's long-term goals. A good vision statement describes the bigger-picture impact of the work you're doing day-to-day. A great vision statement includes all of this and inspires your employees, your customers, and your community to join you in realizing this vision.
You want to make sure you're creating a great vision statement—and we'll break down how to do that.
What's the difference between a mission vs vision statement?
The difference between your mission statement and your vision statement is important but simple: Your vision is the result of your mission. 
Your vision statement fits into a larger part of your brand identity that also includes your mission statement and your company values. Here's a quick overview:
Your mission statement defines what you do, who you do it for, how you do it, and why it matters.
Your vision statement outlines your long-term goals, the impact of achieving this mission.
Your values are the guiding principles and beliefs that your brand embodies.
Your vision statement then should be the result of your mission statement. By working towards your mission, your company will achieve the long-term, bigger-picture vision for your brand, your customers, and sometimes even society.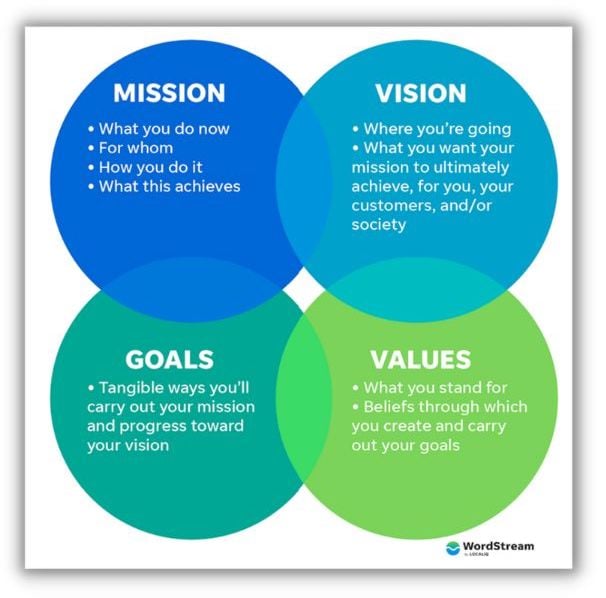 This distinction is good to remember, especially considering how often mission and vision statements get confused. When you're presenting this to your employees and your customers, make sure you're being as clear as possible.
How to write a vision statement
Now that we're clear on what a vision statement is and why it's important, it's time to get started drafting your own. Here's how.
1. Think big
You want to draft a great vision statement that describes your company's long-term goals and the impact of achieving them to inspire your customers, your employees, and your community. That means thinking big during a brainstorm before narrowing your ideas and messages down.
Here are some questions to start with:
What do you want your business to change for your customers? For the world?
How does your product or offering help your customers? How would it change the industry if everyone was your customer?
How does that value you provide your customers change their lives? How does that change society?
What does the success of your business look like in 10 years? What does that success look like for your customers?
Go through and answer these questions to start identifying the bigger impact of your business. And remember not to edit yourself just yet—giant goals like solving the housing crisis or improving access to healthcare are on the table. This is your vision for the long term, not exactly your promise to deliver right now.
2. Connect to your mission
Even though your vision statement should be future-looking, it should still be logically connected to what your company is working on today. That's where connecting your mission statement comes in.
Once you have a few big ideas that you want to cover, pair these up with your mission statement. Does achieving your mission accomplish these big ideas?
Let's consider an example. LinkedIn's vision is to create economic opportunity for every member of the global workforce. Its mission is to connect the world's professionals to make them more productive and successful.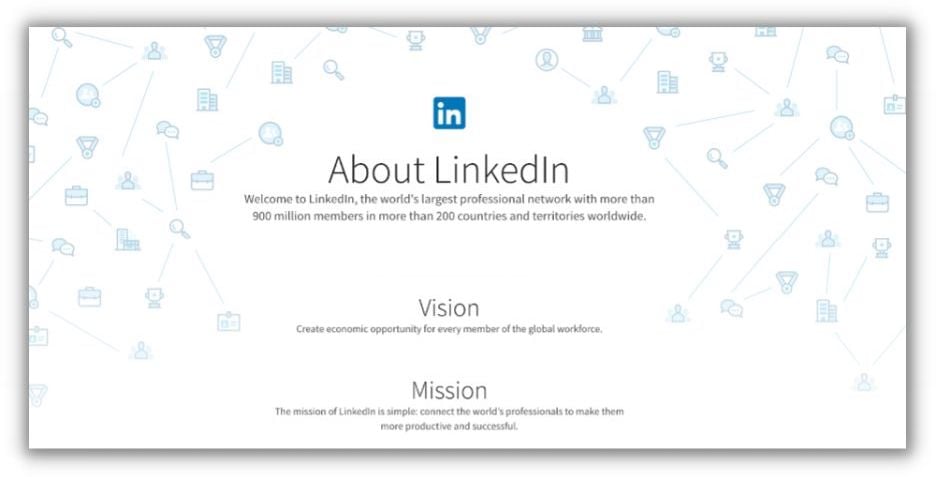 Even though the vision is an expansive and aspirational one, it's still connected to the mission. If you can connect all professionals and enable productivity and success, then you can create economic opportunities for the workforce globally.
Remember, it shouldn't be the next step result of your mission, but it should be related.
3. Make sure you're including emotion
The scope of your vision should be inspiring, but that doesn't mean you're off the hook with copywriting. Once you have the ideas down—the long terms goal or goals and the impact of achieving these—it's time to start fine-tuning.
When you're determining which words to use in your vision statement, remember you want to evoke an emotional reaction.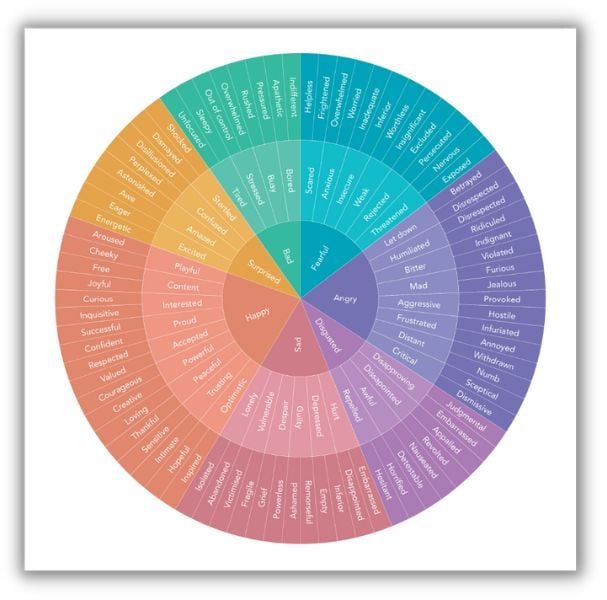 The emotional reaction should be positive, and it should be motivating. Other than this, though, it depends on your brand whether you're hoping to inspire joy, action, peacefulness, or anything else. Once you determine how you want people to feel in reaction to your vision statement, make sure to choose your words accordingly.
4. Keep it short
Your vision statement should be one or two sentences at most. If it's helpful to create a longer document that breaks down the vision for your company for your leadership team or board, that's a worthwhile exercise. But that shouldn't be the marketing copy that you're using in your branding.
Keep it short, simple, and straightforward. That's the best way for everyone to understand, remember, and most importantly connect with your vision.
5. Share it widely
Your vision statement is foundational marketing copy, and you should make the most of it—-for your company culture, your customer marketing, and even your prospective employees.
You should be sure to include your vision statement in your employer branding, whether that's on your career page or in your company descriptions. In fact, LinkedIn found that a strong corporate brand can reduce cost per hire by more than 50%.
And be sure not to focus only on sharing with people outside of the company. Your employees are working towards your company's mission each day, but that's still on the path of your vision. Make sure to communicate that clearly.
11 inspiring vision statement examples
I don't know about you, but I hate starting from a blank page. There are too many options, not enough guidance. That's why examples are so helpful to start a brainstorm or a copywriting session.
Here are 11 exceptional vision statement examples to use as models, guides, and sources of inspiration to write your own.
1. Shopify
Shopify's vision statement is succinct and straightforward: "Make commerce better for everyone, so businesses can focus on what they do best: building and selling their products."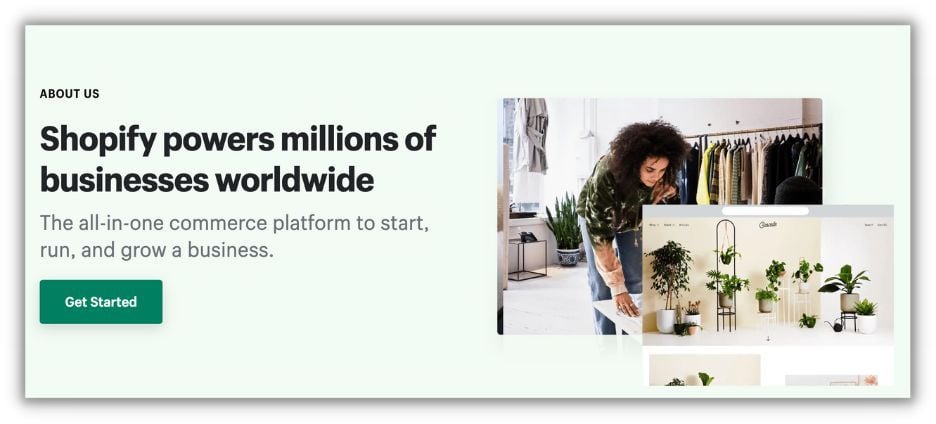 Even though it's straightforward (and directly builds on its mission statement to "Make commerce better for everyone"), the statement still communicates a big appealing goal. Who hasn't had a clunky process with commerce, whether it's a transaction that doesn't go through or a return process that's impossible to complete?
That's why this structure is great for a template: Make [blank] better for [blank], so that [blank].
You can fill in the blanks to use this for your own vision statement—even just to get started.
2. Zoom
Zoom has a strong vision statement: "Communications empowering people to accomplish more."
The ubiquitous video meeting platform does an excellent job of sharing how its vision fits squarely into its brand identity.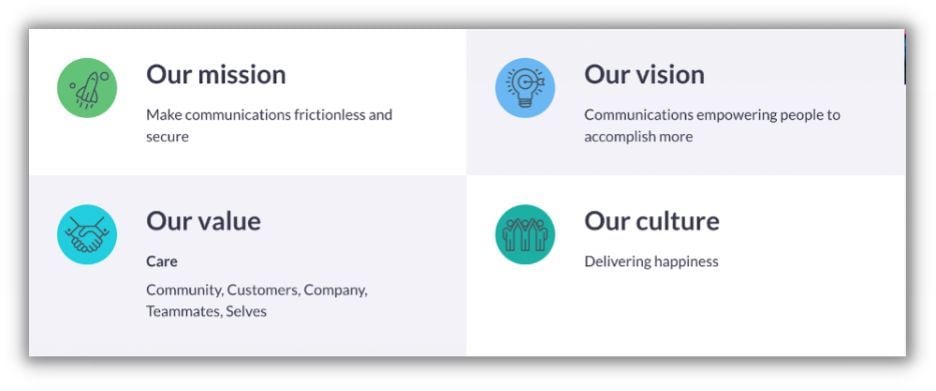 No surprises that a company focused on communication expresses this so effectively.
3. Lego
Lego's vision statement is simple and joyful: "A global force of learning through play."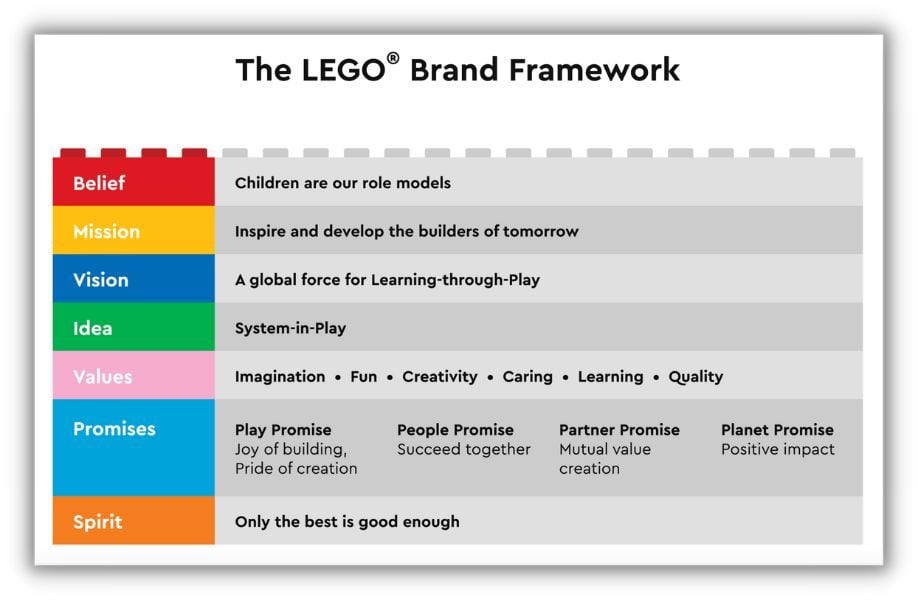 The toy company uses its vision statement to frame its impact reporting. The Lego Foundation is "reaching more children with learning through play," and the company shares the progress on this goal.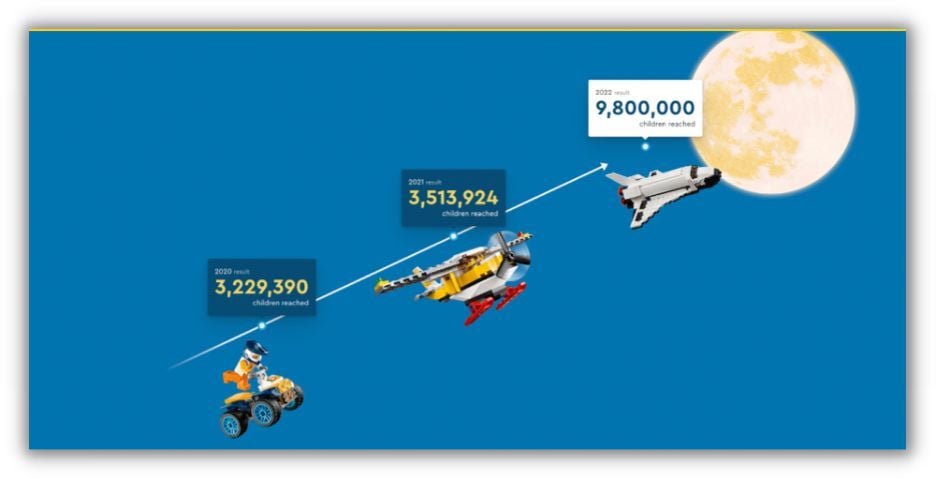 I love how consistent and playful Lego's branding is, and using the vision statement in action is an extension of this. Plus, it's good to show that a vision statement isn't just an aspirational goal—it really is the effect of achieving your mission.
4. Drift
Drift's vision is clear: "A world where people are free to have a conversation with any business, at any time, on their terms."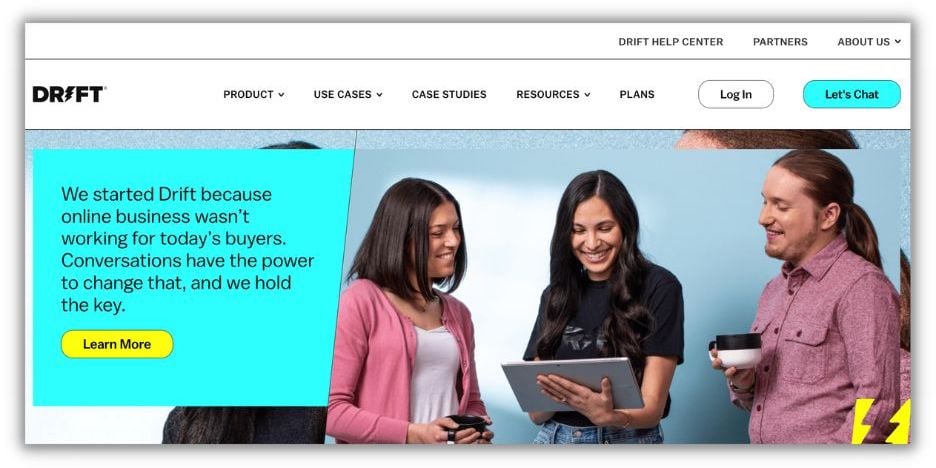 Drift's chatbots allow businesses to field incoming questions and connect with customers or potential customers at any time. The vision statement shifts the perspective. Instead of focusing on the value to businesses, it highlights the value to all of us as customers. No more waiting to call with questions during business hours again.
5. Labster
Labster is an educational platform for virtual labs and scientific simulations. The company's vision: "To make science education accessible to any student with an internet connection and a laptop. To help teachers educate and empower the next generation of scientists to change the world."

This statement appeals to both key user audiences for Labster—students and teachers. Even more, it presents the unlimited potential impact for all of us if we provide future generations with critical science education. Inspiring.
6. Coded Minds
Coded Minds is an edtech startup with a concise but impressive vision statement: "To be the revolutionary platform of choice for educating the next generation of leaders in the 21st century."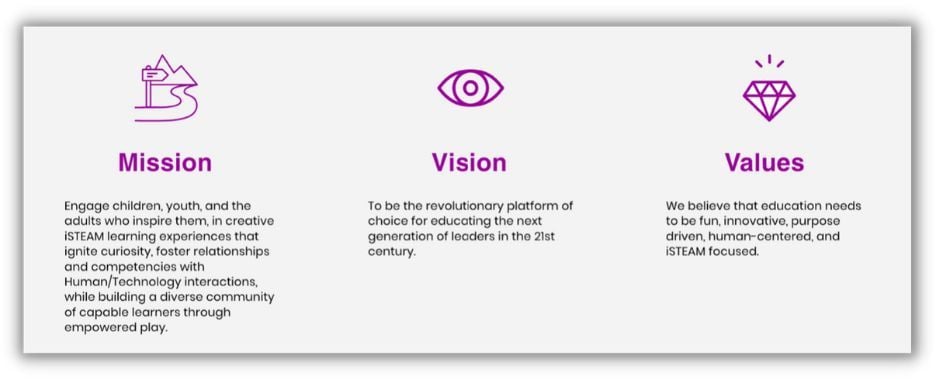 I like this visual because it outlines that company's long-term goals clearly: The mission is what the company does, the vision is what the company will achieve, and the values speak to why it's important to achieve it.
This exemplifies the simple significance of the mission, vision, and values exercises.
7. Zendesk
Zendesk's slogan positions the company as the champion of customer service. Zendesk's vision is the bigger-picture result of championing customer service for everyone: a global economy powered by lifelong customers.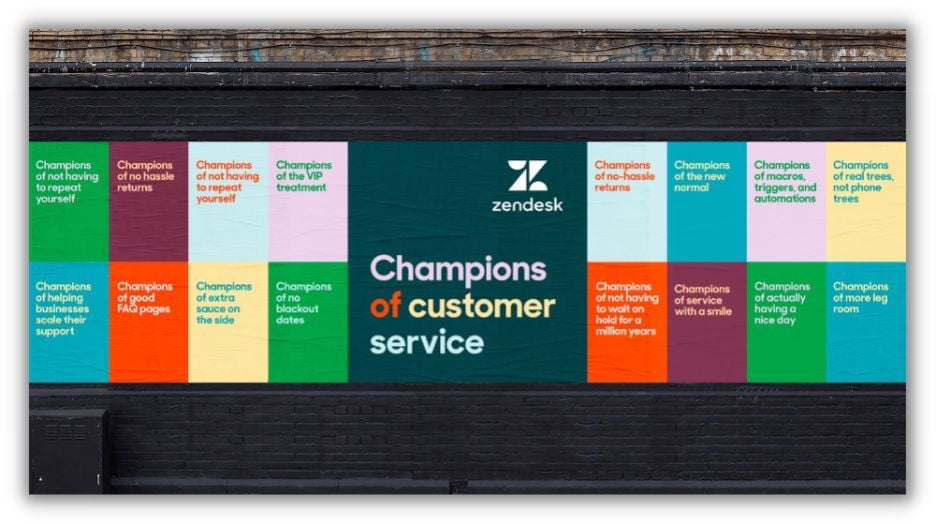 One of Zendesk's core brand beliefs is that customer service is so important because it impacts all of us. Like Drift, Zendesk is aware that we are all consumers who work with businesses and often need support when we're doing so. By championing customer service, Zendesk helps businesses help customers—and by ultimately improving consumer experiences, the company is building the economy. The vision is a grand one, but the logic follows nicely.
8. Alltech
Alltech develops agricultural products to help farmers raise livestock and crops to feed the world. The company shares why in its vision statement: "We firmly believe agriculture has the greatest potential to shape the future of our planet."

This is an inspiring vision that's particularly motivating for mission-driven employees. It's a reminder that the day-to-day office and lab work is contributing not only to feeding the world but shaping the future of our planet. That's a reason to join a company.
9. Nike
Nike's marketing copy is always crisp and energetic. Their vision statement is no different: "We see a world where everybody is an athlete—united in the joy of movement."

The key idea that everyone is an athlete resonates with the rest of Nike's branding. The second part of this statement emphasizes the power of claiming and recognizing this shared identity: Unity.
10. Billie
Bille outlines its vision for the company that goes beyond razors and presents a more important purpose: "We want to undo the unfair social pressures women face, starting with double standards around shaving and bodycare, and celebrate the infinite ways women can look, feel, and be in the world."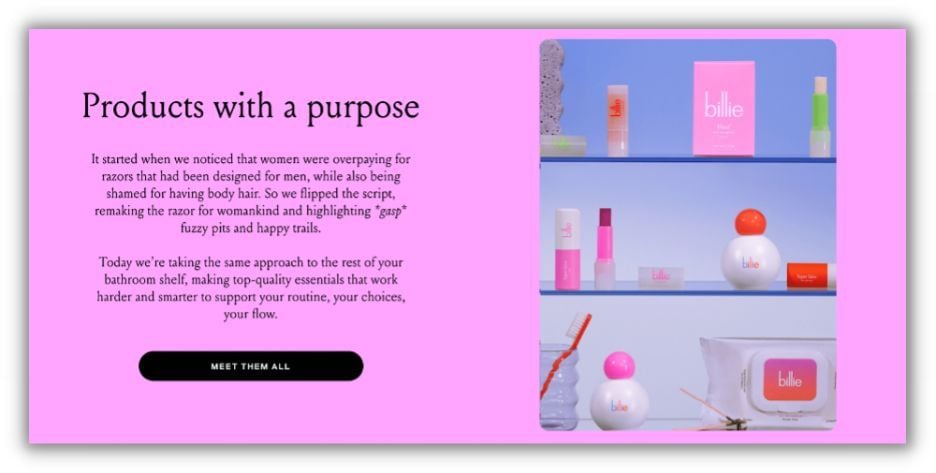 The best part is that this purpose appears throughout the website and product copy, too. The company not only announces its long-term goals, but it references them consistently.
11. Ikea
Ikea might be known for its flat-pack bookshelves and beds, but its vision statement doesn't mention furniture or furnishings at all: "To create a better everyday life for the many people."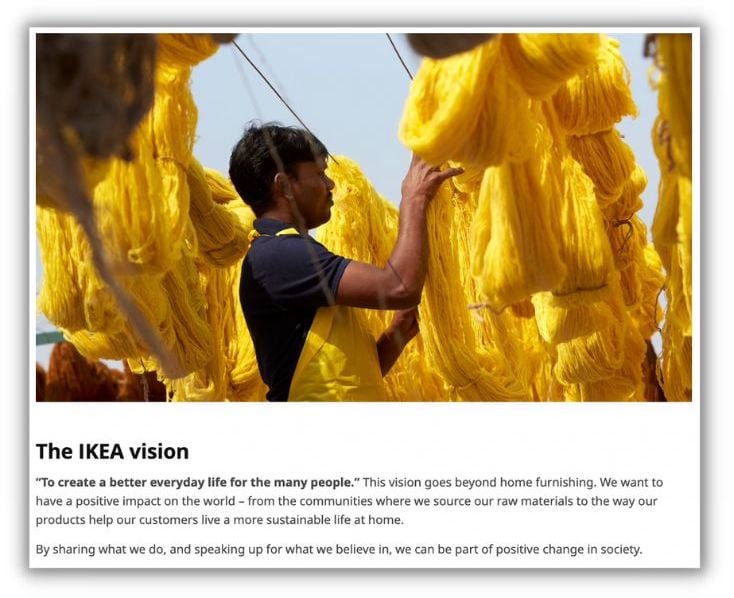 This sounds vague, but really it's big. Ikea's vision statement captures the impressive impact that accessible, quality furniture can have on people. It makes life better.
Plus, this leaves the future of the company open to expand beyond furniture—something that would be good to use in your own vision statement, too.
Get started writing the vision statement for your business
You can see from the examples that your vision statement doesn't need to be complicated or lengthy. Instead, it needs to communicate the long-term purpose of your business and what you're hoping to achieve. Now, use these examples for inspiration and work through the step-by-step to get started drafting your own vision statement. Good luck!