Are you getting paid what you're worth or what you want? Many employees–46%, in fact–feel like they're underpaid. Additionally, the PayScale Gender Pay Gap Report for 2023 concludes a disparity still exists in how men and women are paid. Their data further shows the gender pay gap is wider for women of color, women at higher job levels, and women in certain occupations and industries.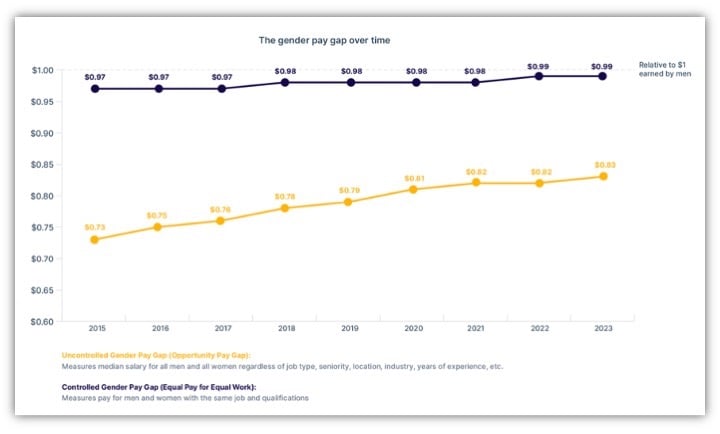 For many, it can be difficult to navigate the tricky waters when it comes to asking for a raise.
With 12 years of recruiting experience, I've hired hundreds and coached thousands into employment. Over the last seven years of my recruiting career, I made over 400 job offers and negotiated hundreds of salaries. By implementing the following strategies on how to get a raise, I personally grew my salary by 57% (from the same employer) and ranked in the top 1% of the highest-paid corporate recruiters in the nation.
I'm going to share my tried-and-true tips for getting a raise with you to help ensure you're getting paid what you're worth by teaching you:
How to ask for a raise
What to do before you ask for a raise
How to determine how much of a raise to ask for
Plus, I'll share a couple of email examples you can use to get the conversation started with your supervisor.
What to do before you ask for a raise
To understand how to ask for a raise, you must first understand how market value works. Why does the store manager make more than the cashier? The cashier is responsible for operating the cash register, checking customers out, and providing friendly customer service. The store manager is responsible for managing employees (hiring, firing, training), driving store sales, managing P&L, maintaining inventory, and dealing with escalated customer service issues.
Both are important jobs but why does the store manager make double the cashier?
What separates the two are the skills they possess and the value they add to the store as well as their responsibility level. Market value is the relative worth of a particular skill set to a particular company within a particular industry.

5 factors that determine your salary
The key to asking for a raise and actually getting it is knowing your worth, improving your skills, and increasing the value you add to your company. Your income is often commensurate with the value you add to the marketplace.
Here are the five factors that determine your salary:
Skills: The set of capabilities you offer a company in exchange for compensation.
Experience: The level of mastery you possess over your skills demonstrated by the results you've previously achieved.
Company: The specific enterprise you offer your services to within an industry.
Industry: The market sector your particular company belongs to (retail, banking, e-commerce, insurance, technology, etc.).
Geography: Where your job is located in the country (or world).
Let's examine each factor to learn how they impact your market value and ability to ask for a raise.
Before we go further, I'd like to make clear, when I refer to something as having "low value" or "high value" it has nothing to do with a human being's intrinsic or moral value. Rather, it has to do with the value associated with the marketplace from a business perspective.
Skills
Dan Lok, entrepreneur and investor, is well-known for talking about what he refers to as "high-income" skills. A particular set of skills that correlate to a higher income include public speaking, cybersecurity, supervising, copywriting, teaching, sales, web design, and digital content creation. As you can see, these are highly specialized skills that require training, time, and experience to develop competence and mastery.
Therefore, in order to create a higher income and get the raise you're asking for, learn high-income skills and develop mastery.
Your job title may also impact your salary, and most job titles are given based on skill and experience, so take that into consideration when determining how much to ask for when you ask for a raise.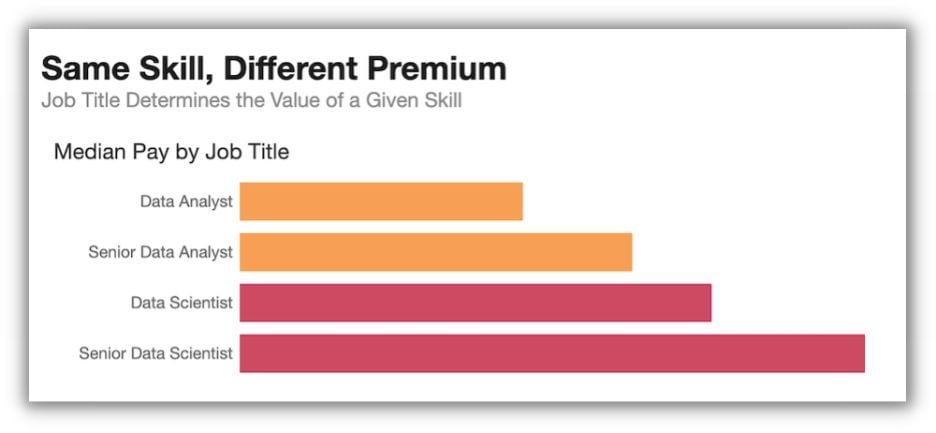 Experience
Which doctor would you rather perform your heart surgery: the rookie or the veteran? Of course, the veteran! Why? Because you have a greater sense of certainty the more experienced physician will do the job right because of their experience. The same goes for your employer when they evaluate you for a raise.
There are four factors that make up your experience:
Time: How long have you been implementing the skills associated with your job?
Quantity: How many times have you completed the primary tasks associated with your job?
Quality: How well did you complete the primary tasks associated with your job?
Effectiveness: How do the results you've produced measure up to your job's KPIs (key performance indicators)?
To enhance your experience and increase your value to your employer, take advantage of professional development opportunities associated with your job and industry. To maximize your income, do your job well, and strive to become the best at it over time. 
Company
Blockbuster or Netflix? It blows my mind to know these companies competed head-to-head at one point. Both started in the video rental industry but resulted in two completely different outcomes. When Netflix launched in 1997, Blockbuster was the clear market leader in the video rental industry. By 2020, Netflix was valued at $203 billion. Today, Blockbuster is now left with a single store in Bend, Oregon.
A company's leadership, strategy, and execution make a difference in how it is positioned within an industry. How well your company is doing affects your chances of getting a raise. Be aware of what's going on with your company and its competitors when it comes to asking for a raise.
Industry
The last few years have impacted different industries in different ways. The pandemic heavily impacted industries including travel, entertainment, and restaurants. And while some of those industries are starting to see upticks, others have been hurt by supply chain issues. And most industries have been severely impacted by rising inflation.
Pay attention to the latest trends taking place in your industry and how they may impact your company and job. This can help you determine the right time to ask for a raise as well as for how much.
Geography
Salaries for the same type of job can vary depending on where you live due to the differences in cost of living, taxes, etc. I've hired candidates who've taken nearly a 50% pay cut just to relocate to Texas for the lower cost of living. You can use tools like PayScale's Cost of Living Calculator to see how your city measures up to the rest of the country.

Now that you understand market value and the five factors that determine my salary, the next step is determining when to ask for a raise.
When to ask for a raise
There's no rule as to how often you can ask for a raise. But there are key times when asking for a raise and actually getting it is more probable.
Salary review
Most companies have an established salary review cycle. The last company I worked for had yearly salary reviews. Some companies review employee salaries at least twice a year. If you don't know what your salary review cycle is, ask your HR department. This is your prime time to ask for a raise.
Performance review
Companies generally conduct performance reviews more frequently than salary reviews. My last company conducted performance reviews quarterly. Meetings with your supervisor specifically to discuss performance can be an opportunity to ask for a raise.
Outlier event
Good companies will reward outstanding performance. Did you land a huge account? Did you optimize a workflow that saved your company millions? Did you implement a recognition program that increased employee retention by 50%? Any time you move the company forward in an extraordinary way can warrant an opportunity for you to ask for a raise.
4 simple steps to ask for a raise
Now that you understand the details behind what factors determine your salary, when to ask for a raise, and how much you should ask for, it's time to actually ask for a raise. Here are three simple steps to follow to ask for raise.
1. Know your value
Use salary research tools such as PayScale, Glassdoor, and Indeed as reference points to learn your market value. You can add parameters such as job title, years of experience, and geography to get as accurate of a valuation as possible.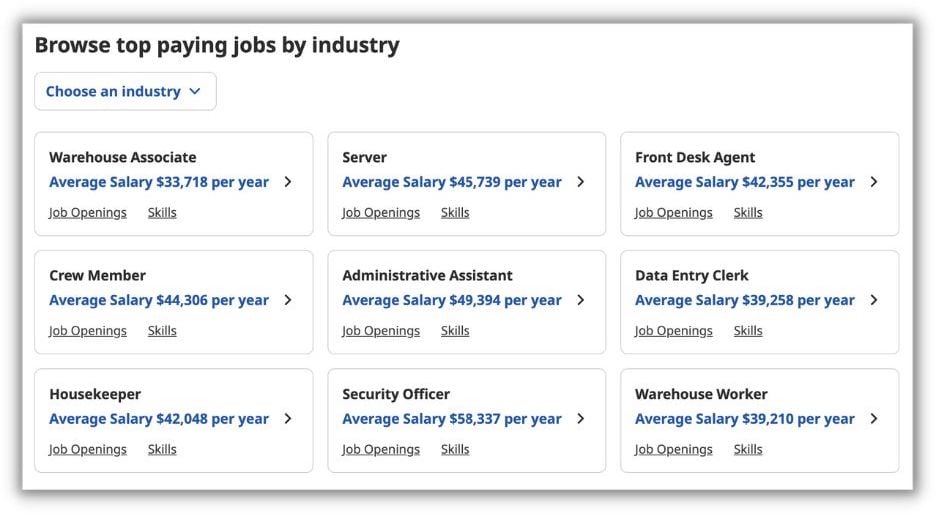 If you're bold, have direct conversations with others in your profession about their salary. Every time you get a call from a recruiter or another company, document the rate they are pitching you at.
Capture as many data points as you can wherever you can get them. We'll use these data points to build your case to get a raise. The best way to ask for a raise is using data and logic, not emotion.
2. Be specific
Like all negotiations, you can ask for whatever you want! However, you have to be able to justify what you are asking.
The market average is 3-5% of your current salary. This of course will vary depending on your industry and company as well as your experience and individual performance.
3. Build your case
Great results are the key to you getting a raise. Be meticulous about documenting every win, accomplishment, and result you've produced that moved the company forward. Yes, I'm asking you to keep a log of results.
This will actually make you a better employee because you'll be more aware of the contributions you've made to your company. This greater awareness will also increase your confidence when asking for a raise.
The best results to document are ones you can tie to cost savings, time savings, increased revenue, and increased efficiency.
Here's a real-world example: On the first day of my job at my previous employer, I walked into a stack of receipts from staffing agencies. Staffing agencies charge on average 20% of a candidate's base salary as a placement fee. Therefore, a $100,000 software engineer would cost $20,000 to hire. As the internal recruiter, my job was to relieve the company of its dependence on staffing agencies to save costs. During my seven years with this company, we hired over 400 team members and didn't pay a single perm placement fee. I documented every hire we made as well as how much it would have cost if we hired through an agency. This is I how grew my salary by 57% and ranked in the top 1% of highest-paid corporate recruiters in the nation.
4. Make the ask
Be direct and lead with results. The key to making an effective ask is your preparation. Speak to your manager in terms they care about.
The following are actual supporting points I've used to consistently get raises.
Hired 114 employees while paying $0 in hiring fees to 3rd party agencies (7 years consecutive).
Saved $8,000 / year by discontinuing unnecessary recruiting software licenses.
Effectiveness & Results: 77 hires (42 regular, 22 temps, 13 contractors) despite the loss of one full-time recruiter.
Facilitated nearshore resourcing initiative which cut development costs 50%.
Implemented "pipeline recruiting" strategy which reduced time to hire by 50%.
Saved $5,000 of approved recruiting spend by maximizing organic recruitment strategies.
Achieved 60% y-o-y increase of internal referrals (135 total) by influencing a recruiting culture.
As you can see, I'm big into tying my results to cost savings and increased efficiency. This is a highly effective strategy to get a raise and should also give you an example of the way you can and should structure your results.
Copy and paste email examples to ask for a raise
Actually asking for a raise can be difficult, but starting the conversation doesn't have to be hard. Here are some email templates you can copy, edit, and make your own.
But remember, it's always best to have the raise discussion in person (or virtually) so you can have a detailed conversation with your manager about why you feel you deserve a raise and also hear any feedback they may have for you.
Email template #1: Starting the conversation
Dear [insert manager's name here],
I would like to set up some time to discuss a performance-based salary increase. Due to the supporting points referenced below, which significantly moved the company forward, I believe my performance warrants the review of my existing compensation.
[Insert supporting points here]
Completed [specific task] which created [measurable outcome] that resulted in [quantifiable benefit to company].
Please let me know if you would be willing to have this conversation with me, and what day or time would work best.
Email template #2: Scheduling a salary review
Dear [insert manager's name here],
I would like to set up some time to discuss my current salary. According to market information referenced by PayScale, Indeed, and Glassdoor, the average salary for a [your title] with [# of years] experience in [your city/location] is [avg. market salary]. My current compensation is [%] below the industry average.
Respectfully, I'd like to ask for a review of my salary to ensure it's aligned with the market average in our next one-on-one meeting. Please let me know if I can provide any additional details ahead of this conversation.
Now go get your raise!
The ultimate strategy for getting the raise is to become more valuable to your company. You become more valuable by enhancing your skills, demonstrating effectiveness, and producing great results. Know your value, lead with results, believe in your case, and make the ask!
About the author
Julian Placino is a Sr. Recruiter turned success speaker, show host, and personal branding consultant. You can find home on YouTube, connect with him on LinkedIn, or visit his website.