Are you wasting money in Google Ads?
Find out with an instant audit of your account with the Free Google Ads Performance Grader.
Our promise: We will never share your data or access your contacts. By continuing, you're agreeing to our
terms of use
and
privacy policy.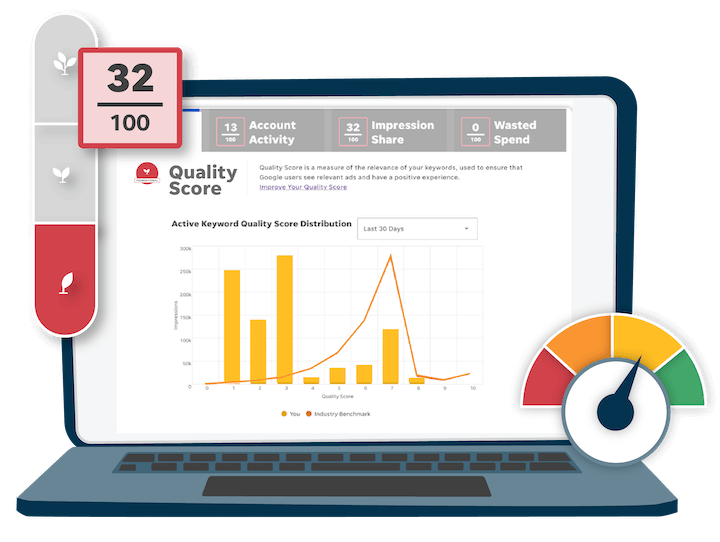 See how your Google Ads are really performing
This free assessment, designed with small businesses and agencies in mind, grades your account against 17 key metrics and offers deep insights, actionable next steps, and an overall account score to help you understand what's working and where you can improve.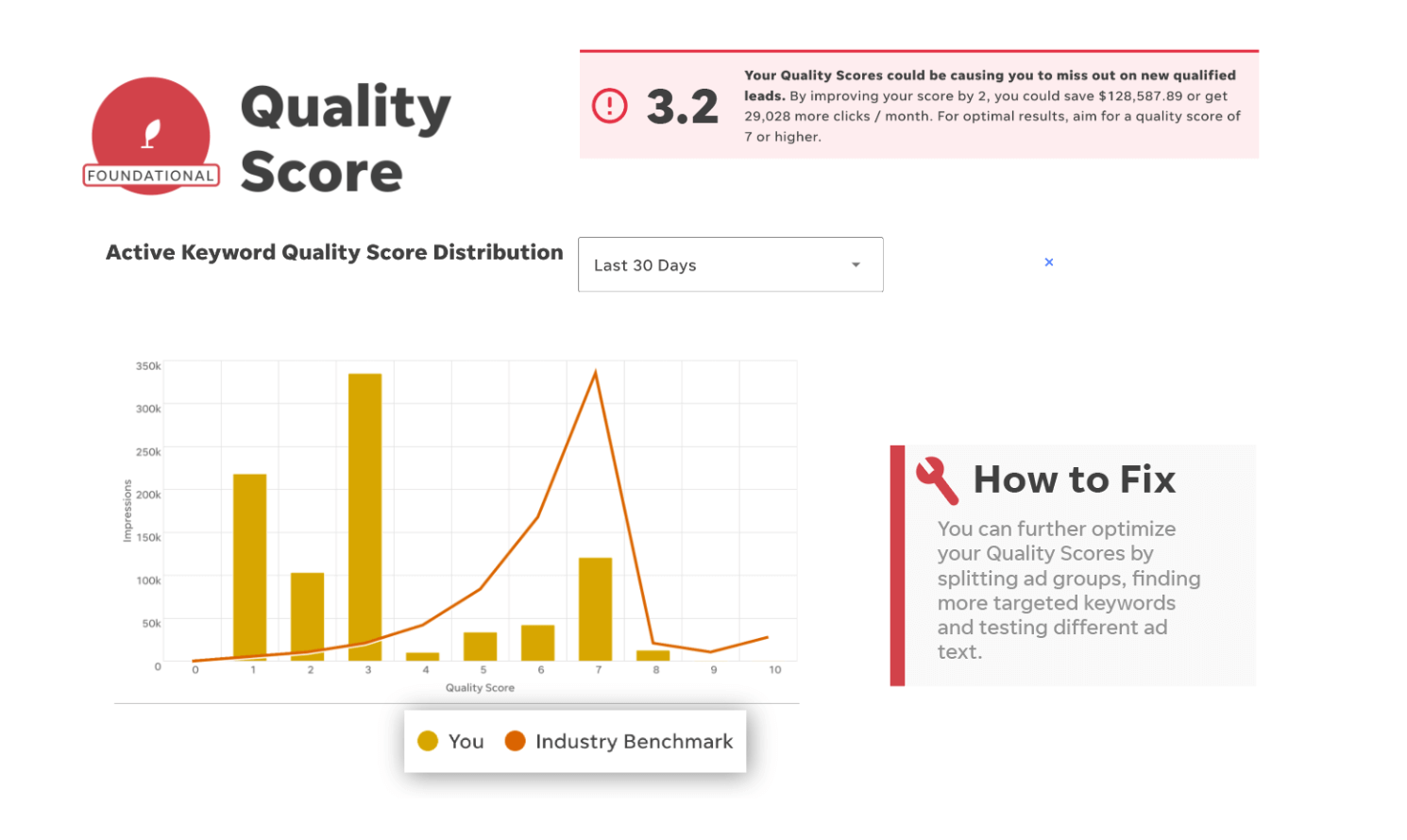 IMPROVE YOUR
Quality Score
Compare yours with industry benchmarks and learn how to improve it so you can raise your Ad Rank and lower your cost per click.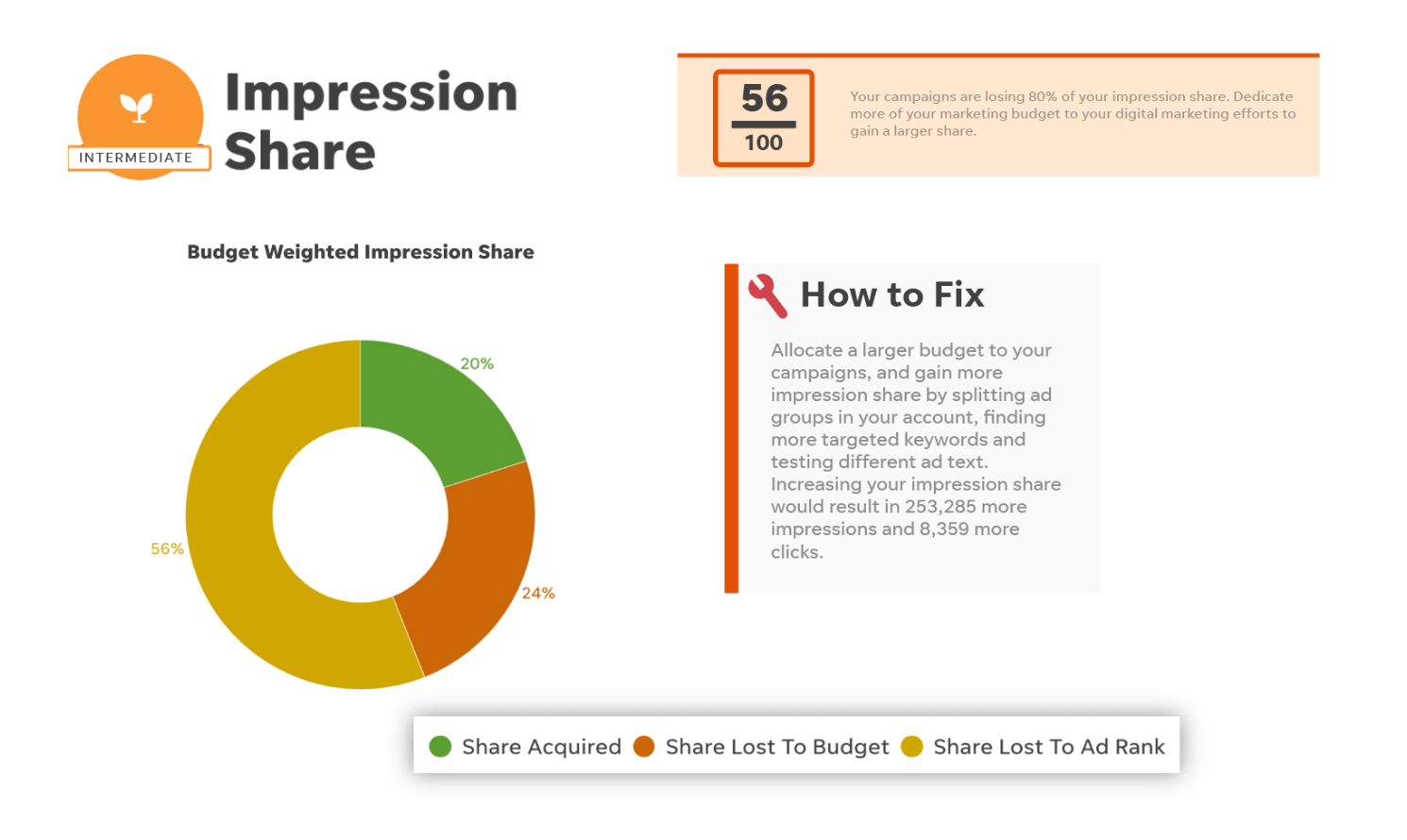 MAINTAIN YOUR
Impression Share
Make sure you're getting the exposure you need to stay profitable with budget weighted impression share metrics.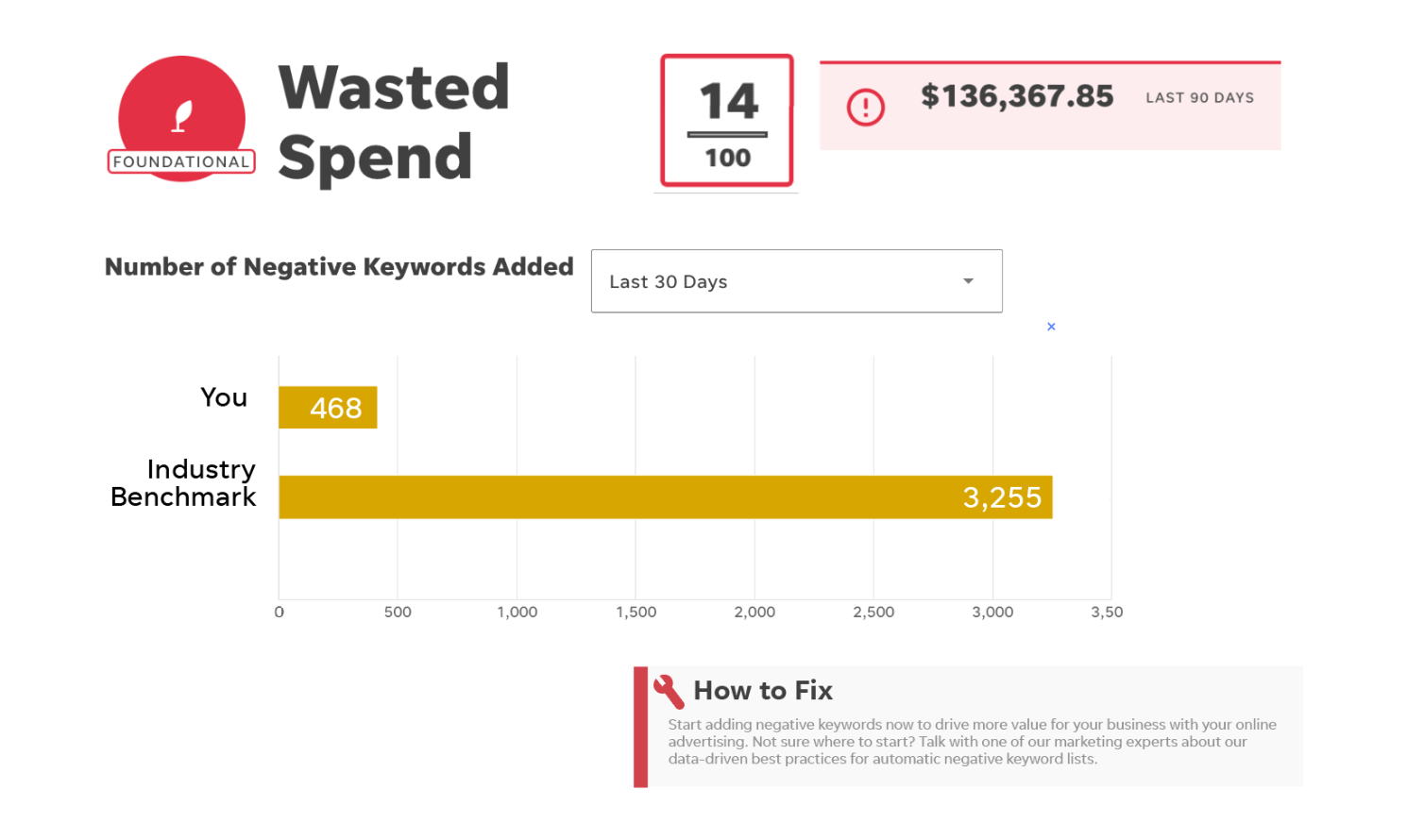 ELIMINATE YOUR
Wasted Spend
Save thousands of dollars and improve your ROI with negative keywords.

MONITOR YOUR
Account Activity
Stay ahead of competitors by keeping up with specific actions in your account.
The Google Ads Grader that thousands of businesses trust
Total free Google Ads reports generated
---
Google Ads spend analyzed
---
Account improvements suggested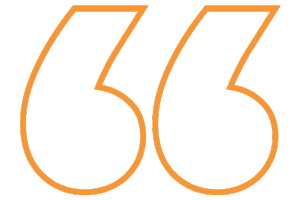 The tool is efficient enough to provide insightful analysis on par with the audits one would receive from an agency or consultant.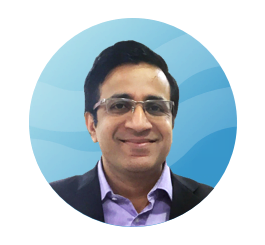 Navneet Kaushal
Page Traffic Buzz
Stop guessing — get your grade
Get your detailed report now and start getting more out of your Google Ads budget!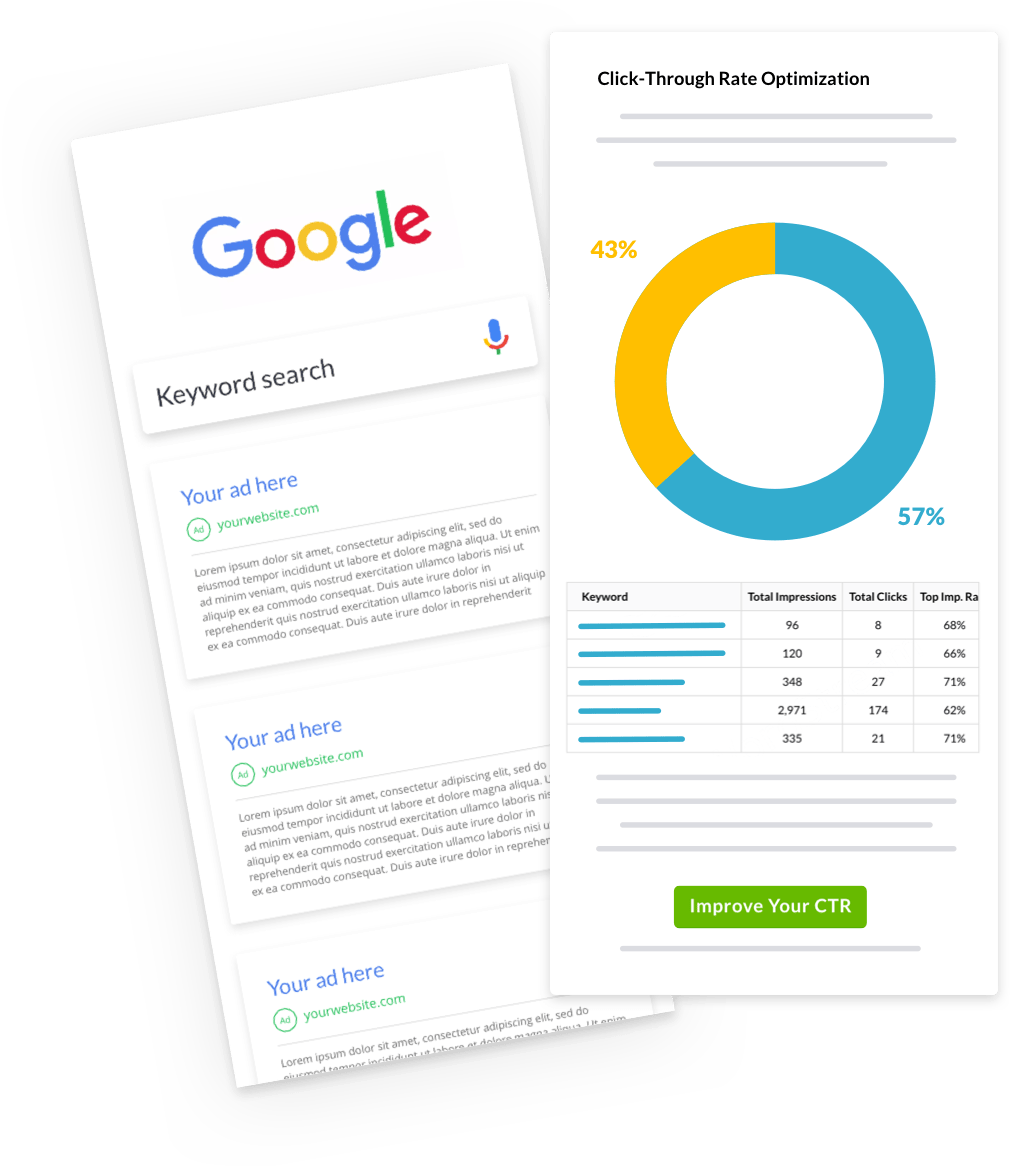 Quality score
Benchmarks
Impression share
Account activity
Wasted spend
Best practices
Best & worst text ad
Click-through rate
Account structure
Performance tracker
Display & Shopping ads
THE GOOGLE ADS PERFORMANCE GRADER IS
Powered by our Google Premier Marketing Partnership.
WordStream will only use your personal information and Google Ads credentials to analyze your account. We'll never share your Google Ads data for any reasons (see our Privacy Policy).
Start driving better results for your business with Google Ads.
Get your personalized Google Ads score today, for free.
Our promise: We will never share your data or access your contacts. By continuing, you're agreeing to our
terms of use
and
privacy policy.
Frequently asked questions
What if my grade isn't great?
Growing your business with Google Ads can be confusing and complicated. We can help!
Whether you're a busy small business owner, a marketing freelancer, an agency executive, or your company's digital marketing lead, we can help you find the right solution to address any issues the Grader uncovers in your Google Ads account. Our solutions can empower you to drive meaningful business results with online advertising—not just on Google, but also on Facebook, Instagram, Microsoft Ads, and more. Whatever your goals, we're a trusted business partner you can count on. Learn more about how WordStream by LocaliQ can help.
What is Google Ads, formerly known as Google AdWords?
Google Ads is a pay-per-click (PPC) advertising platform that enables businesses to run ad campaigns on Google properties.
The most popular Google Ads campaign type is paid search ads, where users pay to have their ad appear at the top of the search engine results page (SERP) for queries relevant to their offer.
How does Google Ads work?
Google Ads works like an auction, where advertisers bid on keywords, the terms their potential customers are typing into Google. However, winners aren't determined by bid alone, which levels the playing field for businesses big and small.
This is due to Quality Score, which Google assigns to ads based on their relevance to the targeted keyword, landing page experience, and expected click-through rate.
Relevance and Quality Score also play a role in Display campaigns, where AdSense technologies are used to figure out what ads to show on what pages throughout the Google Display network.
How does the Google Ads Performance Grader work?
The Google Ads Performance Grader is a free tool to help Google advertisers better understand how well their campaigns are performing compared to PPC best practices. Using a proprietary grading algorithm, the Google Ads Performance Grader generates a free, easy-to-read report that includes an overall grade as well as individual grades in four key areas of pay-per-click marketing:
Wasted spend – Are you making proper use of negative keywords? Or are you wasting hundreds, even thousands of dollars per month on irrelevant keywords that never convert?
Quality Score – Are your campaigns Google-approved? High Quality Scores have a major impact on your ROI, improving your rankings and lowering your costs.
Impression share – How often do your ads appear for relevant search queries? Increased impression share can improve exposure and multiply your lead generation results.
Account activity – To maintain performance, you need to spend active time in your account. How often are you checking under the hood?
You'll learn how well you're really doing in each of these important areas, as well as how you can improve your performance, driving more leads and sales at lower costs.
What improvements have been made to the Google Ads Performance Grader?
In 2011, we created the Google Ads Performance Grader to help advertisers audit and analyze their Google Ads accounts. We recently passed a pretty big milestone: The Performance Grader has been used to audit Google Ads accounts representing over $3 billion in collective advertising spend. That's an incredible amount of insight and analysis that we've offered to advertisers around the world, all for free. Now, we've taken all that rich data and used it to improve the Grader. The newly relaunched Google Ads Grader includes new features and functionality that make it even more valuable to busy marketers and small businesses. The improvements include:
Performance Tracker: Automatically track and analyze your account every 30 days, so you can see how your overall performance and key metrics are trending over time. For example, advertisers can use Performance Tracker to easily monitor and act on changes in Quality Score, something Google just doesn't offer.
Mobile Readiness Score: Assess your mobile PPC preparedness and optimization, including an evaluation of your account's adherence to mobile best practices.
New and Improved Benchmarks: We've revisited our competitive benchmarks for PPC, so all of the KPIs in your performance report (including Quality Score, click-through rate, account activity, and wasted spend) are more current based on the thousands of accounts we've analyzed.
What are some Google Ads best practices?
In addition to a full breakdown of your current Google Ads account performance, your report will include actionable tips on how you can improve your score specifically. But here are some overall best practices for Google Ads account management:
Filter out wasteful, irrelevant clicks and non-converting traffic with negative keywords.
Maximize relevance across your campaigns for higher Quality Scores.
Raise click-through rates with strong keyword, text ad, and ad group targeting and organization.
Practice regular, active account management and optimization.
You can also stay up to date on the latest tips and best practices with The WordStream Blog.
What are some other reasons to use the Google Ads Performance Grader & get free Google Ads help?
Ask yourself these questions: 
Do you have a sneaking suspicion that your Google Ads (AdWords) campaigns could be doing better?

Need to justify greater investment in PPC to your management?

Just curious if all your hard work in PPC has paid off?

Want to show off to your coworkers what a PPC rock star you are?
Any and all of these are great reasons to use the Google Ads Performance Grader to get a free, instant report on your account and see how your PPC metrics stack up against best practices.
Need one more great reason to use the Google Ads Performance Grader? It's an award-winning tool that was recognized in the 2012 Massachusetts Innovation & Technology (MITX) Innovation Awards for Best Customer Engagement Driver.
MITX 2012 Innovation Awards Winner
How do I use the Google Ads Performance Grader?
To use the Google Ads Performance Grader, enter your email, pick your account type, and sign in with Google. Once you allow us to access your account, you can provide more optional business information or just get right to the report.
The Performance Grader is used in different ways:
New advertisers – Learn where to focus your efforts for a profitable and efficient campaign.
Experienced advertisers – Get a thorough and comprehensive report on where you can improve results and save money.
Agencies – Use the reports to explain your work to clients in a format they can easily understand.
Try out our free Google Ads Performance Grader and let us unlock the secrets of Google Ads for you.
How can I improve my Google Ads Performance Grader Score?
Your performance report will give you specific action items to improve your score, but here are some general suggestions to boost your Google Ads performance.
Prioritize relevance. Make sure that whatever you're offering in your ad matches the intent of the keyword you're targeting.
Test your ad copy. Have 2-4 active ad variants in each ad group so you can test and achieve optimal click-through rates.
Follow landing page best practices. Have clear copy, make sure it's an extension of the ad, keep form fields to a minimum, optimize for mobile, and more.
Keep a clean account structure. No more than 7-10 ad groups per campaign, no more than 2-3 ads per ad group, and no more than 20 keywords per ad group.
Bid high enough. So you can get on the SERP and gather sufficient data to make optimizations.
Have a local PPC strategy. Google offers plenty of features in the way of location targeting.
Proactively manage your account. Check in and make adjustments to keyword lists, bids, campaign settings, ad groups, and more.
You'll also find tips and strategic advice in WordStream's PPC University.
I work at a digital marketing agency. How Can I improve my client's Google Ads Performance Grader score?
Consider the advice of Stefan van Vliet, co-owner of Dutch agency Compass Online Marketing, who completed the second interview in our second series of ongoing interviews with those who received high scores with the Google Ads Performance Grader.
In our full interview with Stefan, he explains some of the mistakes he made early on when first beginning his campaigns:
"I chose to set the budget to virtually limitless and tried to optimize our campaign while running, but just couldn't keep up (and honestly didn't know what I was doing). So only 1 week and almost €10k in losses later I pulled the plug. So for an extensive lesson in AdWords management: always test before you allocate serious budgets."
Stefan explains his company's successful Google Ads strategy:
Get sufficient data by bidding high and getting in spot #2-3 (above organic results).
Keep track of conversionsKeep track of conversions, cost per conversion and value per conversion (using conversion tracking with dynamic value tracking).
Adjust bidding to meet a cost per conversion which is roughly 50% of the value per conversion.
Optimize ads and try to improve conversion rates.
When asked for his advice for low-scoring marketers, Stefan suggests to:
Leverage negative keyword lists
Split campaigns on a low level
Leverage advanced CPC bidding in Google Ads Editor
Use the comments function within Google Ads Editor to make notes of what you do
For more detailed information about Stefan's winning techniques and suggestions, read the full interview on our blog.
Can I manage Google Ads by myself?
Anyone with a website and credit card can do pay per click advertising on Google Ads. However, we've found that most advertisers are not well-informed on how to create an effective advertising campaign to drive paid clicks to real business leads. That's why we created the Google Ads Performance Grader — a free tool that breaks down the technical aspects of PPC so you know which parts of your Google Ads account to improve.