Unless you live in a temperature stable nudist colony, it is likely that clothing is a pretty critical component of your day-to-day. That makes fashion a part of your day-to-day.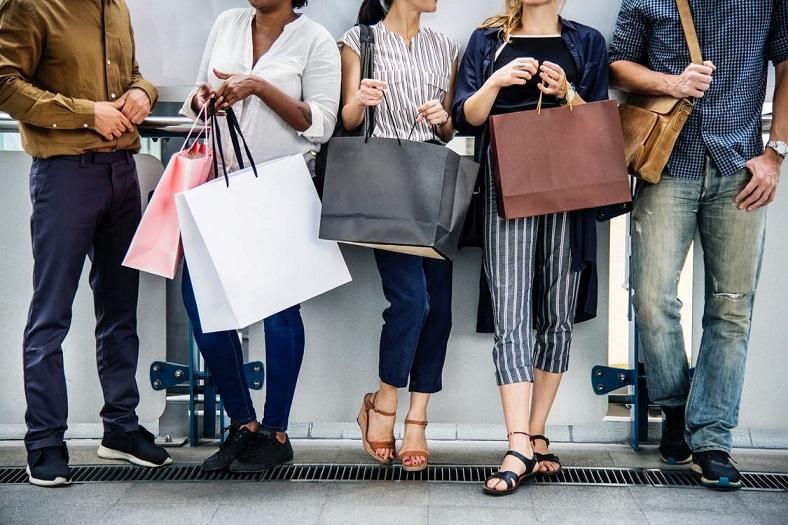 This widespread need makes fashion a great industry to be in—which presents a challenge for fashion marketers. Like the food and beverage industry, the fashion industry is a highly crowded and competitive space. In order to stand out, your fashion marketing needs to be full on FABULOUS. Why? Because the US apparel market happens to be the largest in the world, according to Statista. Not to mention that retail sales in clothing stores in the United States regularly exceed $15 billion on a monthly basis!
With ecommerce becoming more and more prevalent, fashion brands aren't just competing for foot traffic and brick-and-mortar sales. They're competing for those late-night clicks or early-morning purchases from online customers, too.
So how can a fashion marketer stand out among the competition? We've compiled an extensive list of 31 fashion marketing tips—for better ads online and offline—to become the most fashionably popular clothing brand around.
1. Keep your brand's look consistent across all your marketing efforts
The most successful fashion brands have a style that remains consistent. Take Ralph Lauren, for instance. The brand's look has remained consistent over my entire lifetime: Navy blues, whites, reds, polo, preppy, and classic all come to mind when I think of this brand. The company has a done a phenomenal job at keeping their brand style and marketing consistent year after year.

2. Focus on your best sellers
This might seem like an obvious tip, but fashion marketers are often tempted to hop on new trends or new styles they have coming out. While these can be successful strategies, as well, never forget who the real stars are. After all, your best sellers are deemed "best sellers" for a reason!
3. Invest in your website
Well, duh! But you would be surprised how many fashion marketers allow their websites to sit on the back burner. It is important to treat your website with the same love and care that you would treat your child.
… Okay, perhaps that's a bit dramatic. But the point is this: The look, feel, and functionality of your website are so critical because your site serves as your brand's virtual storefront. Ensure you are continuously updating, testing, and keeping your website looking completely fabulous at all times—just like you would for your store window display.
4. Remind your shoppers about their shopping carts
Did you know that roughly 70% of online shoppers abandon their shopping carts? I'm frequently one of those shoppers. With so many distractions each day, it's easy to understand why. That means that YOU, the fashion marketer, need to implement ways to remind these distractible shoppers of what is still in their cart. Whether it's an email campaign, remarketing ads, or social reminders, set up a system (or several) to get these shoppers to finish what they started!
5. Instill DEAL FOMO as often as possible
Okay, "Deal FOMO" may be a term I just made up, but it is truly a thing! If one of your favorite brands is running a 50% off sale, handing out free shipping, or including a surprise gift with your next purchase, you DO NOT want to miss out on the opportunity to take advantage of these special offers.
Take the example below for GILT with their 24-hour special prices for Father's Day.

This ad has multiple signals that it's a fleeting offer: "24-hour," "special prices," "final chance." Use similar tactics to stress the DEAL FOMO to your target market.
6. Create style guides
Being in the fashion marketing industry, pairing shoes, clothing, and accessories might feel like an easy and natural thing to you. However, your audience likely does not have the same level of fashion ease. To help your shoppers look their best, create style guides. These will not only serve as helpful, educational tools for shoppers—they will also be great tools to use on your websites, email marketing campaigns, and social ads. With all the potential uses, creating some well-put together style guides is definitely worth the effort!

7. Use video whenever possible
It is not secret that video is hot, hot, hot. Marketers who use video grow revenue 49% faster than those who do not! So if you are not using video, then get on the video marketing train! There are so many ways to use video in the fashion world. Whether it be modeling your best sellers, showing off your Summer collection, or giving a sneak peak into a new line. Video marketing can be helpful for social media ads, your website, email marketing campaigns, and the list goes on.
8. Create a YouTube channel
Now that you are using video in your fashion marketing, why not create a YouTube channel to expand your efforts to an entirely new audience? A lot of fashionistas spend time on YouTube so creating a presence there is not a bad idea. Bonus: You can also use YouTube to run video marketing ads.
9. Run a consistent and quality blog
Blogging is not only a great way to share free and useful information with your audience, but it can also be a super effective fashion marketing tool. Running a consistent and quality blog can help build your website's SEO, leading to more free traffic. It'll also help you connect with your audience to build brand loyalty, which can lead to new brand partnerships. Ensure your blog maintains a frequent and consistent publishing calendar with high-quality content to keep your audience engaged.

10. Partner with well-known fashion bloggers
Recently, my fiancé and I attended a wedding where a fashion blogger with over 1 million Instagram followers was also in attendance. This got me thinking: How powerful would it be for a brand to partner with this "social media influencer" of such high popularity?
This is not a new strategy, but one that is often used my effective fashion marketers. If you can build a list of social media influencers and find ways to connect with them to get them to share your brand and content, your audience will simultaneously grow with theirs.
11. Partner with your local brick-and-mortar stores
It can also be a useful strategy to take things offline and build partnerships in your own community. Whether it be a local tapas restaurant, or a popular décor store in town, build relationships with brick and mortar businesses to help promote each other's brands.
12. Become a hashtagging pro
#Hashtagging might seem like a useless tool to you, but I am definitely a supporter in using hashtags as a marketing strategy in every industry. Why? Because hashtags can help you reach new people, connect with others, build branded contests, and—well, the list goes on. If you're new to the hashtag game, check-out my recent guide to Instagram hashtags here!

13. Remarket EVERYWHERE
If you are not using the power of remarketing, YOU NEED TO BE! Why? Because remarketing allows you to capture recent visitors who left for some reason or another. Whether that's an abandoned shopping cart, a blog drop-off, or a new visitor who did not explore your new line of summer sandals, those users are opportunities. Remarketing is an effective way to say, "Hey there! Remember me? Come on back, and I'll show you exactly what you want J."
14. Use Carousel ads on Instagram and Facebook
Assuming you already have a social media presence on the biggest channels like Instagram, Facebook, and Twitter, it is critical to use these channels in the most effective way to reach your fashion marketing goals. One way to do this on Instagram and Facebook is by choosing the best ad formats. Carousel ads allow you to display several images in a magazine style format. You can even think of them as mini style guides. Use this ad format to show off your products—whether it's your best sellers, a summer dress collection, or a new line of men's golf shirts!

15. Run Collection ads on Instagram and Facebook
Did you know that there is a way to allow your customers to purchase without even leaving their precious Instagram and Facebook accounts? It's called Collection ads. You may have seen them before; these beauties display a primary image or video with four accompanying images or videos, and then when a user clicks they can purchase as they wish. Pretty, neat right? And why not give your audience another way to spend money with your brand?
16. Show off sneak peeks in Stories
Instagram's Snapchat like feature, Stories, is a non-committal way of sharing content since it only lives for 24 hours. Use stories to help your target audience build a bond and connection with your brand. Sharing "sneak peaks" of new styles coming out, showing some behind-the-scenea footage, or giving your audience a peak of your company culture are all great ways to use the story feature on Instagram.
17. Launch a social contest
Social media contests are a great way to get your audience involved with your brand. They can also be critical in expanding your reach to a new set of potential customers. A contest can be as simple as tagging a few friends, sharing your post, or using your branded hashtag. Or, you could make it more complex, like the one below, which requires you to make a purchase to enter.

18. Run compelling email marketing campaigns
Email marketing is a critical tool for any fashion marketer. Make sure you have a robust email campaign strategy in place to regularly communicate with leads about special offers, sales, new styles, or popular items that are back in stock. Automating your email flow tied to specific behavior will help improve relevancy; For instance, if someone completes a certain purchase that leads you to believe they would be interested in a specific upsell, then enter them into an email flow that prompts that purchase.
19. A/B Test ad copy, email subject lines, and other content
A/B testing is a great way to take your fashion marketing strategy to a new level of success. Running A/B tests is a simple and effective way to determine what resonates best with audience members. While you should A/B tests several components of a campaign, make sure to focus on one component at a time. For instance, A/B test your email subject lines to see which gets the best open rates. Once you've found a winner, then A/B test the video thumbnails in your email to see which one is clicked on most.
20. Plan holiday campaigns far in advance
As many fashion marketers know, holiday season is a critical selling time! Whether it's a hyped-up holiday like Christmas or a Hallmark holiday like Valentines Day, planning for these seasonal peaks is critical to getting the most sales possible during these busy times. Start planning far in advance!
21. Take advantage of ad scheduling
Did you know that for the majority of online marketing campaigns (Google Ads, Facebook, Instagram, Twitter), you can schedule what time of day and day of week your ads run? Perhaps you know this but haven't taken advantage of this feature. Either way, you should know when your shoppers are most likely to be active online. Take this knowledge and implement it so that you are only paying to run your ads during these busy hours and days.

22. Encourage your happy customers to write testimonials
Whether you are primarily an ecommerce business, a retail store, or in another sector of the fashion industry altogether, reviews matter! Especially when it comes to purchasing clothing. No one wants to go through the hassle of visiting a store or purchasing clothing online to then have to deal with returning unwanted items. That's why shoppers use reviews to influence their decision to purchase. To get those shoppers to become customers, encourage your existing customers to write testimonials.
Rent the Runway is an example of a company that does an amazing job at encouraging their happy customers to write reviews (they even got me to do it, and I'm not one to often write reviews). Check out an example of an email they sent me after using their services.

23. Get on TV!
Easier said than done, I know! But if you work at making the right connections, anything is possible. This might mean starting off on your local TV station, yes, but just imagine what it would do for your brand to be exposed to an audience as large as The Today Show! Consider hiring a PR professional to help make these connections if you do not know where to start.
24. Take advantage of the Google Shopping Network
If you are not taking advantage of the Google Shopping Network you are missing out on a huge untapped audience! We all know that Google has become the sidekick for most individuals looking for anything. Now more and more people are shopping on Google so ensure your brand has a strong presence there.

25. Use Google Display Ads to appear in relevant places to interested parties
Between Google Search, Shopping, and Display, it can get confusing as to which to use. While you should have a presence on all three, it is critical to not ignore Google Display Network (GDN). The GDN will let show your ads on websites based on keywords, topics, and site names so you can target your audience where they like to spend time online with a beautiful and compelling visual advertisement like the one below.

26. Target your audience by specific interests through social media marketing
The level of targeting that you can do on various online platforms is pretty remarkable. One of my favorites for the fashion industry is using interest-based targeting. Why? Because you likely know what your target audience is interested in so why not target them based on these interests? For example, if you sell running clothing, why not target those interested in running and physical fitness?

27. Take things offline with guerilla marketing
Lots of the ideas we have been discussing are online marketing strategies. But why not take things offline and onto the streets? Thankfully, the world is vibrant and alive IRL. Incorporating some guerilla marketing campaigns into your playbook is a great way to stand out and make a real impact. Here are some fun examples to spark inspiration.

28. Run a local fashion show at a popular place
Another great way to take things offline and doing some in-person fashion marketing is by hosting a fashion show at a popular restaurant or tourist spot. For instance, partner with a local art gallery and host a show showing off your new spring line. Provide champagne and discounts to get the purchases flowing!
29. Get celebrities to love and wear your brand
Even if you can't get Taylor Swift to start wearing your new summer dresses, but what about a local celebrity? This tip is another one where a PR professional could be helpful to make prominent connections in your community.
30. Appeal to your audience's emotions
If you can build an emotional connection with your viewers, you can win them over and get them invested in your brand. Whenever drafting a new campaign idea consider the emotion you want your audience to feel. Happiness? Calm? Nostalgia? Then create content that evokes these emotions. Whether that be through video ads, image and copy, or something else all together, emotions are truly powerful in pushing people towards action.
31. Get involved in a good cause
Is there a charity or cause that your company supports? If not, there should be! For instance, the online fashion company, Everlane, is all about ethical clothing (think safe work environments and fair wages).

This tip ties in well with sparking emotion because if you can find a cause that your company is passionate about it is likely there is a large audience that is emotionally invested in this cause as well and therefore more likely to purchase with you over your competitors.
With these tips, your fashion marketing efforts will likely lead you to needing more clothing in stock, ASAP. Shoppers beware, new brands are coming your way!