It may feel like science fiction, but we now live in a world where it's getting harder to tell the difference between human-generated and computer-generated content. This opens up a can of worms in the world of fake news, but in the marketing world, it's great news. Not only are AI content generators now more accessible to the mainstream, but they're also getting better and better.


Not sure when you'd need such a specific image,
but the point is, a computer can create it.
We're still in the early stages of AI-powered content—and make no mistake, these will not be replacing human content marketers (at least not any time soon). So let's explore 12 AI content generators that can help you with:
Copywriting
SEO content
Image creation and manipulation
Audio and video content creation
AI content generators for copywriting
At the heart of all marketing is copywriting—the words and phrases that give your content meaning and separate your business from the rest. And thanks to AI-driven innovation, content marketers now have access to tools that can aid in their strategy. Here are just a few.
1. ContentBot
ContentBot is an AI writing service that can be used for a number of content types, including blogs, slogans, product descriptions, ads, pitches, landing pages, sales emails, and more.
With a free account, you can try out its content generators for blog introductions, conclusions, finishing sentences, changing tones, blog outlines, expanding on bullet points, and more. In the example below, these are the settings we chose
Content type: blog introduction
Tone: professional
Topic: robots write better than humans
The result? Pretty convincing.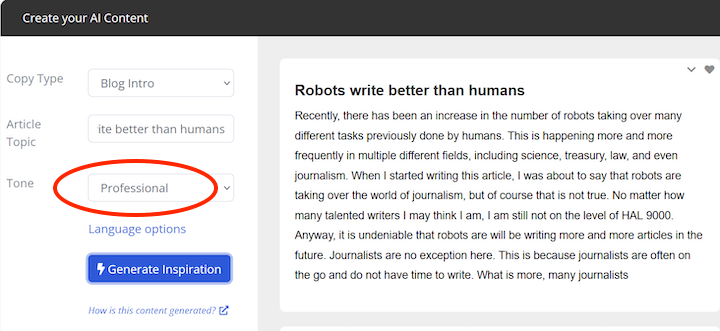 It's amazing how easily one can create unique text with a pre-set tone of voice.
We then changed the tone to "playful," and as you can see, robots have a sense of humor.

are is growing to the point where text generation is appearing more and more realistic≈
Contentbot is free for 20 short-form credits (~250 pieces of original content) and one 500-word long-form credit per month.
Of course, you shouldn't rely on a bot alone to write your intros. But you can use tools like the one above concurrently with our tips on how to write an irresistible introduction to come up with something great.
2. Simplified
Simplified is another all-in-one online content creation tool that includes an AI text generator, AI designer, and AI video creator. It can create Instagram captions, social media ad copy, blog posts, tag lines, and more.

We tested out the AIDA framework tool—meaning it generates content using the AIDA copywriting formula (attention, interest, desire, action). We put LOCALiQ.com for the company name and then put in the products and services. Here's what it generated:
Attention: Are you looking for more clients and sales?
Interest: We are a full-service digital marketing agency that helps local business to grow and maximize their budget. Our team is comprised of seasoned marketers with a passion for helping small businesses succeed online. We do this through inbound marketing, paid search, social media advertising, content creation, and website design.
Desire: Our goal is to make your business stand out from the crowd by increasing traffic, leads, and sales. If you're ready ot bring your brand up to date with today's digital tools, we'd love to hear from you!
Action: Schedule a free consultation today!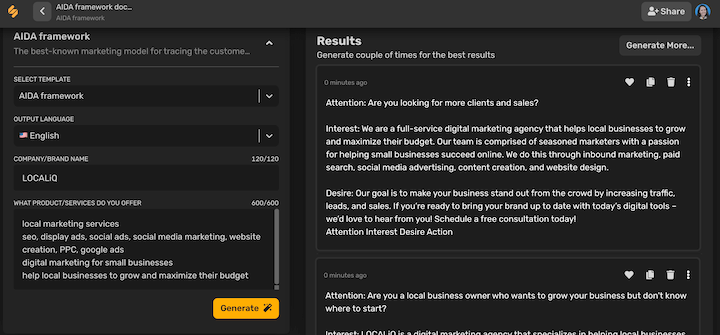 Not bad right?
You can use this copy as inspiration to write your about us page, business descriptions, boilerplates, and more. But as mentioned above, you should only use these tools as a starting point or for inspiration and ideas. Computers simply can't implement the copywriting techniques that give your content a polished and authentic feel.
AI content generator tools for SEO
While there are many technical aspects to SEO, the content creation part of it remains the most important. Here are some AI-powered tools to help with SEO copywriting.
3. Outranking.io
Outranking.io combines AI writing with factual research, SEO data, and SERP analyses to help marketers generate SEO web content at speed. With a free account, you can input a search query, location, language, and title and it will generate an SEO outline that you can customize.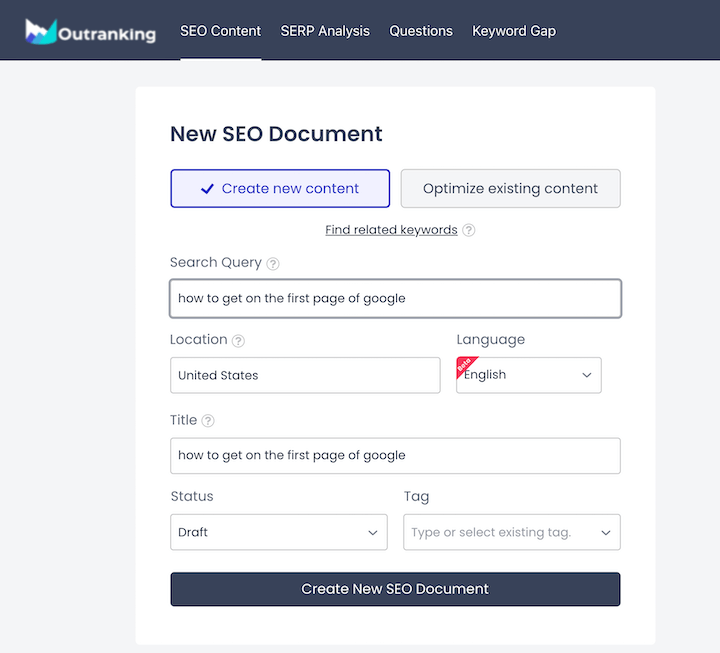 Though you're limited with the free trial, you can still get an idea of what an SEO-optimized outline should look like. You may also be interested in our SEO blog post templates we created based on our own top performers.
3. Can I Rank
Can I Rank is a powerful AI tool that can save you time with your SEO strategy. The tool is capable of analyzing a website's marketing performance and new opportunities to rank for, providing reports on how to outrank competitors and suggestions on how to improve website authority.
To see how it works, we plugged in the URL of a result on the second page of search results for "content generation using ai." The tool returned a number of detailed reports with keyword suggestions, how the page compares to the competition, recommendations for improvement, and more.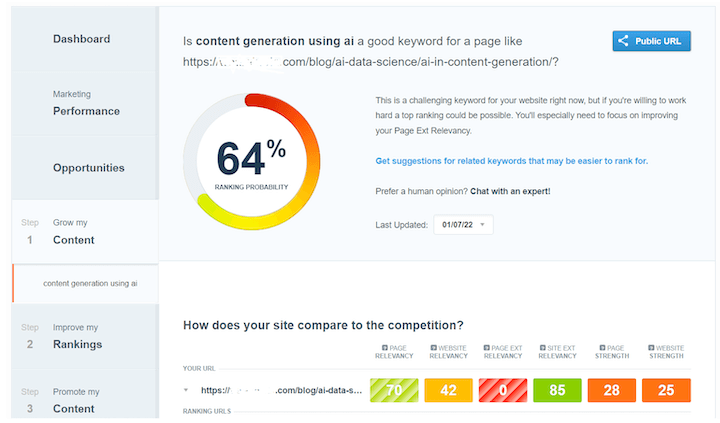 A free account gives you 40 highest ROI opportunities, 200 keyword recommendations, 20 link opportunities, 5 competitive analysis reports, and 5 on-page SEO analyses.
4. Microsoft PowerPoint
Microsoft PowerPoint uses AI to automatically generate alt text for images. AI-based image tagging is smarter than just simply identifying what the subject of the image is. It can distinguish images by type, material, color, pattern, size, and other characteristics.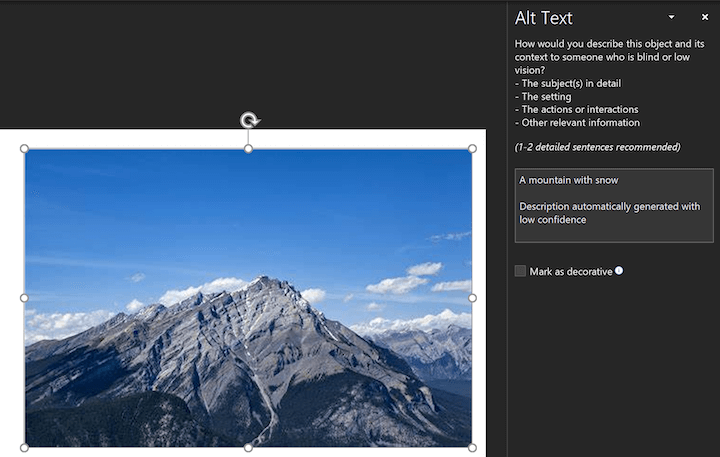 Adding alt tags to images is both an accessibility and SEO best practice, and a tool like this is perfect for organizing large libraries of images.
Is your website following SEO best practices? Get a free SEO audit with the LOCALiQ Website Grader.
AI image content generators
Original images are necessary for any content strategy, but they can be hard to create at scale. Instead of traditional stock images, you can now turn to AI tools to come up with unique images fast.
5. This Person Does Not Exist
ThisPersonDoesNotExist is a random face generator that provides headshots of men, women, and children of diverse ages, races, and genders. You can use it to create mockups and examples that carry no privacy risks.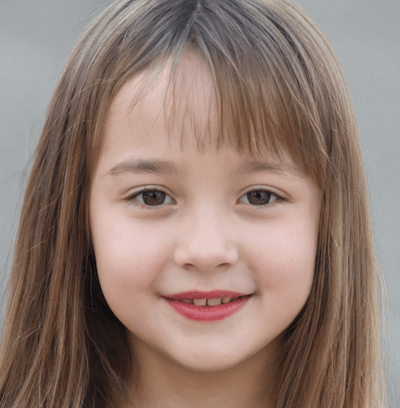 This cutie does not exist!
6. NightCafe
Text to image generators will soon be another staple in the content marketing toolbox. For example, with NightCafe, this image was created simply by typing "Swiss village in winter" into the text-to-image creation tool.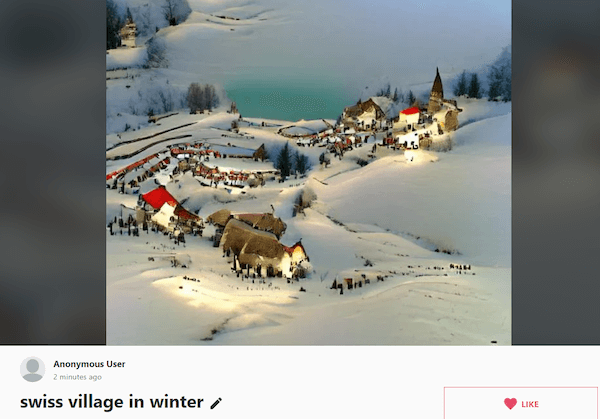 7. Dall-E
Dall-E is perhaps the most fascinating tool on this list. Remember the image in the intro of the baby daikon radish in a tutu walking a dog? That's from Dall-E. With this tool, you can edit a series of prompts with drop-downs.
It has a library of image-text pairs that enable you to edit a wide variety of prompts, like "a photo of the ______ of ______."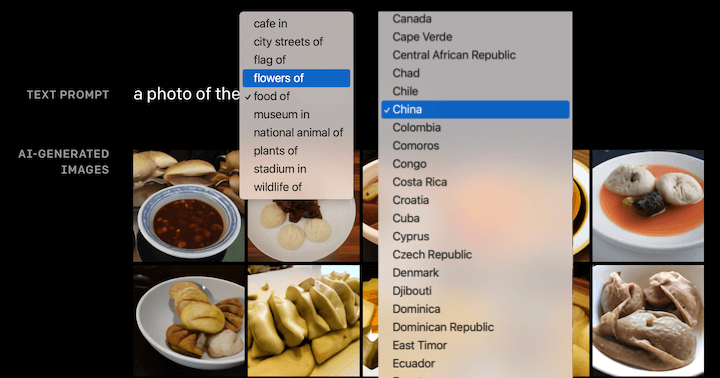 The prompts are endless. Here's another example:

You can choose photos, illustrations, drawings, and paintings of a variety of art styles, of animals, signs, objects, people, and more.
AI content marketing tools for image manipulation
AI can instantly perform image manipulations that would normally take a trained eye and careful hand, like changing a setting from day to night, switch outfits on clothing models, replacing individuals in photos, and more. Let's take a look at one tool that can help in a few different ways.
8. VanceAI
Increasing the size of an image in a photo editor can sometimes cause it to be blurry or pixelated. VanceAI's free image upscaler uses AI to maintain image quality when scaling it up.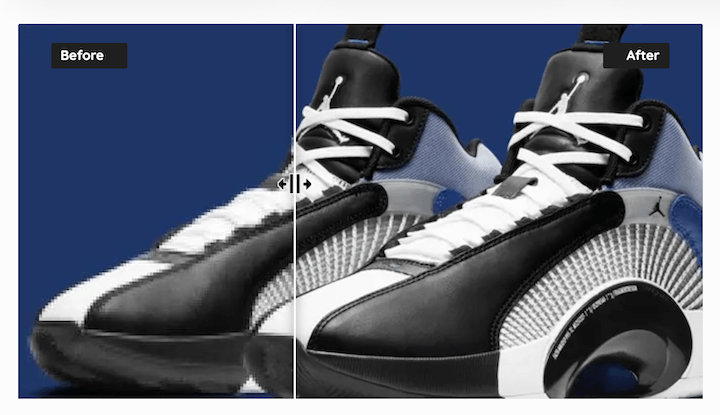 It can also take real photos and, offering the potential for stylized unique images based on real photos. From the photo of the non-existent girl we found using ThisPersonDoesNotExist, the tool can generate a sketch.

​​
Within the free account you get three credits to spend on image manipulation.
AI video content generators
Between recording, editing, rendering, and publishing, video can be a resource-heavy content type. AI-driven innovation can help with editing techniques like replacing backgrounds and blurring out faces, as well as generating entirely new video content, like explainer videos.
9. Synthesia.io
Synthesia.io, allows you to turn text descriptions into videos with virtual, but realistic, actors and voices.

Here's a sample video.
We have a ways to go before AI-generated characters become truly convincing, but we have to start somewhere, right?
10. AIVO
The AIVO AI-powered text-to-video creator uses deep learning technology to transform articles and images into video content. You can add a URL or text, then choose related topics to improve the quality of the video.

Once the video is generated, you can edit just as you would with any other video editing software.

The free basic account allows you to use the library of style templates, royalty-free stock photos, and videos to generate your own branded video. You can upgrade to a paid account starting from $9 per month, or download video files paying $1.29 USD per each.
Video prediction is another application of AI technology that allows one to create frames of a video based on a sample of beginning frames.
AI voice content generators
Text to Speech (TTS) technology can also help content marketers generate synthetic voices for podcasts or ads.
11. Podcastle.AI
This free extension for Google Chrome allows you to convert blog posts into podcasts with a total one hour duration a month, or turn any text to speech. An easy way to repurpose content and make it more accessible.

12. Play.ht
Play.ht offers a free trial that allows you to create and download three audio files converted from a link or entered text. You can build up a unique voice in more than 60 languages, changing accents, voice style and gender of the narrator.

Give these AI content generators a try
AI-powered content is an SEO trend that we'll continue to see pick up momentum in the coming years. It has great potential to not only augment content creation for marketing but to create entirely new content on its own with human guidance. The key word here is "human guidance." As you can see, AI has improved but it still requires a human touch. It does not yet have the capacity to understand the human emotion and content strategy that businesses need to keep their content effective. At the moment, these tools are useful for creating and editing content, but certainly not a replacement for human content marketers.
About the author
Julia Ramyalg a is a Senior Marketing and Technology Analyst at MobiDev (USA/Ukraine), a software development company which turns emerging technology into innovative products. Having a Master's degree in marketing and 15+ years of experience in content marketing, SEO, PPC and web analytics, at MobiDev she discovers new technology opportunities to implement them in the company marketing processes. In her spare time she enjoys life as a mom of three children, amateur trail runner and passionate mountain trekker.