Although the core principles of SEO remain the same, algorithm updates and search trends evolve and influence the ways we execute optimization across our web pages.
So as search engine technology advances this year, what does it mean for your strategy? Below are the top 10 SEO trends to pay attention to in 2022 to keep your traffic and keyword rankings trending upward.
>> Want 2023 SEO trends? We've got you covered! 
The top SEO trends of 2022
Jump to a trend…
1. Core Web Vitals optimization
Last year's page experience update was arguably the biggest change for search in the last several years. Page experience, now quantifiable by Core Web Vitals is now officially a Google ranking factor. Core Web Vitals include the following performance metrics:
Largest Contentful Paint (LCP): the amount of time it takes the largest content asset on the page to load.
First Input Delay (FID): how long it takes for your site to respond to a user's first interaction with the page.
Cumulative Layout Shift (CLS): how many unexpected layout shifts occur during the lifespan of the page.
Of all the areas to direct your SEO investments in 2022, improving Core Web Vitals signals across your pages is bound to have the most tangible impact on your search engine performance. This will most likely require the assistance of skilled web developers, but these free tools will be essential to identify where your web pages need improvements:
Google Search Console: The Experience feature of your Google Search Console account will let you see which pages are meeting or not meeting Core Web Vitals standards. It also lists the types of issues impacting your pages.

Example of Core Web Vitals Report in Google Search Console
PageSpeed Insights: In addition to Core Web Vitals data, PageSpeed Insights reports can give you an additional look into how your web pages are performing for users.

Example PageSpeed Insights report
In the SEO industry, we will likely see agencies and SEO providers expand their service offerings to include page experience and Core Web Vitals optimization this year. If you don't have the team in-house to make these more technical optimizations, consider outsourcing to an SEO service provider.

2. People also ask
A recent study of 2.5 million search queries showed that Google's "People also ask" feature now shows up for about 48.6% of searches.
With its prominent placement at the top of the SERP (and often above position one), everyone is going to want to get their content ranking in this coveted SERP feature.


Example of the People also ask SERP feature
To get there, you need to provide answers to common questions in your content. Look to the SERPs or use a keyword research tool to identify long-tail question keywords among your audience
Then, provide comprehensive answers, including the questions in your H2s, H3s, and H4s, or adding a FAQ section.
This strategy will be a great way to gain more visibility at the top of SERPs in 2022, even if the web page where you provided the answer ranks lower on page one (or even on page two!).

3. Keyword clustering
Keyword research is the foundation of SEO. But as Google's natural language processing (NLP) technology has gotten more advanced, effective keyword targeting has become a more granular and complex process.
Gone are the days of optimizing your landing pages and blog posts for single keyword targets. Google ranks our landing pages for multiple keywords anyway, meaning 2022 is the year to aim higher.
Keyword clustering is a more advanced keyword strategy to level up your total keyword rankings. It involves identifying multiple keywords with similar search intent and creating web pages that target those "clusters."
In the example below, we could create an interview software keyword cluster with keywords like:
interview scheduling software
interview scheduling tool
online interview software
virtual interviewing software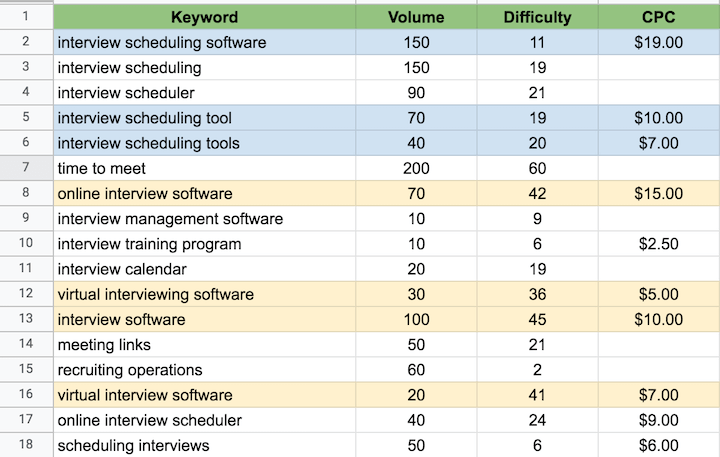 Example of keyword clustering using spreadsheets.
Keyword clustering is a more effective way to increase the total keywords your web pages rank for and establish your website as an authority in key topic areas. Although more time-intensive, the results can mean Google showing the same web page for hundreds of additional keywords.
>> Use our Free Keyword Tool to start forming your clusters.

4. AI-generated content
The machine learning model GPT-3 (third-generation Generative Pre-trained Transformer) was made publicly available last year through OpenAI. As a result, AI-assisted SEO content tools like CopyAi, Headlime, Jarvis, and others are on the rise,  empowering content teams to generate more SEO-optimized content at a quicker rate.
These tools can generate topics, titles, meta tags, paragraphs, and even entire articles with just a few inputs.

Example of blog content generation with SearchAtlas
Although I strongly discourage you from replacing your human SEO copywriting with robots entirely, AI-generated content can be a great starting point. In 2022, we will likely see more content teams incorporating AI copywriting tools into their workflows.
Here are some of the most effective ways to utilize AI content tools:
Title/topic generation: Not sure what to write? Speed up the ideation and brainstorming process with AI-generated titles and topics.
Meta tag generation: If you need hundreds of meta tags, AI copywriting tools can help you produce original and unique page titles and meta descriptions at scale.
Outlines/first drafts: Once again, these should serve as a starting point, not a replacement. AI tools still give themselves away as robots with obvious errors and unnatural phrasing, so build off of AI-generated drafts to save time and produce content faster.
5. Content optimization software
Content optimization tools can help you create high-quality, semantically-rich content that ranks higher in Google.
Using similar NLP algorithms as Google, these tools identify keywords, subtopics, synonyms, and even common questions search engine crawlers are looking for on the page when promoting content.
We'll likely see more sites leveraging the power of content tools this year. I myself have seen content optimization have an almost immediate impact on the total keywords and average positions a web page ranks for.

Immediate jump in impressions and average position after using content optimization software.
6. More structured data & rich snippets
Schema markup is a vocabulary of microdata that helps Google better understand and extract content from your pages, enabling them to show up as rich snippets, which are more attractive and clickable for users.

Google loves rich snippets because it helps its crawlers better show users the exact content they're searching for, meaning a better experience for users. And with Google supporting new schema markups each year (including video schema and education sites, it's not going to be slowing down with these anytime soon.
Businesses that leverage schema markup are already far ahead of their competitors, as many digital marketers still don't utilize it. Take a look at Google's full list of rich results to see which are relevant to the content on your website, and then make it a goal to add the appropriate schema markup in 2022.

7. Long-form content
Google likes to rank high-quality content. Although content length is not a ranking factor, there is a strong correlation between longer content and better rankings.

Why? Because long content is more likely to display the E-A-T signals that Google associates with quality, such as in-depth content, original research and analysis, and expert authorship and sourcing.
As Google continues to improve its NLP algorithms, it will keep getting better at recognizing quality. So take the time to provide comprehensive information on the keywords you're targeting and you'll likely see higher keyword rankings and higher average positions.

8. Good ol' boring SEO
Although Google updates its algorithm and search engine technology improves, the core principles of SEO have always remained the same. To see SEO success in 2022, the basics still apply:
Content quality: Create accurate, up-to-date, original, and in-depth articles on keywords relevant to your audience.
On-page SEO: Make sure your meta titles, meta descriptions, header tags, images, body text are optimized so Google can better understand the content on your pages.
Backlinks: Focus on getting high-quality backlinks from other sites through content marketing, guest blogging, and public relations.
Technicals: Create fast-loading, responsive web pages with high-quality UI/UX and make sure they are indexed properly.
Industry-specific ranking factors: Align with these, whether for local business, credit lending, legal services, healthcare, and more.
>> Is your site optimized to rank on Google? Get a free SEO audit with the LOCALiQ website grader.
<aid="democratization">
9. The democratization of search
Because Google is so much better at recognizing content quality and page experience signals on web pages, the role of authority will not play as significant a role in the coming years as it used to.
Although backlinks and Domain Authority will still be essential to ranking well in 2022, search is becoming a more democratic place.

Incumbents will not be able to rely on their authority signals alone to maintain top keyword positions, and newer websites will have more chances to rank if they provide a high-quality, high-performing web experience for users.

10. Another search engine?
With open-source technologies like GPT-3 becoming widely available, that means more opportunity for key players to create their own search engines.
I don't see Google losing market share anytime soon, but we are already seeing companies like Apple investing in creating its own search experiences for users.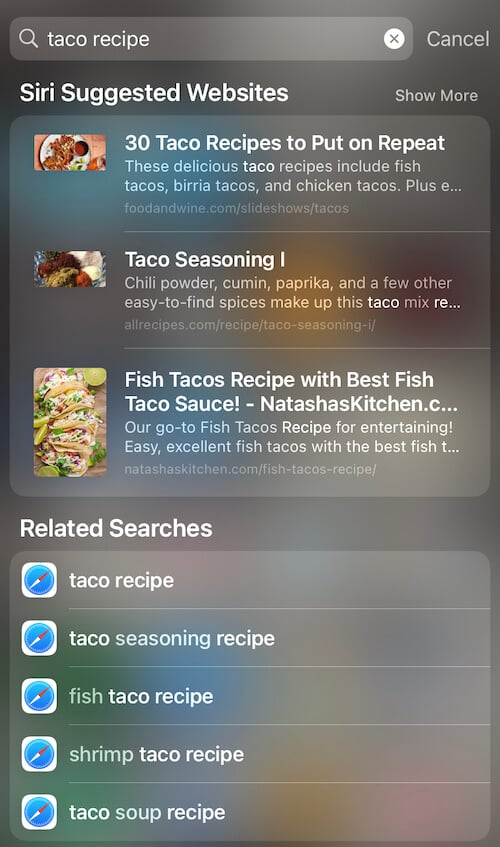 Google's dominance has arguably been well-earned because it produces the highest quality search results. However, with new and existing search engines being able to access the best in NLP technologies, we will likely see Google's competitors refine their own products in order to better compete.
That's great news for the SEO industry overall, as more businesses and brands will want to be discovered through the new ways users may be searching for content.
The best SEO strategies for 2022
Overall, site owners and digital marketers should stick to the SEO fundamentals this year. But do pay attention to tools and technologies that can help your team save time and produce more impactful results.
Given the trends above, here are the best SEO strategies for 2022:
Check your Core Web Vitals and invest in improvements.
Target long-tail question keywords for People also ask.
Create keyword clusters to rank for more queries with one page.
Use AI content tools, but as a supplement.
Try out content optimization software.
Apply more structured data and rich snippets to your content.
Write high-quality long-form content.
Keep up with good ol' boring SEO.
Take advantage of the democratization of search.
Keep an eye out for new search engines and experiences.
Interested in more SEO trends? Check out our archive: