I hate the dentist. More than I hate going to the hospital or eating my vegetables, the dentist is my least favorite appointment. And, due to the fact I move around a lot, I'm constantly looking for a new dentist to trust my teeth with.
Talking to friends who also struggled with finding a dentist, I heard all kinds of horror stories—anything from getting fake cavities filled to being overcharged for a service they didn't receive. What we could all agree on: finding a good dentist is hard.
You might find that bringing in good clients, and lots of them, is hard too! Here are some smart marketing ideas to make it easier for your potential customers to find your practice.
1. Local Awareness Facebook Ads
While you want to get the word out about your dental practice, being specific about who you market to is important. Most likely, you don't want to be showing ads for your practice outside of a 50-mile radius—if you are in Pennsylvania and someone in California is seeing your ad, that doesn't do anyone any good.
Local Awareness ads are a great way to reach a local audience, and you can now use the new map card to share locally relevant details about your dental business, like the address, distance to the business, hours of operation, and a "Get directions" link. Your CTA can even be a call button, an easy prompt to make an appointment.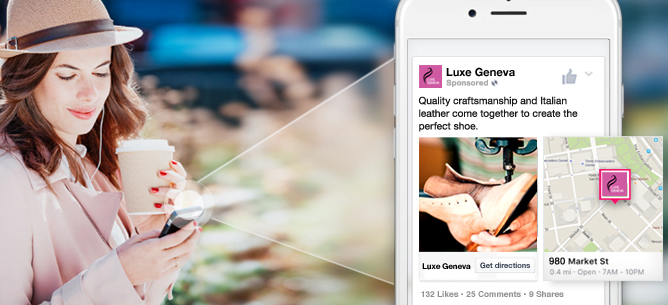 2. Click to Call Ads
The main goal for dental marketing or advertising is that patients and prospects book an appointment—which is usually done by picking up the phone and calling the office. Click-to-call ads are available through Facebook and Google Ads (formerly known as Google AdWords) on mobile, desktop, and tablet. This extension can be added to existing ads, or you can create call-only campaigns.

3. Mobile Call-Only Ads
According to Google, most healthcare-related searches are performed on a smartphone. And one in twenty Google searches is for health-related information. Don't miss out. You can create ads exclusively for mobile with call-only campaigns through Google Ads.

4. Facebook Demographic Targeting
Facebook has an insane amount of demographic targeting available, and you can be using this to your advantage. Other than the obvious, you can also target potential customers by language, relationship status, employment, income, and interests. Research has shown that women make 90% of all dental buying decisions. Make sure you're getting in front of the crowd by targeting ads to women who recently bought children's clothes and live in your area.
5. Appointment Reminders
Whether it comes in the form of a postcard or a phone call, appointment reminders are important to make sure your patients show up. Streamline this process by using Google calendar alerts, and sending appointment confirmations and reminder by email.
You can also easily use these methods to remind your patients to make an appointment, i.e. for an annual cleaning.

6. Google Ads Income Targeting
Yes, everyone should floss regularly and go to the dentist for annual cleanings. In truth, most people don't. In Google Ads, you can target different demographics based on income level.
Navigate over to the settings tab and select "Advanced Location." It will bring up this menu:

Select the "Location groups" tab and you'll notice a list of three options. The one you want is called "Demographics."

Now, choose the household income tier (or tiers) you're interested in and click the big red "add" button!

This can be used to target higher income levels with ads for teeth whitening or veneers; lower income levels may be more interested in maintaining basic health.
7. Remarketing Ads
Remarketing is frequently described as "easy money." It helps you reach people who have visited your website (some pretty awesome dentist websites here) or practice, by serving specific ads focused on re-capturing those potential customers.  At your dental practice, if you collect email addresses, you can leverage these through Customer Match on Google Ads and Facebook! Just upload the email addresses to create a remarketing audience and create an ad that would entice patients to visit your practice again—maybe a reminder for a cleaning, or whitening.
8. Facebook Messaging Ad Type
Facebook announced an ad feature that utilizes Messenger to communicate with businesses. Advertisers will be able to use "Send Message" as a CTA on their ads, which would then take the prospect to Messenger. This is only in beta now, but should be rolling out fully soon!

9. Google Maps Ads
An advertisement on Google maps could literally lead a potential patient right to your dental practice. When "dentist" is entered into the search bar, results are shown on the map and on the search results list. On mobile, these ads also include directions and call CTAs.

10. Waze Ads
Like Google Maps, you can also directly advertise on Waze. Because Waze is a community-based application, advertisements are a little different—customers near your business will see a "digital billboard" appear on the map, as well as in the search results. They can either navigate to your dental practice or save the location for later.
11. Emergency Keywords
Two months ago, I found myself googling "emergency wisdom tooth extraction boston" at 2AM. The first two results didn't provide a "call" CTA, so I chose the third and two more from the Google maps results with the highest ratings. None of them picked up (which was expected), but I made an appointment with the first practice that called me back.
Bidding on keywords like "emergency" or "urgent" is an easy way to get clients with immediate needs and high intent; imagine the return on investment for those keywords! But make sure that your practice can take emergency cases and provides an easy way to contact the practice, or else you may get a bad review on Google…

12. ZocDoc
If there is something millennials hate as much as having to pay for wifi, it's talking to medical professionals on the phone. ZocDoc is a mobile app that helps patients find doctors based on specialty, insurance, location, and availability; it's almost like booking a doctor's appointment on Open Table. It is now in most major cities—and some smaller ones too!

13. Yelp
According to a study done in 2014, 88% of consumers trust online reviews as much as personal recommendations. I cannot stress the importance of Yelp enough—claim your business! Likely, people are already writing reviews of your practice, which should be fielded and checked for accuracy. Yelp is the first place millennials go looking for a good dentist, make sure you're getting in front of potential patients.
14. Instagram
Ever heard of Dr. Pimple Popper? Though not for the faint of heart, this dermatologist popularized popping zits on Instagram. Celebrities advertise teeth whitening products on their Instagram's, and orthodontists show off nice before-and-after pictures.
Instagram has become a place to shop as well—create an Instagram for your practice to show-off your unique techniques, and advertise to potential patients through social media. If you regularly update, it is sure to keep your practice top-of-mind for your followers.

15. Email Marketing
Imagine a world in which your patients could email the practice when they wanted to make an appointment. Your receptionist could respond with a few timing options, and ta-da, an appointment is made and on the calendar. Even better, you can send bills this way, reminder emails, and cute "we haven't seen you in a while!" emails.

16. Referral Bonuses
The Pride Institute reports that 93% of people trust recommendations from their friends. Encourage those recommendations! Referral bonuses can be used to retain current customers and expand your practice. Express your gratitude and give $10 off a dental visit for every referral that makes an appointment! To make it easy, give out business referral cards when patients check-out and tuck them into any mail you send.
17. Video Advertising
As Margot recently reported, the healthcare industry is increasingly using video marketing. Don't miss the boat! Video with real people from your practice can help develop a personal connection with your prospects, which can lead to trust, recommendations, and more appointments.
18. Direct Mail
The days of stuffing mailboxes with postcard advertisements are not over. Direct mail still works, especially for baby boomers, and it is a good opportunity to show off your specialty or competitive price points. One practice found that out of every 5,000 postcards sent, they received an average of 35 phone calls and 7 new patients. That's a great return on investment!
19. Local Events
As a kid, I played in recreational sports leagues where each team was sponsored by a local business, which paid for our team shirts emblazoned with the business's logo. Not only does this get your business out in front of parents with little kids, you could also throw in free toothbrushes and a small postcard with information on kid's dental health. A practice that did this with kindergarteners reported that 70% of parents switched to the practice after receiving this info.