Have you ever gone to clear out all of the open browser tabs on your smartphone and gotten a kick out of all the different things you searched over the past few weeks? We turn to Google for so many things, from health concerns to hose patches to houses for sale.  This, of course, gives businesses an abundance of opportunities to get in front of their target audience.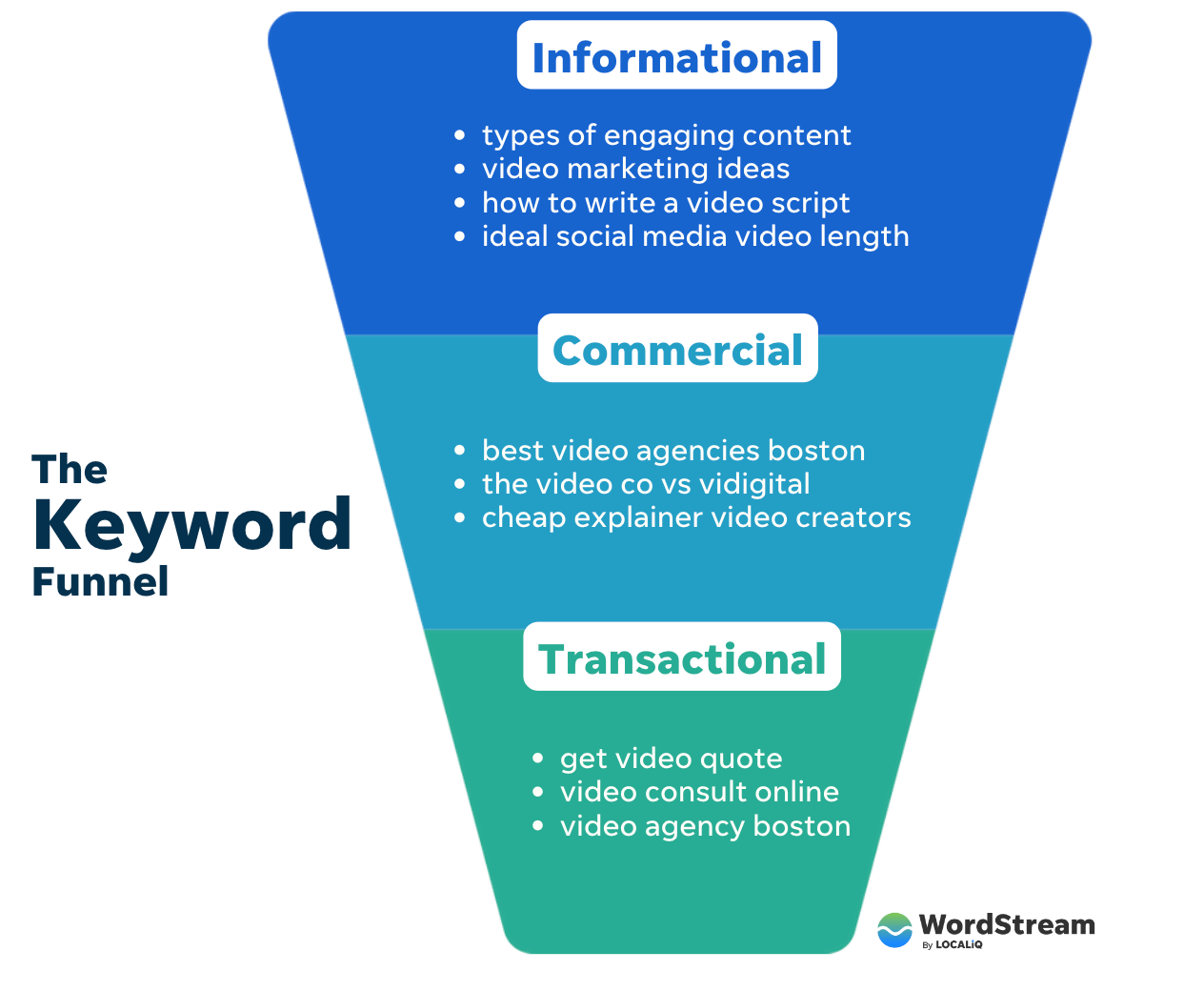 But just as diverse as your search history is the intent behind the keywords your potential customers are searching online. Commercial intent keywords are the most valuable to your business, but they are not one-size-fits all. In this article, we're going to look at what commercial intent keywords are and how to use them to make the most of your marketing budget.
Table of contents
What are commercial intent keywords?
Commerical intent keywords are those typed into search engines by consumers looking to buy or educate themselves in order to buy. Put another way, they are basically invitations from prospective customers to tempt them with your wares. They tell you, loud and clear, that they have money in their hands (or burning holes in their pockets), and they want what you're selling.
For context, there are four types of search queries: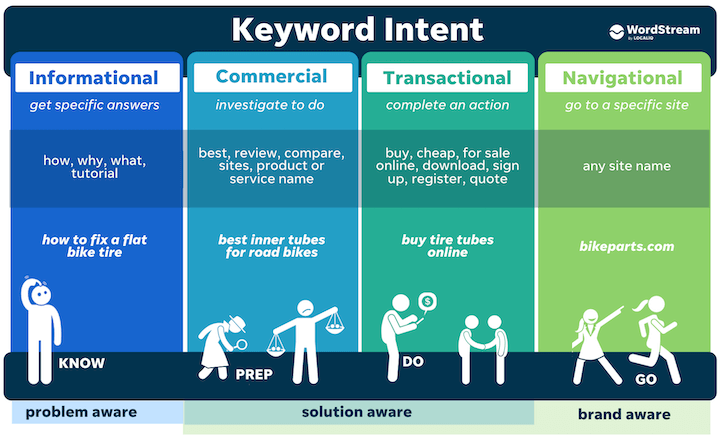 Informational: answer questions or learn something
Navigational: locate a specific website
Transactional: buy something
Commercial: explore/investigate in order to buy
Commercial and transactional keywords often overlap, and if you think of keywords as signals from prospective customers, these are the most promising.

The importance of keyword intent
Keywords come in all shapes in sizes. While they all have one thing in common—that they're entered into search engines by consumers—they differ widely in what the user is trying to achieve when they search it. This is what we mean by keyword intent. For example, someone searching "do i need a lawyer?" has different intent than someone searching "workers compensation lawyer san diego."
As such, how you choose to get in front of your target audience for any given keyword needs to align with the intent of that keyword. For the former, you might target that keyword with an organic blog post or checklist. Your content marketing funnel enables you to get in front of the customer early, make a good impression, and build trust. Maybe later on, they'll come back when they need you.
For the latter, this person is more likely to be a hot lead, and this is a perfect use-case for PPC, because you can be sure your targeted ad is right at the top of the search results, and you're willing to pay to make sure you get the lead.
So if you're looking to succeed with your intent marketing, what kinds of keywords can be considered to have high commercial intent?
Examples of commercial intent keywords
Although there are many commercial intent keywords, some are "stronger" than others.
Firstly, there are two main categories of keywords with high commercial intent: "buy now" keywords and "product" keywords. Let's take a look at what this means and how they differ.
Investigative commercial intent keywords
These are the words and phrases a person will use when they're solution- or brand-aware and are looking to learn more about their options. Keyword modifiers for these types of searches include:
Affordable
Best
Cheapest
Comparison
Review
Top
Vs

Buy now commercial intent keywords
These are technically transactional intent keywords, but like I said earlier, transactional and commercial can overlap. This category of keywords signals that the prospect, as the name implies, is ready to buy something or engage right now. They've made up their mind to buy, and they're looking for an attractive offer that meets their expectations.
"Buy now" keywords include terms like:
Buy
Order
Discount(s)
Deal(s)
Coupon(s)
Free shipping
"Buy" and "order" are the strongest, as this is a prospect's pure declaration of intent to part ways with their cash in exchange for whatever you're selling. The others are also strong buying signals, but also indicate that the prospect wants or expects you to differentiate yourself from your competition in the form of incentives.

Local commercial intent keywords
It's also worth noting that some keywords have both commercial and local intent, like
Open now
Near me
[Product/service name] + location

These keywords can apply to keyword bidding in Google ads, but other ways to capitalize on these queries are through local SEO and Google Local Services Ads. For example, the query "landscaping boston" pulls up search ads:

But for a smaller city, you may only see Google Business profiles and local listings, indicating that your priority here is to optimize your Google Business Profile and local listings.

Product/service commercial intent keywords
The next most valuable commercial intent keywords are "product" keywords. Although these keywords typically convert highly, prospects may be slightly more hesitant to purchase immediately than those using "buy now" keywords.
"Product" keywords include:
Branded searches (Dell laptop)
Specific products (iPhone 5c)
Product categories (insect repellant, beach accessories)
Commercial intent keywords for services include:
Rent
Hourly rate
Consultation
Free trial
Service, agency, company, firm (tax prep services, advertising company)

Some of these keywords will be more valuable than others, depending on the nature of your business. For example, product-specific keywords and branded keywords are savagely competitive, but convert very well. Although "comparison" and "review" keywords may not seem as strong as some of the others, these keywords can still convert highly as the intent to purchase is still there – the prospect might just make you work harder for the conversion.
Lead vs product searches
When creating a list of product keywords, it's important to note the distinction between lead and product searches. For example, in the lawyer example below, the prospect isn't looking to hire a lawyer right away. This means that although the prospect is considered a hot lead, the potential customer probably still needs to call the business to discuss their situation further.

For these reasons, "best" might be considered the strongest product keyword for a service-based business like a workman's comp attorney (as well as "free consultation"). Product searches, on the other hand, can be completed entirely online and focus solely on a specific product, so product keywords such as "affordable" and "cheapest" are likely to be the most effective (and highly competitive).

Why are commercial intent keywords more valuable than high-volume keywords?
Some businesses spend thousands of dollars to maximize their visibility. This is all well and good, and high traffic is always a good thing, but if the vast majority of your visitors aren't buying what you're selling, it might be time to reconsider your approach.
Unless you're one of those ad-supported clickbait sites like BuzzFeed, high-traffic keywords aren't worth much unless they're driving conversions. This isn't to say you shouldn't go after big keywords with less commercial intent, but it makes more sense to target these keywords with organic content that is higher up in the purchasing funnel.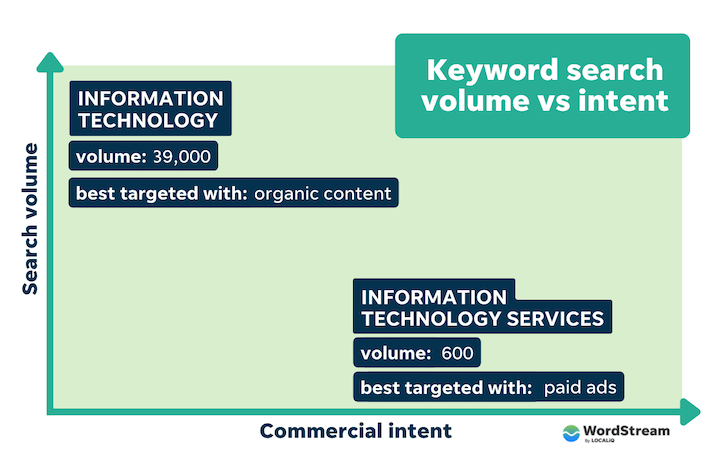 On the other hand, high commercial intent keywords are best suited to paid search campaigns for a few reasons:
Paid search ads get you placement at the very top of the page
You can make tweaks and adjustments to optimize for cost per click, cost per lead, cost per conversion and other metrics
Ad types like Shopping Ads are highly attractive to searchers with commercial intent and tend to get the clicks from people who are ready to buy.
Note that while you can't target keywords with shopping ads, you can structure your campaigns out using the priority feature so that Google will adjust your bids based on intent.

How to find high commercial intent keywords
When it comes to keywords with strong commercial intent, one size definitely doesn't fit all, so how do you go about identifying these keywords in the first place? There are several ways you can begin to identify high commercial intent keywords, regardless of what kind of business you run or your desired conversion outcomes. Let's take a look at a couple of them.
1. WordStream's Free Keyword Tool
To kick off your keyword research, you can use WordStream's Free Keyword Tool. Simply enter a seed keyword into the search box and include your industry and location (optional).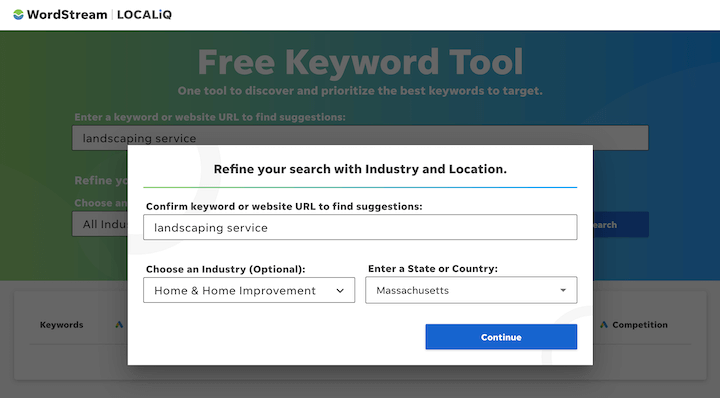 Then you'll get results with monthly search volume, top-of-page bid, and competition.

2. Google Ads Keyword Planner
Unsurprisingly, the Google Ads Keyword Planner is one of the best ways to identify commercial intent keywords. Access it from the "Tools and Settings" tab then select "Discover new keywords."
Now, enter your product or service in the search field. For this example, I used "buy iPhone," a fiercely competitive product-specific keyword. After a moment, you'll be presented with a graph of search volume trends (notice the spike in September when Apple holds its annual event).

But if you scroll down, you'll see keyword ideas where you can identify the high commercial intent keywords you're interested in.
In the following figure, notice how "buy iphone"  and "cheap iphones" have the highest suggested bids, by far? This is because they're very high commercial intent keyword, and competition for them is intense.

3. Google Analytics
Another way you can determine which keywords are driving conversions is by using Google Analytics. Go to Acquisition > Google Ads > Keywords and you'll see your top-performing keywords and how they relate to your conversion goals.

Your top 10 (by default) keywords are displayed in the far-left column.
The goal you wish to measure against can be changed via the drop-down menu circled in the figure above.
The three columns beneath the goal you're currently viewing correspond to the percentage of visits that converted (column one), the total number of conversions (column two) and the monetary value of those conversions (column three)
Note that if you do not have monetary values assigned to your goals, all values in column three will be zero.
So, what does all this mean? Well, first of all, your top-performing keyword might not necessarily be the one that resulted in the most conversions. In the figure above, the first keyword in the list drove the most traffic (by a considerable margin), but the third keyword actually had the highest percentage of sessions that resulted in a conversion.
Now that you've figured out how your keywords impact actual conversions, ask yourself: How many high commercial intent keywords are in your top 10? If you don't see any, it might be time to start adding some of these keywords in your Google Ads account.
Even if your top-performers are doing well, how much better could your conversion rate be if you targeted high commercial intent keywords as well? Of course, this will likely have an impact on your budget as we saw in the "iphone" example above, high commercial intent keywords often have a significantly higher suggested bid and CPC, so be sure to bear this in mind if you choose to throw your hat in the ring.
Commercial intent: Show me the money
Targeting high commercial intent keywords can result in dramatic improvements to your click-through rates and offer you an excellent opportunity to focus on what really matters – conversions. Add some high commercial intent keywords to your Google Ads account and get ready to shut up and take their money.