Local Service Ads (LSAs) are a hero channel for local brands looking for more cost-effective leads. This real estate client achieved 10X the ROI than the conventional real estate lead flow:

Local Services Ads for real estate = big wins
While they are incredibly simple to maintain once set up, they have undergone some changes since they began in 2016, both in how they're set up and the markets they work for. So in this post, I'm going to outline the pitfalls and mechanics to account for, as well as seven tips to get the most out of Google Local Services Ads.
Local Services Ads 101
Before getting into the tips, here's a brief refresher on Google LSAs. You can learn more in our Ultimate Guide to Google Local Services Ads, but here are the basics.
What are Google Local Services Ads?
Google Local Services Ads are an ad type geared for home service-based businesses. While Google Search Ads are pay per click and Ad Rank is based on factors like bid, ad quality, and more, LSAs are pay per lead and ad rank is based on factors like customer reviews, proximity, and hours. The ads appear above regular Google Search Ads and the advertiser goes through an extensive verification process.
Types of LSAs
Google has two versions of LSAs: Google Screened and Google Guaranteed.
Google Screened is for white-collar industries like real estate, lawyers, and accountants.

Google Guaranteed is for blue-collar industries like plumbing, housekeeping, and locksmiths. The core difference between the programs is Google Guaranteed will protect customers up to $2000 for problems on the job. Google Screened does not have this protection.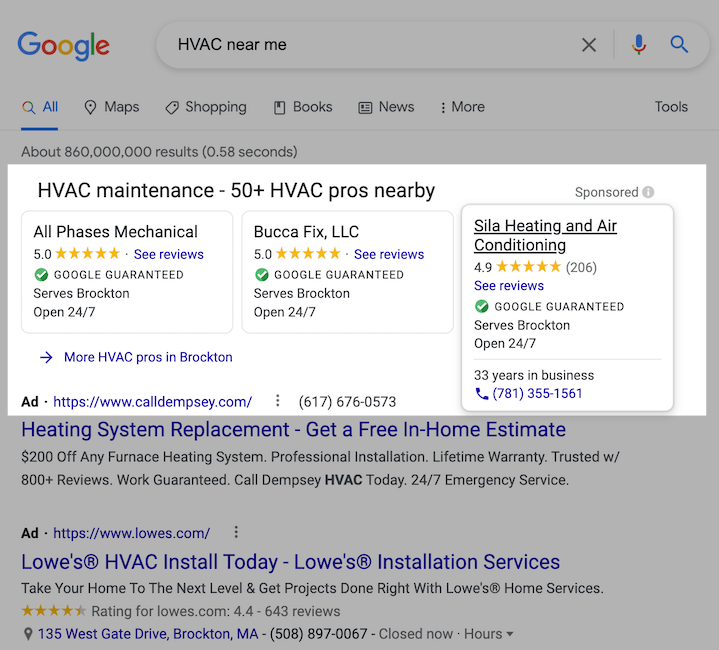 Setting up LSAs
To qualify for either program, businesses need to meet the following requirements:
A minimum 3.0 Google Business Profile rating.
A Google Ads account (potentially an MCC account—more on this later).
Background checks for required team members.
When setting up your LSA profile you'll be prompted to set up a review link, as well as input your credentials.

Google Local Services Ads: 7 tips to improve your ROI
Google LSAs make it easy for lawyers, real estate agents, and home services businesses to show up for local searches. Here are some small details that can make a big difference in the ROI of your LSAs.
1. Know whether to have an MCC vs an individual ad account
It's always easier to establish account structure from the outset than fixing it later. Understanding whether your brand is best suited for a manager account (MCC) versus an individual ad account comes down to the following considerations:
Do you serve more than one major market?
Are you a franchise?
Are you an agency?
It's a best practice to limit LSA profiles to three major targets per profile. Otherwise, if you serve more than one location, you are diluting the budget focus and potentially risking the proximity ranking factor. Serving multiple locations can benefit from having multiple Google Business Profiles, with one LSA profile per market.
Essentially, unless you just target one market, you will need more than one profile.  
Setting up your LSA profiles as an MCC will allow you to easily navigate between them without logging in and out of your account. You'll also get the benefit of MCC-level billing, reporting, and shared assets.
As a franchise/agency this is especially important as you only can share login access with a LSA profile with one other email.
2. Target no more than 3 major markets
Each Local Services Ads profile should be viewed as a campaign. Just like you wouldn't ask a campaign to service more than one major market, it's unrealistic to ask a Local Services Ads to target more than three major markets.
So as just mentioned, in an ideal structure, you'd have each LSA profile focusing on one major market (corresponding to one Google Business Profile).
However if you only have one GBP and serve multiple locations, be sure the locations you choose to target are in close proximity to your main prospect hubs (i.e where you'll have a higher likelihood of benefiting from the proximity ranking factor).

Targeting a county or DMA counts as one target. You can exclude zip codes or towns to narrow your focus and bypass competitive auctions.
While there is no official cap for brands in a given market, the average amount of vendors a given geo can support is 35. It's important to quickly secure your LSA profile and focus budget on priority markets so you can ensure your dominance on the SERP.
RELATED: 10 Local SEO Tips to Dominate the Local SERP
3. Avoid unnecessary disapprovals
The most common reason for LSAs to stop serving are disapprovals, and two common disapprovals are for the image to get flagged or certifications to go out of date.
To avoid expired certifications:
When you're setting up your profile you'll be asked to input the expiration date of your certifications. However, some certifications don't need to be renewed—or if they do, they're not an annual renewal. Be sure to set the expiration date far enough in advance that you won't need to think about it for 5-10 years.
To avoid flagged headshots:
For your headshot, it's important that your picture is of more than just your face. Ideal images will cover down to the elbows. Here is an example of a headshot that will likely succeed:

Here is an example of a headshot that will likely fail:

Profile pictures don't need to have a plain white background or lack personality. The core difference between one being acceptable and the other not is the visibility of the arms.
4. Keep your Google reviews up
Keep in mind that reviews on your regular Google Business Profile appear on your LSA profile and impact your ad ranking, but not the other way around. And any reviews you get from your LSAs will go away if you stop advertising, and you won't be able to respond to reviews that come through your review link. 
It's also important to know that Local Service Ads require a 3.0 average review rating to remain active. If your Google Business Profile slips below 3.0, your ads will stop serving till your review score clears 3.0.
You can learn how to get more Google reviews here. And make sure your Google Business Profile and other directories are accurate and updated with this free business listings grader.
5. Set higher bids and budgets
It's understandable that brands might be wary of setting aggressive bids and budgets on a new marketing channel. Local Service Ads invite the pitfall of underbudgeting and bidding because of their reputation for low-cost leads.
When you set up your campaigns, you're given the option to set a manual bid per lead or opt into automated bidding. It's common for ads to under-serve (or not serve at all) if you opt into auto bidding with a low budget.
As a general rule, you typically want to set a budget 2-3 times what you actually plan on spending as Google often struggles to spend the budget. So if the goal is to spend $5,000 per month, you'd want to set a budget at $15,000.


Though the budget for this account was set to $10,000, Google only spent $3,054.
Also, the cap per bid has gone up to $1,000,  so if you're struggling to gain traction with auto bidding, you might be running into competitors setting aggressive manual bids. This might be a reason to target a tangential market.
Because you only pay for calls lasting at least two minutes or form fills, your marketing dollars are going to have a much easier conversion rate than traditional paid search (which requires you to pay per click). If your leads cost $50 and you have a goal of $500 monthly spend, that means you're striving for 10 leads per month. Depending on your bandwidth, you might want to strive for more or less leads.
6. Set realistic hours
Conversion rates for LSAs and response times have a strong correlation: the faster you are to respond to leads, the greater the chance you will win the business.
Local Service Ads do not factor response times into ranking, but they do learn what kind of users result in successful calls/form-fills.

Make sure your LSA is set to only run when you have the team to respond. If you can't support leads 24/7, do not let the campaign run 24/7. This will help Google allocate budget as efficiently as possible.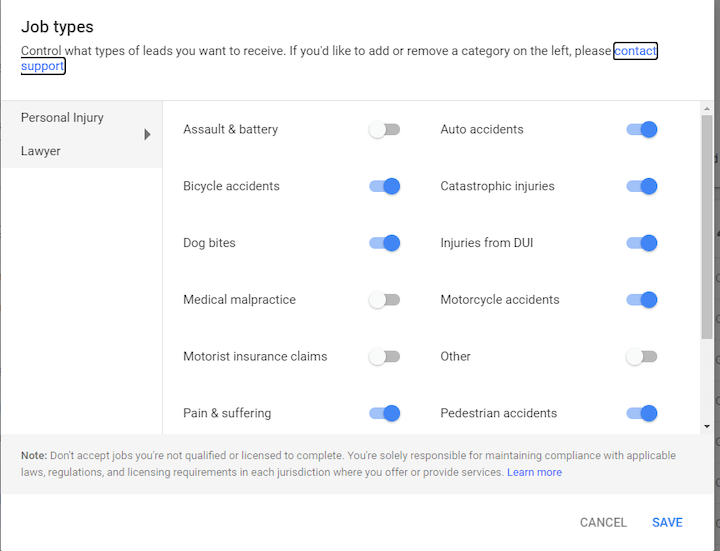 7. Mark your leads
If a lead turns into business, mark it as closed successfully, and archive leads that aren't a good fit. Some lead quality issues can be because of services you said you were open to taking (i.e., saying you'll take rentals but you really only do sales/purchases), but most will be because the prospect just wasn't right. Archiving the lead communicates that to Google so it can learn where not to invest your budget.

Follow these tips to succeed with Google LSAs
Local businesses can't afford to leave Local Service Ads out of their local marketing efforts. Thankfully they're easy to maintain and the performance pitfalls are easy to bypass. Just be sure to follow these seven tips:
Know whether to have an MCC vs an individual ad account.
Target three markets or less per LSA profile.
Set your certification expiration dates far out in advance and make sure profile images show down to the elbows.
Maintain your review threshold.
Budget 2-3x higher than what you actually plan on spending.
Set your hours only to the times in which you're available to respond quickly.
Mark your leads whens successful and archive those that aren't a good fit.
Want to get started with LSAs? Currently, the following verticals are eligible for LSAs:
Acupuncturist
Animal rescue
Appliance repair services
Bankruptcy lawyer services
Business lawyer services
Carpet cleaning services
Carpenters
Child care
House cleaning services
Contract lawyer services
Criminal lawyer services
Dance instructor
Countertop services
Disability lawyer services
DUI lawyer services
Electricians
Estate lawyer services
Family lawyer services
Fencing services
Financial planning services
First aid training
Flooring services
Foundations services
Garage door services
General contractor
Handyman
Home inspector
Home security
Home theater
HVAC (heating or air conditioning)
Immigration lawyer services
IP lawyer services
Junk removal services
Labor lawyer services
Landscaping services
Language instructor
Lawn care services
Lawyers
Litigation lawyer services
Locksmiths
Malpractice lawyer services
Moving services
Personal injury lawyer services
Personal trainer
Pest control services
Pet adoption
Pet boarding
Pet grooming
Pet training
Plumbers
Pool cleaner
Pool contractor
Preschool
Real estate lawyer
Real estate services
Roofers
Sewage system
Siding services
Snow removal
Tax services
Traffic lawyer services
Tree services
Water damage services
Weight loss service
Window cleaning services
Window repair services
Yoga studio