While 2020 certainly threw us for a loop, and we don't have a crystal ball on hand to predict exactly what will transpire in 2021, there has been a noticeable shift in frequent topics of discussion at our agency and among industry peers. Many of us are beginning to see early trends emerge within their own paid social campaigns and by observing others. Social platforms are continuing to scale given the influx of daily usage and the increase in ecommerce transaction volume this year, as COVID swept the globe and disrupted our lives in many ways. Having a strong digital presence through organic and paid means is more important now than ever before.
Image via Interesting Engineering
As social platforms continue to grow and provide us with more placements, features, and opportunities, we can also take historical trends into account and infer with a high level of certainty what we are likely to see in the coming year. With brands pivoting quickly to establish a more strategic and increased online presence through their social media channels, we can speak with confidence of what may be coming down the pipeline—and start to plan accordingly.
Speaking of online presence, how strong is yours? Find out fast with the free LOCALiQ Online Presence Grader!
So how we can align as advertisers and marketers on behalf of our own brands or for our clients as we look ahead to 2021? Let's discuss three major paid social trends on the horizon and how we can get ahead of these trends to give your campaigns the best chance for success right out of the gate.
1. Plan ahead for new placements on Instagram and more
It's only a matter of time until social media platforms develop additional ways to further monetize, and that typically means by providing new ad placements. One channel that we can count on doing this is Instagram. With Stories doing so well ever since their launch to compete against Snapchat, we wouldn't be surprised to see them open up ad placements within Reels as it is quickly gaining popularity as it competes against TikTok.
Facebook has scaled so much that they now offer a large number of ad placements within their ecosystem; however, when looking solely at Instagram, we currently only have Feed, Stories, and Explore, so adding in Reels ads to the mix would be a no-brainer. Of course, only time will tell, but begin testing out Reels organically for your brand so you can familiarize yourself with how your brand performs in that placement and how to develop visual content that captivates your followers. If, or more likely when, Reels ads launch, you will be better prepared with a strategy and be able to execute faster.
Facebook is continuing to grow across their platform and Instagram as they look for more options to meet the heightened demand for impressions (especially as more brands went digital this year due to the impact of COVID on the economy and how people are shopping). As such, we may even begin seeing the introduction of ads on IGTV.
IGTV seems to have made a comeback after its somewhat lackluster reveal back in 2018, as Stories came out around the same time and those took off. Now, many brands are incorporating organic IGTV content by using the Feed to post shorter teaser videos and then linking for longer form visual content on IGTV.
While there isn't yet a formal plan for ads in this placement, Instagram did unveil a beta program to select creators in May of this year so that they can begin monetizing their IGTV channels.
Image via Sephora and Adweek
One great example we have seen is the athleisure company Lululemon running 20-minute yoga sessions with an instructor, so you too could watch and practice yoga for free. Of course, the instructor was wearing their apparel, and health and wellness are on brand for them, but they did not do a hard sell for their products. The goal is to engage users and develop a relationship with them by offering complimentary, relevant, feel-good content, that also helps with your well-being in real life. People that feel good also tend to be more inclined to purchase something that looks good when they see someone wearing it well on screen.
Think of the types of long- and short-form content you can promote here. Test it out and see how it fares for your brand, and start having discussions with your teams and your clients about what ads may look like here, as we can most likely expect Facebook to launch in-stream video ads within IGTV in 2021.
2. Diversify your paid social channels beyond Facebook
While this isn't exactly news, and many of us are already actively testing various paid social platforms, it now seems that diversifying where you advertise is even more important. Earlier this month, Facebook suddenly experienced a mass outage where ad accounts and ads were getting disabled without notice or valid reason. With 75% of brands paying to promote Facebook posts and 93% of social media advertisers investing in Facebook Ads, it's apparent where a majority of social advertising budgets are being utilized.
Even if you are working with smaller budgets, go beyond the Facebook ecosystem and test other platforms such as Twitter, LinkedIn, Pinterest, Snapchat, and/or TikTok. Do your due diligence about each platform in terms of their audience targeting options, design specifications, best practices, and associated costs. Talk to other advertisers about their experiences with those platforms, and come into them with an understanding so your expectations can be more closely met.
While Facebook and Instagram Ads serve us very well in terms of lower costs and vast audience targeting reach and options, we should not put all of our eggs into one basket, because if their platform goes down, and on too many occasions lately, there seem to be hiccups, even drastic ones like this outage, and then where does it leave our business? If it's ecommerce holiday shopping season and our ads aren't running and we have no control, that's leaving money on the table.
If you're in the middle of a special promotional campaign or a time-sensitive holiday campaign and ads cease serving without valid reason, that will certainly leave you in a pinch. Talk to your teams and your clients and have back-up platforms to test and to drive additional conversions, regardless of how you define them, so that your brand doesn't suffer at the hands of one platform.
3. Invest budget in Pinterest ads
Piggy-backing off of the diversification trend, you may want to look into Pinterest Ads if you haven't done so yet. Joining Silicon Valley giants Facebook and Google, analysts say that Pinterest is in the "top picks to lead 20% growth in online advertising in 2021".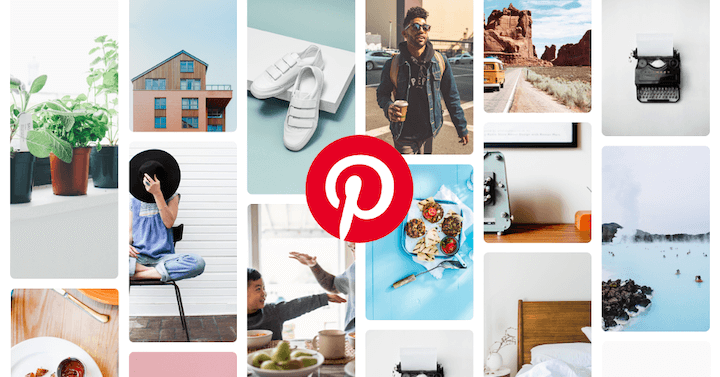 Image via Pinterest
While Pinterest is still up and coming, they are making strides in expanding their advertising platform offerings. It's an excellent channel for prospecting campaigns, and costs are very low – about $0.13 CPCs from what our clients have seen this year – so if you haven't had an opportunity to test this platform, regardless of your vertical, your audience may very well be there.
If you are in ecommerce, Pinterest should most certainly be on your roadmap for 2021, if not sooner, pending budget availability through year end. With the surge in digital ad spend and consumer purchasing over retail as a result of COVID, this is the opportune time for brands to get in and learn how this platform can benefit their brand awareness and bottom line.
Strategize now for 2021 & win in the long run
While it is impossible to predict exactly what will happen in 2021 with paid social, we can take into account what we have historically seen large ad networks do in the past and where growing ad networks are heading by following similar growth paths. While currently most budgets and efforts are dedicated to social giant Facebook, it's important to diversify your advertising efforts by testing out and learning how other platforms work for our brands, so that if anything happens to one, we're not left stranded without any ads running.
If you're wondering what channel to test out next and haven't yet run Pinterest campaigns, I encourage you to give their platform a try as it is low cost, there are many opportunities to get in front of your target audience, and it's not yet saturated with all the other brands, making it an ideal time to get in before costs rise and competition increases.
Keep a close eye on platforms, case studies, and feature launches, and start strategizing, so you can head into the year with a fresh perspective on the possibilities and opportunities that may be worthwhile.