Just last week, we celebrated the 52nd anniversary of Earth Day, which helped give rise to the environmental movement more than half a century ago.
Now, of course, it's far more common to see brands prioritize the environment than it was in 1970.
And this, of course, spurred the rise of green marketing. What exactly does that mean? Read on to learn:
What green (or sustainable) marketing is and why it's important
Five of the most eco-friendly brands to give you inspiration
Eight ways to implement your own green marketing
What is green marketing?
Sustainability marketing, or green marketing, is a practice that emphasizes the environmental benefits of a product or service, which also reflects a brand's values.
"Overall, the objective is to advocate toward an end mission," said digital marketing specialist Matt Tutt, who focuses on ethical, green, and sustainable businesses. "For example, it might be to reduce the use of fossil fuels or to pivot toward greener sources of energy."
That means sustainability marketing is a big shift from traditional marketing, which focuses on revenue and profits.
But the definition of sustainability is shifting. Shel Horowitz, a green business profitability expert, noted that ultimately, brands should strive to move beyond sustainability to "regenerativity," which he defined as taking steps to actively make the world better, such as "developing and marketing products and services that [target] hunger, poverty, racism, other kinds of othering, catastrophic climate change and even peace."
In fact, one study shows that nearly half of consumers now consider the definition of sustainability to include social and economic factors.
Why is green marketing important?
Aside from the environmental benefits, sustainability marketing is important because it helps brands connect to increasingly environmentally and socially conscious consumers, said Roger Huang, head of growth operations at talent development platform Springboard.
"Sustainability is a vast 2022 macro trend and marketing plays an important role," added Matt Lally, founder of the consultancy MattyAds. "Sustainability is high on the customer's internal value system, which they embrace with higher brand loyalty and less price sensitivity."
This isn't just an opinion. Studies like the one above show that consumers in every generation consider sustainability a more important factor than the brand name of a product when making a purchase. Furthermore, Facebook found that posts containing sustainability-related hashtags received 4.2x more interactions per post than other posts made by CPG brands, and 10.8x more engagement for posts with eco-friendly-related hashtags.
5 of the most eco-friendly brands to inspire you
While there are many brand examples by now, a few stand out in their cause-based marketing:
The Body Shop
Scott McKinney, head of marketing at financial literacy site Debt Bombshell, pointed to cosmetics retailer The Body Shop, which has been advocating for the end of animal testing since 1989.
Zaeem Chaudhary, architectural draftsman at engineering firm AC Design Solutions, agreed, noting domestic violence and HIV/AIDS are two of many other causes the retailer has supported over the years.
Ikea
Meanwhile, furniture retailer Ikea has committed to becoming climate positive by 2030. That means Ikea will not just reach net-zero carbon emissions, but it will actually be removing additional carbon dioxide from the atmosphere.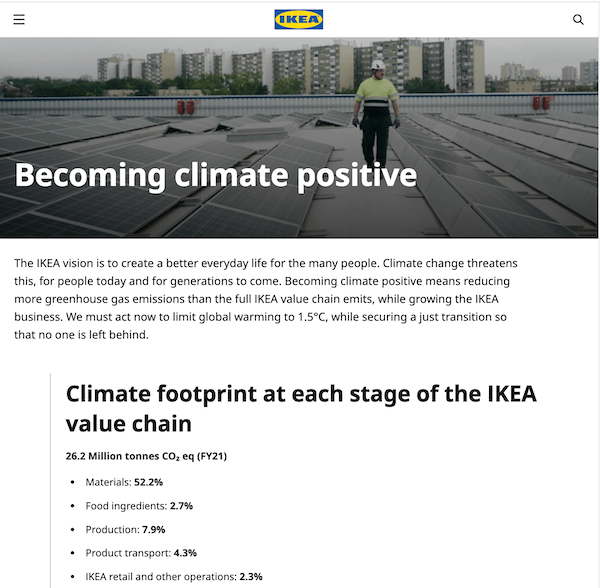 "They have launched a 'sustainable living at home' products range after investing heavily in wind turbines and solar panels throughout the world," Tutt said. "By combining these two things, they can help to position themselves as having green energy and sustainability at the heart of their products."
Lego
Likewise, toymaker Lego wants to make all core products from sustainable materials by 2030—and to make all packaging from renewable or recycled materials by 2025.
"This form of marketing gives the company a unique selling proposition and customers are willing to walk with the company and hold it accountable until it achieves its sustainability goals," said Doug Pierce, chief marketing adviser at analytics platform Sigma Computing. "Moreover, customers are willing to pay more for Lego products and will continue to remain loyal to the company because of this commitment to sustainability."
The brand also has a Replay program, which allows customers to donate used bricks to children in need. This, noted Stephen Light, CMO of retailer Nolah Mattress, has the added bonus of helping to reduce waste in landfills.
"When you consider their product is traditionally made of plastic, it's incredibly smart to invest so much energy into the implementation of sustainable practices—they don't ignore the potentially negative impact their product has had, they use it to define their fight to achieve better for the planet at large," he added. "They provide goals and regular updates regarding sustainable materials and packaging, offering a level of transparency that's crucial to strong sustainability marketing."
Patagonia
Noting "it feels like sustainability is at the heart of everything they do," Tutt pointed to outdoor apparel brand Patagonia as another example.
"They are working hard toward building a community of people who love and care deeply for the outdoors and not simply existing to sell garments," he said. "Their social feeds are full of exciting, stunning wildlife and landscapes, images and videos of people out hiking and exploring—really putting the environment at the heart of what they do."
One memorable example is the brand's Don't Buy This Jacket campaign, which brought attention to consumerism on Black Friday 2011.
"Patagonia's ethos is to build a product that will last, thus rejecting the fast fashion trends that plague our landfills," Lally added.
Starbucks
Finally, coffee chain Starbucks recently announced its plans to encourage more customers to drink from reusable mugs by 2025.

That follows a long history of sustainable efforts.
"Since the early 2000s, the company has been promoting green and humane sourcing for their products," said Christiaan Huynen, founder of design firm DesignBro. "Moreover, the company also donates millions of dollars to other environmental programs and renewable energy developments. Starbucks also prioritizes sustainable practices in an attempt to decrease power and water waste."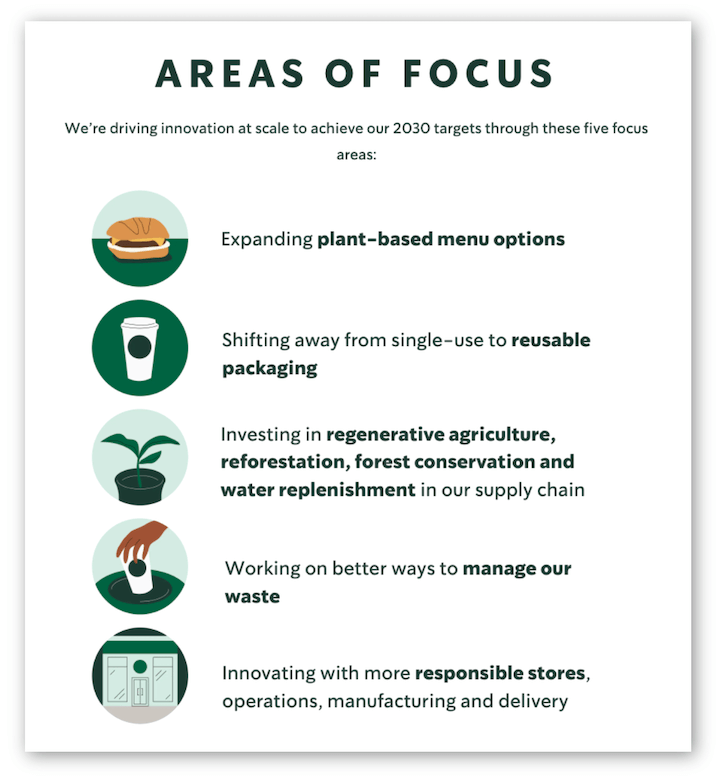 How you can implement green marketing
Feeling inspired? Here are six ways to integrate green marketing into your own marketing strategy:
Find the right sustainable initiative
You don't have to commit to something lofty like any of the big corporations above. "This may be as simple as giving one percent of your profits to charity or as complex as devoting your business model to a specific cause," said Joe Davies, founder of digital marketing firm Fatjoe.
By looking for features that can be marketed as sustainable, brands can leverage the feel-good benefit of the product or service while also providing value, he added.
Keep your efforts genuine
Horowitz noted that these efforts have to be genuine or you run the risk of greenwashing. Greenwashing refers to using vague and misleading tactics to appear sustainable without actually being sustainable—all in the name of benefiting the business and not the environment.

Adjust your messaging for the different levels of green
"That's only step one," he said. "Step two is reaching out to not just the Deep Green [consumers] but also the Lazy Greens and even the Non-Greens—all of whom require different marketing hooks."
Implement eco-conscious design
First, consider product design—such as how to make your products recyclable or reusable if they aren't already. Starbucks cups are a good example but there are countless others, like Coolpaste below.
Davies recommends making products with less packaging while Jeff Mains, CEO of the consultancy Champion Leadership Group, suggests seeking out environmentally conscious suppliers, manufacturers and partners.
Source sustainable materials
Then, think about whether you can incorporate more sustainable materials, like bamboo, cork or hemp.
This, said David Wurst, CEO of digital marketing agency Webcitz, is one of the most prominent approaches to sustainable marketing.
"Shampoos with fewer hazardous components that dissolve more quickly in water, as well as reusable straws and water bottles, are among these items," he added. "Companies can gain traction in the green market by providing consumers with alternative items that help them feel better about their influence on the environment."

Ethique is another example of a super-sustainable brand.
Another way to ensure your items are sourced sustainably is to ensure your suppliers are ethical and provide a living wage to their employees, said David Bitton, CMO of property management firm DoorLoop.
"Additionally, ensure that the materials used to make your products have a low environmental impact, do not contain any harmful substances and are biodegradable," he added.
Use plastic-free products and packaging
Another way to do this is by going plastic-free.
"Today, billions of pounds of [plastic] can be found in the swirling convergences that make up over 40% of the world's ocean surfaces," Wurst said. "Thousands of seabirds, sea turtles, seals, and other marine creatures are killed each year after consuming or becoming entangled in plastic."
If, for example, your packaging is single-use plastic, consider more environmentally friendly alternatives.
Brands like Earth Hero allow you to shop by specific value, like plastic-free packaging. 
"We make an effort on sustainable packaging, reducing our use of plastics and other non-compostable packaging materials by replacing them with wood, wool and straw," said Kathryn McDavid, CEO of ecommerce company Editor's Pick.
Reduce your emissions
Fulfillment is another business sector that can benefit from sustainable practices.
"Long-distance shipping can have a significant carbon footprint," said Jason Ball, director of B2B agency Considered Content. "Trucks and planes, among other modes of transportation, are among the major emitters of greenhouse gases."
Instead, he said companies can ship in bulk to lessen their carbon impact or they can offer a green shipping option at checkout.
In addition, businesses can offset carbon emissions from the supply chain, Davies noted.
Focus on renewable energy
Beyond the products themselves, businesses can also implement eco-friendly energy practices, such as using solar, wind, hydropower or geothermal electricity.
"Access to renewable energy sources has improved in recent years and the market for harvesting renewable energy is likely to grow in the next decades as more countries invest in it," said Jamie Opalchuk, CEO of hosting platform HostPapa.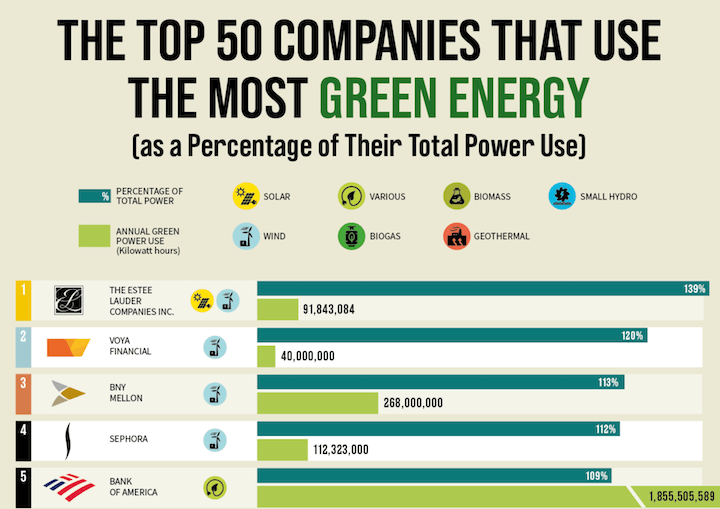 Dan Close, CEO of house-buying firm We Buy Houses in Kentucky, agreed, noting renewable energy can reduce production costs while also helping the environment.
Assume social responsibility
Finally, corporate social responsibility (CSR) allows brands to better communicate how they're affecting positive change to conscious consumers. That's according to Chris Gadek, vice president of growth at outdoor advertising firm AdQuick, who noted customers are often willing to pay more when a brand's identity aligns with their beliefs.
"For this reason, businesses must embrace CSR in their brand ethos to have a competitive advantage," he said. "However, promoting your business's CSR initiatives without tooting your own horn can be tricky. But, through a well-crafted social media campaign, you can invite customers on your brand's journey to effect positive change in the world."
You can even go as far as getting a third-party certification, such as becoming a B Corp.
"Certified B Corp status is a recognizable certification that verifies your brand's sustainability efforts and having a third party make the sustainability claims is more legitimate to consumers than the brand making the claims themselves because there's less bias," said Calloway Cook, president of supplement maker Illuminate Labs.
Get your green marketing strategy in gear
To recap, here are eight ways to implement green marketing:
Pick the right initiative
Keep your efforts genuine
Adjust your messaging to the different levels of "green" in your audience
Implement eco-conscious design
Use plastic-free products and packaging
Reduce your emissions
Use renewable energy
Assume social responsibility
The sooner you start, the sooner you can feel good about saving the planet. Start simple and let the story unfold from there!