Instagram is the most popular social media platform consumers use to follow brands they like, and I think it's safe to say that Stories play a large role in this: Stories from brands have an 86% completion rate, and 58% of consumers say they've become more interested in a brand after seeing it in a Story.

Only one problem:
Small businesses don't exactly have a social media manager who can create Stories all day. So today, I'm sharing 32 time-saving, brand-building, follower-friendly Instagram Story templates just for you—along with tips on how to use them. They include:
We also have 70+ Instagram Story Ideas you can browse here. But first, some housekeeping:
Why Instagram Stories templates?
What's the point of Instagram Story templates? After all, Stories only last for a day and they're meant to be unpolished, right?
Well, yes and no. Actually, it's more like no and no, and here's why:
Stories aren't really temporary anymore. Stories Highlights allow you to turn your best Stories into permanent tidbits accessible right in your bio, making the case for great-looking Stories.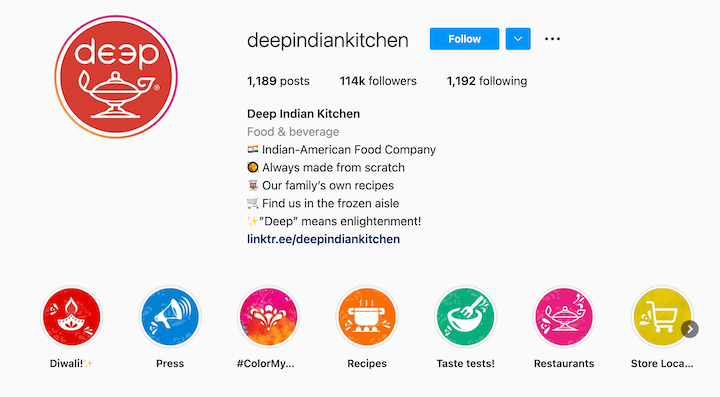 Highlights are temptingly tappable circles at the bottom of Instagram bios.
They also aren't really unpolished anymore. With more and more brands using templates, users' expectations for Story quality are increasing. If you want to hang, you'll need to join the gang.
Episodic Stories are key. Stories that are part of a series are popular among users because they look forward to seeing the latest episode or installment. Templates make series a cinch.
Story frequency is rising. According to RivalIQ, Story frequency is up across the board, with the average brand posting about 11 Stories per month and the most active brands posting 17. Templates make it easy for you to publish more in less time.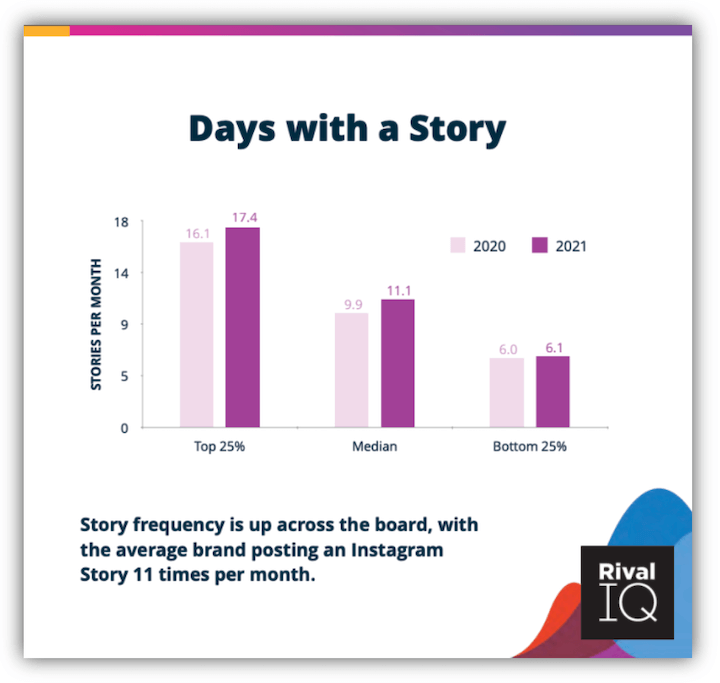 How to use these templates
First and foremost, all of the templates are accessible in one Canva link: here's the link to the Instagram Story templates.
Customizing the templates
All of the templates were created using the free online tool Canva, so you'll need to set up an account (super easy, completely free). For templates that use Canva Pro elements, you'll see watermarks. You can replace them with elements available from the free version, or you can't bear to part ways with it, you can always sign up for a free Canva Pro trial.
Getting the images from Canva to Insta
Once you've customized a template to your liking, here's how to get it into your Story:
Head to the top right of your Canva window where it says Share.
Select download and choose which images to download (if you're using the free version, you'll have to download them one image at a time).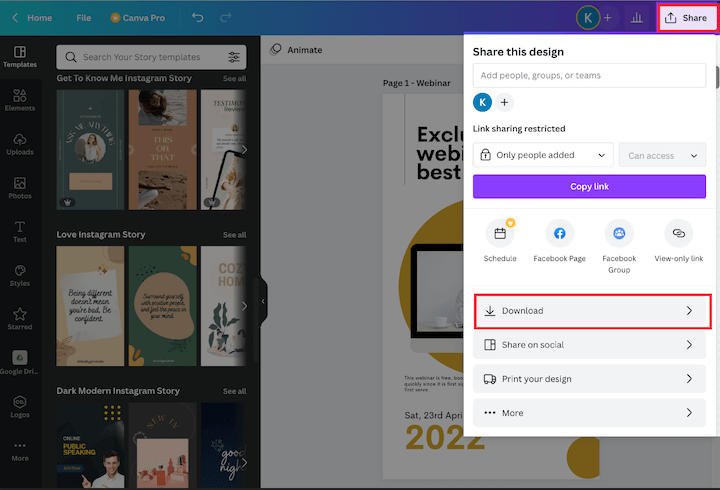 You can also use our handy Canva tutorial to get familiar with the tool.
To get the images on your phone, you can either email them to yourself or save them to any folder you can access on your phone (Google Drive, iCloud, Dropbox). Alternatively, you can download the Canva App.
Open the images on your phone and save them to your camera roll. Now they'll be available to use in your Story.
Instagram Story specs
All of the templates are properly sized, but for your factual knowledge the Instagram Story image size is 1080 X 1920px (9:16 ratio) and Story length is up to 60 seconds. And now, the templates.

Meet the team Instagram Story templates
If you're a bigger business, you can use this template to introduce new hires or to spotlight different team members each week. Share a little blurb about each individual and include fun facts too.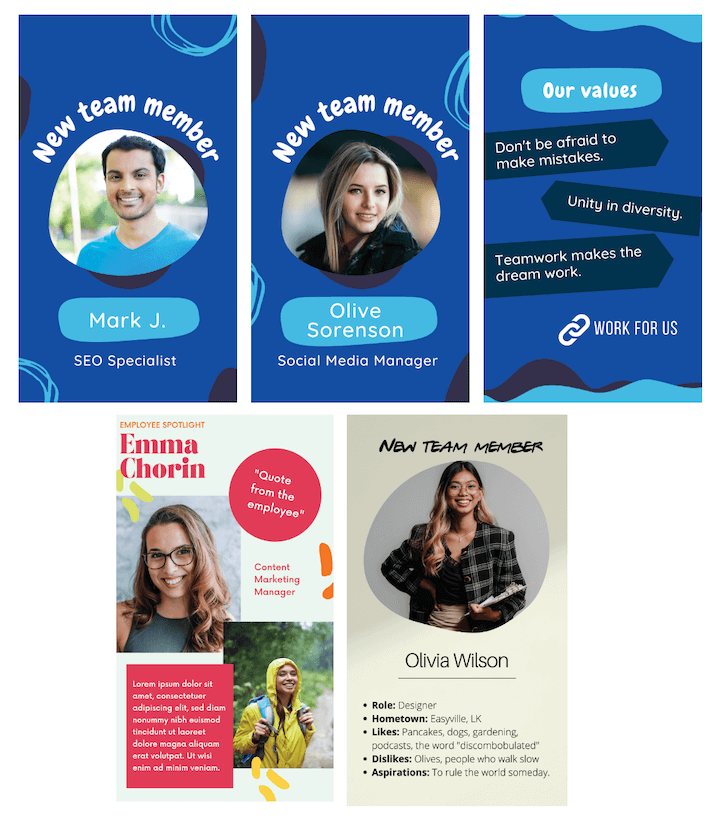 If you only have a handful of employees, you can share this story once a month or so to familiarize new followers with your team. You can also refresh the content each time you share to include different facts and images.

About us Instagram Story templates
Use this template to share a bite-sized snapshot of your business. This is another one you can put into a rotation to share every once in a while.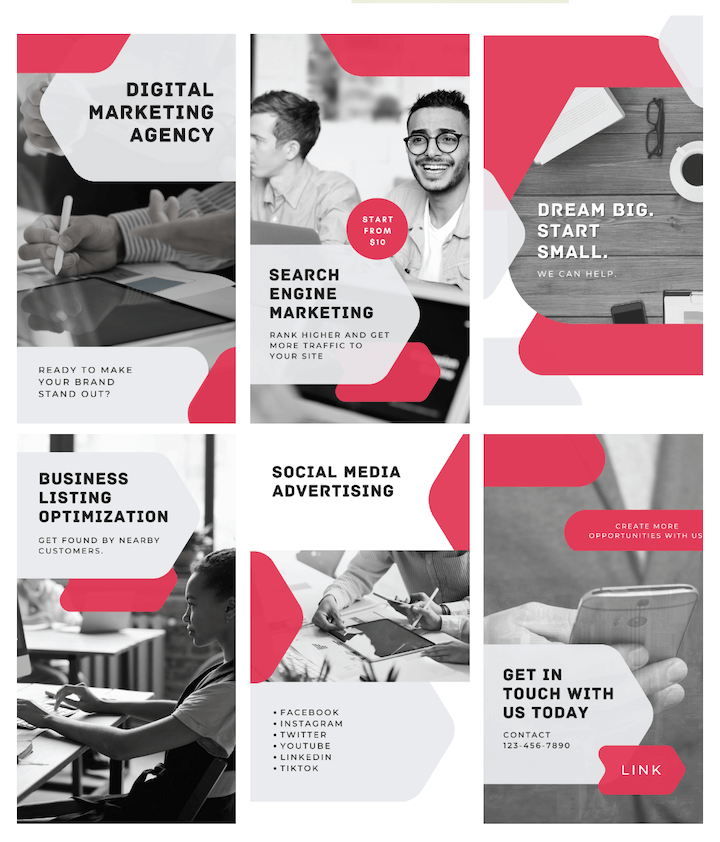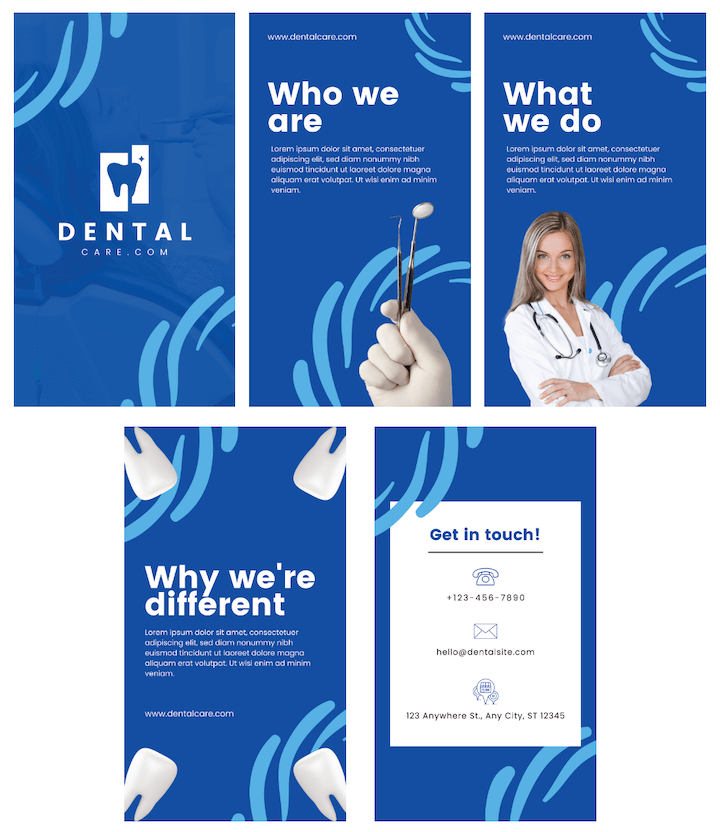 Case study/success story Instagram Story templates
An excellent use case for Instagram Story templates. Whenever you write a case study, create a Story version with just the main points and highlights. You can then save these as Highlights.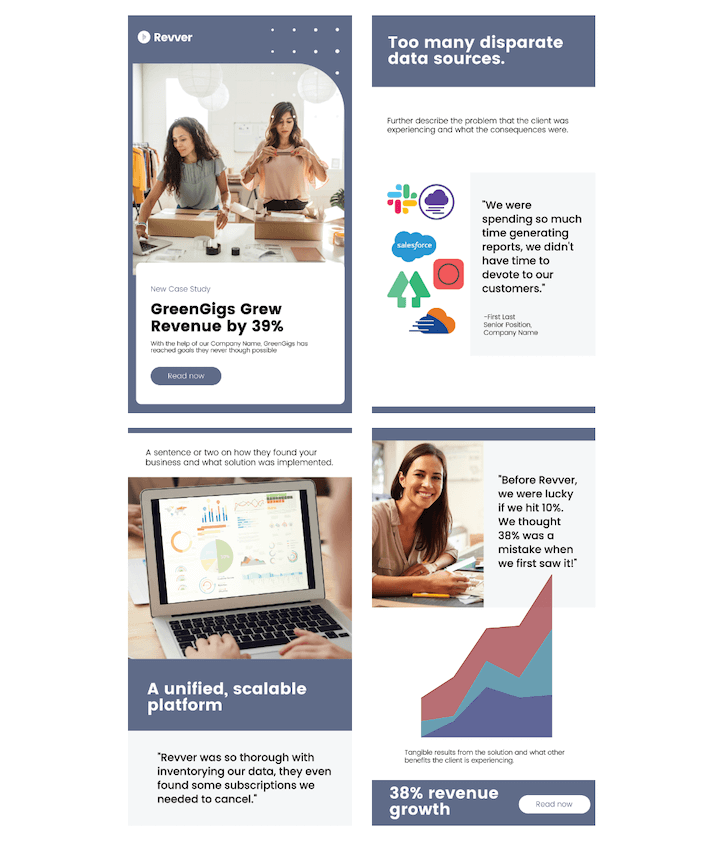 Here's another way to share your success stories.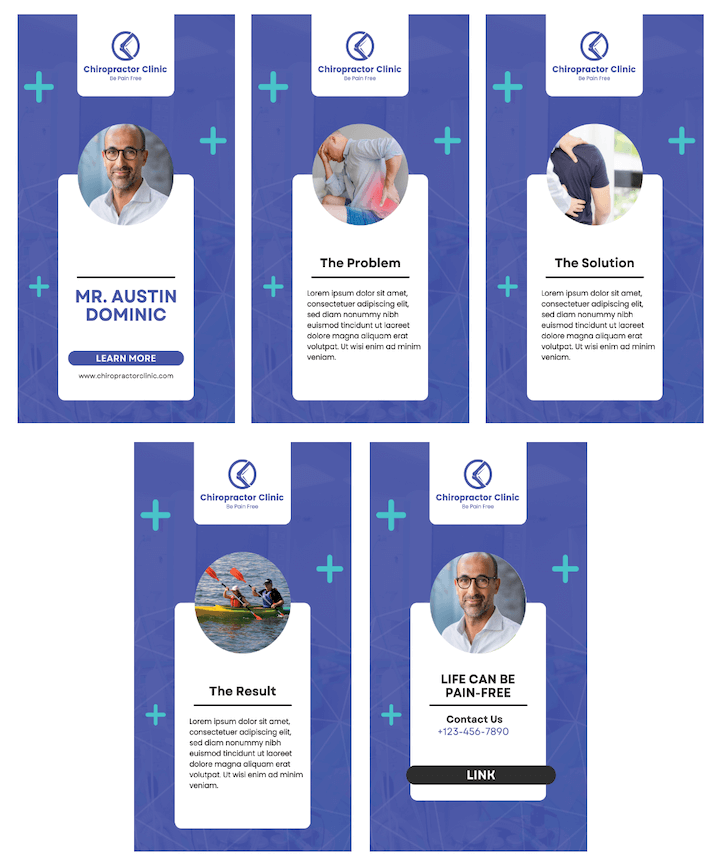 Tip & how-to Instagram Story templates
Tutorials and how-tos are the core of any successful content marketing strategy. You can provide these through Instagram Stories using video or just simple images. Here are some templates you can use for image and text-based tutorials.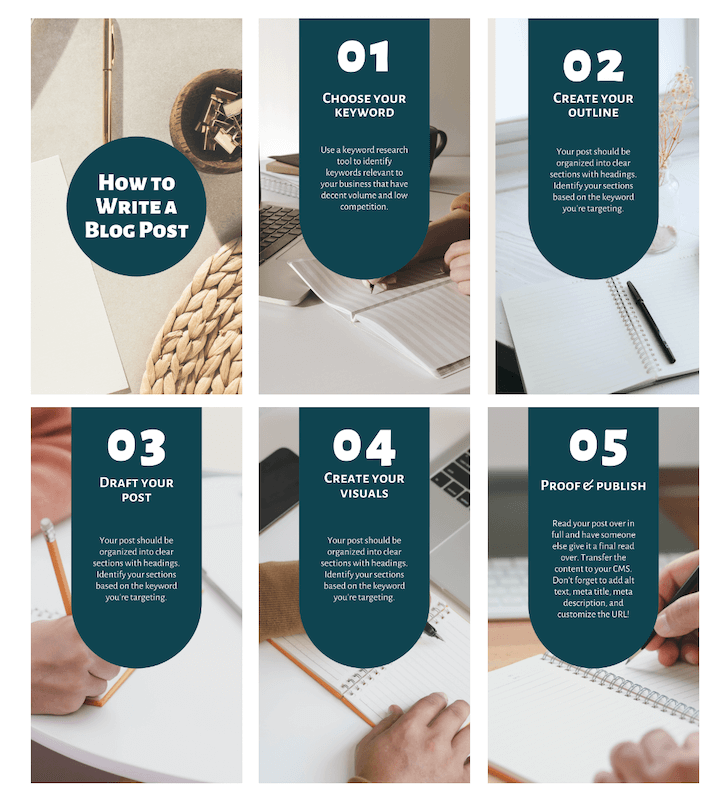 If you're looking to provide more of a one-frame experience, I've got you covered. Below are Stories templates for
Tip of the day
Listicle
How-to
Did you know
Quote of the day
You can easily repurpose your blog posts into these kinds of Stories.

New guide Instagram Story templates
If downloadable guides are part of your content strategy (they make great lead magnets), promote them in your Instagram Story by sharing some compelling facts from the guide—just enough to add value while also leaving the viewer wanting more. Here are some Story templates you can use for your ebooks and whitepapers.
New blog post Instagram Story templates
Similarly, let your followers know when you've published a new blog post to get some extra traffic to your site.
Event Instagram Story templates
Got an event coming up? Maybe an open house, a workshop, or a webinar? You can't beat real-time interaction with your audience. Maximize attendance by promoting the event in your Story (and here are some tips on running a webinar).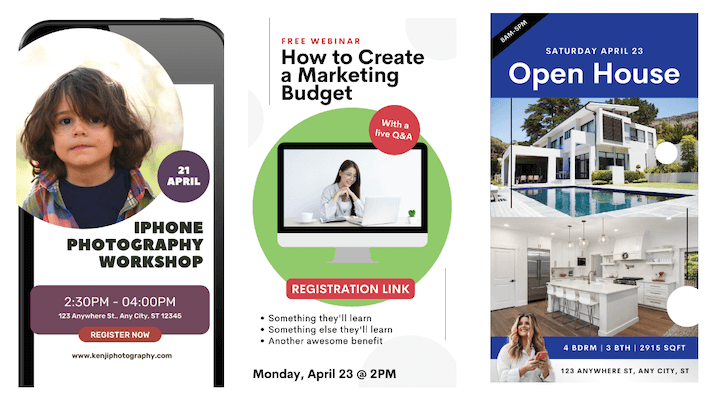 Sale/offer Instagram Story templates
Use our sales promotion ideas to come up with something fun and then put it in a Story using any of these formats: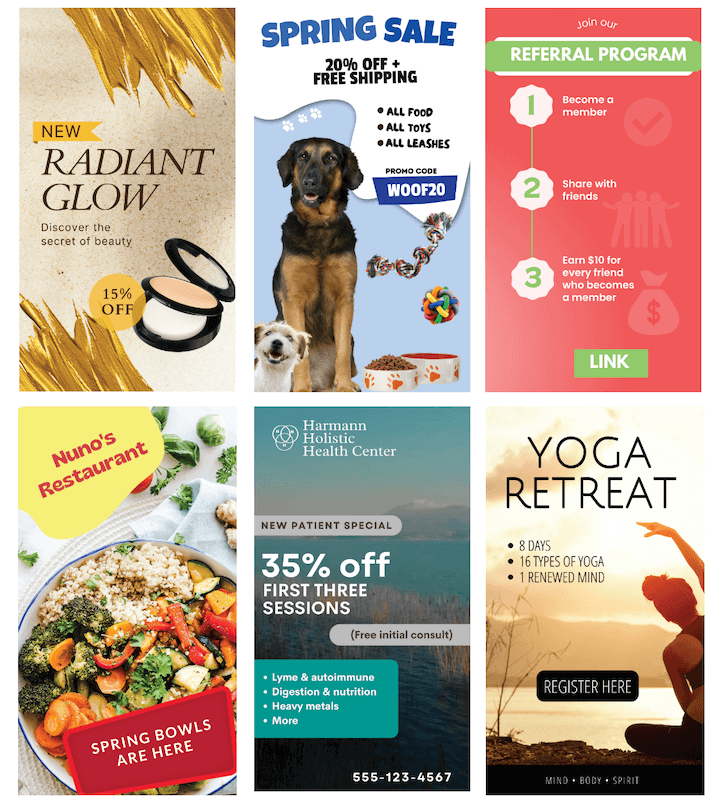 Giveaway Instagram Story templates
Instagram giveaways are an easy way to hit your follower and engagement goals. Use these templates to highlight the prize and don't forget to include clear yet simple instructions on how to enter.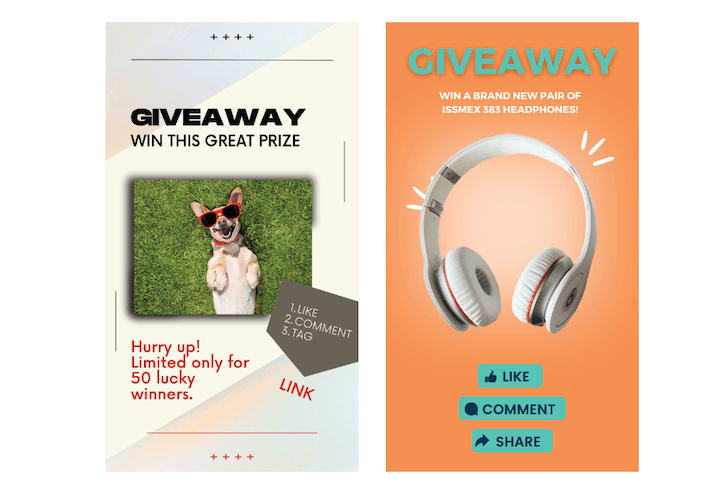 Customer testimonial Instagram Story templates
Online reviews and customer testimonials make great Instagram Stories. If you need help getting them, we have tips and examples on how to ask for a review here. For more inspiration, we have tons of testimonial advertising examples here.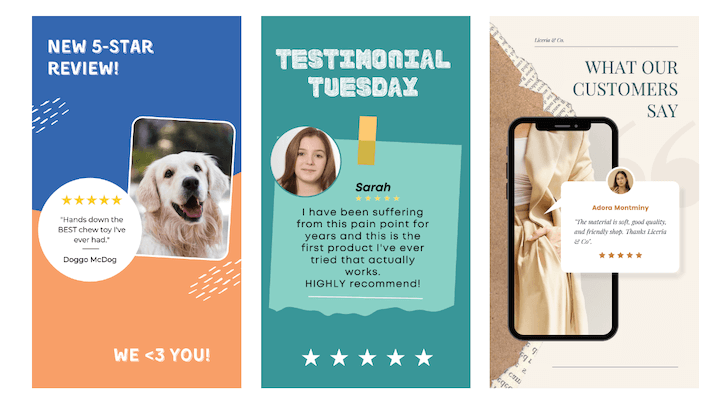 Use these Instagram Story templates to attract & engage
As mentioned earlier, here's the link to the Instagram Story templates. Use them to churn out good quality, engaging Stories in a fraction of the time, and even to create your own templates. And if you're looking for more inspiration, we have lots more creative Instagram Story ideas here.