💀 Don't ask for whom the bell tools, keyword match types…it tolls for thee. 🪦
Okay so that may be a little dramatic, but with Halloween right around the corner, it felt right. Keyword match types are still here and kicking.
…for now…
Why "for now"? Because just yesterday, some advertisers began seeing a new beta feature in Google Ads that basically allows you to turn on broad keywords (and turn off keyword match types) at the campaign level, which has us wondering…
Read on to learn:
What this feature is.
The context behind it.
Tips on using (or not using) broad match + Smart Bidding
What is the campaign-level broad match beta feature in Google Ads?
Some advertisers are seeing a new beta feature in Google Ads called "broad match keywords." When turned on, you would use broad match keywords for your entire campaign. When turned off, you'd continue using keyword match types.

In other words, by turning on this campaign-level broad targeting, you'd turn off keyword match types. Note, this is a limited beta feature, so only a small percentage of accounts will see it.
The Google Ads broad match keyword backstory
Here's how this update fits into the bigger story of keyword matching, which has been unfolding like a Netflix series since February of last year:
February 2021: Modified broad match gets canceled. Google tells us that modified broad and phrase match often serve the same use cases, so modified mod broad is no longer and phrase match absorbs its properties.
Advertisers have mixed feelings, but overall, the update is ill-received.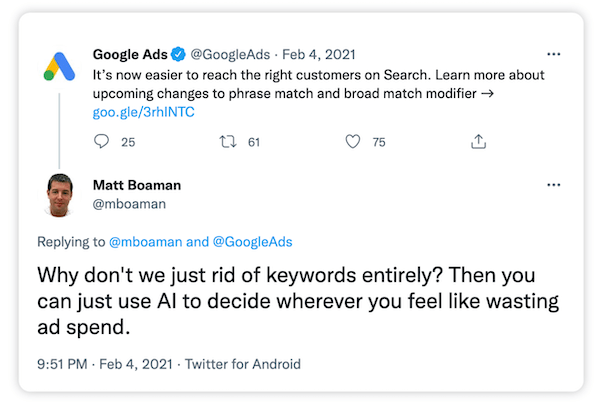 Matt Boaman's Tweet response: Why don't we just rid of keywords entirely?" 
September 2021: Google says all you need is broad. Google announces that thanks to BERT and some new logic, broad match is better than ever, and that when combined with Smart Bidding, you shouldn't need to use multiple match types for the same keyword.
Advertisers were once again, not happy and begged to differ:
Greg Finn's Tweet response to Google's fall 2021 matching behavior announcement. 
Since then: We've continued to see a push for broad match + Smart Bidding.
Exhibit A: Recommendations in Google Ads account to "upgrade your existing keywords to broad match."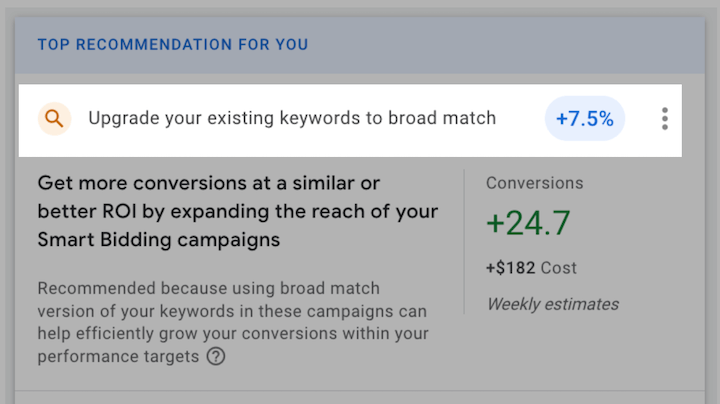 And a big ol' Exhibit B from Google Marketing Live 2022:
October 2022: Google releases campaign-level broad match in limited beta which, unsurprisingly, continues to push for broad match + Smart Bidding.
In the Google Ads interface, the feature is prefaced with:
"Broad match keywords work with Smart Bidding to help you reach your campaign goals. Ads may show on searches that are related to your keyword, which can include searches that don't contain the keyword terms."
It then bullets out three capabilities:
"Control who sees your ads with precise brand controls
Clear insights on what keywords are working for your campaign
Features that help Google Ads automatically improve your keywords"
What advertisers think about it so far
In his Linkedin post, Google Ads specialist Benjamin Wenner writes that this could be the beginning of the end of keyword match types (note that Google is not killing keyword match types—this is just his viewpoint).
"What is now a beta that can be turned on and off, I suspect will soon become standard before there is no option to turn off at all and the campaign broad is fully implemented."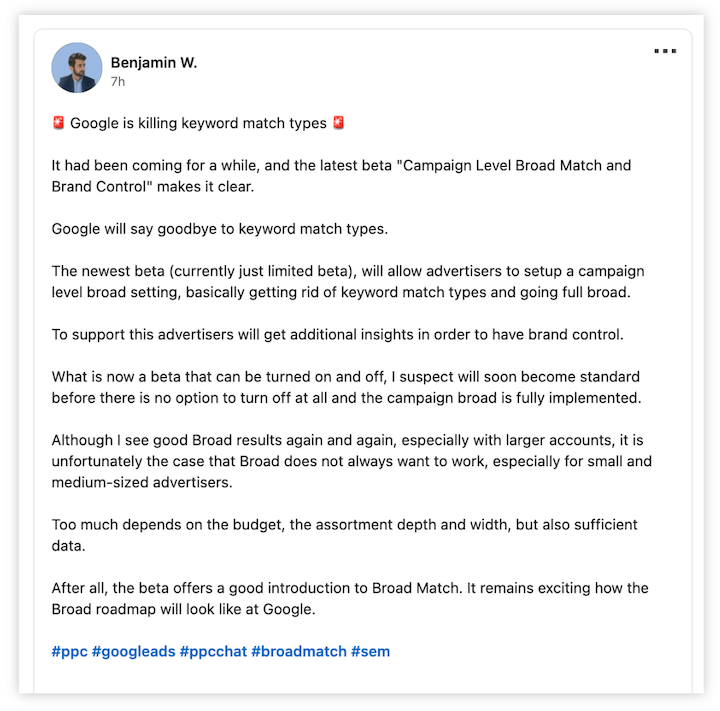 He also mentions seeing this feature as beneficial only to large accounts:
"Although I see good broad results again and again, especially with larger accounts, it is unfortunately the case that Broad does not always want to work, especially for small and medium-sized advertisers.

Too much depends on the budget, the assortment depth and width, but also sufficient data.

After all, the beta offers a good introduction to Broad Match. It remains exciting how the broad roadmap will look like at Google."
While Benjamin remains somewhat optimistic, Alan Rooney isn't having it.
In his Tweet, he writes:
"The new limited beta update from Google ads – Will allow advertisers to set up campaign-level broad targeting, essentially getting rid of the option for multiple keyword match types. Less control over traffic quality = Bad thing for companies. Not a fan!"
What does this mean for Google Ads keyword match types?
We can't really say what it means for the long term, but we can tell you what it means right now:
It's not required. It's just an option—as in, if it becomes available to you, you can still use keyword match types. Also, it's in limited beta so only available to select accounts at this time.
Keyword match types are not going away. Google Ads liaison Ginny Marvin Tweeted:


Match types are not going away. This is a limited beta to test workflow simplification and new features tied to match type for advertisers interested in using broad match for their whole campaign. We don't have anything else to share at this time.

We should still keep an eye on the story. Despite all of the above, we can't ignore the fact that there is now a beta feature in Google Ads that enables you to turn off keyword match types. And we know that Google sometimes likes to phase things out (like how when expanded text ads stopped being the default and then they 👻 poof! 👻 went away. So keep an eye on the story.
What to do about broad match + Smart Bidding
There isn't any action to take right now, but if you're seeing more pressure from Google Ads to use broad match with Smart Bidding, we'd encourage you to read our post: Should You Use Broad Match + Smart Bidding?
We'll leave it to you to read the post in full, but here's the quick skim on what we recommend:
Rather than using broad match with Smart Bidding right off the bat, start with phrase and exact match.
If you're looking for a more automated option, give Dynamic Search Ads a try.
If you do end up going with broad match + Smart Bidding, make sure to:

Build up enough conversion data (and with the right conversion actions) first.
Be proactive with negative keywords.
Review search queries on a regular basis.
Monitor lead quality.
Set bidding restrictions to start.
Start with conservative budgets.
Stay tuned for more updates!