The holidays are just around the corner, which is great! But this can be the hardest time of the year for attracting prospects and capturing attention. This leads many businesses to wind down their lead generation efforts and instead focus on Q1 of next year.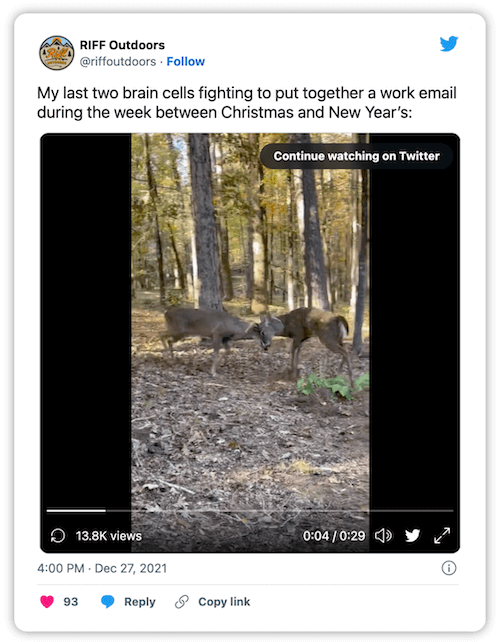 But that doesn't mean you should. Your prospects are still online, looking for solutions to their pain points. That's a lot of potential customers that could slip through the cracks if you take your foot off the gas!
So this year, don't let the holidays slow you down. We've got five ways to keep your leads and sales pipeline flowing throughout the festive season.
How to keep generating leads & sales over the holidays
The holidays are an opportunity to truly stand out from the competition and capture the opportunities for lead generation that others miss. Here are some holiday marketing ideas particularly for B2B businesses:
1. Go strong on mobile
Yes, you should always go strong on mobile. But this is especially true for the holidays since people spend much more time on mobile than usual while they're traveling, holiday shopping, or just enjoying some downtime.
This is part of the challenge for B2B marketing teams who prefer their prospects visit their desktop site rather than mobile, as engagement and conversion rates are higher on desktop. This is the case for us at Superlegal, and we are certainly not alone.
So what should you do? Prepare yourself for the holiday season by putting even more effort than usual into your mobile conversion rates and landing page optimization. For example:
Consider a mobile-only funnel. If your onboarding process is complex and converts much higher on a desktop, making it just as easy to sign up on mobile can do the trick.
If your sign-up form requires a lot of fields, keep it simple on mobile and ask for email only. Then take the rest of the details you need from a confirmation email.
2. Hand out a holiday coupon
The holidays provide the opportunity to strengthen relationships with your customers and leads by sending thoughtful messages, and as the season of giving, the perfect time to go the extra mile of sending a holiday coupon. And who doesn't like getting a coupon?
Give them to prospects to get them back in your pipeline, to customers to strengthen their loyalty and reduce churn, and even to churned users to remind them of your brand and your value. It can just be a straightforward discount coupon, or a coupon to a B2B-friendly vendor, like Staples.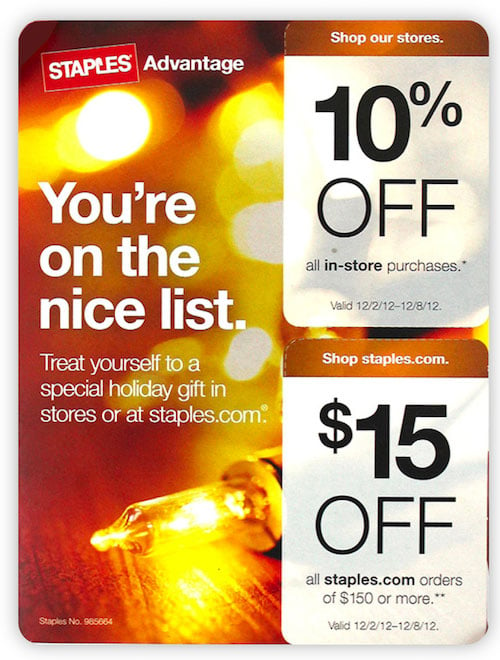 Simply add the cost to your user acquisition budget and there you go—you have prospects and churned users talking to you again!
3. Get festive with your email marketing
Many B2B decision-makers spend the slower time of the holidays evaluating their options and making plans for the year ahead, which often means clearing out emails and scheduling appointments for the new year…which also means you might actually find team leaders reading and responding to emails more during the holidays.
So this is a great opportunity for you. But let's face it, no one likes cold emails offering better results from some tool that is the same as every other tool out there. I personally get at least five such emails a day, and I ignore every single one of them because frankly, they are all exactly the same. Human connection is no longer a luxury but a fundamental part of the buyer's journey. And customers today prefer businesses that treat them like humans, not leads.
So you could follow our tips on how to do cold emails right, but this is the holidays—the last thing people want is a corporate email in their inbox. Instead, try one of these:
Send out a year-in-review email that recaps for customers what they've been able to accomplish with you and encourages them to stay connected next year.
Get plenty more year-in-review email examples here.
That way your prospects will stay connected with your brand through the holidays and come the new year, both you and your prospects will be ready to engage.
4. Publish a funny holiday video
While video marketing is effective, this is not a suggestion to work on yet another explainer video to demonstrate how great your product or service is, and how it will change the business of whoever will buy it.
Instead, get creative and scrappy with a funny, light-hearted holiday-themed video that doesn't directly promote your business.
For example:
A funny video of your team members having a meeting as elves, talking about this year's gifts.
A parody of a holiday song related to your industry, customers, or brand.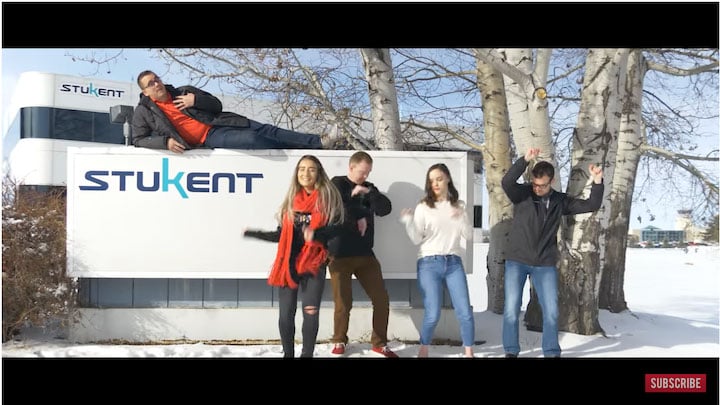 A creative video about the holidays can go viral and create a lot of social boosts, increasing your brand awareness and organic traffic.
5. Publish holiday-themed content
What can be a better time to get creative with your content than the holidays? Take advantage of this time by publishing some creative blog posts that will stand out from the usual content we post every day and boost organic traffic for the full year ahead. For example, try out:
A cheerful roundup of your best customer feedback and reviews.
An eight or 12-post series (for the 12 Days of Christmas or eight days of Hanukkah).
A useful holiday survival guide for whatever pain points your customers experience with regard to your industry during the holidays.
These holiday marketing resources can help you out, as well as our guide to cliche-free holiday copywriting.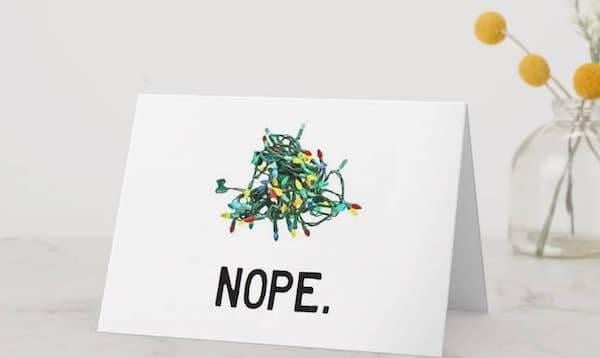 Keep that pipeline moving during the holidays
There you go. This year the holiday season is going to breeze through with no worries about a lack of leads, a lower pipeline, or your go-to-market team not hitting their targets. All it takes is a little creativity and a new perspective—your prospects are behaving differently during the holidays, so if you want to grab their attention, so should you.
With many businesses forgetting about lead generation this time of year, it's the perfect time to stand out from the competition and show your prospects that you mean business and have no intention of slowing down. So don't let the holidays go to waste. Get ahead of the competition and start the new year with a bang!