This is the definition of cliche.
In this post, I'm going to share 60+ examples and ideas to help you write cliche-free copy for your ads, landing pages, emails, social posts, and more this holiday season. I'm also sharing the strategies behind these examples, so get ready to expand your creative copywriting toolkit for ideas all year round!
What makes Twitter such a great resource for cliche-free copywriting is that [good] Tweets are relatable and satisfyingly succinct. And isn't that how all great copy should be? Some Tweets will give you ideas for your own relatable ad copy while others you'll need to include right in your content for context (like in a gift guide).
Just be sure to get permission and give credit where it's due. And also, check the user's account to make sure other Tweets they post are appropriate. To find holiday Tweets:
Ideas:
Sign up for our holiday rewards program. We'll keep track of your deals.
Why wait for post-holiday clearance when you can get great bargains now?
Prices so low you'll think time has flashed forward and you're in holiday clearance land.
Twitter has its pros and cons, but it is a great source of inspiration for conversational and relatable content—holidays or not. You can also post fun questions to your own account and see if your followers can come up with anything good.
2. Look at holiday greeting cards
Let's talk for a minute about the cards in the bottom row of any greeting card aisle. There is no good way to browse these cards without having to hold a squat for several minutes. And who's going to do that? Indeed, this row is the greeting card page two of search results and something needs to be done.
Plus, from an accessibility standpoint, bottom and top rows aren't accessible. Ergo, browsing through cards online is a luxury, and lucky for you, they are fantastic for getting creative holiday marketing ideas.
Example #4
This card reads: "May your heart be full..and your inbox empty."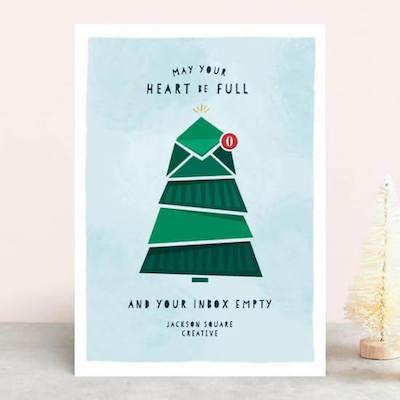 Ideas:
May your heart be full…and your wallet, too.
May your heart be full, and your ads clicked too.
May your heart be full, but not your head! Use these X sanity-saving holiday tips.
Example #5
Perhaps one of the quintessential pain points of the holidays. A picture of tangled Christmas lights and the word "nope."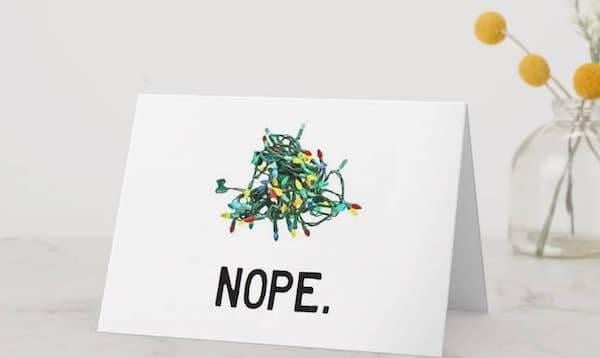 Ideas:
Display an image like this with copy like "Does tracking your marketing campaigns feel like this?" And then show your product with neatly strewn lights.
Juxtapose an image like this and "NOPE" with an image of your product/happy customers and "YUP."
[Applicable problem] is like a set of cheap finicky Christmas lights…one goes out and they all do.
Example #6
This card has different mittens to represent different cultures and says "happy everything."

Ideas:
This card shows how simple and easy it can be to make your holiday messaging more inclusive and diverse. Think about the icons, colors, and examples you use in your designs and content. The smallest details can send big messages—so make sure yours is positive.
Example #7
This card is a menorah with a word for each candle: peace, happiness, laughter, home, friendship, spirit, lights, holiday, family.

Idea:
You could model after this image in a blog post or guide containing eight or nine components. The main topic would be the center candle and the eight strategies/tips/values would be the remaining ones.

3. Use a slogan generator
A good slogan is not going to come from a formula or slogan generator, but that's not to say that formulaic results can't inspire creative ideas!
Example #8:
First, I plugged "Hanukkah" into Shopify's slogan generator. Like I said, prepare for a lot of hilariously unusable taglines, but I was able to extract some copywriting potential.

Ideas:
Hanukkahize me.
You know when it's Hanukkah

You know it's Hanukkah when…

The lighter way to enjoy Hanukkah

This is just a nice little double-meaning phrase you can use for marketing healthy foods, bright apparel, and more.
Example #9
Then I put "holidays" into said slogan generator.

Ideas:
You can't stop holidays

You can't stop the holidays from coming, but you can [solve a painpoint] with [business/product].

Better ingredients. Better holidays.

Better back health, better holidays.
Happier kids, happier holidays.
Stronger tips, better gifts.

Built holidays tough.

Holiday-proof your home (or brain) with [product/service].
Strong enough to withstand the holidays.
Build your holiday [cooking/shopping/etc] endurance with…
Example #10
Last, I plugged "gifts" into the generator.

Ideas:
Gifts when nothing else will do

The perfect gift when nothing else will do.

Anyone can handle gifts

For a gift they won't be able to handle.
Anyone can handle a gift. Not everyone can handle [your product].

See the USA in your gifts

See the handmade in our gifts.
See world impact in our gifts.
See the [country you are supporting] in our gifts.

Two gifts are better than one

Use for referral offers, sales promotion copy, BOGO sales, or free gift included with purchase.

Get back your 'ooo' with gifts

You could have fun with a visual here of "ooo"ing a gift out of marvel next to "ooo"ing it with a cringe. Then something like "For the right kind of ooo."
4. Browse through your inbox
Queue in "There's No Place Like Home for the Holidays".
Now there is no doubt that the holiday season is associated with warm home and family vibes, and there is nothing wrong with using those to add emotion to your copywriting.
But if you're looking to achieve that sense of comfort in a different way this holiday season, perhaps take a different approach and cater to those who don't have family to come home to or family coming home to them.
Example #11
Here's an inclusive email giving subscribers the opportunity to unsubscribe from Mother's Day emails. (P.S. lots more inclusive holiday marketing ideas here.)

Idea:
The holiday season is on its way and we know it can be difficult for some. If you'd prefer not to get our holiday correspondence, opt out by clicking the button below and we'll take care of it. We'll still keep you updated about everything else!
We know that the holidays can be a sensitive time for some of us. If you'd rather not receive holiday-related emails from us, just let us know by opting out. It's important to make sure you're only seeing things that put a smile on your face. Don't worry, if you opt out, you'll still receive all of the other emails, like normal.
Speaking of email…do you have your annual holiday customer appreciation email written?  If not (or even if you do), don't miss our heartfelt holiday email templates.
5. Use forgotten song lyrics
Cliche holiday song lyrics are THE cliches of holiday marketing. But there's no escaping the positive emotions these songs bring out in us. If you want to use songs to market with emotion, but want to stay authentic, how about using those same songs, but the other lyrics that don't get beaten down to a pulp? Or holiday songs that use words and phrases you can connect back to your value proposition?
Example #12
Let's take Bing Crosby's "I'm Dreaming of a White Christmas."

Ideas:
Let's say your target audience is parents.

"Where the treetops glisten, and children listen…"
Sorry Bing, did you just say children LISTEN?!
Yes, he did. And our latest guide has X parenting tips so you can experience this miracle. 

Or maybe you're an ecard company:

"With every Christmas card I write…"


Spare yourself the carpal tunnel…try [Company Name] for ecards with handmade feel.
Example #13
Don't forget Nat King Cole's "The Christmas Song."

Ideas:
There are two phrases you could have fun with in your holiday copy:
"It's been said, many times, many ways"
Use it in an email subject line to lead into your value prop.
"And so I'm offering this simple phrase"
Also subject line material, as well as a fun way to provide the key takeaways in a holiday-themed blog post.
Example #14
Or let's take Mariah Carey's "All I Want for Christmas Is You."

Ideas:
"I don't care about the presents underneath the Christmas tree."

Sure you don't, but your credit card does!
Neither do we… but we DO care about [and off you go].
Let's face it, you do…lead into great gift ideas from your business.
Example #15
This is a Tweet that says: "The twelve days of christmas is completely unrealistic there is no way that you're still accepting gifts from someone after four days of birds."

Ideas:
You may also be able to come up with some funny or compelling marketing copy by looking more closely at popular song lyrics. Like
For fashion businesses: 5 Outfits to Nail the "New Old Fashioned Way"
For a food or restaurant business: 10 Actually Delicious Figgy Pudding Recipes
6. Get inspired by Kwanzaa
Many great holiday marketing campaigns are focused on giving and gratitude. There is nothing wrong with these values! The thing is, there are so many more points of emphasis when viewed from other cultural perspectives.
Example #16
Take Kwanzaa, for example.

Ideas:
Maybe for the core values-related content you publish during the holidays, you can focus on one or all of the seven principles of Kwanzaa instead:
Unity
Self-determination
Collective work and responsibility
Cooperative economics
Purpose
Creativity
Faith
7. Look at someecards
This is another strategy to come up with super-relatable content. Big disclaimer: someecards content can be offensive and insensitive, so be sure to only choose memes that don't even come close to risking it.
Example #17:
This someecard reads: "Sorry your company is performing well enough this year to have an office holiday party."

Ideas:
Event planners can use this meme to talk about throwing office people actually want to go to.
B2B companies can focus their ad copy around saving enough money to have four office holiday parties a year. More B2B holiday marketing ideas here, by the way.
Example #18
This someecard reads: "May all your regifting go undetected this year."

Ideas:
[Product name]: The world's first regiftable gift that everyone wants.
Finish the holidays with a clear conscious this year
10 Things to Do Before You Give In and Regift
Example #19:
This someecard reads: "This holiday season, in lieu of gifts, I've decided to give everyone my opinion."

Ideas:
Spare your family, check out our gift guide!
Use this meme in an email asking for reviews.
We actually want your opinion!
8. Exclude "holiday" from your idea searches
One of the best ways to get jumpstart your copywriting creativity is to Google around for examples.
BUT…
Given that 90% of people use Google, and that 90% of that 90% don't go past the first page (i.e. to the bottom row of the card aisle—head back to #2 if you don't know what I'm talking about), you can rest assured that any ideas you get are not going to be authentic.
Plus, top pages for "best holiday marketing campaigns" almost invariably include the same list of 10 or so YouTube videos of commercials from big brands. These are entertaining and inspiring, but hardly useful for copywriting, and often not adaptable for small businesses (but this list is!).
The trick is to just omit "holidays" from your searches. So for example, instead of "holiday facebook ad examples," I Googled "facebook ad examples." Here are some that stuck out to me.
Example #20:
In this carousel ad from our Facebook ads roundup, we read: "Learn how to maintain creative control WITHOUT making marketing enemies." Then each card in the carousel has a different version of "Creatives & Marketers need each other like…" including "Tuesdays need tacos," "Tonic needs gin," and "Shaggy needs Scooby."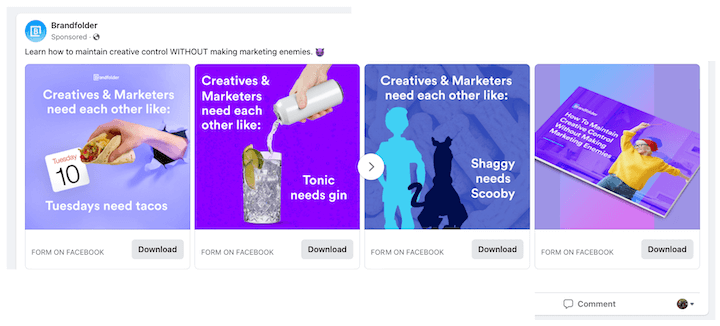 Ideas:
[Your target audience persona]s without [your product] is like

Santa without Rudolph.
Eggnog without brandy.
A menorah without candles.

[Your target audience persona]s need [pain point] like

Your Christmas display needs a blown fuse.
A menorah needs a fire extinguisher.
Kids need the holiday armadillo.
Example #21:
This Facebook ad copy says: "Time travel. Talking babies. Old man yelling at clouds. Just another day in adult animation. See it on Hulu for $5.99/month."