As a small business, standing out on a platform as content-heavy as TikTok is daunting. With over one billion monthly active users and reigning as the most-downloaded app of 2022, it's no surprise that both large and small brands are vying to reach their target audience on the popular, short-form video app.

So where does your small business fit in, and how can you get your content noticed by the right users? One of the most effective ways to increase visibility on TikTok is by using hashtags.
In this post, we'll explore the best TikTok hashtags businesses can use to boost engagement and why using hashtags is so important.
Why use TikTok hashtags
Hashtags, in general, provide a way to get your posts seen by new users on social media sites. And TikTok is no exception. Here are some reasons to use TikTok hashtags.
Increase your visibility
Using hashtags on TikTok can help you get found on a user's FYP (AKA For You Page) or when they search for a specific phrase or hashtag within the app.
And as users begin using TikTok more and more as a search engine (no, really!), it's important to include hashtags in your TikTok captions so you can get found when they're searching for content or results that you offer.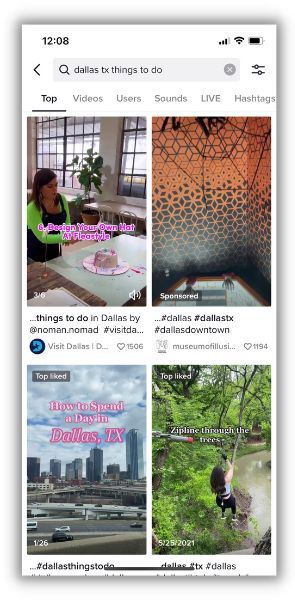 Boost engagement
The more people who see your TikTok posts, the more likely you are to increase engagement, get new followers, and grow your TikTok account.
Find more ideas to get TikTok followers here.
Create a community
Using hashtags related to your niche or location can help you build a strong community on TikTok. By hopping on trending TikTok hashtags or including hashtags relevant to your potential customers' needs or interests, you can create a dialogue with your audience and increase the potential to get new customers from this extremely popular app.
In fact, TikTok hashtags may even get your videos in front of other inspired users who decide to stitch your TikTok. 
How to use TikTok hashtags
It's super simple to use TikTok hashtags. They work just the same as Instagram, Facebook, or Twitter. To create a TikTok hashtag, you type the pound/hash sign (#) followed by whatever you'd like your hashtag to be. #likethis

An example of where you're able to add hashtags to your TikToks. 
Keep reading for tips to choose and use TikTok hashtags for your business.
TikTok hashtag tips
Use these best practices to guide your TikTok hashtags strategy.
Keep your TikTok hashtags relevant to your business
Choose hashtags that complement the topic of your video content or campaign. While it can be tempting to jump for the most popular TikTok hashtags, you want your videos to be effective at reaching your unique business goals.
Use hashtags that connect to the content within your video as well as your business. This helps keep your brand looking more authentic rather than like you're trying too hard to hop on the latest TikTok trend.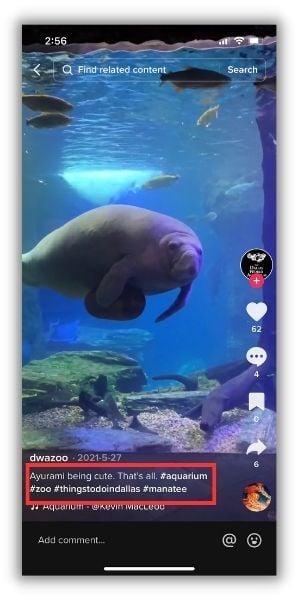 The Dallas World Aquarium used some very relevant hashtags in this post. 
Try not to use too many hashtags
Avoid cluttering your caption with too many hashtags (stick to 3-5 maximum). You have a limited amount of space for your TikTok caption (100 characters), so use it wisely with a curated list of hashtags. You want your TikTok videos to find the right audience, so focus on using the ones that will most likely resonate with them.
Use the right combination
Pair broad, popular, or trending hashtags with niche and branded hashtags for a better chance of reaching a more targeted audience (hint: popular does not always equal higher reach). That way, your TikTok hashtag strategy will strike a balance between increasing reach and relevancy.

This TikTok from Fuzzy's Taco Shop includes a mix of branded, relevant, and trending hashtags. 
Now that you have some basic best practices, let's get into the hashtags to use in your posts!
Best TikTok hashtags
We know time is a precious commodity for your small business, and hashtag research likely isn't at the top of your to-do list. That's why we've compiled our recommendations for hashtags or types of hashtags that will get the attention of your customers and prospects.
Small business TikTok hashtags
These hashtags are specifically designed to promote small businesses, which can be a powerful tool when competing with larger companies. While these are very broad hashtags, there are likely a handful of hashtags that businesses in your community use to reach the local population.
Check out community and business accounts in your area to see which hashtags they use regularly, and experiment to see if these help you reach your target audience. Additionally, using these hashtags can help you build relationships with other local business owners who may be willing to collaborate on future marketing initiatives.
These "shop small" and "local" hashtags can also attract customers passionate about supporting small and locally-owned businesses.
By using these hashtags that reference shopping small and supporting a person's business instead of a faceless big-name brand, you are also tapping into your customers' emotions to persuade their decision-making.
Here are some small business TikTok hashtags to try:
#ShopLocal
#SmallBusinessCheck
#Smallbusiness
#SmallBusinessTikTok
#Smallbusinesstok
#SmallBusinessOwner
#BehindTheScenes
#SupportLocal
#Shopsmall
#Entrepreneur
#SMB
#growingbusiness
#HowItsMade
#inthemaking
#trusttheprocess
#inprocess
A self-proclaimed "Dog Mom" shows the joyful side of owning a small business using #ShopSmall.
Industry-specific TikTok hashtags
Your TikTok hashtag strategy should have a healthy mix of broad and niche topics to attract new customers and reach individuals who are already interested in products and services like yours. Using industry-specific hashtags is one way to drill down to a more targeted audience. By showcasing your unique offerings and using these hashtags, you can:
Demonstrate your expertise and position your small business as a thought leader in your field.
Increase your visibility and build a loyal following of people who are passionate about your products and services.
Stay up-to-date with industry trends to help inform your marketing and overall business strategy.
Here are some industry-specific TikTok hashtags for top verticals:
Hashtags for dentists
Hashtags for fitness trainers and gyms
#FitnessCheck
#FitnessTips
#Gymtok
Hashtags for home services
#HomeTok
#Beautifulhomes
#DIY
#FixerUpper
#homeimprovement
#interiordesign
#homedecor
#homesweethome
Hashtags for retail
#Buynow
#Shoptok
#Shopping
#haul
#unboxing
Hashtags for education
#ClassInSession
#SchoolsOut
#Newsemesternewme
#CourseRegistration
#Teachertok
#Schooltok
#Kidtok
#StudentTok
Hashtags for healthcare businesses
#doctok
#DoctorTikTok
#Healthtok
#healthy
Hashtags for financial services
#moneytips
#FinanceTips
#investing
#financialfreedom
#wealthbuilding
#incomemanagement
Hashtags for auto dealers, garages, and more
#carmaintenance
#carforsale
#truckforsale
#dealership
#autosales
#Cartok
#CarsofTikTok
Hashtags for salons
#beautytok
#beautifulnails
#beautifulhair
#hairgoals
#Hairtok
Hashtags for B2B businesses
#TakingNewClients
#B2B
#BusinessTok
A hat maker captures his expertise using #hatmaker and #hatmaking.
Trending TikTok hashtags
Trending hashtags on TikTok are considered popular based on the number of times the hashtag has been used and how many times it has been viewed. By incorporating these popular hashtags into your content, your small business can attract new followers and potentially even go viral, which can lead to increased brand recognition and potential sales.
Trending hashtags can also help you stay up-to-date with current trends and topics, which can be important for appealing to your target market. The key to experimenting with trending hashtags? Be timely. Trends in the TikTok world can come and go pretty quickly. If you'd like to create content for a specific trend, jumping on it immediately while it's still topical and relevant is essential.
Here are some examples of trending TikTok hashtags:
#wheneverwherever
#photogenic
#ItsGiving
#welcomhome
#theoffice
#photography
#Vlog
#Diary
#Travel
#goals
#tiktok
#funny
A bakery owner showcases her typical workday using #DayInMyLife.
TikTok shares trending hashtags on its website so you can always stay tapped into what's hot. You can even filter by industry and timeframe to find what's relevant for your business.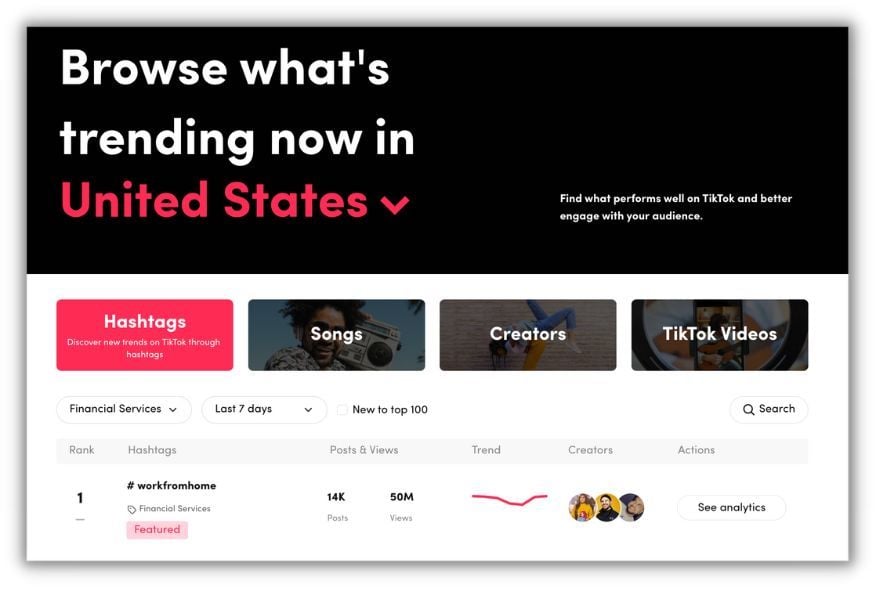 Hashtags to get you on the FYP
The "For You Page" (aka FYP) is TikTok's algorithm-driven feed that serves up content to users based on their viewing history and interactions on the app. The FYP is the first feature users see when opening the app, so exposure on this feed is incredibly valuable.
By using "for you page" hashtags, businesses can potentially increase the likelihood of their content appearing on the FYP, reaching users that may otherwise not come across their small business account. While TikTok has never officially stated that using these hashtags will land your content on the FYP, many brands have seen success with this strategy.
Our recommendation? While there is no guarantee using these hashtags will get your content on the FYP, increasing your reach on the app is worth a shot. That said, if you are choosing between an FYP hashtag or a niche hashtag that is more tailored to your brand, stick to your niche!
There are a few TikTok hashtags that can help you get on the FYP, like:
#ForYouPage
#ForYou
#FYP
#Explore
#Discover
#new
A mom-and-daughter duo use #FYP to attract new customers to their mobile bar business.
Start using TikTok hashtags the right way
A TikTok hashtag strategy is crucial to connecting with your target audience. Think about it: You may be creating the most engaging, creative, funny, or thought-provoking video content, but you need to reach the right people for it to be worthwhile. Using relevant hashtags alongside your content can help you cultivate a community and loyalty around your brand, become a thought leader, meet other small business owners, attract new customers, and impact your bottom line.
Get started today! Test out various hashtags, track which ones garner the highest engagement with your target audience, and then iterate and improve your strategy as you learn what will work for your unique business. Happy #hashtagging!