Home
—
Keyword Strategy: Using Keywords in Your Campaigns
Keyword strategies are essential to developing winning search engine marketing campaigns. Your keyword strategy should involve selecting high-performing keywords that drive relevant traffic to your business. Choosing the right keywords for advertising can make all the difference in your campaigns, determining how well your advertisements rank on Google and other search engine platforms.
The best keyword strategies rely on highly relevant keywords, which are keywords that relate closely to your business or are associated with your industry.
Once you know the keywords you want to bid on, the next step in your keyword strategy involves crafting text ads that incorporate your keywords. When visitors click on your ads in the Search Engine Results Page (SERP), you pay the amount that you've bid on the keyword. This process is known as pay-per-click (PPC) advertising.
Finding Keywords with Keyword Marketing Research
Successful search marketing requires an intensive keyword research strategy, in which you mine your search query data or use keyword discovery tools to compile a comprehensive list of marketing keywords.
The amount you'll spend with your keyword bidding strategy when you advertise on Google is determined by how competitive your keywords are. The secret to successful keyword bidding strategies is discovering your sweet spot of less competitive (and therefore less expensive) and yet highly relevant keywords through keyword research.
The best PPC and SEO campaigns implement keyword research strategies for finding valuable long-tail keywords, as well as keyword search strategies for formulating a list of negative keywords (words you don't want your ad appearing for). Introducing a negative keywords strategy into your PPC campaign can greatly reduce your PPC costs.
While it's good to have some popular keywords as part of your PPC keyword strategy, the most searched words tend to be broader and more expensive. Focusing on long-tail keywords keeps your traffic relevant and saves money.
Keyword selection and optimization strategies are largely dependent on discovering these high-value keywords, but finding these valuable, money-saving keywords manually can be extremely difficult and time-consuming.
WordStream offers keyword advertising software that can help you discover and utilize these top-notch keywords as part of your PPC and SEO keyword strategy.
Keyword Strategies: WordStream's Keyword Tools Make it Easy
WordStream's Free Keyword Tool allows you to take advantage of all that keyword marketing has to offer your business. Our keyword tool enables you to: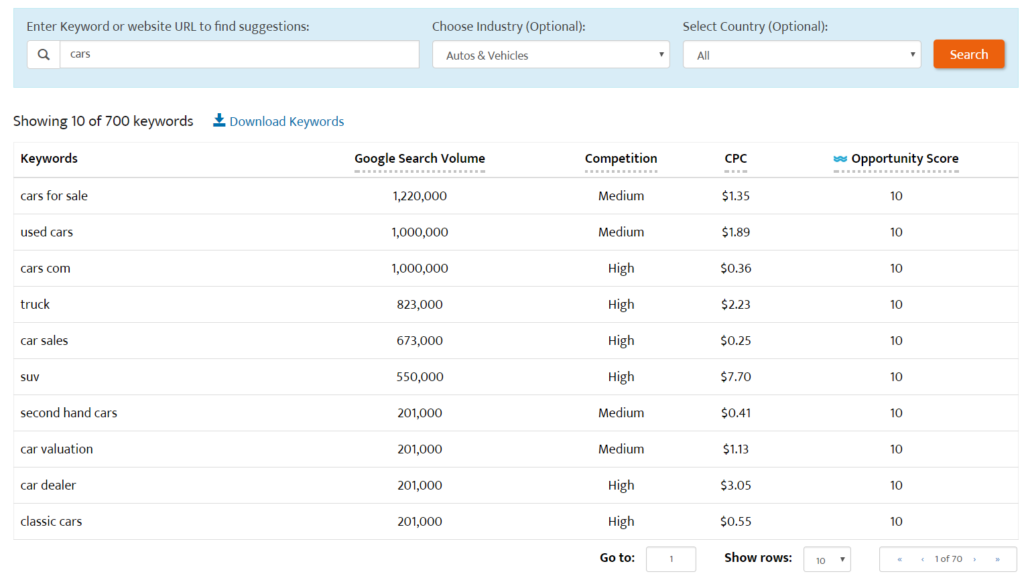 Keyword Search Strategy: Using Ad Groups for Keyword Advertising
The best keyword strategy requires more than just a list of keywords—even with a list of profitable long-tail keywords, to receive your maximum return on investment, it's crucial to group your keywords effectively.
Grouping keywords is important because sorting your keywords into a semantically and logically organized hierarchy makes creating PPC ads significantly easier. Keyword grouping allows you to write ad text that applies to multiple terms simultaneously.
Organizing your keywords brings PPC keyword marketing advantages, such as: