Looking for the magic TikTok video that will launch your account into virality? We don't have that, but we do have a way you can get close. TikTok LIVE can help you bond with your audience in real-time while attracting new followers to your account.

All you have to do is turn the camera on and start talking—which we'll show you how to do in this post.
Table of contents
What is TikTok Live?
TikTok LIVE is pretty much what you'd expect—it's TikTok's way of doing live video, just like how we have Facebook Live, Instagram Live, and YouTube Live. According to the platform, TikTok LIVE is a way for users and creators to interact in real time. There are a few requirements restrictions:
You have to have at least 1,000 followers to unlock TikTok live (although there is a hack at the moment—more on that later).
You have to be 16 years and older to launch your own live
You have to be 18 years or older to send and receive gifts during a LIVE. Gifts are essentially virtual offerings from your followers during a live stream, which can be converted into cash.

TikTok Live gifts appear below the live stream and show up on top of the video when given.
How to go live on TikTok
Provided you meet the above requirements, follow these steps to go live on TikTok:
Open up the camera.
Scroll through the options under the red button until you find LIVE and tap it.
Create a title for your live stream.
Choose your cover photo, topic, and any other filters.
Tap the pink Go LIVE button.
Here are the steps with screenshots and a little more detail—courtesy of Kyla Liu on YouTube—thanks Kyla!
Step #1: Click the + at the bottom of your TikTok screen to open up the camera.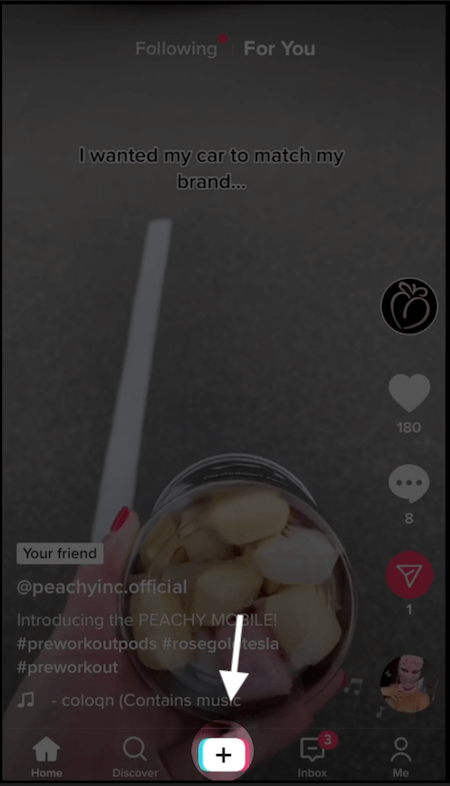 Step #2: Look below the red record button where the recording options are. Scroll right until you find the LIVE option, then tap it.

Step #3: Add a title. Keep this super short! You only have about 30 characters.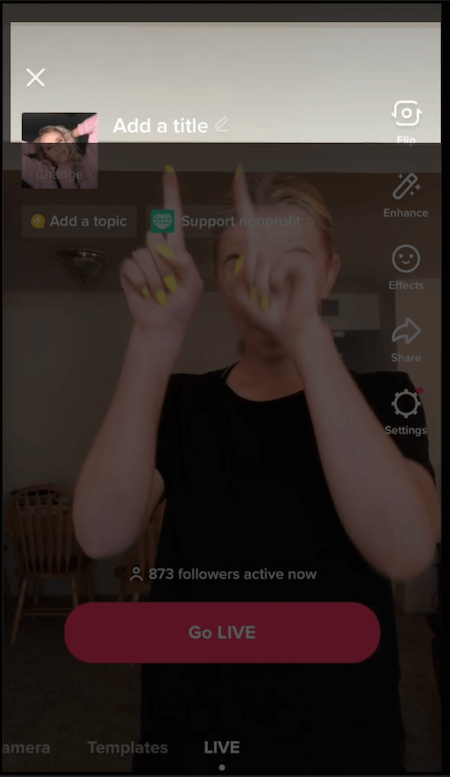 Step #4: Choose a cover photo. This can be your profile photo or you can change it to something else. Choose your topic, filters, effects, and more. You also have the option to support a nonprofit here.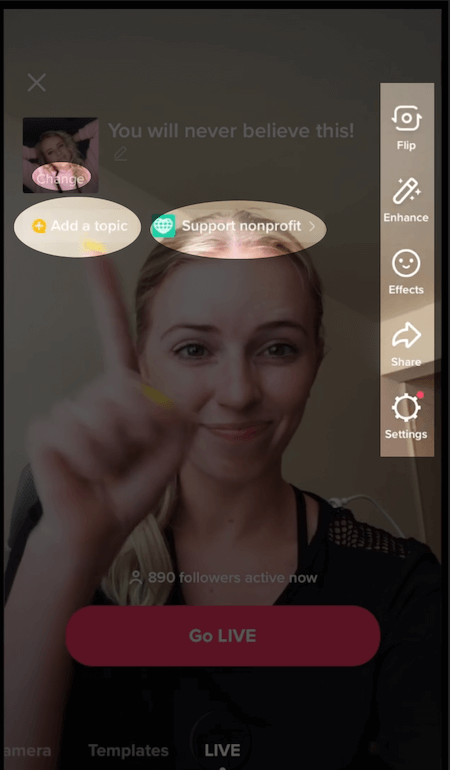 Step #5: Tap "Go LIVE"

You'll get a three-second countdown before your video begins. If this button doesn't pop up, make sure you've met all the requirements for TikTok LIVE. If you have, it's possible that too many live streams are occurring at the same time. Try again a few minutes later.

How to go live on TikTok without 1000 followers
As of right now, there's a "trick" to unlock TikTok Live access without the 1,000 follower requirement. Here's what to do:
Tap the hamburger menu in the upper right of your profile to go to your account settings.
Tap "Report a problem."
Tap "I can't start a TikTok LIVE."
When asked if your problem was resolved, select No.
In the "Send us your feedback" box, write something to the effect of:
Hi there, I cannot access TikToK Live. Could you please enable it for me?
Hit send, and you should have access to TikTok Live in about two days.
Here are the steps to go live on TikTok without 1000 followers, with screenshots:
Step #1: Tap the hamburger menu in the upper right of your profile to go to your account settings:
Step #2: Tap "Report a problem."

Step #3: Tap "I can't start a LIVE."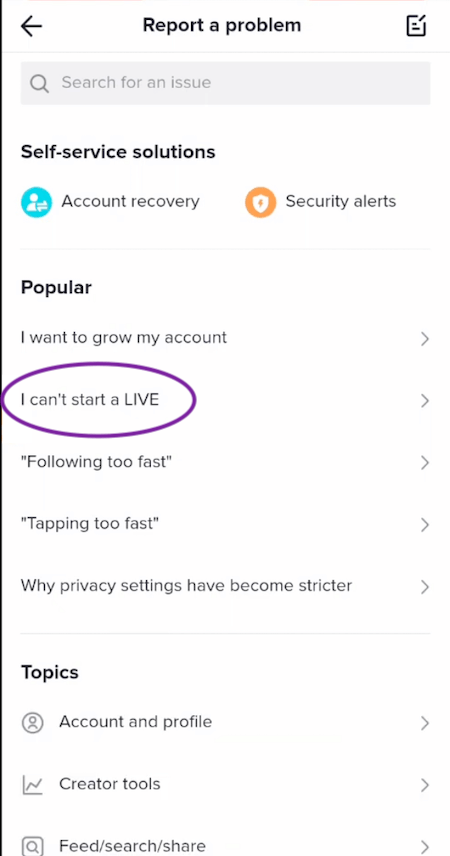 Step #4: When asked if your problem was resolved, select No.

Step #5: In the "Send us your feedback" box, write something to the effect of:
Hi there, I cannot access TikToK Live. Could you please enable it for me?

Step #6: Hit send, and you should have access to TikTok Live in 24-72 hours.

TikTok live tips/best practices
1. Have a goal
Figure out what you want to get out of your TikTok LIVE. Do you want to share something specific with your audience, promote a new product, drive traffic to your site, or just connect with your community? The options here are endless, and defining your goal before going live ensures that your live stream is intentional and actually benefits your marketing strategy.
2. Pick a relevant topic
Once you have your goal, it's time to choose a topic that will help you accomplish that goal. Your topic needs to be enticing. If your goal was to promote your new product, a topic might be how your followers can use the product to solve a common problem. You might also want to choose a broader topic for the month and then do a weekly live stream on subtopics.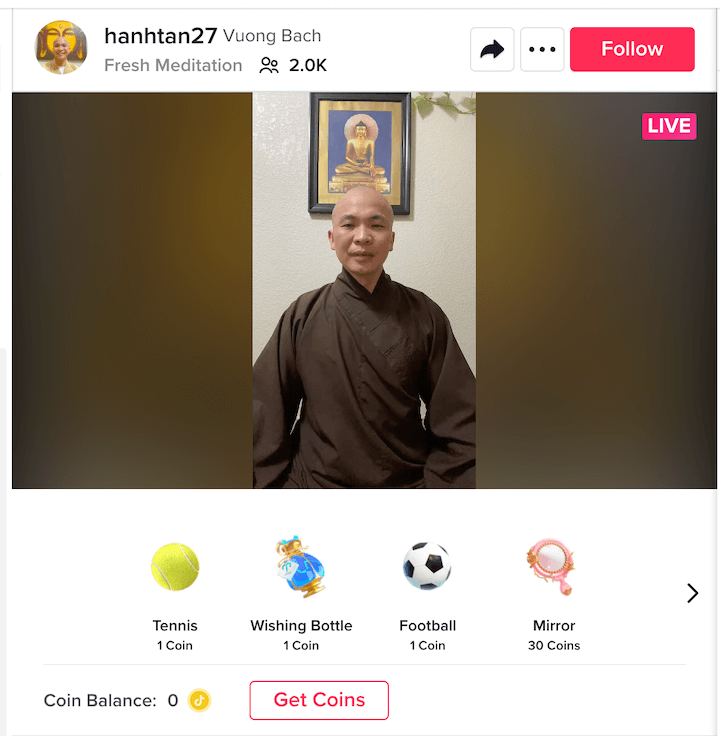 3. Structure your live
If you want to keep your audience engaged till you sign off of your live stream, you need structure. Plan out how you'll start, transition, and end your live before you click the red GO button. It's usually a good idea to start by saying hi and introducing yourself to new viewers. Once a good bit of people join, explain the topic of the live stream.
The middle of your live stream can be structured however you like– it just needs to flow in a way that makes sense and keeps users engaged. Examples include steps in a how-to video or a question and answer session.
4. Keep it to ~30 minutes
Pre-plan how long you want to spend on live. 30 minutes is a good maximum time limit to keep in mind, as TikTok is geared toward shorter content (yes, even when it comes to live streams). You want enough time to accomplish your goal, but you also want to keep it short so that viewers stick around until you're ready to say bye. Planning your duration beforehand helps you keep an eye on the clock while filming. That way, you know when you need to hurry up and move on to the next segment of your live stream.
5. Go live at the right time
Speaking of time, make sure you go live at a time when the majority of your users are online. This will ensure you get the most likes and engagement. You can access this information in the Follower Activity section of your TikTok analytics. The reasoning here speaks for itself—if you go live when your audience is online, you'll get more engagement. For more tips, head to our post >> When Is the Best Time to Post on TikTok?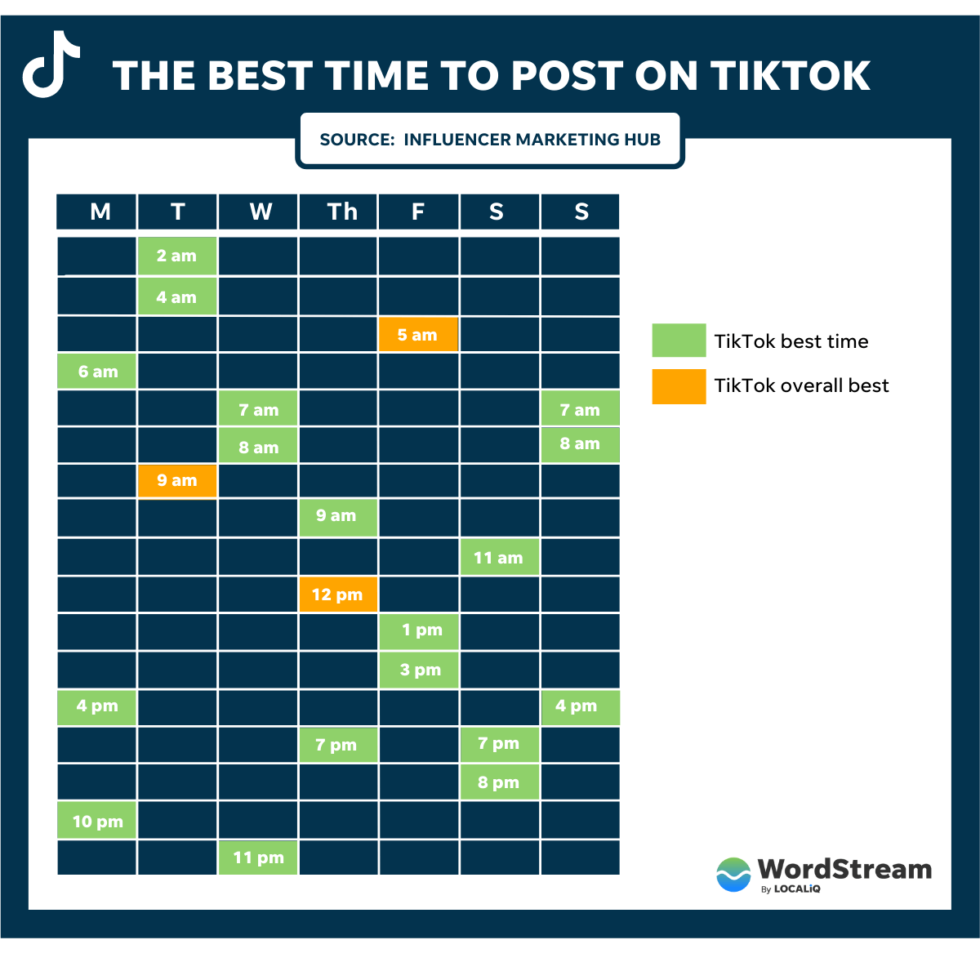 6. Stay away from scripts
Yes, pre-planning is important. With that said, don't let your videos feel scripted. Part of TikTok's charm is the authenticity of the raw content. If your live streams feel stiff and scripted, they might not resonate well with your TikTok audience. Your lives should be structured so that they provide value to you and your audience, but casual enough to foster an organic connection.
7. Nail the quality
TikToks shouldn't be overproduced, live streams included. That doesn't mean high-quality video isn't a must. Make sure your live streams appear as high quality as possible by filming in good lighting (in front of a window will work just fine), checking the sound quality and avoiding noisy interruptions, and using a solid internet connection.

8. Give viewers next steps
You'll get better results from your live if you include a call to action before signing off. Reiterate whatever you wanted your viewers to get out of the live, then tell them what they can do next to learn more. Examples include asking for a follow or directing users to your site.
9. Make it interactive
As we mentioned above, the main purpose of TikTok live is to interact with users in real time. Pay attention to the questions and answer them. Thank new followers for following you and for any gifts you receive during your recording. Some TikTok lives are based solely on viewer requests, like the one below.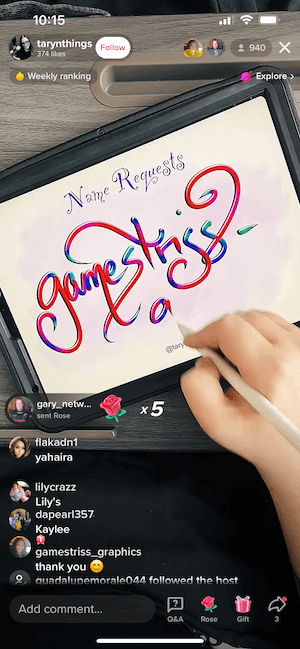 TikTok live ideas and examples
1. Do a challenge
Try out a challenge live. You can even show the behind-the-scenes of filming an actual TikTok on live— you'll just need to film on separate devices.
2. Film a live Q&A
Gather questions beforehand or wait for them to appear in your live stream comments, then answer the juiciest ones to build a stronger relationship with your audience.
3. Host interviews
Hosting interviews with other TikTok users is a fun way to increase your reach while providing value to your audience. And who knows, you may even end up on the FYP. The below example. by @ameliezilber is not a live session, but could easily be. Also note that increasing your reach doesn't have to mean interviewing another creator— you can collab by doing a challenge together, a joint Q&A, or just by chatting on a topic relevant to both audiences.

4. Ask for feedback
Live is a great place to test new content and ideas and gauge your audience's reactions. You can even ask directly in the live if your followers think your new content idea is a winner (or if it's a flop).
5. Behind the scenes tour
Take your audience behind the scenes, showing them what it looks like when you create content or run your business.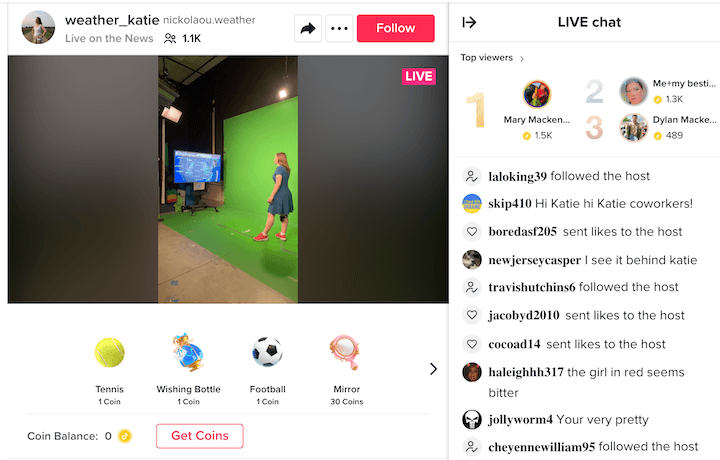 6. Do a helpful how-to
Show your audience how to do something you're good at, step by step. This is a great way to structure your live stream and keep users watching until the end. Plus, it's an enticing offer for your audience.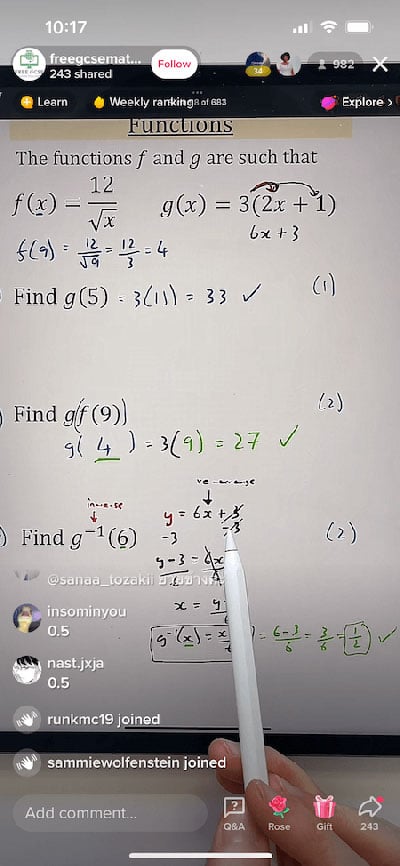 7. Discuss current events
Your audience live in the same world you do. If current events in the world or your niche are on your mind, chances are your followers are thinking about them too.
8. Chit-chat while cooking
We all cook. Why not give your audience something to watch while you catch up via live. Chit chat about life, plans for future content— anything that might interest your audience works!
9. Show how your product is made
In the TikTok live example below, this cosmetics company is answering questions about their product while they show footage of how it's made—a great way to show your customers that your product is exactly what you claim it to be.

10. Put on a live stream fundraiser
Give your audience a chance to give back by holding a live stream fundraiser. You can offer prizes or match donations to encourage participation. Fundraisers can help you bond with your audience, uniting you and your followers around a meaningful cause.
Start your first TikTok live today
Going live on TikTok is a fantastic way to connect with your community, build an audience, and drive traffic to your site. The best part is how easy it is! No editing required— all you have to do is get in front of the camera and start talking. You might feel shy at first, and bringing a friend (or even a follower) into your live stream with you can help with that.
For more help with live social media videos, head on over to: