Back in 1958, as Alaska and Hawaii neared statehood, a high school history teacher in Ohio gave his class an assignment to redesign the American flag. Then-16-year-old Robert Heft got a B-. He then sent his cloth design to the White House, which Eisenhower chose. Needless to say, Heft's grade got changed to an A.
Granted, the design wasn't very different—just 50 stars instead of 48. But having been the only submission out of thousands that was actual sewn cloth, Heft's stood out to Eisenhower. So in that spirit, I've got plenty of creative 4th of July Instagram captions for you to stand out from the crowd.
Table of contents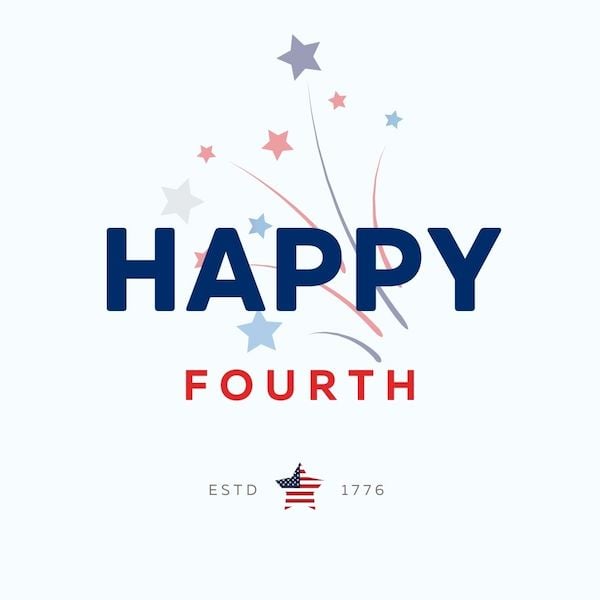 4th of July Instagram post images
All of the images throughout this post are sized for Instagram. For each one, you can click the link below to view the file and save it right off of this post. Or, you can customize any one of them using this Canva template link.
You can also find even more images to use among these Memorial Day Instagram posts.

Creative 4th of July captions for Instagram
Here are some ideas for your 4th of July social media posts  if you are looking for a little something different than "I'm here for the BBQ" or "Pretty sure I was a sparkler in another life." 🤢
Instead of "red, wine, and blue"
Find other rhyming words to replace the colors, based on your business, brand voice, image, or products:
Red: Head, read, lead, bed, spread, bread, thread, tread, infrared

Bread, white, and blue for a bakery

White: Right, light, night, site, write, fright, delight

Read, write and blue for a school.

Blue: true, through, review, grew, glue, clue, renew, phew, ooh, crew, coup, slew

Red, white, and a slew of savings
Red, white, and review us!
Red, white and a few [of my faves].
Instead of "Bold stripes, bright stars, brave hearts"
Add on to it to make it into a rhyme or replace words with ones that apply to your business or the image in your post.
Bold stripes, bright stars, brave hearts, yee-haw // hot dawgs
Bold stripes, bright stars, polka dots // apple tarts // dumbbell squats
Instead of "family, fireworks, and fun"
Try a different letter for alliteration. I mean, there are 25 more to choose from.
Peace, pride, parades, and 'preciation
Strength, sacrifice, and service, spirit
Pay homage to your pets
This fourth of July, we pay homage to our brave soldiers who have fought to protect our freedom, and to our brave pets who make it through a weekend of explosive fear, year after year.
Have fun with 246
America turns 246 this year. Have fun with it like with 246 reasons, 246 minutes, 246 likes, etc.
In the spirit of celebrating 246 years of freedom, let's make a list of 246 things to be grateful for. I'll start: our troops. Comment on this post to add to the list!
Personify America
America. Born July 4, 1776. Likes include: Freedom, baseball, men carved out of mountains, rock and roll. Dislikes: The metric system, etc.
Add in a punchline
On this great day, there is but one question to answer: hamburger or hot dog.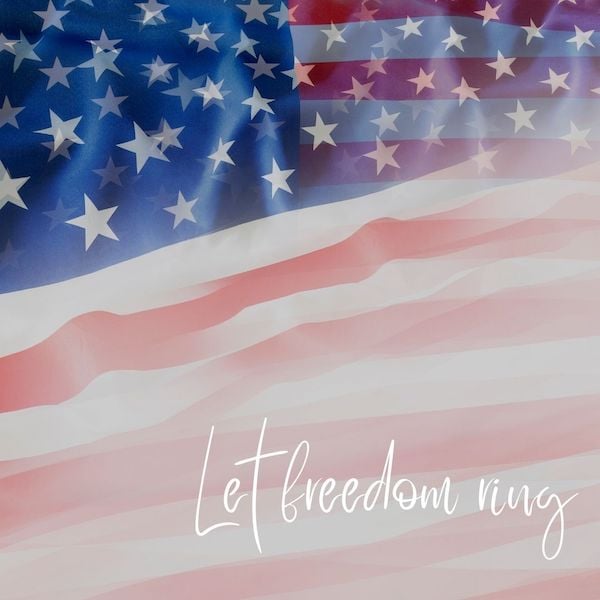 Fun 4th of July Instagram captions
These are some of the captions you'll find all over the web. I'm not a fan of using cliche captions but these ones are okay in my book.
Celebratin' today the founding Father's way
"I haven't partied this hard since 1776." — America
Let's party like it's 1776
I like my coffee black and my tea in the harbor.
"It's Fourth of July weekend, or, as I call it, Exploding Christmas." –Stephen Colbert
Happy B-Day to Uncle Sam
'Merica
Sweet land of liberty
Proud to be an American
We will stand by the right, we will stand by the true, we will live, we will die for the red, white, and blue.
My country tis of thee
Oh say can you see
One flag, one land, one heart, one hand, one nation evermore
Patriotic 4th of July captions for Instagram
If you're posting for your business—speaking of which, we have some excellent 4th of July marketing ideas here— or want to keep things more serious or inspiring, try out these captions:
As we celebrate our nation's freedom, we honor the courageous men and women dedicated to preserving it.
Happy 4th of July everyone! Let us celebrate this great country, the blessing of freedom, and the privileges that come with it.
On this symbolic day, may we celebrate our freedom, salute those who made this possible and keep it safe, and stand in unity as a nation.
​Happy 4th of July to all our customers. Thank you for supporting small businesses like ours that help to keep this country strong!
Today, let's put our political differences aside and celebrate today with togetherness, gratitude , and respect—this is what it took for our heroes to fight side by side and establish the independence of this great nation.
Congratulations to America on 246 years of freedom. Let us acknowledge those who made this day possible and those who fight to preserve it. May this day bring you peace, pride, and patriotism.
They gave us freedom. Let us pay it forward by taking good care of our nation—and one another.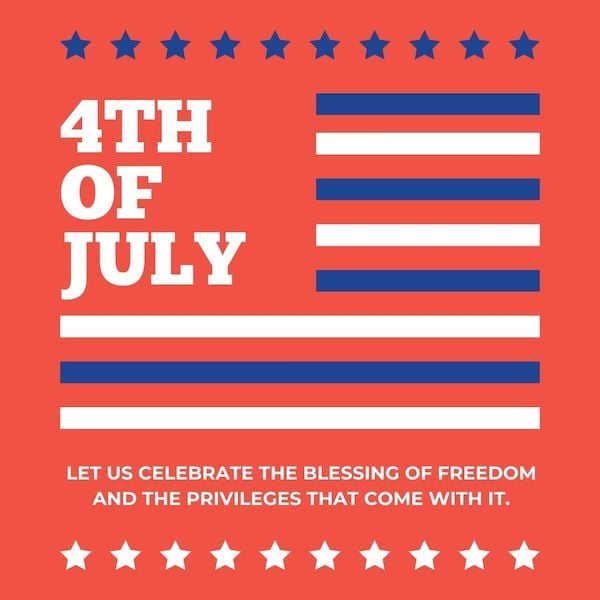 4th of July Instagram caption lyrics
"Dreams can grow wild born inside an American child." — Phil Vassar
"I thank God for my life, and for the stars and stripes." — Zac Brown
"Brought to you courtesy of the red, white, and blue." — Toby Keith
"It's a high school prom, it's a Springsteen song, it's a ride in a Chevrolet. It's a man on the moon and fireflies in June and kids sellin' lemonade. It's cities and farms, it's open arms, one nation under God. It's America." — Rodney Atkins
"On second thought, I do like to brag…'Cause I'm mighty proud of the ragged old flag." — Johnny Cash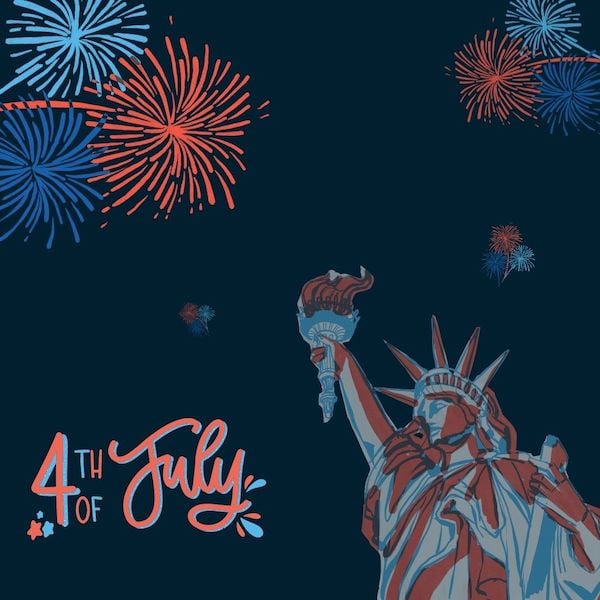 4th of July quotes to use for Instagram posts
"Who ever walked behind anyone to freedom? If we can't go hand in hand, I don't want to go." — Hazel Scott
"Patriotism is not short, frenzied outbursts of emotion, but the tranquil and steady dedication of a lifetime." — Adlai Stevenson
"America is a tune. It must be sung together." — Gerald Stanley Lee
"Laughter is America's most important export." – Walt Disney
"In the face of impossible odds, people who love their country can change it." – Barack Obama
"America was not built on fear. America was built on courage on imagination and an unbeatable determination to do the job at hand."– Harry S. Truman
"I think of a hero as someone who understands the degree of responsibility that comes with his freedom." – Bob Dylan
"In the truest sense, freedom cannot be bestowed; it must be achieved." – Franklin D. Roosevelt
"May we never forget our fallen comrades. Freedom isn't free." – Sgt. Major Bill Paxton
"America is a passionate idea or it is nothing. America is a human brotherhood or it is chaos." – Max Lerner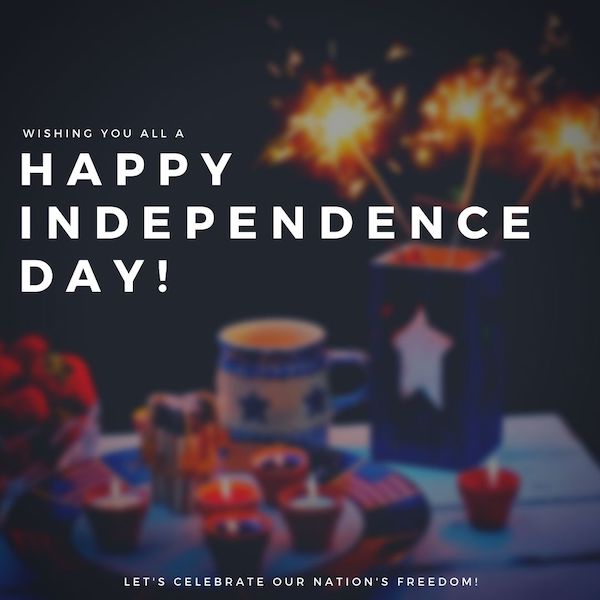 4th of July facts for Instagram captions
If you want to do some triva with your captions, here are some facts to dabble into, thanks to Insider and The History Channel.
As mentioned in the intro, the designer of the 50-star American flag was a 16 year old who submitted it as a school project. He got a B-. When he mailed it to the president and it got chosen, his grade got bumped to an A.
Independence Day wasn't a federal holiday until 1870. Thats more than 100 years after the signing of the Declaration of Independence.
Wearing American flag apparel actually violates a set of guidelines called the US Flag Code—but it's (clearly) not enforced.
The Fourth of July produces the more beer sales than any other U.S. federal holiday.
Americans eat an estimated 150 million hot dogs every year on the Fourth of July, which, if laid out horizontally, would stretch from D.C. to Los Angeles more than five times.
There are 33 counties and places in the USA that include the word "liberty" in their name.
Eight of the 56 signers of the Declaration of Independence were born in the U.K.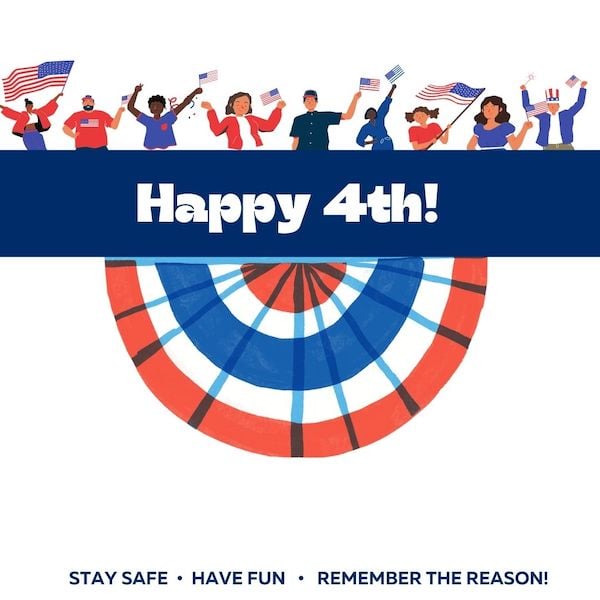 Words & phrases for your 4th of July Instagram captions
Bang
Battle
Boom
Cannon
Celebrating our great nation
Coast to coast
Combat
Commemorate
Courage
Defeat
Demonstrate your patriotism/loyalty
Eagle
East to west
Explosive
Firecrackers
Fly free
Fly the flag
Forefathers
Founding fathers
God bless America/ The U.S.A
Grateful for our nation
Hard-earned freedom
Home of the brave/free
Est 1776
Honor
Land of liberty
Let freedom ring
Liberty
Light up the sky
Long live America
Long may she wave
Love your nation
Loyalty
March
Memorial
Nod to
Old Glory
One nation
Pay respect/tribute
Pledge allegiance
Pride
Privileges
Proud and free
Raise the flag
Red, white, and blue, through and through
Remember the reason why
Respect
Sacrifice
Salute a veteran
Serve
Sparkle
Spirit
Star-Spangled banner
Stars and stripes
Symbolize
The blessing of freedom
Tradition
Tribute
Triumph
Unite
Veterans
Victory
We won't forget the fallen
With liberty and justice for all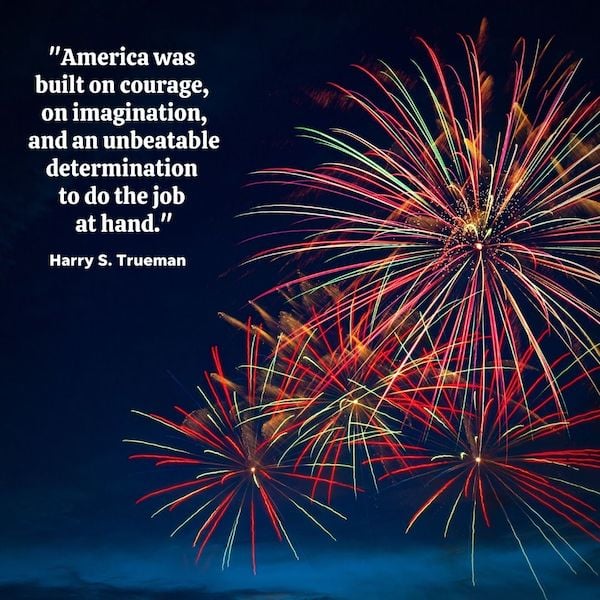 Want more Instagram caption ideas?
I thought you'd never ask.
Please read our Comment Policy before commenting.