I know everyone says this, but, sometimes it feels like Google really can read our minds.
Just when you're thinking "Wow, I haven't seen any Google Ads updates in a while! Maybe we're off the hook for this season…" a Tweet flies across your screen or a blog article shows up in your news feed.
Oh no… It's happening… The wave of Google Ads updates!

But don't worry! These updates are nothing like the wave of changes we faced last year.  We've covered the top six Google Ads updates you need to know about for the second half of 2022— including what they mean, the benefits or drawbacks, and what action you may need to take.
Table of contents
1. The global site tag is now the Google tag
As was promised in Google Marketing Live 2022, Google announced August 2, 2022 that the global site tag is now the Google tag, which works with both your Google Ads and Analytics accounts for easier reporting and conversion tracking without additional code.
What you need to know:
Since the tag works for both properties, you can combine your Google Ads and Google Analytics tags, but this is optional. If you want to keep them separate, you can.
You'll be able to can manage your tag settings from a new Google tag screen in both Google Ads and Google Analytics.

What you need to do
Nothing. Your existing global site tags will become the Google tag automatically, so no action is needed on your end.
Stay tune for more. In her Twitter thread on this announcement, Google Ads Product Liaison Ginny Marvin also shared that there's more to come:
Stay tuned! Soon, you'll be able to use your existing Google tag installation when creating new Google products, accounts, conversion actions – no extra code needed. Plus, more updates to come, including for those using Google Tag Manager.

View the original Twitter thread
2. Google is automatically switching eligible accounts over to data-driven attribution modeling.
You may or may not recall that Google changed the default attribution model for new conversion actions to data-driven attribution last year. In this latest update, Google Ads is now automatically switching eligible current conversion actions over to data-driven attribution in some accounts.
This did not come as a formal announcement, as it only applies to some accounts, but those Google Ads account owners who are eligible for this received a notification email that said:
We're reaching out because one or more of your conversion actions is a strong candidate for data-driven attribution. Unless you take further action by 8/24/22, we'll switch your model.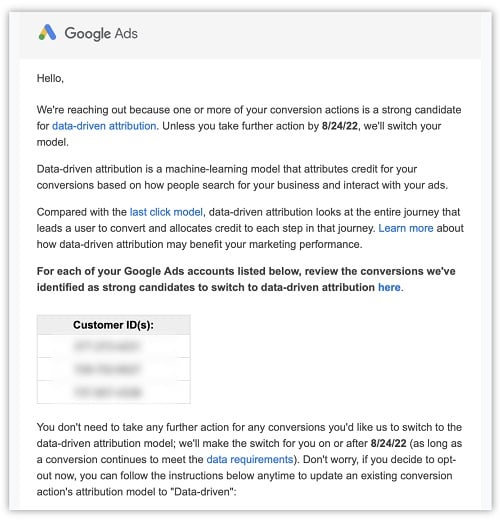 What you need to know
Data-driven attribution is a multitouch attribution model that uses historical data to more accurately weigh each action that leads to a conversion throughout the buyer's journey.
This only applies to advertisers whose conversion actions meet the data requirements.
You can opt-out of it the transition alerts you'll get in your notifications view or within the actual conversion settings portion of the platform.
You have until 8/24/22 to opt-out
What you need to do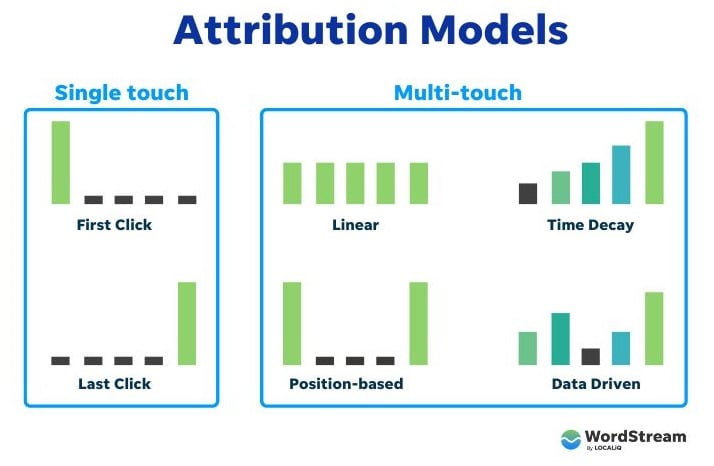 3. Third-party cookie deprecation has been pushed out to 2024
On July 27, Google announced that the deprecation of third-party cookies in Chrome has been pushed out yet again—to the second half of 2024.
What you need to know
If that sounds like a foreign language to you, here's some context.
Advertisers use the data from third-party cookies to target relevant audiences and track their website visitors' behavior after they've left their site.
Google announced in January 2020 that it would be doing away with third-party cookies in Chrome by 2022 in the name of privacy, and has been working on cookie-less tracking and targeting solutions for advertisers since.
Google keeps pushing out the original 2022 deadline as it needs more time to test and implement these solutions.
What you need to do
Our recommendations for this are nothing new, but you should be taking action now:
Keep finding ways to collect more first-party data on your website.
Get familiar with privacy-safe features already available (like enhanced conversions).
Harness the power of third-party data now while it's still around.

4. Text-to-speech voice-overs for YouTube ads
On July 20, 2022 Google added a text-to-speech voice-over tool to the Google Ads platform right within the asset library. This new technology uses AI to convert your written script into natural-sounding speech.
In fact, Google analyzed 5,000 YouTube ads to model seven unique voices, four male and three female. This should give advertisers a few different options in trying to match their brand voice. I know from personal experience that creating voice-overs can be a huge video marketing time-suck, so I think this update will be a win for advertisers.
What you need to know
To try it out, navigate to your asset library, select the video ad you'd like to add a voice-over to, type in your script, choose a voice style, and viola! Your AI-generated voice-over will overlay onto your video ad.
Google does not give any suggestions on what to do if the AI slips up on any parts in your script. All you can do, for now, is to refer to the help center or contact support as you get started and experience any bumps in the road.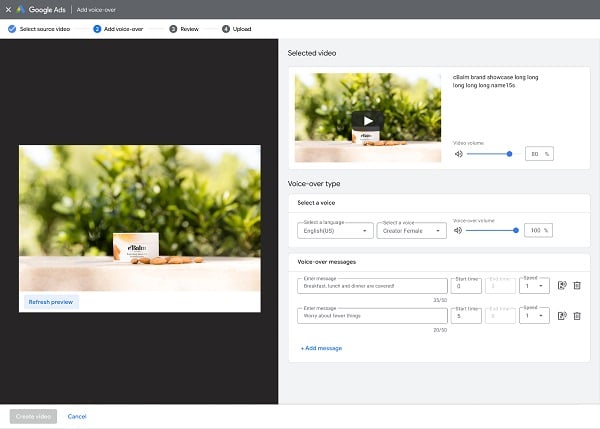 5. Google is now automatically updating Smart Shopping campaigns to Performance Max
Performance Max campaigns were a buzz-worthy addition to the platform last year, and it's been known that this campaign type will eventually fully replace Smart Shopping and Local campaigns. That being said, Google announced that starting July 21, 2022, it will be automatically upgrading Smart Shopping campaigns to Performance Max.
What you need to know
Google will notify you 2-3 weeks before updating your campaigns.
Most will be completed by the end of September—just in time for the holidays—but campaigns using features like vehicle ads may not be upgraded until early 2023.
Your campaign settings as well as the campaign's previous historical data will transfer over by default.
There is a Performance Max self-upgrade tool that you can use to make the switch on your own in one click.
What you need to do
Your campaigns will get replaced anyway, so you may as well get ahead of the curve and make the upgrade now, right?
You can access the tool from your notifications section, Recommendations page, or Campaigns page.
Keey an eye out, as Google says this tool will soon be available for Local campaigns.
I think this update acts as a reminder that advertisers should become more comfortable with Performance Max campaigns. To start, check out our 10 tips to know before you try Performance Max campaigns.

6. Google introduces diagnostic insights for Performance Max campaigns
Speak of the devil, there is one last Google Ads update that also has to do with this newer campaign type. In early July, Google added a new diagnostic insights view to the Insights page and Overview page within the platform. These help advertisers to ensure that their Performance Max campaigns are firing correctly and nothing is slipping through the cracks.
What you need to know
This tool can automatically identify issues related to:
Status
Billing
Policies
Conversion tracking
Budget
Strategy targets
Ad strength
What you need to do
Performance Max still feels like uncharted territory for many advertisers, so I'd recommend taking a peek at diagnostic insights to gather all the information you can about your campaigns.

Stay up to date on Google Ads updates
When a new year hits and Google Marketing Live comes and goes, you know a round of Google Ads updates is coming your way. While changes within the platform are unavoidable, being as prepared as possible is your best bet to handle any updates with ease.
Knowing what every update means, when and why it's happening, and how you can best take action will save you from headaches in the long run. Any easy way to do this? Keep your eyes peeled for more Google Ads updates roundups from WordStream, of course!
To recap, here are the top six most recent Google Ads updates:
The global site tag is now the Google tag.
Google is switching eligible accounts over to data-driven attribution modeling.
Third-party cookie deprecation is delayed until the second half of 2024.
You can now create Youtube ad voice-overs with a text-to-speech tool in Google Ads.
It's time to upgrade your Smart Shopping campaigns to Performance Max.
You can now monitor your Performance Max campaigns with the diagnostic insights page.