Marketers and business owners are constantly looking for ways to interact with their audience. With more than 1.4 million monthly active users (Source: Statista), Instagram offers serious potential for building your brand. But you need more than just an account and an audience to experience the full potential of this platform.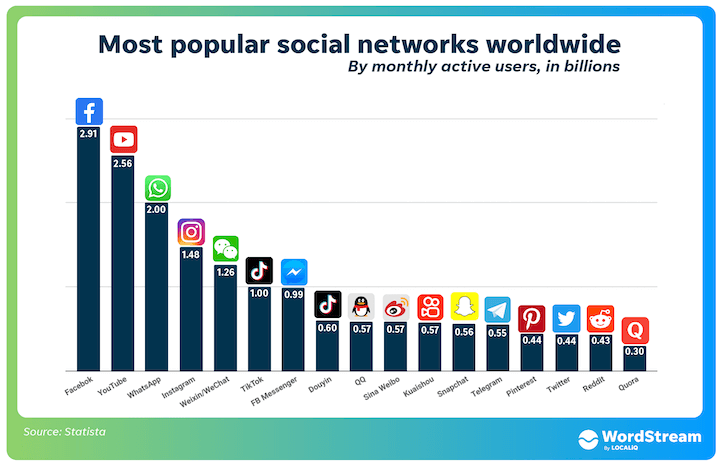 You need engagement. Comments, shares, likes, saves, and other actions that show your content resonates with your audience.
In this post, we're going to share 12 ways you can increase your Instagram engagement and build an emotional connection with your followers.
Why does Instagram engagement matter?
Instagram engagement is not about how many users are following you, but about how your followers interact with your posts. Engagement metrics include:
Comments
Shares
Likes
Saves
Stories views
Interactions with stories stickers
Brand mentions
Link click-throughs
Direct Messages (DMs)
Not only does high engagement indicate that your content resonates with your audience, but the Instagram algorithm also considers engagement when deciding what content to show users.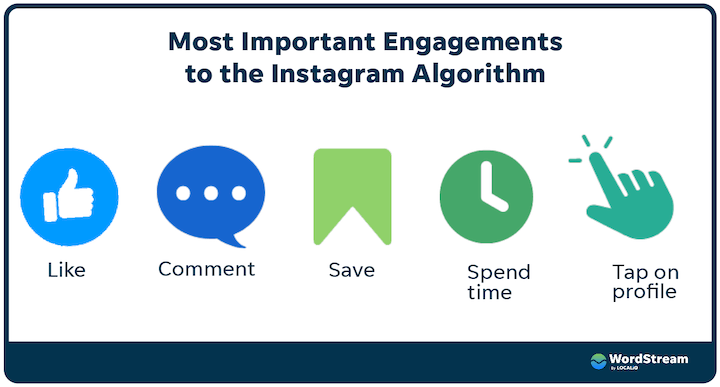 If your posts have high engagement, they'll be more likely to appear in the feeds of users you consistently engage with, helping to increase your reach and brand awareness.
How to increase engagement on Instagram
Given Instagram's popularity, successful social media marketers consider Instagram engagement a priority. Here's how you can increase your Instagram engagement.
1. Know your audience
The first step in keeping your followers engaged is identifying your audience. If you don't know what intrigues and motivates them, you won't know how to create content that engages them. Here's how to do it:
Define your buyer personas. This is a clear representation of who your ideal customer is. What are their pain points and desires? What are their hobbies? What do they do for work? What's their schedule like?
Look at Instagram audience insights. Here you will find demographic information about your audience. Under the "Insights" section, click "Audience." You'll find details about people interacting with your posts, including their location, age, and gender.
Look at your competitors' profiles. Who likes and comments on their posts? What content are they sharing? How do they interact with their followers?
Use social listening tools. This can help you track any mentions of your brand or products. See what people are saying and what they want you to address.
2. Use strong captions with CTAs
Strong captions accomplish three things. They:
Add context to the pictures in your post
Bring out your brand personality
Drive your audience to take an action
That last one is key. After writing a catchy caption on what the post is about and adding hashtags and emojis, it's time to prompt them to take action. For example, "Let me know what you think in the comments" or "Click the link in our bio to learn more."
Here's a video of Honest Beauty's founder, Jessica Alba. In the caption, the CTA prompts their audience to click the link on their bio to purchase the products.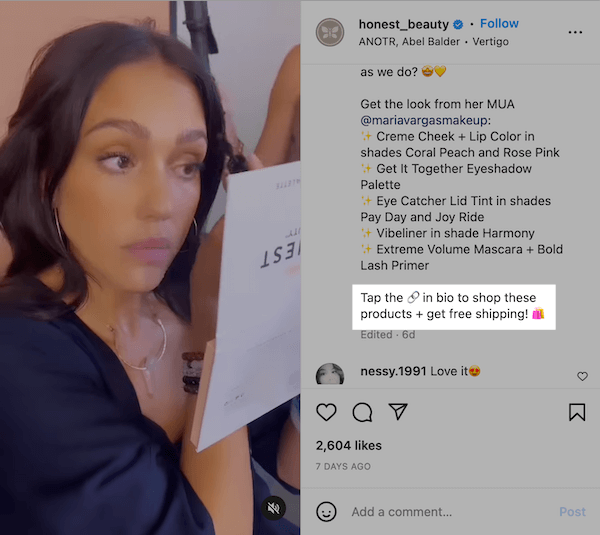 3. Engage your audience through creative interactive stickers
Instagram has plenty of interactive story stickers you can use to drive engagement with your posts. You can use the stickers in different ways:
Use the quiz sticker to ask your followers fun questions, including multiple-choice questions.
Use the music sticker to add soundtracks or lyrics to your stories. Be creative and match the song with the mood, such as cheerful music on a Monday motivation post or maybe a dramatic tone to a long-awaited announcement.
Use the poll sticker to ask for people's opinions. It could be something like which packaging they prefer or which products they like more.
Ask for your followers' thoughts about something with the questions sticker. You can also prompt them to ask you about something. If you're willing to open the floor, host an AMA (ask me anything).
Stories stickers make your audience feel recognized and that their opinion matters. Every question asked or poll taken is one more engagement.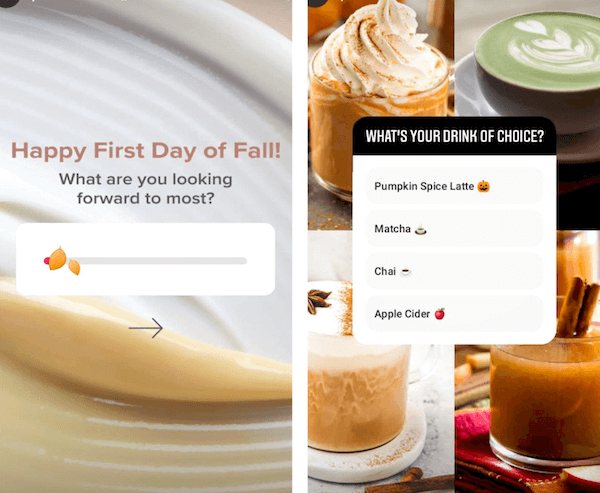 Browse through even more engaging Instagram Story ideas here.
4. Create interesting Instagram Stories & Reels
Who doesn't love Instagram Reels, especially when they're interesting? These short, entertaining videos are an excellent way for marketers and business owners to drive visibility and engagement to their pages.
Instagram Reels ideas are endless: to share customer experiences, before-and-after videos, interactive how-to videos, and behind-the-scenes peeks.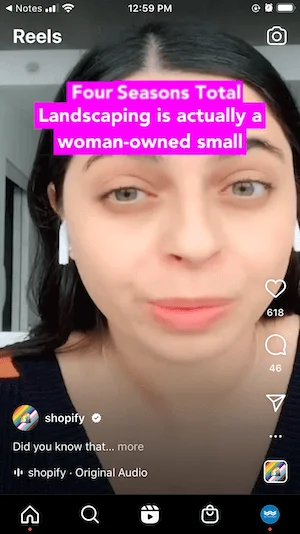 You can also use our Instagram Story templates so you're not starting from scratch!
5. Use carousel posts to encourage more engagement
According to Socialinsider, of all Instagram post types, carousels have the highest engagement rate of 1.92% (and 2.33% when you use all 10 carousel slides).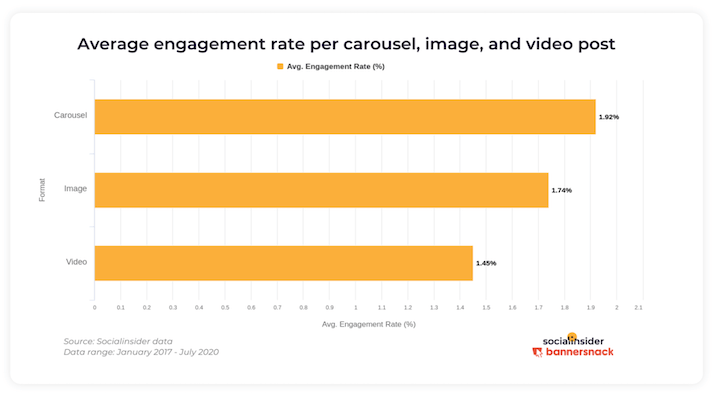 You can't miss taking advantage of this to increase your engagement. There are many ways of using carousel posts—don't just pick any images and expect your followers to camp on it. Get creative and mix in videos to attract even more interaction. Use them for:
User-generated content
Product tutorials
Multiple product views
Before and after photos
Your brand story
Customer reviews
Canva hosts a weekly design challenge and uses carousel posts to display the highlights for the week's theme.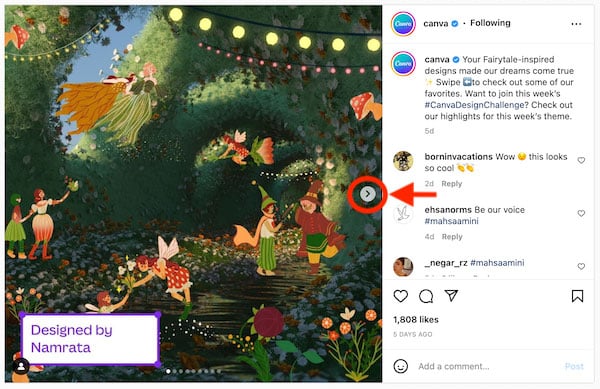 Every carousel slide is a chance to drive engagement—10 opportunities in 1 post. Don't miss out on yours.
6. Create and post relatable memes
An endless stream of perfect images and pristine products can become monotonous to your followers. Memes are more authentic and can attract your audience's attention, especially if they're relatable and resonate with your followers.
Like this one:
Followers are more likely to share, comment, and even repost them on their stories because they don't feel like they're sharing an ad. And who doesn't want a good laugh anyway? So put on that meme lord (or lady) hat and enchant your brand's way into your followers' hearts.
Inspiring quotes and repurposed tweets are perfect for driving engagement.
7. Post valuable content regularly
Sharing funny posts is great, but you shouldn't forget to add value for your followers. Create unique content they can repeatedly reference or share with their circles. We have tons of Instagram post ideas here, but for starters:
Helpful tips in eye-catching infographics
Graphs and charts to visualize data
Step-by-step tutorials
Creative ideas
If you're creating a carousel post with a step-by-step how-to guide, recipe, or a list of tips, include a "Save this Post" call to action. Encourage your followers to save it and come back later for reference.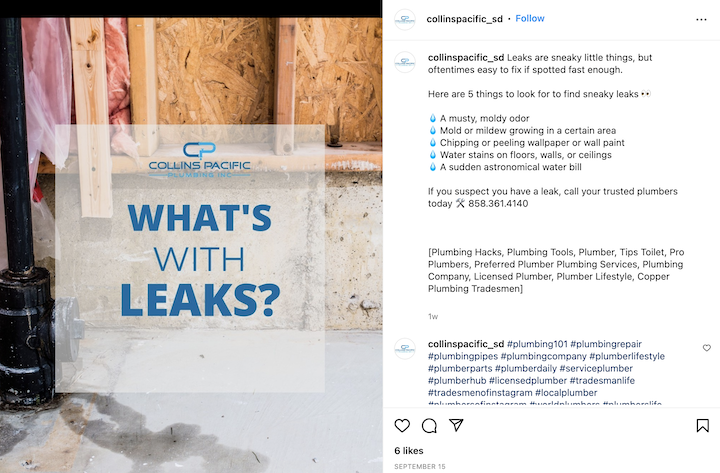 8. Host and collaborate with industry influencers
Instagram is an interactive platform. What's the point if you're not engaging and interacting with other accounts?
Engaging with similar accounts expands your net and helps you reach potential followers. It's even better when the other accounts are people with much bigger nets—industry influencers. Influencers have loyal followings that can increase your visibility and introduce your brand to audiences that would have been otherwise hard to reach.
Find influencers in your industry, build a relationship with them, and then collaborate with them. Feature them in your posts, repost their content, and co-create content with them.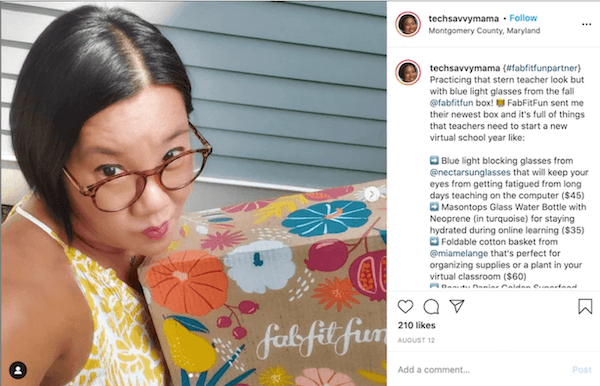 Not only will they engage with these posts, but they'll also share them with their own followers.  This will grant you broader coverage and help you attract more relevant followers as well.
9. Run Instagram lives
Your Instagram followers want to see the face behind the account once in a while. And considering that 82% of followers prefer watching a live stream to reading social posts, why not try out Instagram live?
Instagram live videos give your followers a more immersive experience. They also get to meet and interact with you in a personal, engaging way.
Viewers can ask questions, share ideas, and leave comments in real time—a perfect way for your brand to engage with followers. If you're wondering what types of content you can share on Instagram live, try;
Q&A sessions on your brand, products, or relevant topics.
Sneak peek sessions for a product you're about to launch.
Discussions on current trends or events in your industry.
Customer support FAQs.
Learning sessions with industry influencers.
Tap into the power of selling during live sessions with Instagram Live Shopping (one of our digital marketing trends of this year). With this feature, you can interact with your viewers and sell directly to them. Save your live videos so potential customers can shop for the featured products after the live stream.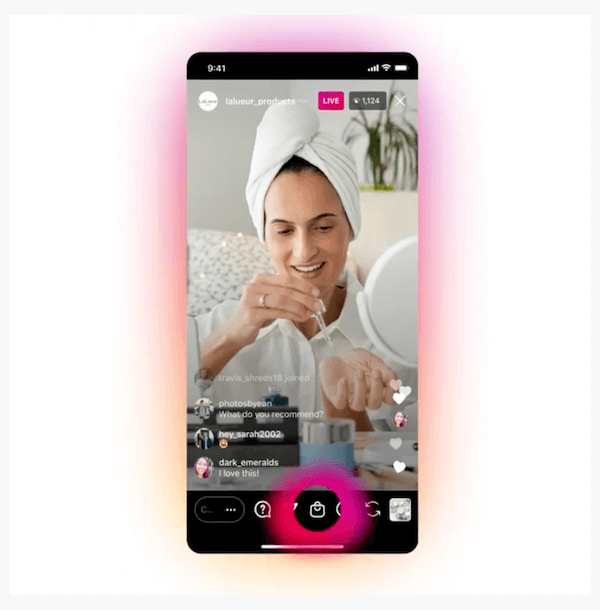 10. Use polls and questions to get feedback
Want to know how your audience perceives your brand and products? Create polls and questions on your Instagram stories.
Polls, unlike contests, are easy to create using stickers. Plus, you don't need a good reason to create one. Just think of a quick question to which you'd also be happy to respond.
Use polls to ask about preferences, would-you-rathers, favorites, and more.
11. Leverage the power of hashtags
If you're not using Instagram hashtags, you're missing out on a valuable opportunity to get your content into your potential followers' feeds. Hashtags help you to categorize your posts and get found by people when they're exploring specific topics. This is a great way to get your content in front of the people most likely to engage with it—follower or not.
Instagram allows you to use up to 30 hashtags, but don't use all of them on every post. Stick with the ones that are most relevant to the post so you can attract a relevant audience to each one. One of the best ways to find hashtags is just to search them right in Insta: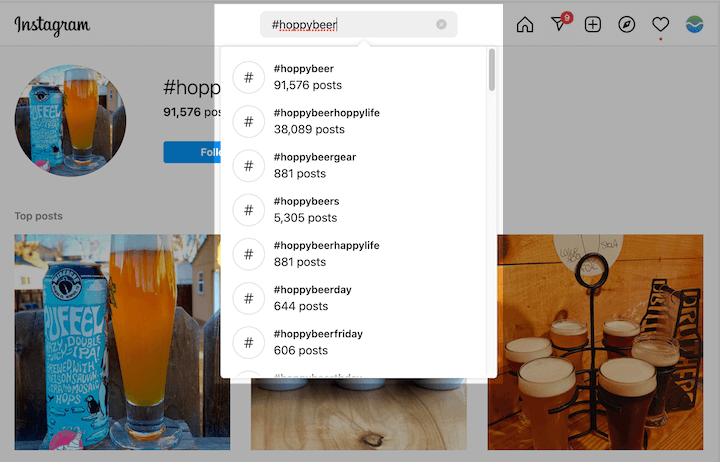 12. Post when your audience is most active
Your memes may be hilarious and your content helpful, but if you post when your audience is asleep, well…if only there were a way for them to view from dreamland. But there isn't. So, post when your audience is most active.
The best time to post on Instagram varies depending on your audience, location, and content type.
To find the right time for you, check out the benchmarks from the post linked above, choose a baseline to start with, then use your analytics to find out what works for your audience.
Follow these tips to increase engagement on Instagram
Engaging your audience on Instagram doesn't just give you favor with the algorithm (which gives you greater exposure and brand awareness), but it also creates an emotional connection between you and your followers.
Here are our top strategies for increasing Instagram engagement:
Know your audience
Use strong captions
Use interactive stickers
Create interesting Stories and Reels
Use carousel posts
Share relatable memes
Post valuable content regularly
Collaborate with industry influencers
Host Instagram live videos
Use polls and questions to get feedback
Leverage the power of hashtags
Post when your audience is most active
And don't forget the basics! Ensure your Instagram bio is optimized to align with your brand's value, plan your content in advance, and check your Instagram analytics regularly to see what's working.