Over the years, Google has made a clear effort to automate as much of its advertising platform as possible. There are a number of reasons for this, from increased competition from alternative platforms to the less obvious advantage of increasing advertiser spending without their awareness.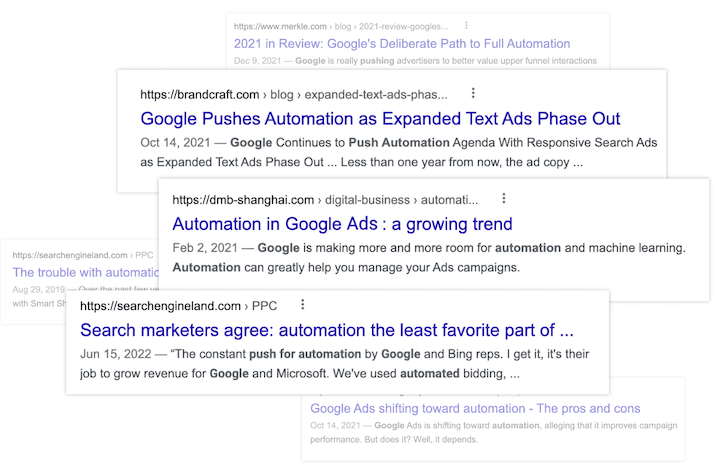 That isn't the whole story, however, because many of the automated features Google has launched over this time period have improved the overall experience for advertisers.
The way I look at Google and its push for automated ad features is that there is a plethora of value that can be derived; however, you have to know where to pick and choose.
So in this post, I am going to walk through which features I believe are worth using, which ones you should take with a grain of salt, and which ones you should stay away from entirely.
Automated bidding
Many moons ago, Google Ads bidding was entirely manual with everyone jumping at the opportunity to espouse the "best" strategies to win auctions, get high Quality Scores, and "hack" the system for your own benefit.
When to use it
Google Ads' automated bidding strategies have proven themselves to be fairly efficient for me over the years, having used a variety of them depending on the goal. I typically categorize the goal into either lead generation, direct sales, visibility, or website traffic:
Lead generation: When it comes to generating leads for any campaign, your best bet is to use a conversion-focused bid strategy. There are a few exceptions to this, however, and most of those have to do with very specific keywords in highly competitive verticals (more on that in a bit).
Direct sales: If you're a business whose conversion action is either directly tied to a dollar amount or at least has a dollar value tied to it, I like to start with Max Conversion Value, let the campaign play out for a bit, and then depending on the intent of the keywords and the structure of the ad groups, switch over to Target ROAS.  From there you will be able to fine-tune your campaigns to a point where Google Ads is a consistently profitable marketing platform for your business.
Visibility/brand recognition: If your primary goal is to be seen on the search results page or consistently rank at the top for specific terms, then your best bet would likely be Target Impression Share. In some cases, Max Clicks or Manual CPC would be viable alternatives.
Website traffic/SEO assistance: If you're concerned with driving traffic to your website or looking to show within the search results page for terms you are not currently ranking for organically, your best bet would be Maximize Clicks or Target Impression Share depending on the terms and the competition involved.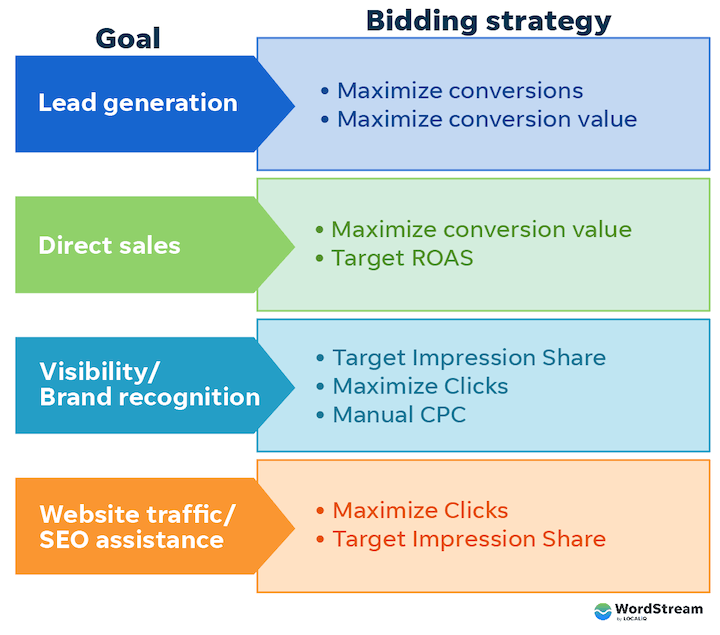 Take into consideration your general strategy before using Google's automated bidding strategies and keep in mind that there is a learning period for these to collect data, particularly when you change bidding strategies.
When not to use it
You can still bid manually in Google Ads, but I would advise doing so only in certain situations.
For example, I had a client that was targeting the keyword "SOC 2." This term is extremely competitive and the business not only wanted to drive conversions for that keyword, but they also wanted their brand to be consistently visible in the search results for it.
In this case, where there is a blending of goals, we opted to use Manual CPC bidding and eventually shifted to Target Impression Share for terms like this within the account. The conversion volume was still there despite not optimizing for conversions.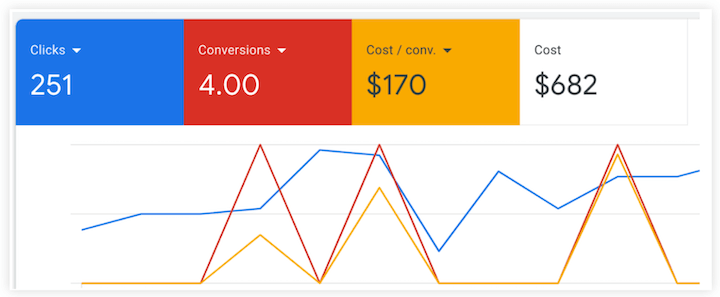 We also provide some solid tips on bid management in a world of automated bidding here.
Automated ad creation
Smart creative is the aspect of Google Ads that attempts to automate the creation of the ads themselves. These features are a bit tricky in the sense that I recommend using them to some degree but not completely.
When to use it
Responsive search ads: With RSAs you have the ability to construct text search ads with a variety of headlines and descriptions that Google mixes and matches within the auction to determine the "best" combination for your desired goal.

RSAs are fantastic but I advise you put the work in to write the best, most relevant headlines possible on your own and let the automation (in conjunction with your bidding strategy) do the rest. I do not advise allowing Google to generate these for you as that is an option within the "Recommendations" tab.
✍️ Want to know the secrets behind great headlines? Download our free guide  ⤵️
Responsive display ads: Display ads can be tough for a lot of advertisers, primarily due to the fact that many either lack the design skills or resources necessary to create them. Responsive display ads are generated by Google using assets that you provide and automatically adjusted to fit the available placement on the Google Display Network. They tend to resemble a Facebook ad more so than a traditional static display ad. Like RSAs I suggest using base assets that are of high quality and relevance to your audiences.
​​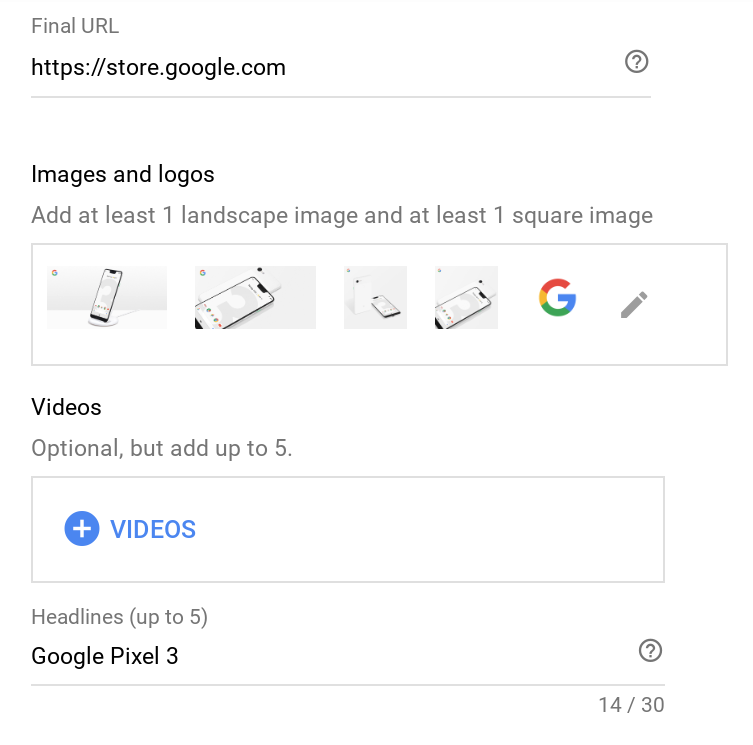 When not to use it
Aside from not letting Google recommend headlines and descriptions for you, here are some other instances of when not to use automation.
Smart campaigns: Smart campaigns are essentially what became of AdWords Express—the idea being to automate and simplify everything so novice users can jump in and launch campaigns without having to worry about all of the complex components.
I will go into more detail when discussing Performance Max but my main takeaway here is to stay clear of Smart campaigns or anything that essentially fully automates targeting. You are much better off learning to create a manual campaign yourself or hiring a professional than trusting the overly broad targeting.

Successful marketing oftentimes comes down to the details and you would much rather have control over those than give them to an automated system that is simultaneously taking your money.
Smart display: I call out smart display ads here specifically because unlike search, there isn't a guaranteed semblance of intent. Google claims, "On average, advertisers who use Smart Display campaigns have seen 20% more conversions at the same cost per action (CPA) when compared to their other display campaigns."
This is a deceptive and misleading statement because anyone who has run successful digital marketing campaigns knows that CPA means nothing if you're driving junk unqualified leads, something that the Display Network has done consistently for years. Have a tight leash on your targeting on the GDN.
Performance Max: There is a mixed bag of opinions on PMax. While some praise it for its effectiveness, both myself and others I know have found them to be less than ideal. This campaign type essentially combines the features of responsive ads and Smart campaigns in one place. You provide your marketing objectives, budget, assets, and audience information, and Google generates ads across all its properties.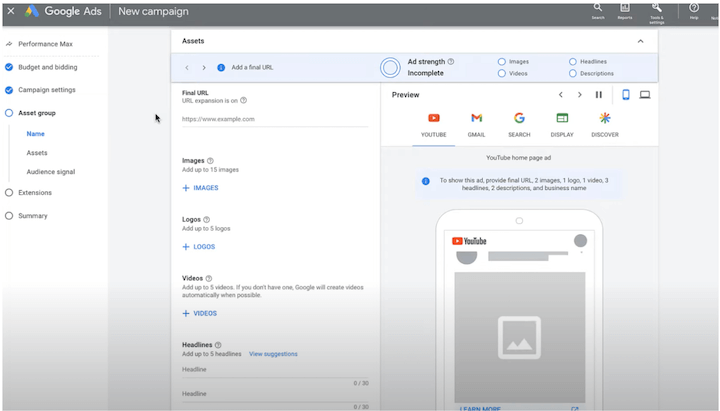 In my experience, Performance Max requires solid offline tracking, high volume, and a rather large amount of budget in order to be effective. These requirements exclude most novice to intermediate advertisers. You can find more PMax watchouts and workaround here.
The bottom line
My take is that automation with the guidance of human control is the best combination for Google Ads, or any platform, at this point in time. We are not at a place where "set it and forget it" is entirely possible, at least not with the efficiency that can be attained through human intervention. Plus, remember that with paid platforms, you are indeed "paying" to be there. So the machine that is promoting automation is also billing you.
That's why I recommend taking the traditional approach in setting up campaigns but then leveraging features like automated bidding and responsive ad creative. At the end of the day, it is up to the individual running the ads to discern which features are advantageous to them and which are not—just be opportunistic with a healthy level of skepticism.