Once upon a time, WordStream shared a post on 10 of the most innovative chatbots on the web. This was waaaaay back in 2017—an eternity in the digital world (think 13 Reasons Why, the Kendall Jenner Pepsi ad marketing fail, etc.)—and since then, chatbots have evolved into help centers, transaction platforms, lead generation machines, and even website navigation panes.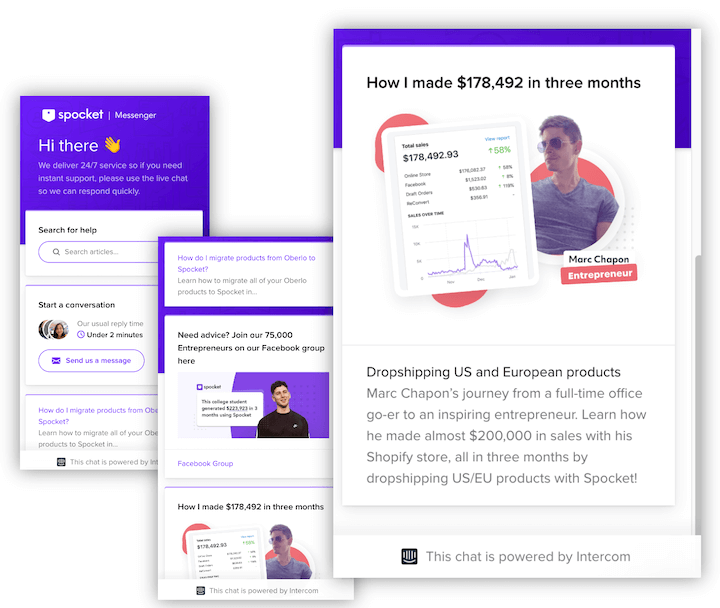 We're talkin blog posts right in the chat window!
Needless to say, we're due for an update, so let's explore 14 chatbot examples that are making the most of websites and widgetry in 2023.
14 chatbot examples to copy on your website
Chatbots are quite versatile these days. Here's a look at 14 different use cases including lead generation, brand building, customer support, and more.
1. Stryve
Let's start with a basic example on Stryve. The chat bubble icon is on-brand, color-wise, and you have a picture of a human face with a friendly greeting: Hello and welcome to Stryve! How can we help you today?
Notice that this is the after-hours version of the bot, with a note that says We'll return tomorrow at 4:00am (early risers, eh?).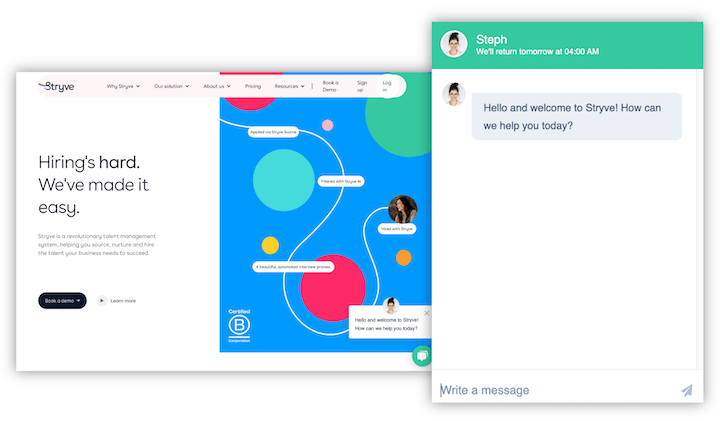 The during-hours version of the bot says We typically reply in a few minutes.

Takeaway: Your chatbot should match your brand colors and tone, and should always let visitors know what to expect for response times.
2. Peter Nappi
This next chatbot from Peter Nappi is also a good example of giving your website visitors clear expectations.
It reads: Our normal chat hours are 9am -1pm CT Monday through Thursday, however if you send us a message we will reply as promptly via email!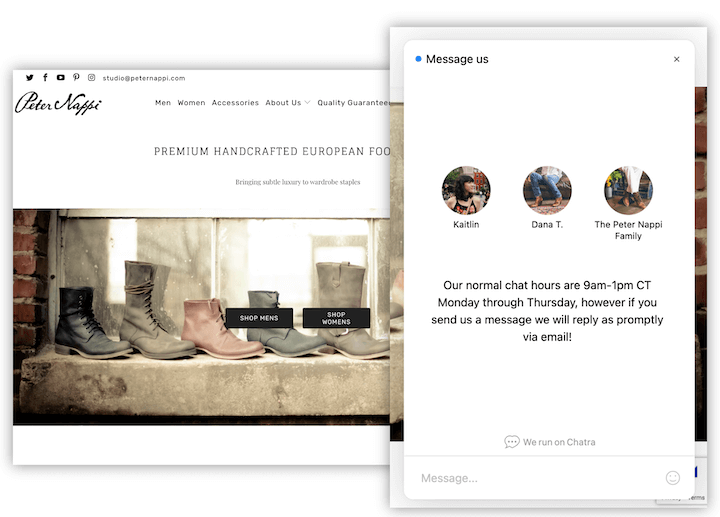 Note also that the site uses real photos of people to reassure you you'll be connecting with a human being. One other thing: While most sites have the easily recognizable chatbot icon, this one has a "Message us" button:

Takeaway: If your chatbot serves to connect visitors with actual humans, make that apparent using real photos and names.
3. Revealbot
Revealbot's chatbot operates as more of a command center for website visitors. There are a number of elements:
Greeting: A friendly greeting with a clear statement around what Revealbot offers (Facebook and Google ads automation): Hi there  👋 How can we help you get started on Facebook and Google ads automation?
Option to chat: In this example, they're offline, stating they'll be back later with an option to send them a message in the meantime.
Resources: You have your pick between searching a topic, choosing from curated help articles and a video tutorial, or heading to the blog for insights and best practices.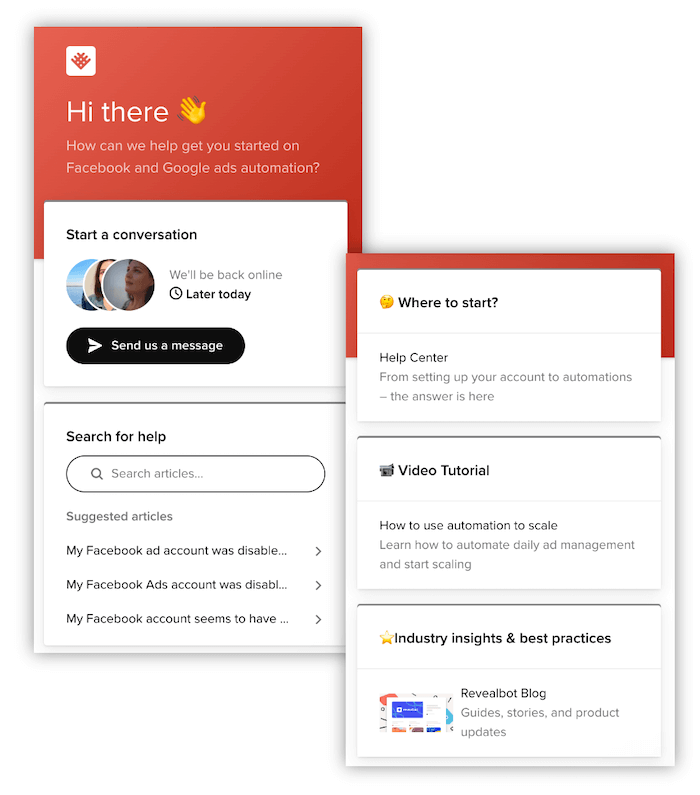 Takeaway: If you have a large website or a lot of content, consider making your chatbot double as a lead gen tool and help center where you can answer customer questions, show your expertise, and demonstrate value.
4. Sendible
Sendible's chatbot is a good example of proper lead routing. The bot greets you with Hey 👋 Got any questions? and then gives you three options to choose from:
Sendible features & plans
I'm already a customer
Request a demo
Giving visitors options in this manner often garners more engagement than asking an open-ended question and leaving it up to them to type something in.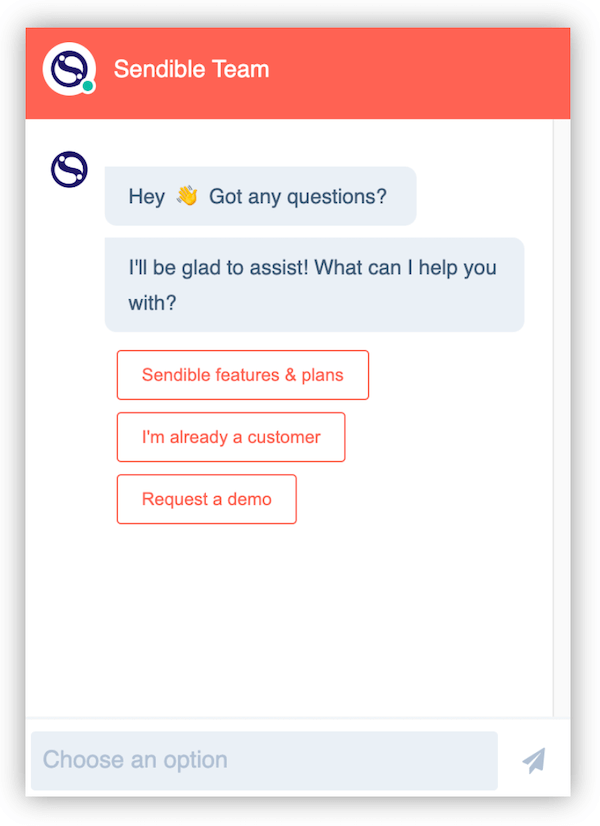 Takeaway: Don't make your website visitors do the thinking or decision-making. Try providing pre-set options so they can start engaging right away.
5. Slider Revolution
Rather than giving buttons to click, Slider Revolution's chatbot encourages engagement with a friendly bot and a fun GIF:
Hi 👋 I'm Joshua, a bot working for sliderrevolution.com 🤖. Type "Hi" to see how I can assist you. For urgent issues, you can email us at [email protected].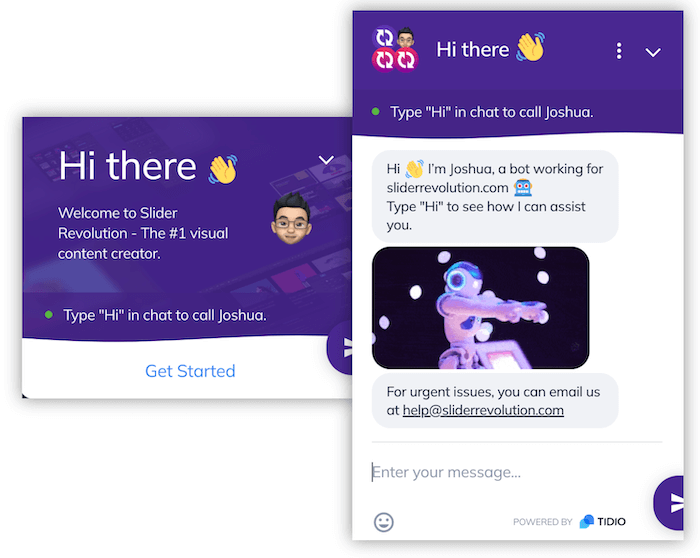 Once you do, you are asked to acknowledge the GDPR privacy policy, which is not ideal, then you can type your questions.
Having the user type something (Even as short as hi) plus the GDPR agreement isn't terrible, but can still present small barriers to entry for users. However, I did want to include it because you have the option to rate the conversation—a good way to get feedback and figure out how to improve your bot flow.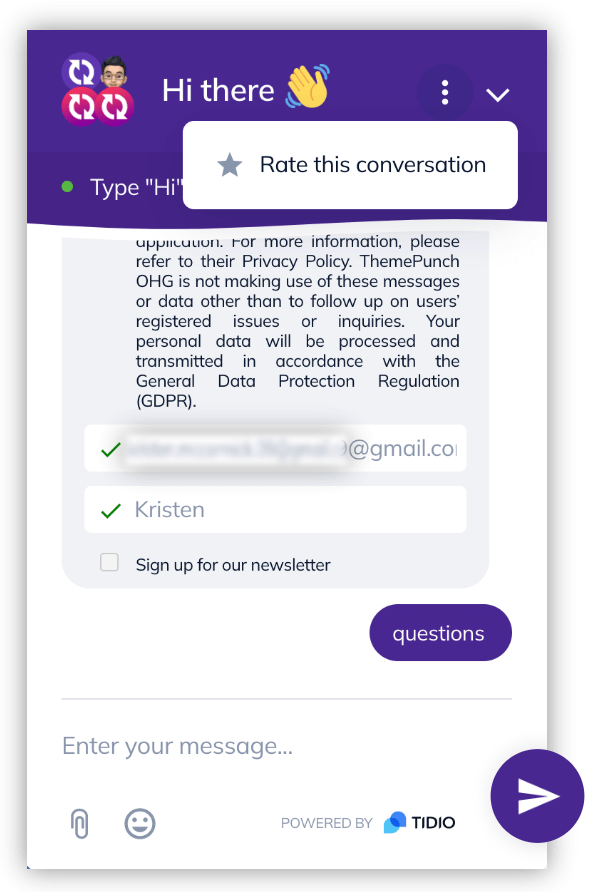 Takeaway: Eliminate as many barriers to entry as possible with your chatbots, and consider adding in a feedback or rating feature so you can better meet your visitors' needs.
6. Steve & Kate's Camp
This chatbot, for Steve and Kate's Camp, is actually serving less as a lead gen and engagement tool and more as an FAQ center or navigation pane. You are presented with five options, likely the most popular topics and questions users have, and then within each option there are articles with FAQs.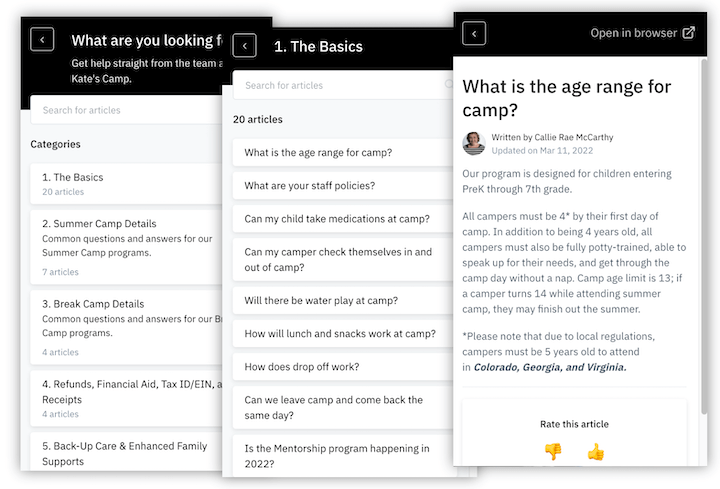 Takeaway: If you have a lot of FAQs or help articles, you may want to automate the answering of those questions with your chatbot widget so you can free up time to converse with leads that may need a real-time conversation.
7. Spocket
Spocket's chatbot does a great job with clarifying for users, right off the bat, that it offers 24/7 service. It says Hi there 👋 We deliver 24/7 service so if you need instant support, please use the live chat so we can respond quickly. You then have the option to:
Search help articles.
Start a conversation (while also listing the typical time to reply).
Read FAQs and answers.
Choose one of the preset options depending on what kind of visitor you are (drop shipper, supplier, customer, etc.)

If you choose a help article, notice that you are brought to the article right in the chatbot window.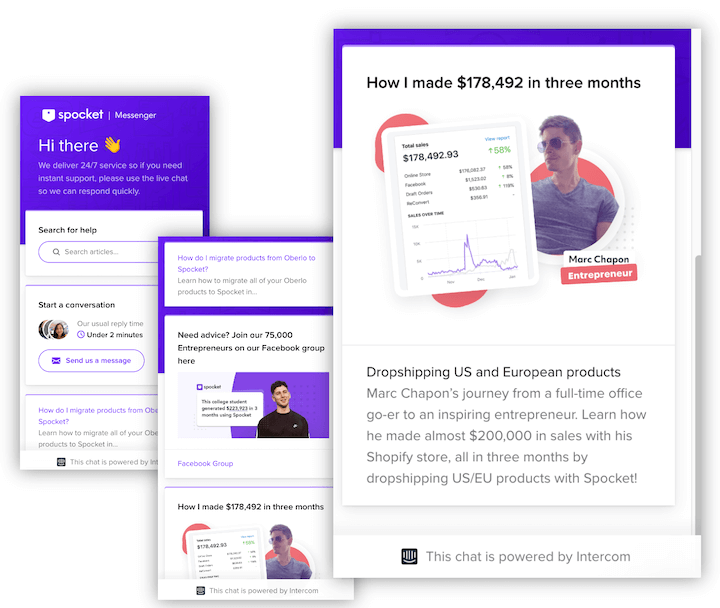 Takeaway: Cater your chatbot to the different segments and buyer personas within your target audience. Also, if you're going to incorporate blog content, try making it accessible right within the chatbot window so that users don't have to open up a new page (and use click-worthy headlines!).
8. Voyage
This chatbot example by Voyage is pretty basic like Stryve's but I'm including it since it does a good job with qualifying its leads.
Rather than getting visitors to engage with answers to choose from, it asks for your ecommerce website URL. In this situation, the chatbot is operating more like a contact form that will help representatives get connected with the right candidates for their product.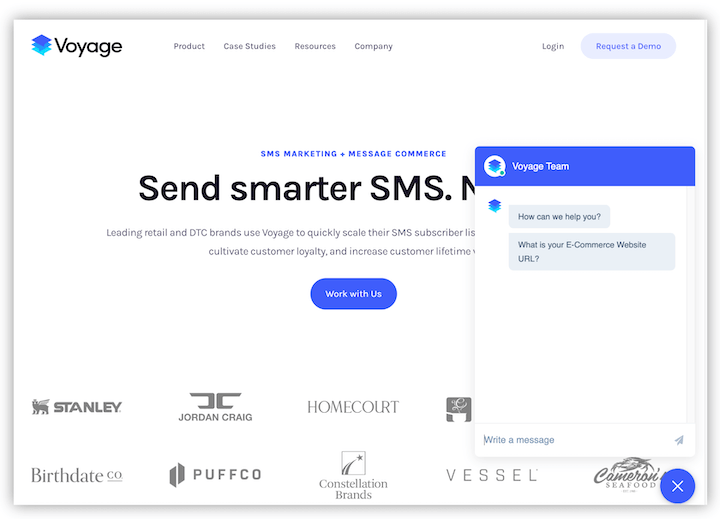 Takeaway: Before connecting with a website visitor through your live chat widget, consider adding some qualifying questions so you can either filter out irrelevant leads or make sure you route them to the right representative.
9. Trovata
Trovata's chatbot operates similarly to the one above, turning it into a friendly and conversational form (with a cute name, Troves the Bot). We also see a proper CTA with the greeting (Get connected with a specialist now) and even the option to watch a demo.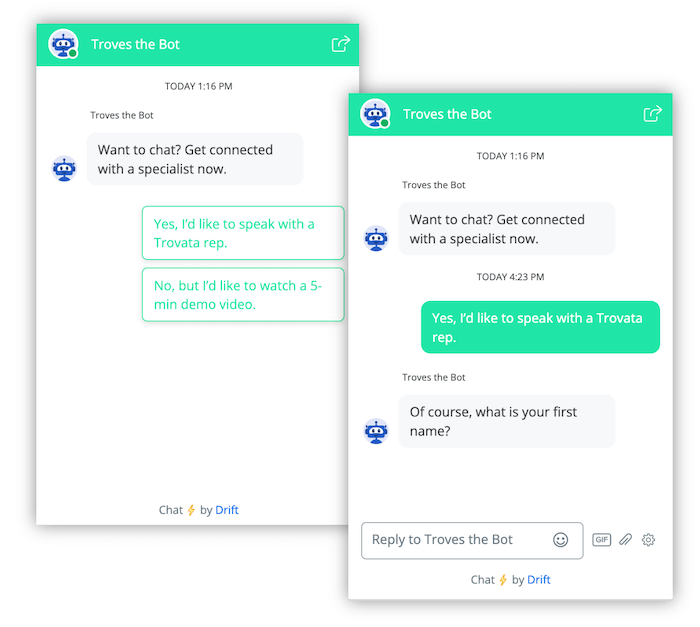 Takeaway: Keep your business and marketing goals in mind when setting up your website chatbot and test out different offers or options on different pages, depending on user intent. For example, a demo signup could work on a product page, but may not gain much traction on a top-of-funnel piece of content like a blog post.
10. Streak
Streak's chatbot example is similar to Revealbot, as it is more of a command center than just a conversational tool. But something to note here is that it also includes product statuses and updates.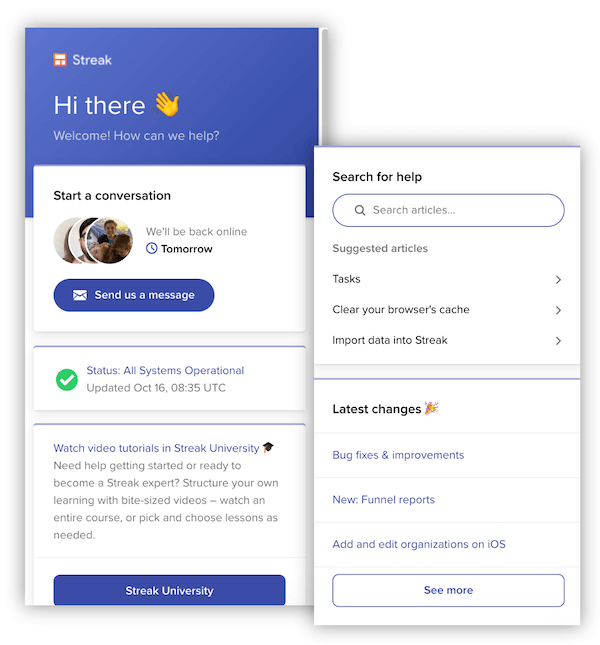 Takeaway: If you offer a product that changes or updates frequently or that is somewhat time-sensitive, you may want to add status reports, bug fixes, and feature releases to your chat widget.
11. Keap
Keap takes a unique approach with its chatbot, attracting visitors with compelling and conversational copy:
Hi there! 👋 Want to know something cool?
Of course I do.
Once I click on "sure", I learn about the benefits of the product:
The average Keap customer saves 47 hours/month! Amazing, right? 
Just imagine what you could do with that time…
How would you like to explore how Keap's sales & marketing automation can help you save hours each day AND money?

Takeaway: Try alluring website visitors with a compelling question, interesting stat, or data point that highlights the benefits of your product. Even if they don't end up speaking with a rep, you've now generated brand awareness and started building trust.
12. Whatagraph
Similar to using data points, Whatagraph's chatbot uses social proof (and an Office gif) to engage its chatbot visitors and make clear what the product is designed to do:
Hey there! Companies like January Spring, Uptick, and Thrive trust Whatgraph to streamline their client reporting process.
Ready to learn more? Let's get started. 
Then you have the option to book a demo, start a free trial, or enter in a message.

Takeaway: Try using your chatbot like a popup! Use landing page elements like social proof, your value proposition, and a CTA (again, make sure it's aligned with the intent of the page) to generate leads.
13. Intercom
What better chatbot example to follow than chatbot provider Intercom? A few things you'll notice:
There's a simple value proposition at the top of the chat window: We help your business grow by connecting you to your customers.
You have the wait time there.
The greeting message reinforces the value proposition: Hi there! Welcome to Intercom – the #1 business messenger for connecting you to your customers. Want to find out more about Intercom?
You have the low-barrier-to-entry button options (Just browsing! I'd like to learn more about Intercom; I'm an Intercom customer with a question) to support three different personas.
You have the option to type in a message if you want.
If you choose a button, you'll get started with an interactive form.

Takeaway: In addition to displaying help options, don't be afraid to pitch your business with your messenger bots.
14. Indigo
This last chatbot example by Indigo demonstrates a digital marketing trend we're seeing more and more: conversational commerce. Nowadays, you can complete a purchase, book a ticket, make a reservation, or initiate a return right within a chatbot.

Takeaway: If you're an e-commerce business, try syncing up your purchasing platform with your chatbot. You can always start with smaller or lower-priced items to keep things simple and work out the kinks, then build your offerings from there.