The term "world wide web" was accurate eons ago when there were a couple thousand websites. Fast forward to today, when we're at 1.88 billion, and it seems we may need a new term. Universe-wide galaxy? Infinitely expanding metaverse?

Anyway, I digress. As said web grows (read: proliferates), so too do data privacy laws—and businesses are tasked with balancing convenience and conversational tone with compliance.
One area where this challenge is apparent? Cookie consent banners. Read on to get the practical knowledge and creative inspiration you need to pull off a creative but compliant cookie consent banner for your website.
We're going to cover:
What cookies are
What to include in your cookie consent banner
Examples of cookie consent banners to give you ideas
But before we begin, an important disclaimer!
Disclaimer
Do not use the examples in this post as a template! You must coordinate with whatever legal party you work with to nail down your processes, documentation, and public verbiage to make sure everything aligns—for cookies, privacy policy, terms and conditions, and any other legal documentation. From there, you can use the examples in this post to get ideas and inspiration.
Now let's get into it.
What are cookies?
Cookies are small bits of data that get stored on a user's browser when they visit websites. A website will "set" a cookie on a user's browser so that when the user returns to that site at a later date, the site can use the existing data (such as what they typed into a form field, what pages they browsed, what they bought, etc.) to provide a more convenient and/or more personalized experience to the user.
There are several different types of cookies: session vs. persistent; necessary vs. elective; and first-party vs. third-party. That third category is the one we're concerned with from a marketing privacy standpoint. These, as you can imagine, are used to collect first-, second-, and third-party data.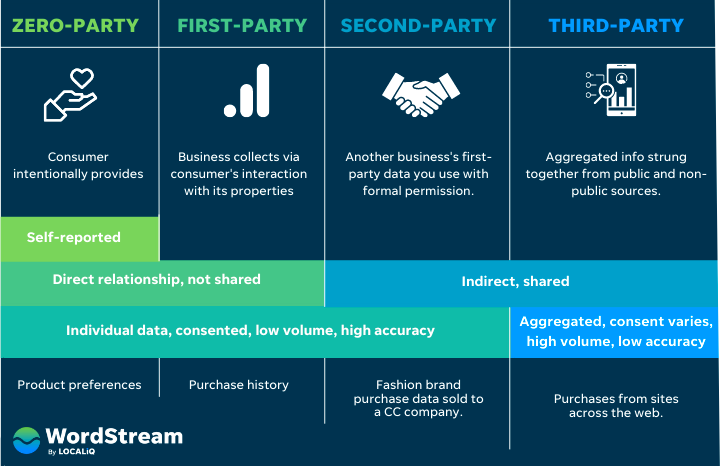 What is a cookie consent banner?
A cookie consent banner is a notification you place on your website that tells visitors about your business and website's use of cookies and obtains their consent to store cookies on their browser (in other words, their consent to collect data about them, for a limited time).
There are several pieces of privacy legislation behind this dating all the way back to 1995, but the two biggest drivers are the General Data Protection Regulation (GDPR) of 2018 and the ePrivacy Directive (ePD) of 2002.
The United States as a whole does not have a federal cookie privacy law, but there are some laws on the individual state level, including the California Consumer Privacy Act (CCPA).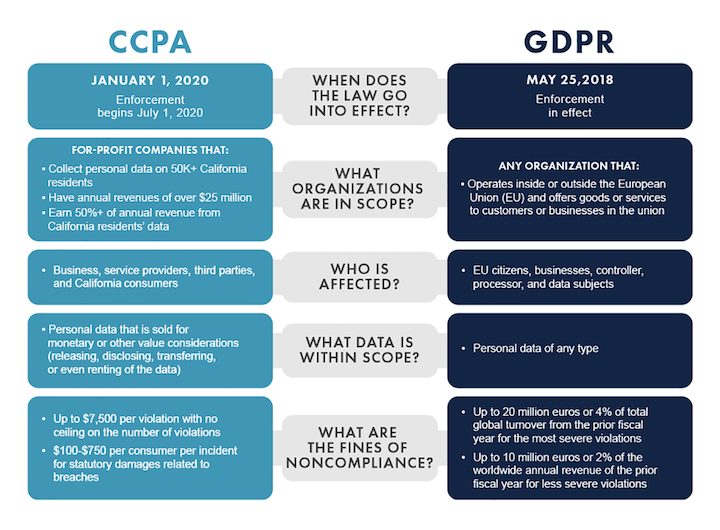 What should you put in your cookie consent banner?
According to Cookie Law Info, in order to adhere to cookie and privacy laws, your cookie consent banner must:
Identify what cookies you use
Inform users what cookies you use
Obtain their consent
Give them the ability to withdraw consent
Record the cookie consent
There are other guidelines here, such as being clear and concise about the information, making the consent request as user-friendly as possible, and more.
Now in terms of how you go about wording your cookie consent banner, this depends on a number of things:
The industry you're in. And the type of business you run. While privacy is important no matter what, some industries regulate it more heavily than others. And in some industries, consumers are more in tune to it than in others.
Your brand voice. A witty cookie banner won't make sense if you're a law office, but it works well for some brand personalities. Make sure that whatever tone you choose, it's in line with your brand identity.
The legal department in your company. Of course, larger corporations with official legal departments are going to have a handle on cookie consent, GDPR, and everything in between while a solopreneur will be the one handling it. That doesn't mean you're off the hook if you're the latter; it just means that you can expect more strict adherence the larger and more established the company.
Cookie consent banner examples
Again, we need to restate the disclaimer at the beginning: Do not use the examples in this post as a template. You must work with whatever legal party you work with to nail down your processes, documentation, and public verbiage and make sure everything aligns—for cookies, privacy policy, terms and conditions, and any other legal documentation. From there, you can then use the examples in this post to get ideas and inspiration.
We've broken down these cookie consent banners into:
Let's jump in!
Fun or playful cookie consent banner examples
These examples go beyond the basic language to get cookie consent and are a little playful or fun. These examples would work as inspiration for businesses that have a more laid-back brand personality.
Psst…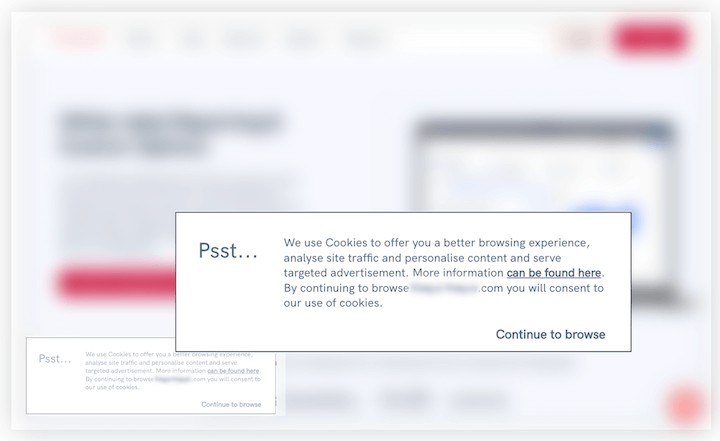 Banner copy: "Psst…We use Cookies to offer you a better browsing experience, analyse site traffic and personalize content and serve targeted advertisement. More information can be found here. By continuing to browse Whatagraph.com you will consent to our use of cookies. Continue to browse"
We'll assume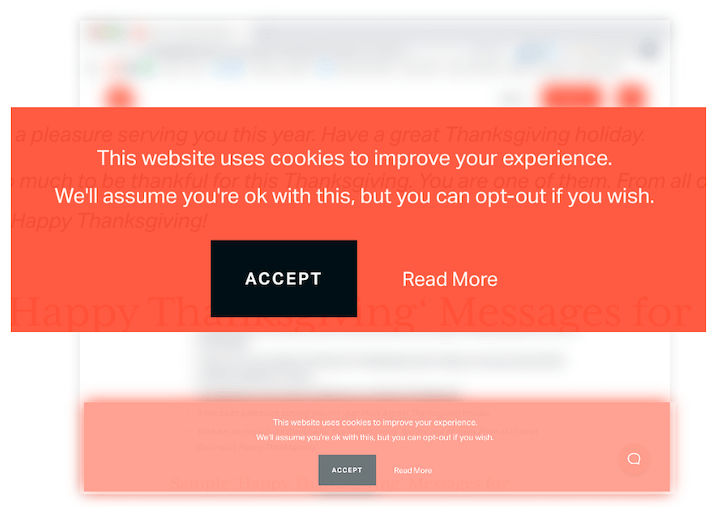 Banner copy: "This website uses cookies to improve your experience. We'll assume you're ok with this, but you can opt out if you wish. Accept / Read More"
Life is better with cookies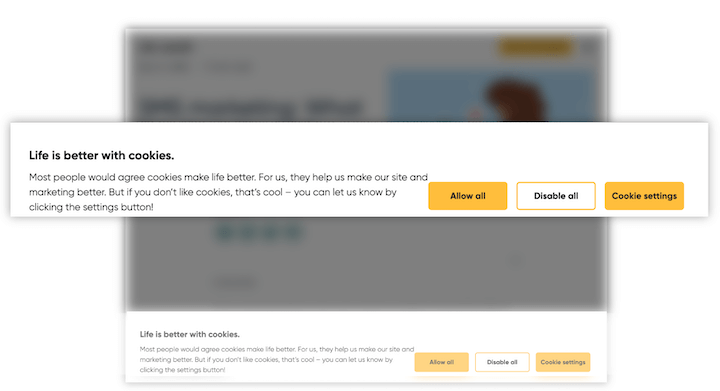 Banner copy: "Life is better with cookies. Most people would agree cookies make life better. For us, they help us make our site and marketing better. But if you don't like cookies, that's cool – you can let us know by clicking the settings button! Allow all / Disable all / Cookie settings"
Moovly Uses Cookies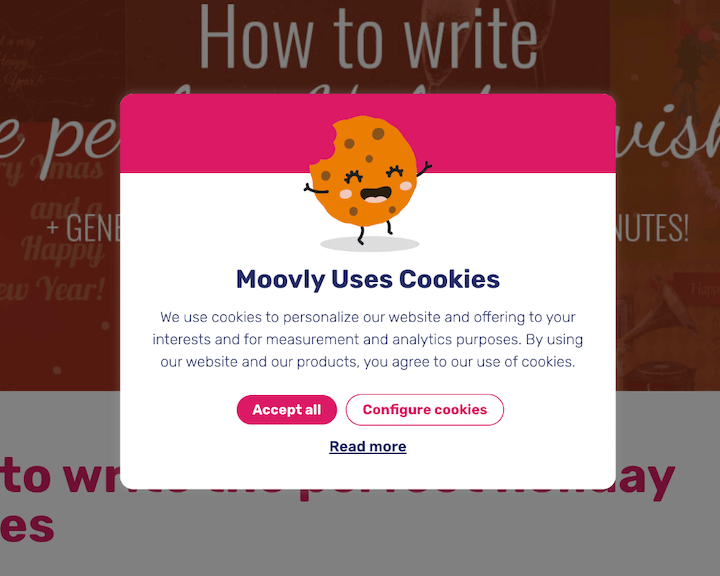 Banner copy: "We use cookies to personalize our website and offerings to your interests and for measurement and analytics purposes. By using our website and our products, you agree to our use of cookies.
Accept all / Configure cookies / Read more"
Want a cookie?

Banner copy: "We and selected third parties use cookies to similar technologies as specified in the cookie policy.
You can consent to the use of such technologies by using the "Accept" button. Accept all cookies / Manage cookies"
To keep on botting


Banner copy: "To keep on botting, 🤖 you need to accept our cookies. We use them to analyze data and make your experience even better. To learn more about it, see our Privacy Policy. Decline non-essential / Accept all"
We'll have to use just one tiny cookie

Banner copy: "This website stores cookies on your computer. These cookies are used to improve your website experience and provide more personalized services to you and through other media. To find out more about the cookies we use, see our Privacy Policy.
We won't track your information when you visit our site. But in order to comply with your preferences, we'll have to use just one tiny cookie so you're not asked to make this choice again. Accept / Decline"
Basic, yet clear, cookie consent banners
These cookie consent banners are very straightforward and to the point. They would work as inspiration for pretty much any business.
You agree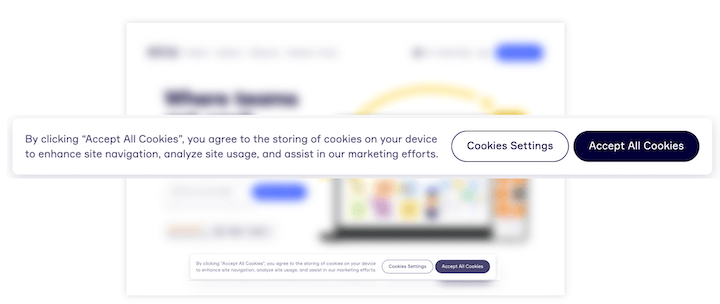 Banner copy: "By clicking "Accept All Cookies", you agree to the storing of cookies on your device to enhance site navigation, analyze site usage, and assist in our marketing efforts. Cookies Settings / Accept All Cookies"
We use tools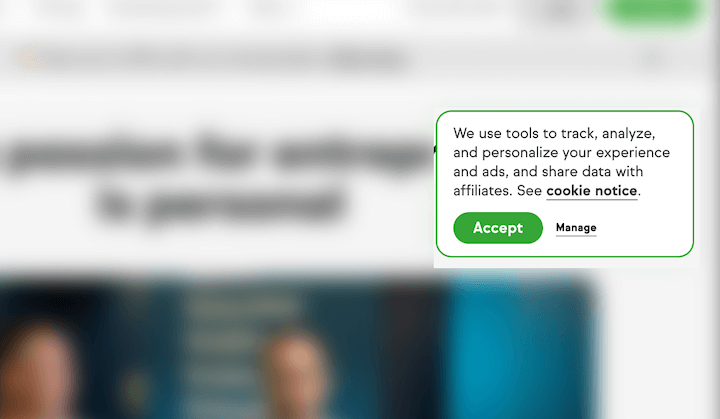 Banner copy: "We use tools to track, analyze, and personalize your experience and ads, and share data with affiliates. See cookie notice. Accept / Manage"
By using our website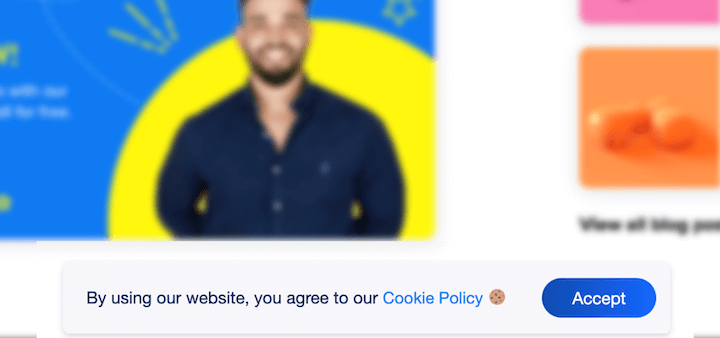 Banner copy: "By using our website, you agree to our Cookie Policy 🍪 Accept"
Cookie consent banners with a focus on the user
These cookie consent banner examples provide additional options or context for the user when selecting their preferences.
Select your preference

Banner copy: "Select your preference. Minimal / Allow some / Allow all / Time period
You agree to the storing of cookies on your device to enhance site navigation, analyze site usage, and assist in our marketing efforts. Data shared with 3rd parties may be used to track you on this site and other sites your visit. / Save my preferences"
We value your privacy


Banner copy: "We value your privacy. We use cookies to improve your experience and give you personalized content. Do you agree to our cookie policy? No, take me to settings / Yes, I agree
Small text files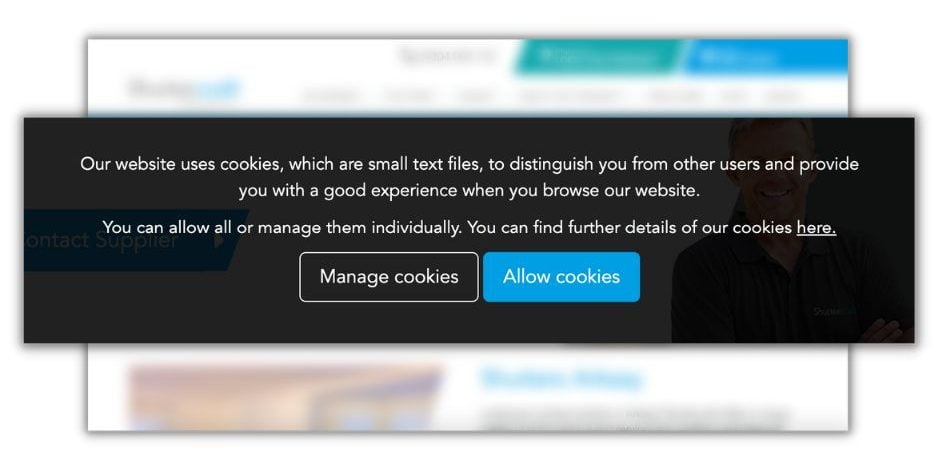 Banner copy: "Our website uses cookies, which are small text files, to distinguish you from other users and provide you with a good experience when you browse our website. You can allow all or manage them individually. You can find further details of our cookies here. Manage cookies / Allow cookies"
Best possible experience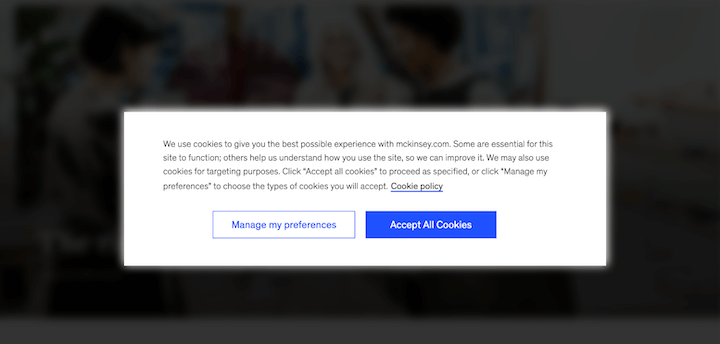 Banner copy: "We use cookies to give you the best possible experience with ******.com. Some are essential for this site to function; others help us understand how you use the site, so we can improve it. We may also use cookies for targeting purposes. Click "Accept all cookies" to proceed as specified, or click "Manage my preferences" to choose the types of cookies you will accept. Cookie policy. Manage my preferences / Accept all cookies"
About cookies on this site

Banner copy: "About cookies on this site. Our websites require some cookies to function properly (required). In addition, other cookies may be used with your consent to analyze site usage, improve the user experience and for advertising.
For more information, please review your Cookie preferences options and our privacy statement.
To provide a smooth navigation, your cookie preferences will be shared across our web domains listed here. Accept all / Required only"
Prioritize your customer data privacy
Customer data privacy is not something to mess around with. Be sure to work with your legal department to get all of your processes, documents, and copy in order and then use these ideas to get a banner up on your site that is received well by your visitors.