As 2021 draws to a close, we'll soon see compilations of the best (and worst) marketing campaigns of the year, which will likely include Geico's Scoop There It Is ice cream, Nerf's chief TikTok officer and, of course, Burger King's "Women belong in the kitchen" tweet.

These roundups are entertaining and have their takeaways, but from a small business standpoint, they're not very useful.
So we sought out to come up with a more practical best-and-worst round-up for small businesses. No, you won't see any new ice cream flavors in here, but you will find plenty of simple tactics that yielded very gratifying results—plus how you can apply them yourself.
The best of small business PPC
We asked 20 marketers from a variety of industries for their campaign highs and lows this year. Their answers, which follow, include a range of new and old tactics, as well as the lessons learned from each. Let's start with PPC.
1. Countdown ads
Angela Blakenship, CEO of neighborhood comparison site Best Neighborhood, noted adding a countdown timer to Google Ads was "a unique PPC campaign strategy that worked really well for us." These ads yielded higher click-through rates (CTR) compared to other active campaigns, along with a higher conversion rate.

How to apply it
We show you how to use countdown customizers in Google Ads here. On a broader note, urgency is the tried-and-true element of any good marketing campaign. Check out our 13 urgency-inducing tricks to drive sales, which include:
Super-specific CTAs
Risk-averse payment language
Pre-suasion
2. Target CPA + location targeting
Nick Thorsch, founder of Share2Seed.org, a platform that encourages entrepreneurs to think sustainably, said he helped scale revenue for a storage container brand from $2 million to $10 million with a campaign that set out to push higher-margin metal containers and refrigerated containers via Google Shopping ads.
He set up unique product pages and pricing to match local markets and used the target CPA bidding strategy, which sought as many customers as possible at a target $100 per conversion.
Thorsch asked sales reps to report the click ID back to Google to measure offline sales. He then expanded to Bing with a similar strategy.
How to apply it
There are a few applications here.
First, a local strategy is key to any business, even those with global reach, so make sure you know the ins and outs of Google Ads location targeting.
Notice that Thorsch measured offline sales. In our recent Google Ads updates roundup, we cover Google's new OCI helper tool (offline conversion import). Check it out!


3. Promotion extensions
Daniel Foley, marketing specialist at vaping site 88Vape, tried out promotion extensions on Google to grab visitors' attention by highlighting exclusive deals under 88Vape's ads. And while he wasn't expecting much, within a few weeks, sales of promoted items increased as much as 60%.
"The results were better than what I could have even imagined in my wildest dreams," Foley said. "Because of these tremendous results, it is still running to this day."
How to apply it
We've talked in the past about how promotion extensions can drive super-high CTR. Learn how to use promotion extensions here to gain extra visibility and add more appeal to your Shopping ads.
And if applicable, don't miss these must-know-tips for using promotion extensions during the holiday season.

The best of small business
video marketing
Video marketing comes in many shapes and sizes. Find out how two businesses used YouTube to promote their business and got better-than-expected results.
4. YouTube live
Jeff Moriarty, creative manager at jewelry retailer Moriarty's Gem Art, said the brand tried out a live show on YouTube this year, which resulted in more than 1,500 viewers and $10,000 in sales. Now, the retailer hosts live streams once a month. Its Black Friday stream resulted in $30,000 in sales. They plan to continue this strategy in 2022.
The brand has a large following on YouTube and sought a solution to reach customers who were no longer will to shop at Moriarty's brick-and-mortar location.

How to apply it
You can learn how to run a successful live stream in our guide to going live on YouTube. If YouTube is your bread and butter, consider also building out your channel and creating a killer trailer to attract more subscribers. If YouTube isn't your channel, you may be interested in Facebook Live or Instagram Live.
5. Video targeting tools + influencers
According to Paula Glynn, director of search marketing and digital strategy at digital marketing and web development agency Pixelstorm, her most successful PPC campaign was a YouTube campaign focused on products endorsed by celebrities. She used a video targeting tool to overlay ads on videos related to Pixelstorm's partner celebrities. The result was an ROI of nearly 200%.
"YouTube isn't a platform where PPC shines the best, but it becomes a very efficient strategy through the use of targeting tools," she added.
How to apply it

Know your audience! Pixelstorm was successful because it had its personas nailed down and knew which influencers were relevant to its audience.
The best of small business
SMS marketing
Just one campaign in this category, but for the better. This is a tough act to follow!
6. The Squid Game SMS campaign
Vitamin and supplement retailer My Supplement Store wanted to increase its SMS subscribers before the holidays, so it created a campaign that taps into the popularity of Squid Game, which was streamed for nearly 1.7 billion hours in its first 28 days. In each order placed by a customer who was not already an SMS subscriber, the brand included a business card that looked like the cards used in the Netflix show with a number to text.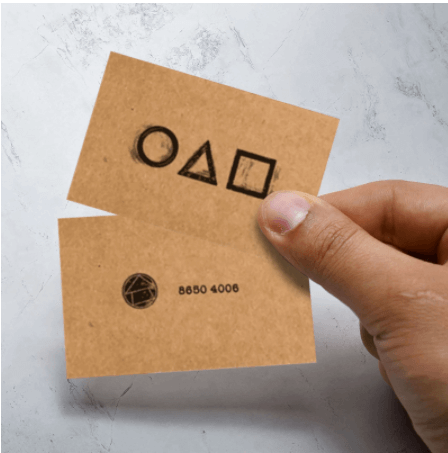 Once they texted that number, "this then took them through the marble game where they could win a big discount or be eliminated," said Marketing Director Brian Anderson.
The result was a 20% increase in SMS subscribers. Anderson noted customers loved the creativity, "emailing us how much they enjoyed it."
How to apply it
Keep your tabs on pop culture and current trends. You never know when you'll have an opportunity to get creative and capitalize. Also, gain inspiration from the big brands. Check out the five best marketing campaigns we've ever seen (which includes tips on how to DIY) and the same roundup for ad campaigns.
The best of small business social media marketing
Influencer marketing, Facebook groups, and Instagram giveaways are by no means groundbreaking strategies, but take a look at the approach these businesses took that helped them win big.
7. Influencer marketing tools
Darshan Somashekar, CEO of game site I'm a Puzzle, said he uses online tools to identify potential influencers who can create user-generated content (UGC). The brand gives away products in exchange for video reviews and testimonials. It also has a collaboration program in which influencers give access to their Facebook and/or Instagram pages to advertise their content.
I'm a Puzzle pays these influencers $100 per month with 5% rev share for all sales generated through their links. Somashekar said the result is site traffic and social media growth.
How to apply it
If influencer marketing makes sense for your business, consider allocating enough of your budget to this channel to see a significant ROI. For example, you may want to invest in influencer marketing tools like Darshan did.

And you don't have to do influencer marketing on a one-to-one basis. Influencer collaboration programs can help you cultivate more meaningful relationships with influencers while scaling your influencer marketing strategy.
8. Facebook groups
Daniel Veiga, founder of marketing firm Danny Veiga Marketing, runs a Facebook Group that now has nearly 60,000 members. It's a public group (you just have to request to join), and he updates the page multiple times a day with posts and links to articles. It has grown into a supportive community in which members share tips with students about applying to and thriving in college.

Veiga said the Facebook Group has helped him invest in relationships and directly answer questions and engage potential customers where there wasn't one-on-one time available.
How to apply it
Facebook groups are an age-old feature of the platform, but still an effective social media marketing tactic to this day. In fact, in LOCALiQ's roundup of social media marketing trends for 2021, Facebook groups is #2. Check out the post to learn how to build a community that has a positive impact while also driving your marketing goals.
9. Instagram giveaway + brand partnerships
Melanie Bedwell, ecommerce manager for DTC soda brand Olipop, said the brand launched a giveaway on Instagram in partnership with reusable bag brand Stasher. Each offered $100 in prizes to followers of the brands who tagged friends in the post.
Bedwell noted the contest was "a great way to bring awareness to our two brands and engage our customer base." It also helped the brand team up with a like-minded company that "shares the same values as we do."

How to apply it
Running a giveaway on Instagram is easier than you think. You can try contest types like tag a friend, like to win, post and tag, and repost and tag. We also have a comprehensive guide on how to run an Instagram giveaway to help ensure your success.
The best of small business email marketing
Email marketing has an ROI of $42 for every $1 spent. If you're not iterating on your email strategy, you're doing yourself a disservice. Consider these simple tactics that brought success to two small businesses this year.
10. Email personalization
Amy Wampler, marketing manager of HVAC service provider Spartan Mechanical, conceded the company faced some financial constraints due to a dip in sales during the pandemic. That's in part why they opted to try an email campaign.
"I was aware that cold, impersonal emails would just be ineffective. Therefore, we made an attractive, trendy template and personalized each email for every customer segment," she said. "Not only was it attractive in our eyes, but our sales also increased substantially after cold emailing."
How to apply it
Wampler said the lesson is to not write off older tactics, but rather modify them to meet existing needs. We completely agree with this, which is how we came up with these creative PPC strategies that follow the same principle.
And of course, personalization is now a standard in marketing, but the ways to do it are always evolving. We have a few helpful resources for personalizing your emails:
11. CTA and video embeds
Richard Lubicky, founder of search site RealPeopleSearch, works with a children's clothing brand that wanted to generate leads. He crafted email copy with "Expires Tomorrow" as the call to action at the end, along with a video. After a few hours, sales volume increased by 36% versus the prior month. The brand followed up with an offer extension, which boosted sales volume 42%.
How to apply it
The best of small business prospecting
Just one strategy in this section, with lots of applications.
12. Client conquesting
Brett Downes, marketing manager of digital PR company Haro Helpers, noted a competitor has a habit of posting the URLs with client mentions on its website daily. He uses this to cross-reference the companies mentioned with the number of mentions to determine which brands are clients. He then reaches out directly to "offer them a better deal." Per Downes, he has a 25%+ success rate when he is able to reach the decision maker. The cost outlay is $500 and ROI is $50,000 so far.
How to apply it
Different prospecting strategies work for different businesses. Brett had a very specific opportunity here, but that doesn't mean you can't find your own. There are a number of tools out there for competitive analysis that can help with this. Either way, the key is to monitor your competitors' websites, social media profiles, and ads and be on the lookout for details.
You can use LOCALiQ's Free Online Presence Grader to get a read on your web, social, and ad presence as well as how you compare to competitors.

The best of small business offline marketing
Offline marketing is considered "traditional" marketing but it is no less important than digital marketing.
13. Community workshops
Web development firm Website Rating started offering free home brewing workshops in nearby communities to increase brand awareness. The result was a 3X increase in traffic.
"We are positively obsessed with small businesses and we do go out of our way on our website to help people learn how they can brew their coffee, so our marketing officer suggested this as a content marketing and engagement strategy," said Founder Mathias Ahlgren.
Ahlgren said the moral of the story is "as long as you love what you do, you'll build communities around your work and it will always be fruitful."
How to apply it
Tap into the power of event marketing. We have a list of creative, brand-building event marketing ideas to give you some inspiration. Whatever you choose, consider boosting attendance with Facebook ads.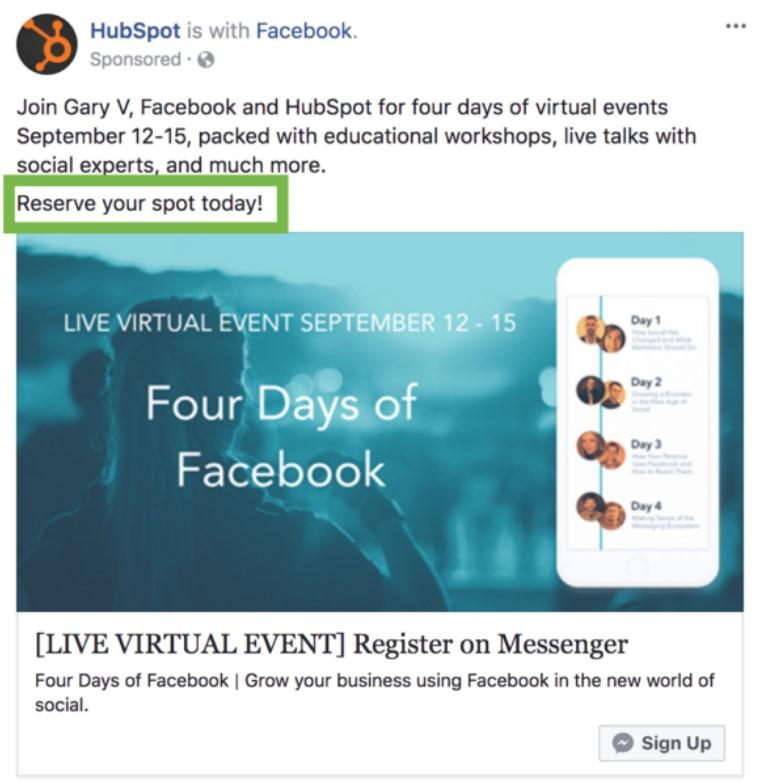 14. Direct mail
Kyle McCorkel, owner of Safe Home Offer, a marketing company specializing in finding off-market real estate deals, said the strategy with the best ROI has been direct mail, even if it seems "a little old school."
He attributes this success to name recognition when consumers he has mailed see his brand and "remember it when they're googling to find a solution to their home-selling problem."
How to apply it
Whether you use a list of addresses you've collected in your marketing efforts or a third-party tool, you can create professional, eye-catching postcards super easily in Canva. Choose from hundreds of customizable templates and get started.

Canva postcard templates. Do it.
The best in small business content marketing
Many of the ad, email, and social media strategies in this post could fall under this category, but we've reserved it for two content types: webinars and blog posts.
15. Free webinar consultations
Amazon sellers are always keen to learn more, which is why Ian Sells, CEO of coupon site RebateKey, said he decided to start doing free talks on marketing, campaigns and the basics of growing a brand online.
While their goal was to provide value, the webinars also helped sellers see the potential value RebateKey could bring, which resulted in new leads.
"It may seem counterintuitive to give out your knowledge when what you want is for them to come to you instead," Sells said. "However, helping and providing value helps build trust and converts mere audiences into loyal customers."
How to apply it
Those two statements above? That's inbound marketing in a nutshell. That's content marketing at its finest. Whether via blogs, videos, webinars, guides, and more, your goal should be to provide the useful, interesting, actionable information your target audience is seeking. If they are able to DIY with your tips and advice, then they're not a good fit for your business anyway. If they can't, or if they can but don't have the time or resources, then you'll their first choice because you've shown that you know your stuff and that you have their best interests at heart.
16. Help a Reporter Out (HARO)
Artur Prokopchyk, business development manager at software development and consulting firm Code Inspiration, noted the brand has started focusing on research projects on topics like negative feedback culture.
The brand used the journalism resource site Help A Reporter Out (HARO) to find more than 100 experts to interview. Questions included how to share and deal with negative feedback.

Once they had their answers, they spent several weeks analyzing responses and then published the findings on the corporate blog, as well as in an article on Forbes.
The blog post is now ranked #2 in Google search and is read by 200 to 500 visitors each month.
How to apply it
Clearly, HARO was key here in helping Code Inspiration build its online presence and generate interest. Learn how to use HARO to get backlinks and PR here. There are also many other ways to rank on Google and drive traffic to your website through blogging. To learn how, head to these resources:
The "worst" in small business marketing
There are major marketing fails like the Kendall Jenner Pepsi ad or the aforementioned Burger King UK tweet, but for the sake of our small business-friendly guide, we're going to share some smaller ones that you can learn from.
17. A social media ad mishap
Emily Anderson, head of marketing of ROI Hacks, an education company that focuses on teaching social media marketing, said her worst campaign of the year was a TikTok ad campaign for an ecommerce client. The campaign was "quite successful" on Facebook, but "flopped completely" on TikTok.
Anderson admitted her mistake was forgetting that the products targeted older consumers who aren't using TikTok  She also noted the creative was not customized for TikTok, so "the campaign was destined to fail from the get-go."
How to avoid it
Just as great Facebook ad creative may not do well in display, or as great Google Ad copy may not perform as well on Bing, you can't expect one post, caption, or offer to perform well across all social media channels. Each platform has a different feel, purpose, and audience mindset. Head to the LOCALiQ Social Media Marketing Lab to get a complete breakdown of each platform, their user demographics, and what to post on each.

18. An Amazon ad oversight
Angela Blakenship from earlier called her experiments with Amazon DSP a "significant failure." The ad linked back to her company's website—not Amazon. And so it yielded "quite a number of clicks," but not conversions.
"We believe this happened because viewers were expecting to be led to Amazon and not our website," she added.
How to avoid it
We often get so familiar with the campaigns we're building that we forget to test them out from the shoes of our audience. In Angela's case, running the ad was the test—so we wouldn't call this a failure altogether. But if you're going to try out a new ad network, poke around on that network to get a feel for what the ad experience is like there so you can align with expectations.
And when it comes to emails, website pages, and navigation menus, run your iterations by someone outside of your business if possible before going live.
19. LinkedIn adsfor B2B (what?!)
Because software development firm Atiba is a B2B company, SEO specialist Jake Peterson said a paid social campaign on LinkedIn seemed most logical. However, Atiba didn't generate any leads through LinkedIn.
The brand actually had better success on Facebook, which allows advertisers to target more specific audiences and refine even further later. That being said, Peterson noted an early Facebook campaign focused on web design, which is an easily understandable topic for even consumers who aren't tech-savvy, did not generate any real leads. A second campaign on Atiba's larger offerings with more broad messaging had better results.
How to avoid this mistake
No, the answer is not to stop advertising on LinkedIn. But the takeaway is that when you have a cross-channel advertising strategy, you need to do your testing to see which types of offers work best on each channel. Perhaps Atiba's broader ad worked better on Facebook not just because of the targeting abilities, but because it was more top-of-funnel.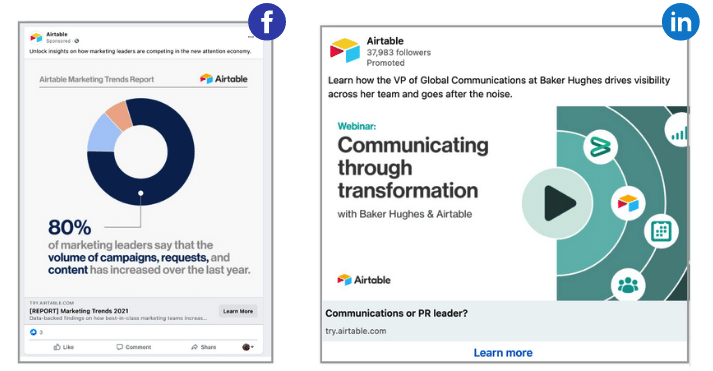 Different PPC channels often call for different ad copy or even different KPIs
To help you out in this area, here are some resources:
20. Automation backfiring
After automating tasks like email and social, Abe Breuer, CEO of portable restroom brand VIP To Go, said he was able to devote more time and energy to connecting with consumers in an authentic manner. His business was therefore in a better position to meet customers' unique demands, increasing the likelihood of those customers returning.
However, over the long term, Breuer noted VIP To Go made "a few basic blunders" that "negated the whole point of utilizing this in the first place." That's in part because VIP To Go sent out messages too frequently, resulting in unsubscribes.
How to avoid this mistake
Breuer said he learned nothing can replace human interaction. He also said automation should be used to save time, not to be lazy.  "The goal of automated marketing is to simplify your team's routine communication chores," he added. "It isn't intended to be a complete consumer outreach and engagement tool."
And there you have it. The practical, small business-style roundup of the best and worst marketing campaigns of 2021. What were your highs and lows from the year? Tell us in the comments, we just might add it to the post!