AI was the name of the game at Google Marketing Live 2023, with the majority of Google's updates and announcements centering on how AI-powered tools can empower businesses to drive better results, connect with their customers, and deliver the right message at the right time.
Google broke its presentation into three C's: customer connection, creative, and confidence, with examples of how its new tools and features (backed by AI) can help businesses in each of those critical junctures.

It almost feels like we were there…
So, want to know what's coming (or what's already arrived) as you market your business on Google? You're in luck because we're sharing a brief overview of the most important updates and announcements shared at Google Marketing Live 2023, as follows:
The top 11 Google Marketing Live 2023 updates
The main takeaway from Google Marketing Live? AI is here to stay. But how is Google planning to use AI to power its tools, products, and experiences? Each presenter brought it back to those three c's we mentioned. Here's what they mean:
Customer connection: Providing a more personalized and unique experience for your potential customers across Google products.
Creative: Using AI to create high-powered creative assets across your Google Ads strategies.
Confidence: Understanding how your campaigns are performing while providing a privacy-first ad experience to users.
To keep with this theme, we broke out our roundup of Google Marketing Live updates by the three c's.
Here are the top Google Marketing Live 2023 updates you need to know.
Customer connection
These Google Marketing Live updates are meant to help your business connect with customers on a more personal level.
1. Introduction to the Search Generative Experience
Google Marketing Live 2023 kicked off with the news that an AI-powered search experience, known as Google Search Generative Experience (SGE) will be coming soon to a SERP near you. Google covered this more extensively at Google I/O but did provide an overview and walkthrough of its new Search Generative Experience, as well as where ads will show in this search experience and some of the future capabilities.
This in-testing approach to search results will use machine learning to give users more personalized results based on the user's search journey and contextual clues.
In the example below, Google SGE is assuming that the user's question, "is it easy for them to learn surfing," likely means the user is looking for surfing lessons for their children based on previously-asked questions and searches within SGE.

Google SGE also prompts users to ask follow-up questions. This makes the search experience more like a conversation rather than inputting queries into a machine that spits back results.

SGE could be beneficial to businesses since the typical SGE user will likely make multiple searches via follow-up questions—creating opportunities for a business's website or ad to show for highly specific (and lower-funnel) queries. But there could also be some drawbacks, which we covered here.
2. Video view campaigns
Video view campaigns are meant to maximize results on YouTube on a cost-per-view basis. Video view campaigns combine ad formats including in-stream skippable ads, in-feed ads, and YouTube Shorts.
This new campaign type is poised to help advertisers further connect with their audience since it'll be seamless to create one video ad that fits various placements across YouTube.

Google shared that early testing of this campaign format resulted in 40% more views than single-format video ads. The beta for Video view campaigns begins next month.
3. Demand Gen campaigns
Demand Gen campaigns were announced as a new campaign type designed for social marketers to reach customers on their most visually-focused channels, like YouTube, Discover, and Gmail. This new AI-powered campaign type is built to "engage and drive action among consumers with immersive and visual features."

Within Demand Gen campaigns, you can create AI-powered lookalike audiences, tailor specific audience segments, and measure conversions as well as receive insights on brand lift.

Of course, using these AI-powered campaign types that pull data from your conversion tracking means that you need to have a solid reporting foundation in place. For example, Google recommends assigning values to conversions, setting up enhanced conversions, and upgrading to Google Analytics 4 (GA4) to make the most of Demand Gen and Video view campaigns.
4. Broad match brand controls
Since campaigns like Performance Max default to broad match keywords for search, many advertisers felt that they were showing for (and competing against) other brands due to this less restrictive matching behavior.
With broad match brand controls, you can restrict your campaign to only show for branded searches when they align with brands you specify.

This update enables you to get additional reach for broad match while ensuring that it matches all the relevant brand traffic for your business. This feature is currently available in beta.
5. Performance Max high-value new customer acquisition goal
Google added a new "customer acquisition" goal your Performance Max campaigns can optimize for. This update is focused on getting new customers who have a high lifetime value or customers who haven't been engaging with your brand recently. Using AI, you can have Google bid more for customers who match these segments. That way, you'll only pay more when you show to a customer who is predicted to be of higher value to your business.
Since Performance Max has both top and bottom-of-funnel capabilities, this can make a big difference to advertisers who feel some customers sourced from this campaign type are of higher quality than others.

The goal is available in beta, so advertisers will have to contact their Google team directly to opt into this new feature.
Creative
Here are the Google Marketing Live announcements that will impact advertisers' creative processes.
6. Conversational experience in Google Ads
This update, which is planned to roll out in July, will allow advertisers to essentially have Google guide them through the campaign setup process. You provide your landing page URL and answer prompts along the way, and Google will create assets based on what you provide, including headlines, descriptions, keywords, and more. The more information you provide, the more refined your ads will be, said Google.

For example, Google will give you conversational prompts to improve your ads as you go. Additionally, you'll still have full control over what suggestions from Google you decide to keep or edit yourself.

This could be greatly beneficial to businesses starting out in Google Ads since building out in the platform can be a daunting task. It also might save a more advanced advertiser or agency time when an account needs to scale more quickly.
7. Automatically created Performance Max assets using generative AI
This Google Marketing Live update is another time-saver for advertisers using the power of AI. With this feature, you can give Google prompts to create custom image, video, and text assets for your Performance Max campaigns with the click of a button.
On top of this, Google will now use AI to generate ad headlines and assets that more closely align with the specific query without compromising what you're offering.
Instead of creating ad assets, like images, structured snippets, and more, ahead of time. Google's AI will now automatically create and add assets to your text ads in real time to better match a given search query.

8. Product Studio
For ecommerce and retail businesses, we saw the introduction of Product Studio as a promising new tool from Google Marketing Live 2023. It's been proven that Google shopping ads that include products with multiple images get 76% more impressions and 32% more clicks than those with just one single image.
However, creating high-quality product images can be a challenge for many businesses—which is why Product Studio is becoming available to do this work for advertisers. They're making it easier to manage, create, and upload product content directly from the Shopping Feed.
Product Studio will allow ecommerce businesses to edit and enhance their images using AI. You can remove the background, enlarge the image, and describe what you want the image to look like (known as "generating a scene").

From there, Google will return four options that align with your description for you to choose from. You can then add your image to Merchant Center, add or place the image in an online store, and it will be auto-saved across all your Google properties.

Confidence
The need to create a better privacy experience for customers while maintaining insight into how campaigns are performing is a constant challenge for advertisers. But it's one that's important to master. In fact, Google shared that 49% of people would switch brands for a better privacy experience.
Many feel that privacy-first advertising strategies are harder to measure, so this year Google decided to introduce some features to (hopefully) help with first-party tracking and reporting. The last few Google Marketing Live 2023 updates are all about embracing first-party data and getting more insights into campaigns as we move towards a privacy-first advertising landscape.
9. Google Merchant Center Next
Google will replace Merchant Center with Google Merchant Center Next in 2024. Google Merchant Center Next was touted as a simpler experience than Merchant Center, with features that will allow retailers to easily connect product information from their websites and have control over how their products appear on Google without manually updating a feed.
Retailers will also be able to see insights on top-selling products on Google, pricing benchmarks, and find competitive insights and information.

Merchant Center Next is currently available for some retailers and will be more widely available soon.
10. Google Analytics 4 audience builder
Google Analytics 4 (GA4) audience builder will allow advertisers to build new audiences from Google Analytics right in their Google Ads account. This will include predictive audiences, which Google says uses AI to help you reach people who are more likely to purchase. The GA4 audience builder also seamlessly connects your audiences to your Google Ads account. This could open up more audience target options across Google Ad campaigns for advertisers.
This feature is coming soon but is only available using GA4 (reminder: you have until July 1 to switch over!).

11. Performance Max improved search term insights
Advertisers have requested more transparency around how Performance Max is driving results. The improved search term insights report is Google's solution. These insights will allow you to see how Performance Max is responding to changes so you can refine your campaigns further. This insights report will also include information about what's driving changes in performance and how specific creative assets are performing.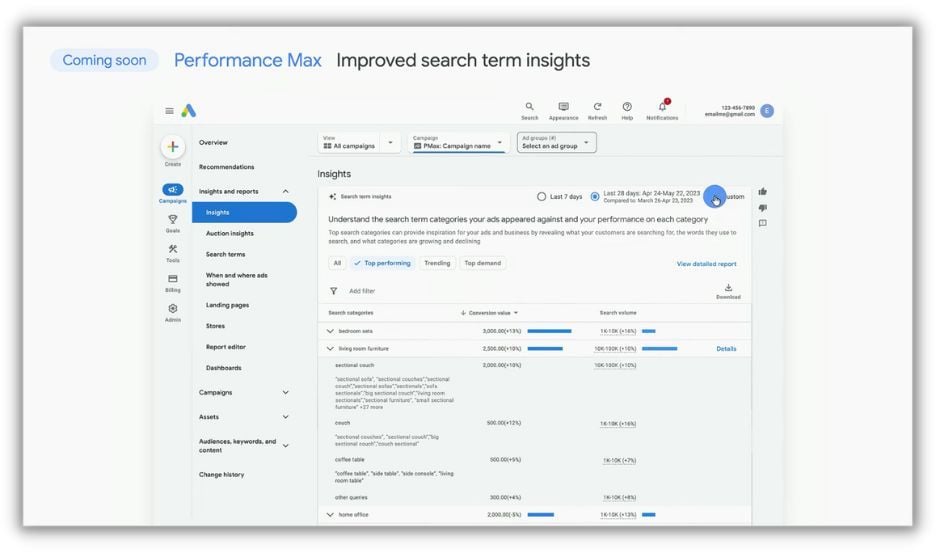 This feature is coming soon.
What these Google Marketing Live updates mean for your business
What do these Google Marketing Live updates all have in common? They all include Google's AI technology! So, if you haven't embraced AI in marketing yet, now is the time to do so. As Vidhya Srinivasan, VP and GM for Google Ads, said: "You're not competing with AI, you're competing with other marketers using AI."
Google suggests that a big part of succeeding with AI is enabling the proper foundational setup across Google platforms, using their AI-powered campaign tools and features, and being prepared to experiment. Google even shared an AI essentials checklist to help businesses handle these updates with ease:

To recap, here are the top updates from Google Marketing Live 2023:
Generative AI/SGE
Video view campaigns
Demand Gen campaigns
Broad match brand controls
Performance Max high-value new customer acquisition goal
Conversational experience in Google Ads
Automatically created Performace Max assets using generative AI
Product Studio
Google Merchant Center Next
GA4 audience builder
Performance Max improved search term insights
Read more about the potential impacts AI will have on PPC here.