As content writers, our right-sided brains hate math. Back in school, we dreaded when teachers asked us to show our work behind the answer to a problem.

Back in the day, we probably would have tried the same trick above. But while we still hate math, we now understand the reason behind always having to show our work: We needed to have the "why" backing how we got to a particular point.
The same goes for digital marketing. Do you know the true reasons why you're implementing one marketing strategy over another? Our job today is to "show your work" for you, with 165 key digital marketing statistics in five different categories.
With this post in your back pocket, you'll have the data points to back every marketing decision you make in 2023 and beyond with confidence.
Table of contents
Why are digital marketing statistics important?
We know we need to prove the point of our work with digital marketing statistics, but here are a few other reasons why making data-backed decisions in marketing is so important:
Statistics help you prioritize your efforts. If you're implementing a multi-channel marketing strategy, you'll want to know how certain platforms will perform compared to others. With statistics to back your choices, you're able to know what channels might require more resources over others.
Digital marketing statistics help you stay competitive. With these data points, you're able to know what others are doing—which can help you jump ahead of your competitors.
Stay on top of trends. Data reveals patterns and digital marketing trends that can help you to identify strategies and platforms where it might make sense to be an early adopter.
Data can make room for other strategies. When you're leveraging digital marketing statistics, you have full confidence in what's going to work. That way, you can spend less time sweating your strategy and focus on other tasks, like auditing your website! After all, your digital marketing efforts will be fruitless without a strong website.
2023 digital marketing industry statistics
Get a birds' eye view of the digital marketing industry with these FAQs and stats.
How big is the digital marketing industry?
The global digital advertising and marketing market was estimated at $350 billion in 2020 and is projected to reach $786.2 billion by 2026.
The U.S. digital advertising and marketing market is currently estimated at $460 billion.

What is the growth rate of digital marketing?
The compound annual growth rate of digital marketing from 2020-2026 is projected at 9%.
Digital display is projected to grow at a 15.5% CAGR, while search is projected to grow at 12.2%. Search accounts for 40.9% of the global digital advertising and marketing market.
63% of businesses have increased their digital marketing budgets just this past year.
Between 2020 and 2021, there was a 14% growth rate in digital marketing budget spending across businesses.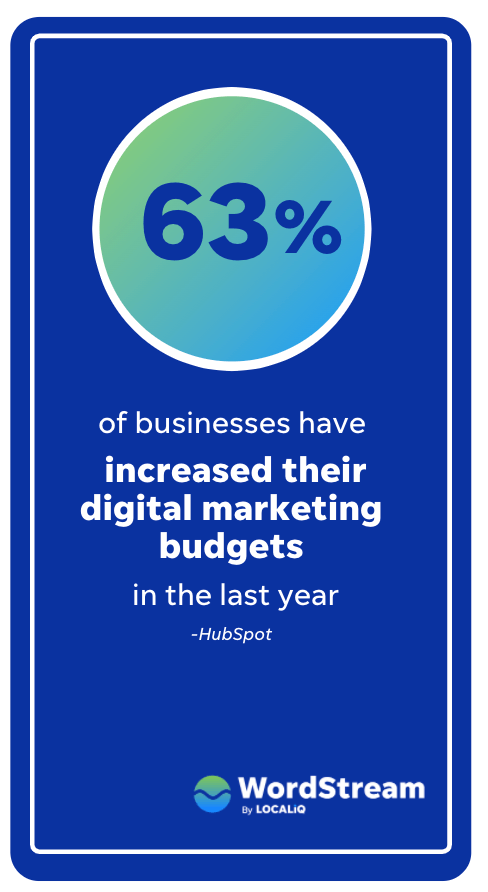 What is the success rate of digital marketing?
There is no one-size-fits-all answer to this question, but here are some stats to help point you in the right direction.
What percent of marketing is digital?
72% of overall marketing budgets get put towards digital marketing channels.
55% of marketing is digital. Total digital advertising spend in 2021 was $436 billion versus offline advertising at $196 billion.

Is digital marketing in demand in 2023?
According to the Bureau of Labor Statistics, marketing job demand is set to increase by 10% by 2026—above the average for all careers.
Customer marketing managers and search marketing managers are both in CNBC's list of the 10 fastest-growing jobs in the US 2022.
More digital marketing statistics
Google holds 92% of the total worldwide search engine market share.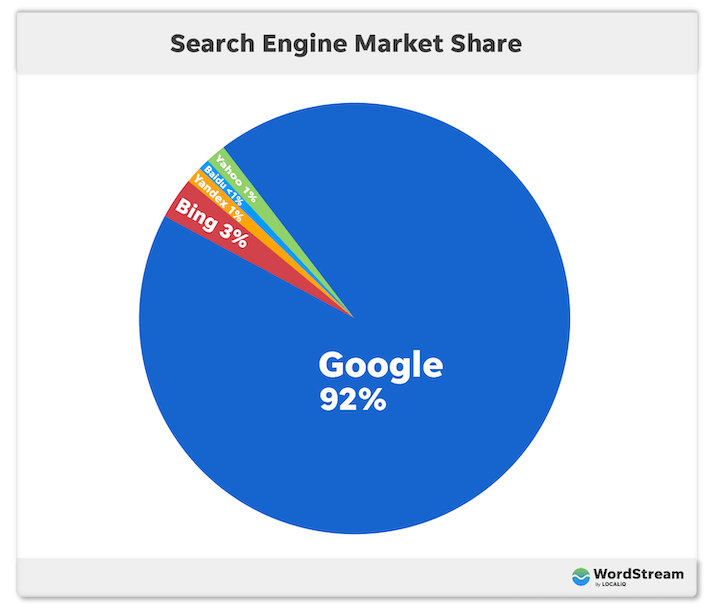 Online advertising statistics
Online advertising statistics help you understand what to spend where, so use these data points to frame up your strategy.
How effective is online advertising?
Digital ads can increase brand awareness by 80%.
Consumers are 155% more likely to look up your brand-specific terms after they've been exposed to display ads.
Customers are 70% more likely to make a purchase from a retargeting ad.
PPC returns $2 for every $1 spent—a 200% ROI.
When someone conducts a search after initially seeing a related display ad, the likelihood of them converting is 59%.
A user's search activity rises 155% after being served a display ad.
27% of consumers conduct a search for a business after seeing their display ad.
PPC generates double the number of website visitors that SEO brings in.
Paid ad channels with the highest reported ROI rate are Facebook ads and Google Ads.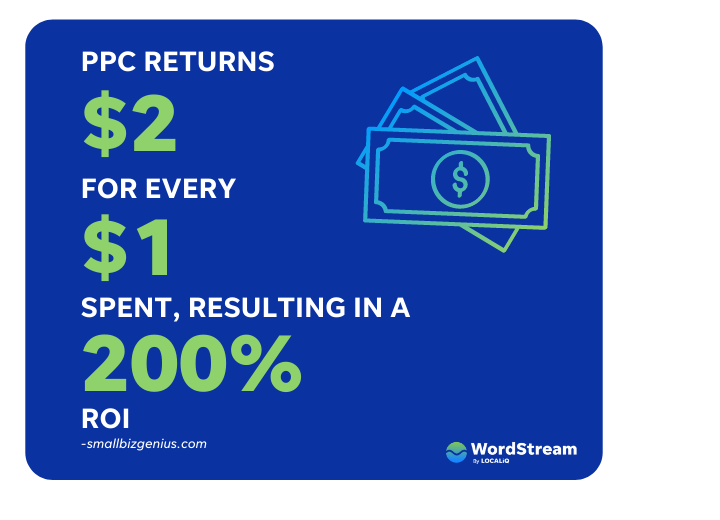 Are you getting the highest ROI with your PPC ads? Find out fast with the free Google Ads Performance Grader.
How big is the online advertising industry?
Total search ad spend in 2021 totaled to $144.8
Digital ad spend worldwide is estimated at $441 billion in 2022 ad projected to reach $485 billion in 2023.

What percentage of advertising is online?
Digital advertising accounted for 4% of total advertising expenditures in 2021.
50% of advertising was online in 2020—offline advertising spend totaled to $196 billion while digital advertising reached $378 billion.
The annual growth rate for digital media is higher than that of offline media.
What percentage of online advertising is on social media?

How popular is digital advertising?
65% of small to mid-sized businesses have a PPC campaign.
45% of small businesses have a paid search strategy in place. On top of that, 55% use display ads.
96% of Google's revenue comes from Google Ads.
More online advertising statistics
Before you spend a penny on online advertising, be sure to check out these PPC stats.
2023 SEO statistics
These SEO trends and statistics will paint the industry picture along with where your business fits into it.
How much is the SEO industry worth?
Just how big is the SEO market?
The SEO industry is worth $80 billion.
In 2019, the SEO industry was worth $43 billion and it's projected to reach $86 billion in 2023.
How much traffic does SEO generate?
53% of all website traffic comes from organic searches.
Businesses that blog get 55% more traffic to their websites.
Is SEO still relevant in 2023?
61% of marketers say that generating traffic and leads is their number one challenge…so yes.

How does SEO increase ROI?
SEO leads have nearly a 15% close rate.
49% of businesses say that organic search brings them the best marketing ROI.
How much do big companies spend on SEO?
Big companies can spend anywhere from $10,000 – $20,000 on SEO per month, depending on where they are in their strategy.
Small to medium-sized companies can spend anywhere from $5,000-$10,000 per month on SEO.
Small and local businesses spend $1,000-$5,000 per month on SEO.
What percentage of people go to page 2 on Google?
Only 25% of people go to page two on Google. In other words, 75% of people never scroll past the first page of the SERP.
What is a good organic search percentage?
The top-ranking site in Google organic search results has an average CTR of 31%.
A good average organic CTR is between 3-5%.
More SEO statistics
Here are some more SEO trends and stats to pay attention to this year.
The average voice search result is only 29 words in length. Stay voice search competitive by keeping your brand's organic results concise with power words that help get your point across quickly.
46% of all Google searches are for a local product or service.
About 92% of keywords get ten monthly searches or fewer.

Identify high-volume keywords using our free keyword research tool.
2023 social media marketing statistics
Social media marketing statistics prove just how fast the space is growing, and these are data points you won't want to miss out on this year.
How big is the social media market?
The social media market size is estimated to be worth $72.2 billion.
What percentage of marketing is done on social media?
On average, businesses allocate 14.9% of their marketing budget towards social media.
How many businesses use social media for marketing?
Over 91% of businesses use social media for marketing.

How competitive is the social media industry?
What is the fastest-growing social media platform in 2023?
TikTok is the fastest growing social media platform, with 40% of businesses planning to incorporate TikTok into their 2023 social media strategy.
TikTok reached 1 billion active users in just five years (it took Facebook eight!), with 100 million of those users being US-based.
What's the most popular social media channel in 2023?
The most popular social media platform in 2023 is Facebook, however this can vary based on what types of demographics your business is specifically looking for. Check out our handy image below to see what platform is most popular for your audience and industry: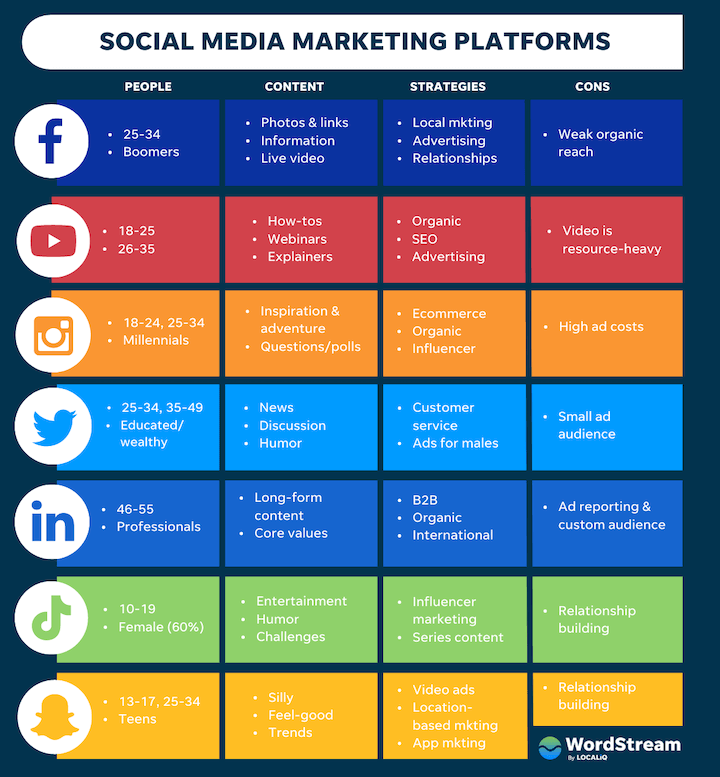 More social media marketing statistics

2023 email marketing statistics
Check out these statistics that show just how effective email marketing can be.
How much is the email marketing industry worth?
The email marketing industry is currently worth $9.62 billion, but it's set to grow to $17.9 billion by 2027.
How big is the email marketing industry?
The number of global email users is projected to grow to 48 billion users by 2024.
What is the success rate of email marketing?
The average open rate across all industries is 80% and the average click-through rate is 2.78%.
Small businesses claim that email marketing is the marketing channel that brings them the highest return on investment.
What is the average ROI for email marketing?

What percentage of emails are marketing?
While available data does not provide a clear percentage, it's known that marketing emails are prevalent in inboxes. In fact, there are 2 billion emails being sent per day, with people receiving about 120 marketing emails per day.
Does email marketing still work in 2023?
87% of businesses use email marketing to distribute their content. This makes it the second most popular marketing channel, behind social media at 89%.
Is email marketing growing?
More email marketing statistics

2023 website statistics
Use these wild website statistics to help increase your website visibility and performance.
Why is website optimization important?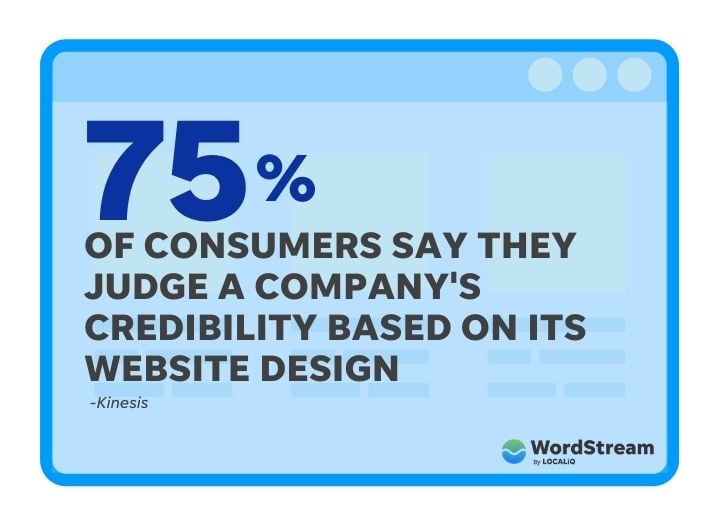 What is a good website page load speed?
Nearly half of all consumers expect a maximum loading time of 2 seconds for the average website.
What percent of businesses have a website?
72% of small businesses have a website.
More website statistics
Want to improve your website performance? Try our free, instant Website Grader!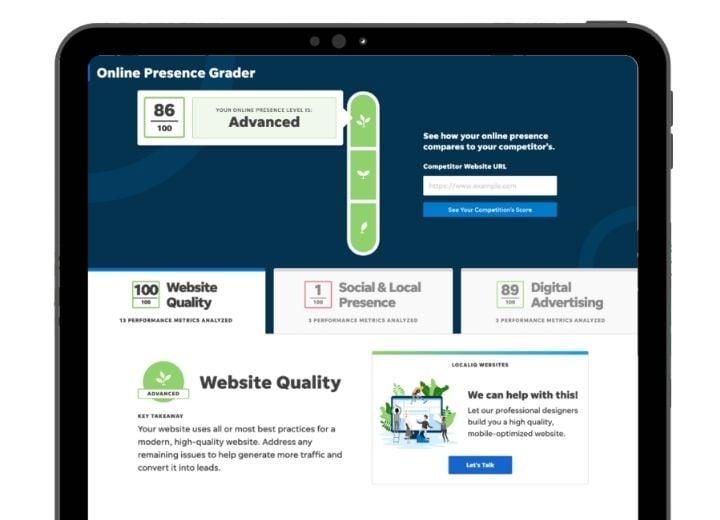 Get a report like this one on your website with our free Website Grader.
Even more digital marketing statistics for 2023
Hungry for more digital marketing statistics? I've got your back with these additional digital marketing trends:

Use these digital marketing statistics to guide your 2023 strategy
Next time you need to show the "why" behind your marketing strategies, whip out these handy digital marketing statistics. When you feel like there may be no rhyme or reason to your tactics (I've been there) the numbers are there to help.
Please read our Comment Policy before commenting.