As a co-author of the book "Becoming Artificial: A Philosophical Exploration Into Artificial Intelligence and What It Means to Be Human," I have been pondering the topic of artificial intelligence for a significant amount of time, even before ChatGPT became a household term.
Our book delves into the evolution of AI, from being considered pure fantasy to becoming a serious topic of debate for policymakers and an increasingly displaced workforce. The past two decades have witnessed game-changing innovations that have elevated the discussion of AI beyond mere speculation.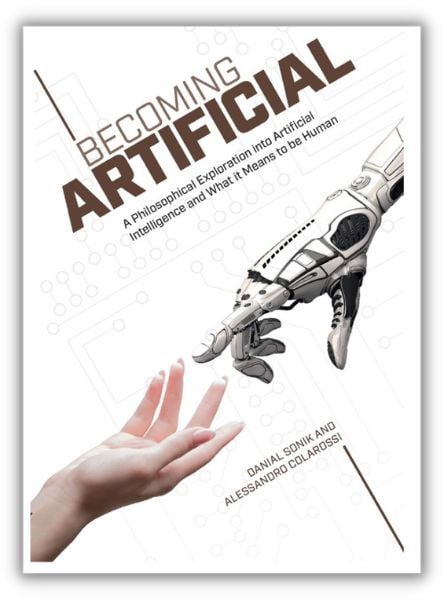 The integration of AI has been a transformative force in the dynamic realm of digital marketing. However, despite the impressive potential of AI, human intuition, creativity, and empathy remain essential in marketing. Modern digital marketers face the challenge of not just harnessing the capabilities of AI, but also doing so in a way that preserves the critical human touch in their strategies.
This article will:
Examine the role and impact of generative AI in digital marketing.
Explore real-world applications of generative AI in marketing.
Highlight the continued importance of the human touch for success.
Provide best practices for effectively integrating AI and human expertise within a digital marketing framework.
Let's get started.
The role of generative AI in digital marketing
Generative AI refers to AI technologies that can generate new, original content, whether that be text, images, or even music. In digital marketing, generative AI is typically used for automating content creation, data analysis, personalized marketing, and enhancing customer interactions.
The benefits of generative AI in digital marketing are multifold. They range from improved efficiency and cost savings to increased personalization and scalability.
Let's delve deeper into these key use cases, as highlighted in a recent Forbes article:
1. Content generation
Generative AI can write blog posts, social media updates, product descriptions, and more. This automation leads to significant time savings, and because AI can work around the clock, content can be produced at scale.
We talk more about how to (and how not to) use AI for content marketing over on LocaliQ.
2. Personalization
With the ability to analyze vast amounts of data, generative AI can tailor content to individual users based on their behaviors, preferences, and previous interactions. This personalized approach enhances user engagement and can lead to improved conversion rates.
3. Data analysis
AI's capabilities extend to interpreting complex data sets, drawing meaningful insights, and predicting consumer behavior. These insights can guide the creation of more effective marketing strategies.
4. Design generation
Generative AI isn't limited to text. It can also create visual content, such as banner ads, social media graphics, and even website layouts, thereby speeding up the design process and enabling more extensive A/B testing.
Product Studio, announced at Google Marketing Live 2023, uses AI to generate product images.
5. Customer interactions
AI can handle customer inquiries via chatbots, social media, and even over the phone. It can provide instant, personalized responses, improving the customer experience and freeing up human staff for more complex tasks.
In each of these roles, generative AI not only automates repetitive tasks but also offers a degree of personalization and insight that was previously unattainable. These capabilities allow marketers to focus on higher-level strategy and creative work, making the most of both human and AI strengths.
Example of generative AI in digital marketing
Generative AI has already shown its prowess in several areas of digital marketing. For instance, AI can automate the creation of personalized email campaigns, draft engaging social media posts, or even write full blog articles. Additionally, it can analyze vast amounts of data to predict consumer behavior, helping marketers craft more effective marketing strategies.
One significant real-world application of generative AI in digital marketing is the partnership between Google and Wendy's to use Bard, Google's AI chat, to improve drive-thru operations. This system has been trained on thousands of hours of data, including order history and customer interactions, to generate responses that are both accurate and personable.
Bard's main function is to take customer orders at the drive-thru, allowing human employees to focus on food preparation and other critical tasks. Not only has this resulted in increased efficiency, but it also improved customer experience, thanks to Bard's ability to offer personalized menu suggestions based on previous orders or popular items.
What makes Bard stand out is not just its technical capabilities, but also the human-like touch it brings to customer interactions. The AI has been designed and trained to understand and respond to a wide range of accents, dialects, and speech patterns, demonstrating a level of empathy and understanding often absent from AI interactions.
This example showcases the potential of generative AI in digital marketing–not just in automating tasks and personalizing experiences, but also in enhancing customer interactions with a human-like touch. Despite being an AI, Bard successfully creates a more personalized and engaging customer experience, embodying the perfect blend of AI capabilities and human empathy.
Related: Learn more about how Google is using generative AI in search results here.
The importance of the human touch in AI-driven digital marketing
While generative AI provides a multitude of benefits, it's important to remember that it is not a silver bullet. The human touch remains essential for digital marketing success. AI may generate content, but humans are needed to guide its direction, provide creative insight, and ensure the final output resonates with the target audience. After all, human emotions, creativity, and intuition cannot be entirely replicated by AI.
According to an article from the Marketing Insider Group, there are several key reasons why the human touch is critical in marketing:
1. Builds trust
Genuine human interactions create a sense of trust and reliability. While AI can provide facts and figures, it's the human touch that can convey authenticity and passion, which are essential for building brand trust.
2. Creates an emotional connection
Humans are emotional beings, and it is this ability to feel and evoke emotions that adds an indispensable element to marketing. AI, as advanced as it might be, still lacks the ability to genuinely feel emotions and respond accordingly.
3. Helps to understand context
While AI is getting better at understanding context, it still struggles in complex situations or when dealing with subtle nuances. Human marketers can understand context better, enabling them to create content and messaging that truly resonates.
4. Ethical considerations
There are numerous ethical considerations in marketing, from data privacy to truthful advertising. Human oversight is necessary to ensure that AI-driven marketing adheres to ethical standards and regulations.
The key takeaway
While AI has a crucial role to play in digital marketing, it should be viewed as a tool to augment human creativity, intuition, and experience, not as a replacement for these uniquely human attributes. By combining the scalability and efficiency of AI with the creativity and empathy of human marketers, businesses can create powerful marketing strategies that resonate on a deeply human level.
Best practices for using generative AI in digital marketing (with a human touch)
To fully harness the power of generative AI while maintaining a human touch, marketers should adopt several key practices. These include training the AI on high-quality data, reviewing and refining AI-generated content, and regularly updating the AI model based on changing consumer behaviors and market trends. The ultimate goal should be a symbiotic relationship where AI and human expertise complement each other.
The Interactive Advertising Bureau (IAB) has recently published a report that provides insights into the best practices for effectively integrating AI and human expertise in digital marketing. In the report, they elaborate on the following key points:
1. Use high-quality data
Quality data is the backbone of effective AI. This means ensuring that the data used to train the AI is not only extensive but also accurate, relevant, and free from bias. It is the marketer's responsibility to procure, manage, and maintain this data.
Zero and first-party data are your best bets for accurate customer data.
2. Continually review and refine
AI is not a set-it-and-forget-it tool. Marketers should be continuously reviewing and refining AI outputs. This includes checking the content for accuracy, relevance, and appropriateness, and making adjustments as needed.
3. Update AI models regularly
The digital marketing landscape is dynamic, with consumer behavior and market trends changing regularly. Therefore, AI models should be updated frequently to reflect these changes and to ensure the AI remains effective.
4. Consider the ethical implications
Marketers should always consider the ethical implications of AI use, such as data privacy and transparency. This involves being clear with consumers about how their data is being used and ensuring that all AI-driven marketing practices comply with relevant laws and regulations.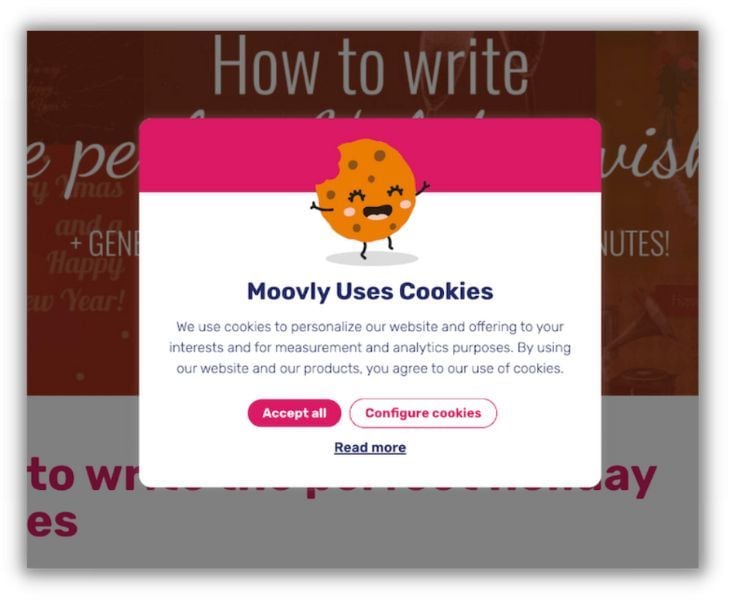 Cookie banners can communicate how data is being used.
5. Collaborate
The ultimate goal should be to foster a collaborative relationship between AI and human marketers. This means recognizing the strengths and limitations of both and leveraging them in a way that maximizes the benefits. AI can handle data analysis and (some) content generation, while humans can provide creative insight, emotional intelligence, and ethical oversight.
By following these best practices, marketers can effectively integrate AI into their digital marketing strategies while still maintaining a crucial human touch. It's not about choosing AI over humans or vice versa, but about finding the right balance to deliver the best results.
Generative AI + human expertise = potential for marketing greatness
The future of digital marketing is set to be significantly influenced by generative AI. With its unparalleled capacity to analyze vast amounts of data, craft engaging content, offer personalized user experiences, and streamline repetitive tasks, AI's potential for scale and efficiency is undeniable.
Yet, as our reliance on AI grows, it does not render the human touch redundant. On the contrary, the human element becomes even more crucial. As we've seen, building trust, fostering emotional connections, understanding complex contexts, and ensuring ethical considerations–these are all deeply human aspects that AI, in its current state, cannot fully replicate.
AI might be the tool that generates content, but it's the human marketer who guides its direction, provides the creative insight, and ensures the final output truly resonates with the target audience. This delicate balance between AI's capabilities and human creativity and empathy is the key to unlocking new levels of success in digital marketing.
Here are the best practices for using generative AI in digital marketing responsibly:
Use high-quality data
Continually review and refine
Update AI models regularly
Consider the ethical implications
Collaborate
As we look to the future, the challenge for digital marketers will be not just to use AI as a tool, but to foster a symbiotic relationship where AI and human expertise complement each other. In this way, marketers can leverage the power of AI while ensuring their strategies and communications remain authentic, ethical, and deeply human. The promise of this future is one of unprecedented opportunities, unlocked by the harmonious blend of AI capabilities and the irreplaceable human touch.
Want more AI resources? We've got you covered: