If you've been hiding under a rock for the past six months, allow me to be the first to tell you: ChatGPT has changed the world as we know it. ChatGPT is an AI language model developed by OpenAI that is designed to simulate human-like conversation and can generate responses to a wide range of topics and questions.
As you might imagine, a system with that kind of intelligence has already shown value in a wide array of industries. Fields like law, psychotherapy, programming, and more have already been impacted, and we are sure to see even greater impacts in the coming months and years.
But what about marketing? Well, the written word is a crucial component to so many facets of marketing, from blogging, to copywriting, to SEO, online advertising, and much more. And not only can ChatGPT generate intelligent text in a heartbeat, but it can also generate intelligent ideas. And ideas are the lifeblood of marketing.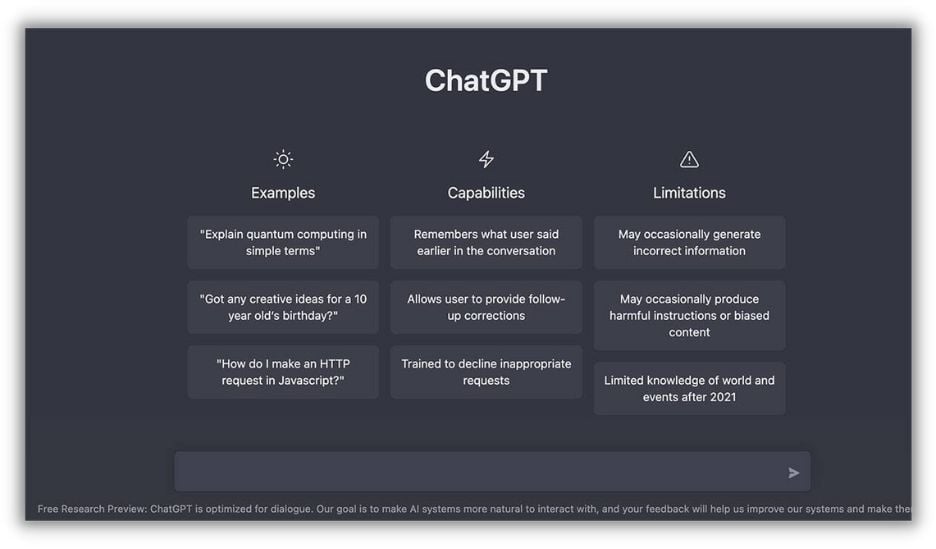 But here's the thing: you can't generate ideas or text that will help you market your business without a prompt. That's exactly what we're here to talk about. Today, I'm going to roll through 16 awesome ChatGPT prompts that you can use in a variety of marketing disciplines.
What is a ChatGPT prompt
A ChatGPT prompt is any text that you give ChatGPT in order to elicit the response that you want.
In order to get the most out of ChatGPT, you need to treat it as if it were a human assistant. Or better yet, your business partner. It's not going to give you brilliant outputs without the appropriate inputs. That means giving it the kinds of prompts that it can really roll with.
How to write an effective ChatGPT prompt
Before we get into some specific ChatGPT prompts you can use in your marketing, here are some basic tips to help you craft the most effective question or prompt:
Be specific. ChatGPT is able to decipher pretty nuanced language, which means you can get very specific about what you're looking for in your prompt.
Provide all the relevant information. Make sure to provide ChatGPT with all the information needed to get the most relevant and useful response. For example, you can add links to your website or content, provide a specific tone you're hoping to achieve, and more. The more information you provide ChatGPT, the better result you're likely to get.
Follow up. ChatGPT is different from some other AI models in that it can answer follow-up questions and continue a conversation. If you don't get what you're looking for in your first response from ChatGPT, follow up with specific questions or more specific prompts to drill down and get a better answer.
As I said, you can treat ChatGPT as if it were an assistant, which means carrying on a conversation and essentially coaching it through what you're looking for.
ChatGPT prompts for social media
Use these prompts to get social media ideas, posts, and tips from ChatGPT.
1. Co-branding on Facebook or Instagram
Want to run a co-branded campaign on Instagram to promote your new product? Try turning ChatGPT into your personal marketing manager with this prompt:
"As a marketing manager at [company], you've been tasked with running a co-branded campaign on Instagram for [product]. Your partner is [influencer name], who has a large following in your target demographic. How would you plan and execute this campaign to maximize reach, engagement, and sales? What are some potential challenges you might face and how would you address them? What metrics would you use to measure the success of the campaign?"
When I ran this prompt, ChatGPT returned a ton of useful content ideas, potential success metrics, budget ideas, and tips for finding the right influencer.
2. Increasing reach on social media
It's a question every social media marketer or business owner has asked themselves at one time or another. How do I increase reach? Try this ChatGPT prompt:
How can I, as a business owner or social media marketer, leverage social media to increase brand awareness and reach?
Here's what ChatGPT sent back: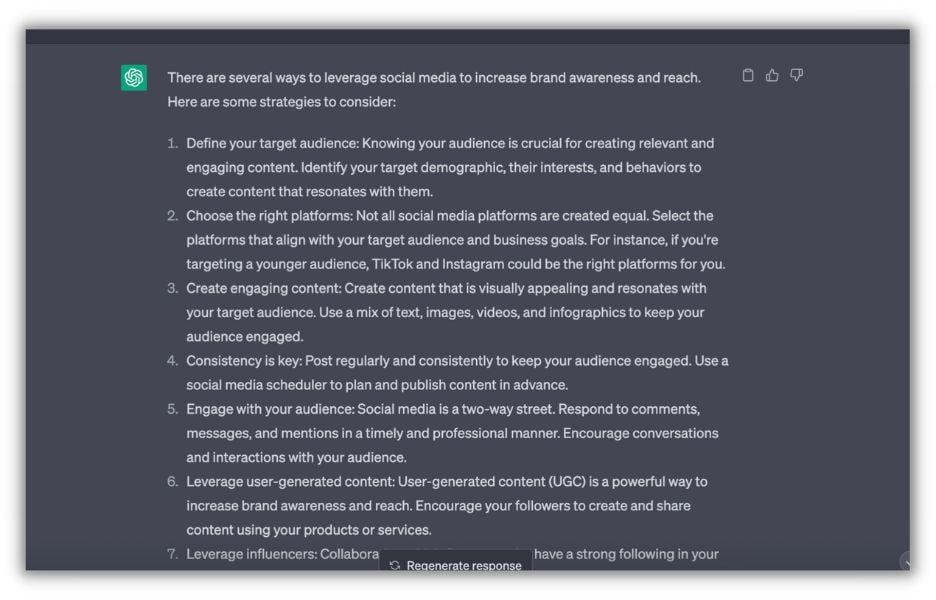 Drill down into any of these points with specific context around your brand and products, and ChatGPT is sure to give you a plethora of actionable steps you can take right now to increase reach and brand awareness.
3. Developing a posting cadence or content calendar
Asking ChatGPT to give you a catered posting schedule depending on your brand and platform is a really interesting use case. Try a prompt like this:
I run the TikTok account for [business name]. When are the best times of day for me to post to maximize engagement? How many times should I post per week?
When I ran this prompt, ChatGPT returned some useful results on posting best practices, and how to mine TikTok analytics for data I could use to determine the best organic content cadence.
4. Responding to negative comments and publicity
Nobody likes to see negative sentiment about their brand or products on Twitter or other social media sites. And it's hard to develop a measured and thoughtful response when you really believe in the positive impact of your brand or disagree with the person leaving the hate.
If this is you, try this prompt:
As a social media marketing manager, how do I respond to people that are writing negative things about my products on Twitter?
Here's what ChatGPT sent back:

Talk about measured! That's some positivity and productivity we can all rally around. Get more tips for responding to negative reviews or comments here.
5. Running giveaways
Giveaways are phenomenal lead generating strategy for a lot of businesses. If you want to run one, try asking ChatGPT for ideas about running a giveaway on a specific platform.
I want to run a giveaway on Facebook to generate leads for my ecommerce business. What steps can I take to make that happen?
When I gave ChatGPT this prompt, it gave me a bevy of useful information about creating landing pages, rules, determining goals, and more. As mentioned above, if I were to press ChatGPT for deeper input on any one of these specific strategies, it would answer accordingly.
ChatGPT prompts for email marketing
Email marketing is a powerful tool that can help businesses of all kinds connect with prospects, stay engaged, nurture through the funnel, and drive sales. But think of all the flim-flam people get in their inboxes every day. It's far from easy to stand out, but ChatGPT can help.
Here are some quick and easy prompts to take your email marketing to the next level.
6. Subject line personalization
The subject line is the first thing subscribers see when they receive your email. If it's not engaging and personalized, your open rates are going to stink. Try using giving ChatGPT this prompt:
Create an eye-catching subject line for my [product] that specifically mentions the subscriber's name and interests.
Here's what we got back:

I'm going to level with you: I don't know a thing about makeup setting spray. But I do know that subject line is going to slay.
7. Highlight your unique selling proposition
Your unique selling proposition (USP) is what sets you apart from your competitors. It's the reason why your customers choose to do business with you instead of someone else.
Try using ChatGPT to give you a compelling USP that you can incorporate in an eye-catching email subject line.
In less than 75 characters, generate an email headline that highlights the unique selling proposition of my brand, Starbucks.
Here's what I got back:


That's a succinct, clearly communicated, eminently clickable email subject line that, if you're a coffee purveyor, you can use to drive more sales right now (you're welcome, Starbucks!).
8. Ask for feedback and/or reviews
Asking for feedback from existing customers can not only help you understand how to better serve your customers, but it can also improve the efficacy of your campaigns. And if you take it a step further and ask for reviews? You can give yourself valuable credibility on platforms like G2 and Google Business Profile–places where prospects search for social proof before committing to a purchase.
Try this ChatGPT prompt when asking for feedback:
"Craft a compelling email asking our existing customers for feedback on the product they purchased." 
Here's what ChatGPT gave me as a response when I entered that prompt:

Amazing. Want to take this prompt a step further? Formalize your feedback into NPS. And when you subsequently send out an email campaign asking for product reviews, you can use your highest NPS customers to get the best reviews possible.
9. Offer exclusive promotions
Offering exclusive promotions to prospects and customers is a great way to incentivize them to make a purchase. Try this prompt to help generate promotional email copy:
"Give me an idea for an email promotion in which we offer our customers X% off our product."
Here's what ChatGPT gave us for a response: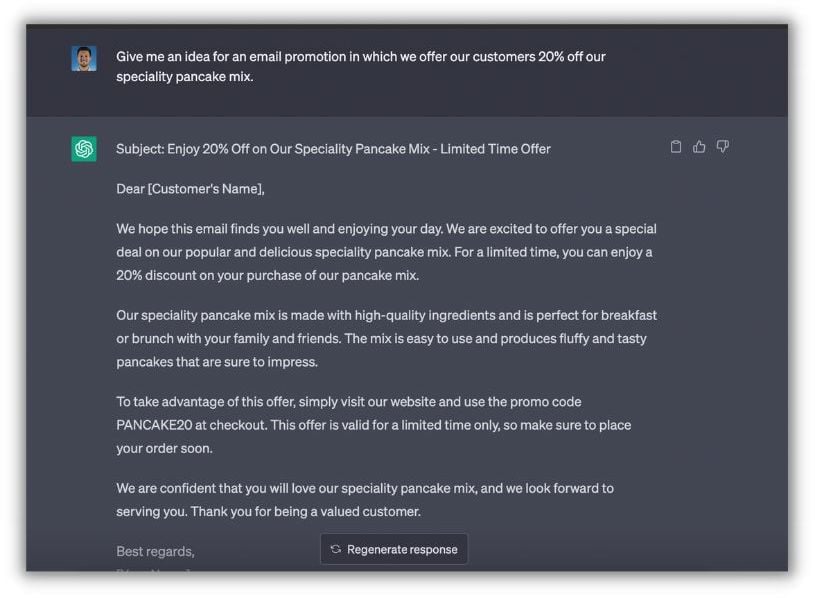 Our specialty pancake mix is made with high-quality ingredients and is perfect for breakfast or brunch with your family and friends. The mix is easy to use and produces fluffy and tasty pancakes that are sure to impress. 
That's some pretty damn good email copy right there! The discount code may need some work, but there's more than enough here to get the wheels spinning.
ChatGPT prompts for SEO
From link building to meta descriptions to content optimization, there are a number of ways you can use ChatGPT for SEO. Let's take a look.
10. Keyword research ideas
ChatGPT isn't a substitute for a keyword tool, but it can help you identify keywords or phrases to do some deeper keyword research on. Try this prompt to get started:
Give me a list of informational, long-tail keywords that I can use to ideate blog posts for [product or company].
Result:

ChatGPT is handy for keyword ideation, but it's not going to give you keyword volume or difficulty. Luckily, you can take this list and plug it into any keyword research tool to get that valuable data.
11. Generating meta tags
If you're stuck trying to write the perfect meta description, let ChatGPT help. You can use the response you receive as a starting point. Here's a prompt to try:
Write me a meta description, under 160 characters, for the blog post [title].
Result:

All those endless hours filling out meta descriptions in spreadsheets are over.
Well, you still have to fill them out. But now, ChatGPT can help write them. And it can make sure it has the correct character count and contains any keywords you're targeting.
12. Blog post structuring
In terms of content, this is probably the best use case for ChatGPT. It's a great way to automate SEO because it delivers really excellent post structures with minimal prompting. And if you want more control over your structure, you can of course give it those inputs. Start with this prompt:
I'm writing a blog post for my roofing company called [title]. How should I structure the post?
Result:

This is helpful because, while we don't recommend having ChatGPT write your content for you, it can be an asset when it comes to outlining your posts and giving you a foundation to build on with your own unique content. (Find out our other best practices for using ChatGPT here.)
ChatGPT prompts for copywriting
In terms of ubiquity, as we mentioned at the start of this post, copywriting might be the most useful skill in marketing. Luckily, ChatGPT is really helpful here. Let's check out some prompts you can use for copywriting.
13. Ad headline inspiration
Using this ChatGPT prompt is a great way to get inspiration from competitor ads, or to simply generate ideas from successful headlines in your niche.
Prompt: Give me a few examples of successful advertising headlines in [niche or industry].
Result:

You can take inspiration from what you gather from ChatGPT here to craft effective headlines for your ad copy.
14. Adding urgency
Urgency is a major tool in the copywriter's toolkit, and ChatGPT can inject pretty much any line of ad copy with the needed urgency to incite action.
Prompt: Add a sense of urgency to this line of ad copy: [line].
Result:


This simple addition to your copywriting can pack a punch and make your ads, subject lines, and posts more effective.
15. Filtering for tone
Tone is one of these aspects of copywriting that's difficult to master. Oftentimes, you'll have the core of what you're trying to convey, but you'll say to yourself: How can I make this friendlier? Smarter? More approachable? More professional? 
Prompt: Help me make this product description more [desired tone]: [product description.]
Result: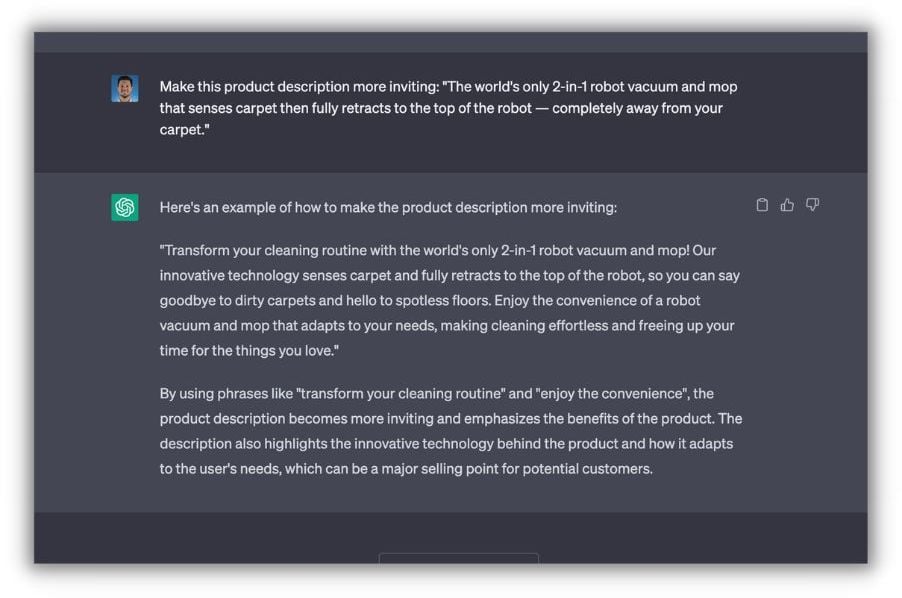 With ChatGPT's help, you can instill any tone you want into your ad copy.
16. Calls-to-action
Calls-to-action are a huge component of conversion rate optimization. With this prompt, you can generate and test a variety of CTAs for any use case.
Prompt: I'm trying to drive [desired result] on my landing page. What are five compelling call-to-actions I can use?
Result: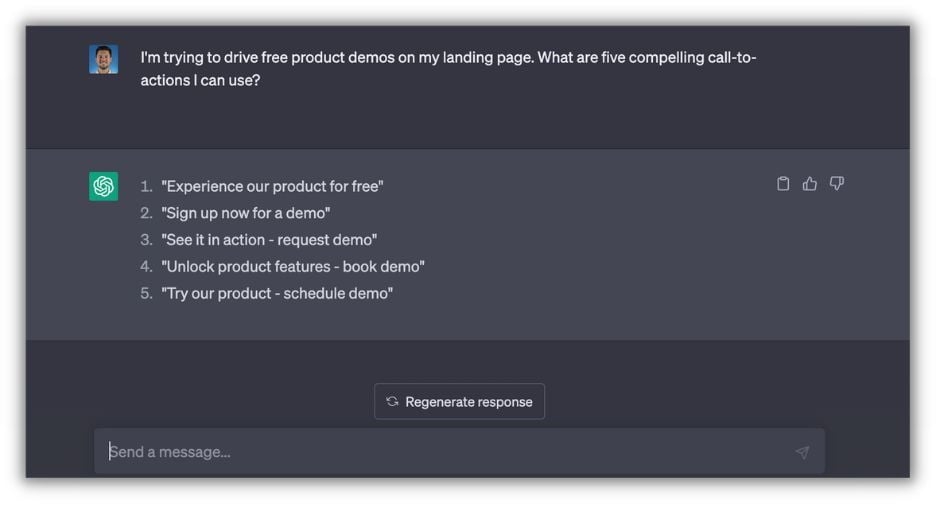 This ChatGPT prompt can give you some helpful ideas or CTAs to A/B test in your ad copy.
The deepest ChatGPT prompts are the most effective
There you have it! We've run through a variety of strong use cases for ChatGPT in marketing, and honestly, we're really just scratching the surface here.
To reiterate what I said at the beginning of this piece: these prompts are all great, but they're merely starting points. ChatGPT, and AI in general, are still no substitute for the real thing. It's important to take the ideas and information you gather from ChatGPT and build on them according to your brand voice, guidelines, and specific industry.
The good news is that ChatGPT can be a helpful tool to help with your marketing if you know how to use it! Get more tips for using AI in your content marketing or learn how to add chat to your website here.