You nailed your Halloween costume. You're on track to hit your Q4 goals. You've even gotten some holiday shopping done. Then it comes time to create all your Thanksgiving-themed collateral and it's coming out nothing like you had envisioned…
You do some Googling and find AI-generated mumble jumble like "Wishing you a Thanksgiving with the highest peaks of your achievement…"
And then you find this post: A list of real-life, human-generated Thanksgiving greetings, phrases, and words you can use to craft the perfect message—for email, social media, text, landing pages, ads, and more.
And you find yourself feeling…wait for it… 🙌 grateful 🙌.
Table of contents
Happy Thanksgiving messages to clients
Customer appreciation translates to customer retention. And there's no better time to send a customer appreciation email than on Thanksgiving. Here are some Happy Thanksgiving messages to clients you can use in your emails, texts, and social posts. You might also find these November email subject lines to be handy.
It's that time of year again, when we are called to count our blessings, and you are certainly one of them! Our customers are the reason we thrive. Thank you so much for choosing us time and time again. We wish you and yours a very happy Thanksgiving!
In this time of giving thanks, we give ours to you, our customers. Without your loyalty, your feedback, and your support, we wouldn't be where we are today. Wishing you all the best, and a very happy Thanksgiving.
To our customers,
In the spirit of the season, we want to give thanks to all of our wonderful clients who make our growth not just possible, but worthwhile. May this Thanksgiving be as joyful as you deserve, and the start of a happy holiday season and an even happier new year!
As Gertrude Stein once said, "Silent gratitude isn't very much use to anyone." Well, we don't want to be useless. Oh, and it's also Thanksgiving. So we're shouting it from a [virtual] mountaintop: THANK YOU! For being a [business name] customer. No fun and awesome customers like you, no happy [business] team members like us.
The economy may be in a struggle right now, but we do know one thing: "Gratitude is a currency that we can mint for ourselves and spend without fear of bankruptcy." -Fred De Witt Van Amburgh. So on that note, and on this Thanksgiving, we are shelling out gratitude for customers like you like there's no tomorrow. Enjoy your day and mint some of your own gratitude to pass along!
Happy Thanksgiving to all our customers. You are an integral part of the [business name] family and we cherish your support! Enjoy the day and may it be a warm start to a joyful holiday season.
In the name of giving thanks, we want to thank you not just for your business this year, but for making our daily jobs enjoyable. We love working with loyal, friendly customers like you!
The road to success is paved with….awesome customers like you! We've grown so much this past year and that's because of YOU. So in the spirit of the season, we want to send a huge THANK YOU and wish you the happy, healthy Thanksgiving you deserve.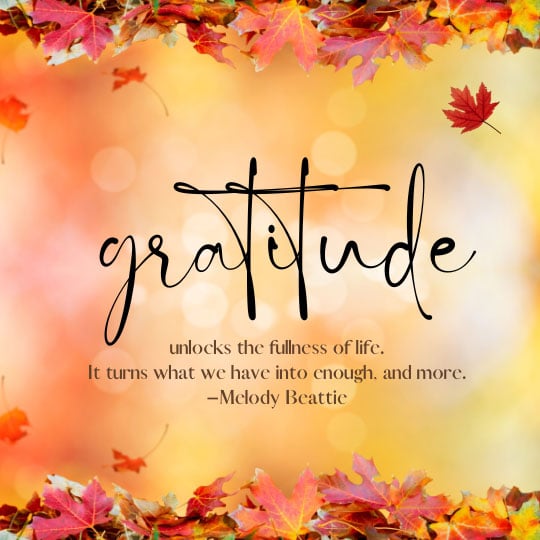 Thanksgiving messages to employees
Even if just wishing everyone a Happy Thanksgiving, writing a company-wide email is never as easy as it seems it will be. Here are some starter Thanksgiving messages to employees that you can use.
As the saying goes, "It's not joy that makes us grateful but gratitude that makes us joyful." I'm proud to lead a team that demonstrates this daily. Your respect and appreciation for one another brings a positivity to this workplace that shines—even when times get tough. So thank you for being such an awesome team. Happy Thanksgiving.
Thanksgiving is a time to be present with loved ones and not think about work—but before you do, we just wanted to say thank you for everything you do to make our business successful and our office a great place to work every day. Happy Thanksgiving to you and yours.
I want you all to know how thankful I am to have a team filled with such dedication, hustle, and talent. Our success would not possible without you. Enjoy this time with your family, friends, and the ones that you love. Happy Thanksgiving!
As Thanksgiving nears, I want to share a quote with you…
"When it comes to life, the critical thing is whether you take things for granted or take them with gratitude." -Gilbert K. Chesterton
…and a reminder that not one of you is taken for granted in this company. Your positive presence, your time, your ideas, your daily efforts are taken with much gratitude, and we wouldn't be where we are without you. So thank you! Wishing you peace, prosperity, and plenty of pumpkin pie! Enjoy your well-deserved day off!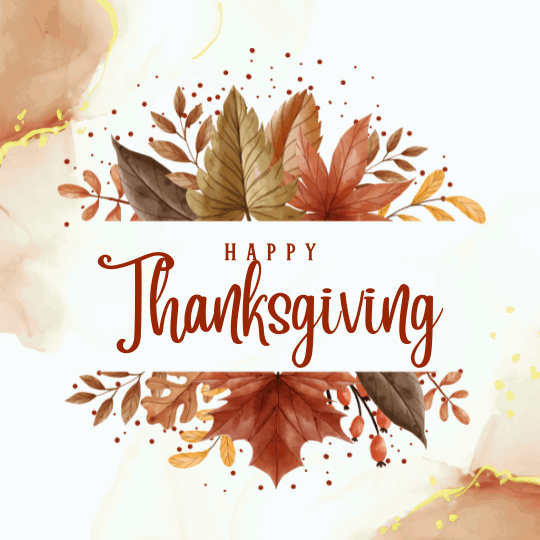 Short Thanksgiving greetings
Use these short and sweet greetings for your Thanksgiving social media posts, text messages, or even for a seasonal email signature.
Happy Thanksgiving to our customers, partners, and employees! What better time for us to tell you how grateful we are for all of you. Enjoy your holiday!
Today is a day to remember your roots, give thanks for your loot, and eat lots of food! Happy Thanksgiving!
Sending you cozy autumn vibes as you celebrate this Thanksgiving with the ones who matter most. Have a very happy Thanksgiving!
May this holiday bring new blessings and a renewed appreciation for the ones you already have. Happy Thanksgiving.
Happy Thanksgiving! May your hearts be as warm as the autumn glow and as full as the harvest of the season.
It's Thanksgiving! I hope that your Thanksgiving table is full of your favorite food and surrounded by your favorite people.
Happy Turkey Day! An attitude of gratitude brings a plenitude of fortitude.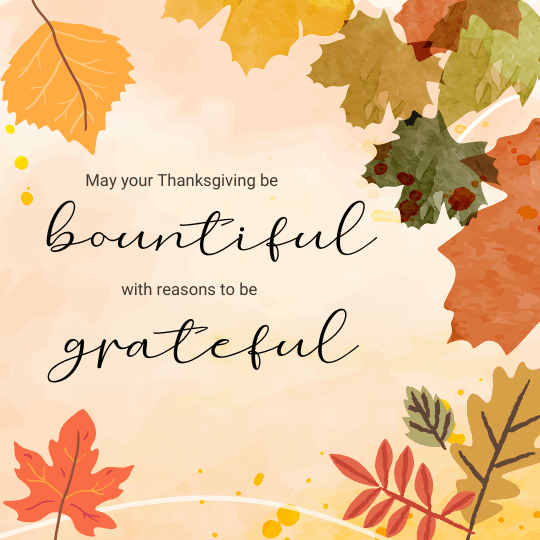 Inclusive Thanksgiving messages
While Thanksgiving is a time for us to gather with friends and family and count our blessings, it's important to remember that many Native Americans/Indigenous people will be observing the National Day of Mourning—a day to acknowledge the suffering and lives lost at the hands of the pilgrims and other European settlers, to honor Native resilience, and protest against racism and oppression.
In the name of diversity, equity and inclusion, here are some inclusive Thanksgiving messaging you can use:
While Thanksgiving is a time to celebrate gratitude and time with loved ones, we must also remember that many Native Americans observe the National Day of Mourning at this time—to commemorate the Indigenous suffering and lives lost at the hands of the Pilgrims and other eastern Europeans. So as you give thanks and celebrate your traditions, keep this in mind as well and stay sensitive and aware—especially as Native Americans continue to face discrimination today.
This Thanksgiving season, we invite you to give thanks. Gather with loved ones. And also to demonstrate sensitivity and respect to Native Americans—who on this day commemorate the suffering of their ancestors and resilience of their culture in the face of adversity, even today.
This time of year, there is no shortage of greetings for people to eat lots of food, be surrounded by family, and count their blessings. While we all can find something to be grateful for, there are some that have more blessings than others. To those who don't have a roof over their head or access to food; to those who don't have loved ones to celebrate with; and to those who are mourning the hardships of the Indigenous people: we see you and we support you today and always.
This Thanksgiving, we encourage you to not only gather with family and friends and express your gratitude, but also to keep in mind those who do not have family, friends, or food to celebrate; and to the Native Americans who observe the Day of Mourning for their people. Give thanks and take action by giving to a charity, donating to a shelter, or participating in a food drive.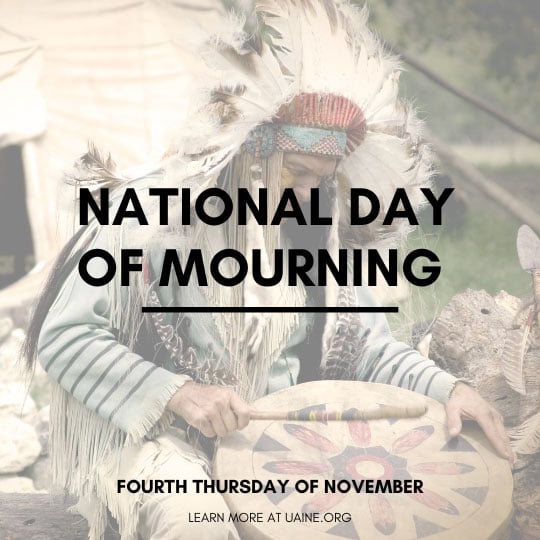 More Thanksgiving phrases
If you're more into a Thanksgiving greeting smorgasborg, here are some more Thanksgiving phrases you can use:
May your Thanksgiving be bountiful with reasons to be grateful.
Sending you a harvest of blessings.
In all things give thanks.
May this Thanksgiving bring you the same joy you bring to others every day.
Let our lives be full of both thanks and giving.
Gather here with grateful hearts.
May all of the good things of life be yours, on Thanksgiving and throughout the year.
May your Thanksgiving and year bring abundance and joy.
We hope Thanksgiving brings you reasons to be grateful, as so many are so grateful for you.
May your blessings be multiplied this year and throughout your life.
Wishing you a harvest of blessings, good health, and good times.
Here's to the company of good friends and family.
The happiest of Thanksgivings to the kindest of people.
May you and yours have even more blessings to be thankful for this coming year.
There is nothing we are more grateful for this Thanksgiving than [insert here].
A million thanks to you this Thanksgiving and always.
Your grace and kindness give us so many reasons to be grateful.
Thanksgiving is a reminder that we all become richer when we give.
May your hearts be as warm as your kitchens this Thanksgiving.
Use these Thanksgiving messages for business & beyond
Sure, your customers and colleagues are getting a barrage of Happy Thanksgiving messages throughout November, but that doesn't mean yours won't mean something to them. So be sure to include Thanksgiving greetings in your November marketing. And with the examples above, you can come up with something that pops and is meaningful. If you're looking for even more holiday messages and greetings, we've got you covered:
Please read our Comment Policy before commenting.