Facebook has a lot to offer advertisers, from impressive scale to data-driven audience segments and tactical ad formats. In fact, the average Facebook user clicks on 12 ads per month and 78% of U.S. consumers have made purchases through discoveries on Facebook.

But social media moves at a dizzying speed. New features are constantly released, fresh audience trends emerge (and then inevitably vanish) and new marketing strategies explode in popularity.
As a Facebook advertiser, which trends should you look out for in 2023 and how can you stay ahead of the curve?
While we don't have a crystal ball, we do have a wealth of paid social expertise and years of experience with running campaigns. And with that, we're going to share:
Four trends we think advertisers can expect from Facebook in 2023.
Seven tips to help you outshine your competitors and scale your success.
4 key Facebook trends to watch out for next year
Before we get into the tips for creating Facebook ads in 2023, here's a look at some key trends that we think will shape the overall Facebook marketing and advertising landscape.
1. Video advertising will remain insanely popular
The popularity of social media video advertising has increased dramatically over time, and video ads are now used by a wide range of different businesses.
This isn't surprising when you consider that Facebook video ads enable marketers to tell in-depth brand stories and showcase their products with eye-catching assets.
Plus, Facebook has invested heavily in its video offering. Facebook Reels are now available in 150 countries, and Facebook is second only to video-giant YouTube when it comes to live content consumption (Source: Hootsuite).
As more and more brands gain access to creative tools that can publish high-quality video ads, the video landscape will become increasingly competitive on Facebook.

Use our guide to Facebook video ads to learn how to set them out and how to make the most of this influential ad format.

2. Short-form video will reign supreme
Short-form content came onto the scene with Vine, exploded in popularity with TikTok, and is now taking over multiple social media platforms—Facebook included. In fact, short-form videos have now become the default content type for many social feeds, and this trend will only continue to grow in 2023.
Facebook actually beats TikTok when it comes to short-form video consumption among US audiences (Source: Hootsuite). This may seem surprising, but it speaks to the rapid uptake of short-form content across different social platforms.

3. The "TikTokification" of creative content
TikTok is a social media phenomenon. The platform has swiftly acquired a colossal audience (that's still growing) and is now leading the charge when it comes to producing new social trends and social media content ideas.
Influencer-style direct-to-camera videos are hugely popular on TikTok, and this type of content is now infiltrating every social media platform. If you want to avoid falling behind the competition, they'll need to embrace the TikTok takeover.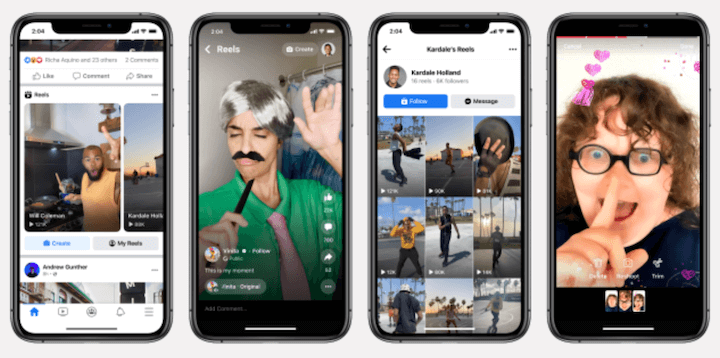 The same also applies to hashtag challenges, user trends, and viral audio tracks. Although many global trends start on TikTok, they're now spreading quickly to platforms like Facebook and Instagram, so Facebook marketers will need to keep in the loop to stay relevant. To get familiar with TikTok content and trends, visit our posts on How to Get More Likes on TikTok and How to Get on TikTok's FYP.

4. Shoppable ads will be adopted at scale
Facebook has been consistently refining its social shopping offering over time, and the lines between online shopping and social media are becoming increasingly blurred.
Facebook Shops came onto the scene in early 2020, which allowed businesses to showcase and sell their products directly through the Facebook and Instagram apps.
Since then, the platform has continued to develop new social selling solutions. Facebook recently launched Advantage+ Shopping ads that enable brands to test creative variations and drive conversions through fully automated campaigns.
For ecommerce and direct-to-consumer retail businesses, setting up an efficient and optimized Facebook shopping presence will be key in 2023. Get familiar with our guide to social shopping and our tips to sell (lots) more products on Facebook.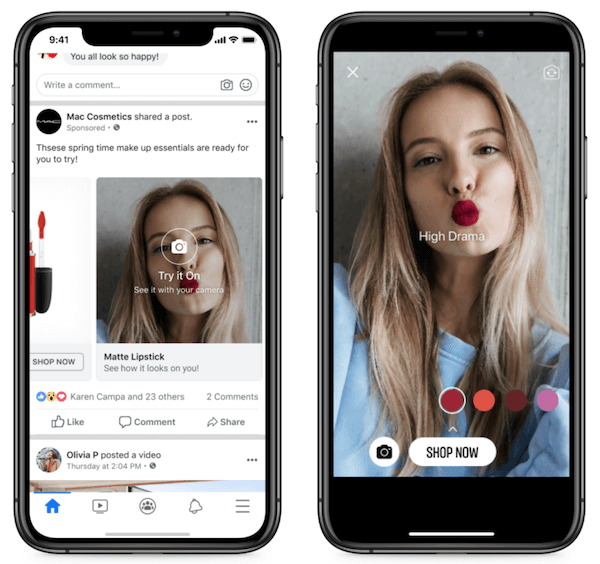 How to outperform your competitors with Facebook ads in 2023
It's now time to explore how you compete in Facebook ads next year and leave your competitors in the dust.
1. Establish a clear creative direction
Wondering which creative style is going to drive the best results for your brand on Facebook? The classic user-generated content-style Facebook ads produce excellent results, especially for solution-based ecommerce products or lead-generation campaigns. This type of content tends to be less polished, with fewer logos and branded elements.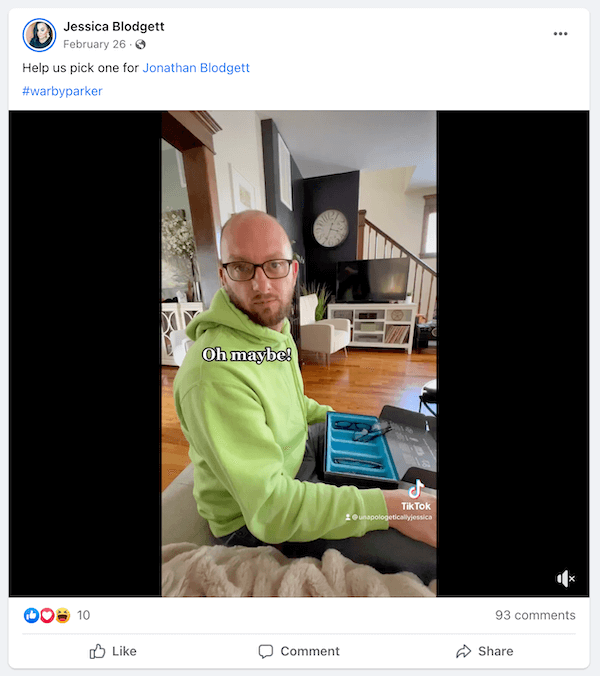 However, many advertisers have now adopted this approach. You may want to try out trending sounds and engaging visuals to stand out in a competitive feed. If you're in the fashion or clothing industry, consider creating more polished videos with premium-style imagery, fast motion, and strong branding.  Audiences expect to see clothing products showcased upfront, so make sure that you're placing your wares on center stage.
Here are some of the best free tools for designing Facebook ads like a pro.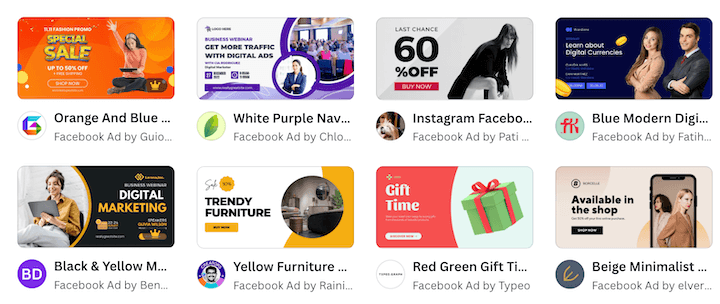 The key is to pick one approach and stick with it—there's no time to sit on the fence! Use our Facebook ad examples to get ideas and inspiration for your own.

2. Try out Advantage+ campaigns
Advantage+ campaigns are an automated campaign type where Facebook optimizes campaign settings to maximize returns. They're essentially streamlined conversion campaigns that reduce manual inputs for advertisers and save them time. Advantage+ will also run campaigns specifically for catalog ads and app installs, and automatically optimize your creative assets.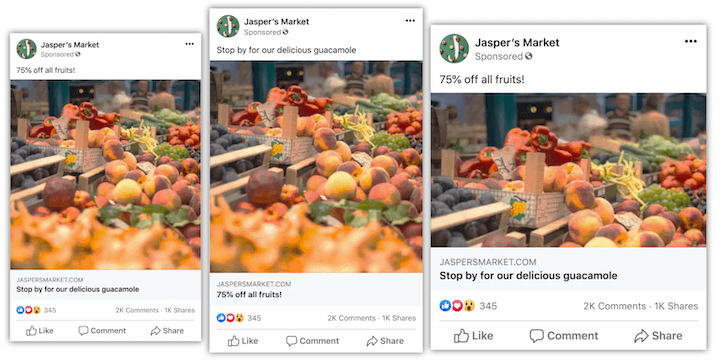 Advantage+ campaigns have delivered positive returns for many brands so far, so they're worth pursuing, particularly for newer advertisers. Plus, Facebook is likely to continue improving the Advantage+ product, meaning these campaigns are a safe bet for the foreseeable future.
3. Use cost per result bidding to scale budget
Effectively scaling up your Facebook campaigns is crucial to generating more conversions and improving the efficiency of your ad spend.
Cost per result goal bidding (formerly cost cap) is a reliable and efficient method for budget scaling and can deliver consistent results for Facebook advertisers in 2023. Start by testing out several bids through CBO (Campaign Budget Optimization) with a minimum spend on each ad set. Since Facebook will automatically test various bids across different ranges, you'll be able to scale up successful tactics quickly and effectively.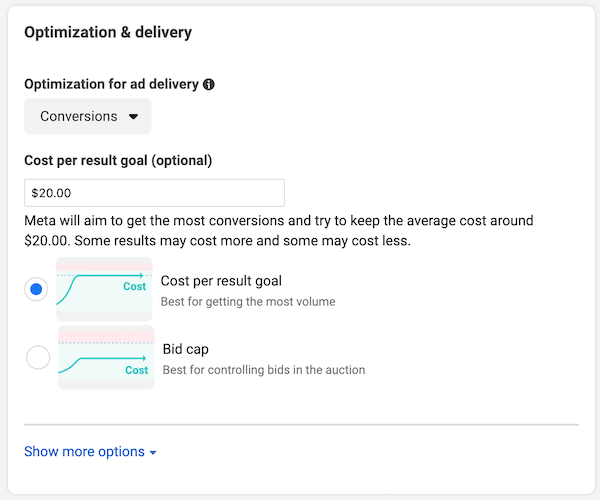 You'll also be able to leverage these insights to set up larger ABO (Ad Budget Optimization) campaigns with increased spend on the best bids.
If you don't have a sufficient budget for testing multiple bids, then set up one ad set with a cost-cap bid slightly higher than your current Facebook CPA.

4. Guide the algorithm with broad targeting
You'll need to stick to broad audience targeting while scaling up your campaigns to allow the algorithm to collect data and implement optimizations. Stack Interest categories that have performed well previously to increase audience size.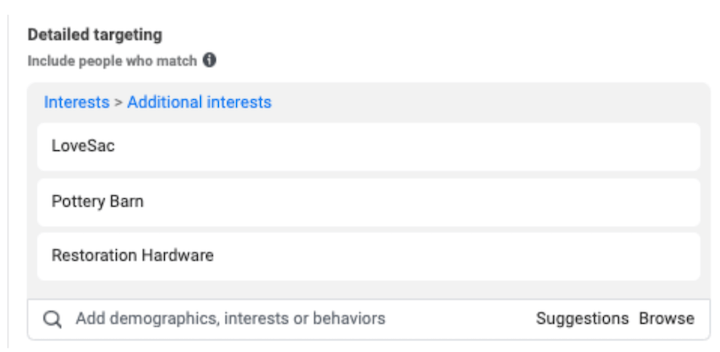 It's also important to guide the ad account in the early stages of your campaign if you're on a small budget.
Try and use interest targeting to build relevant audience segments initially, and once you've collected enough data, test out broader audiences with no interest layers to scale up your campaign.
If you want to skyrocket your campaign scaling, don't obsess over finding the perfect ad for a specific target audience. Test everything on larger audiences to generate valuable insights and find a broad creative appeal that resonates with the majority of users.
5. Be patient with your Facebook ad sets
Whenever you make changes to your Facebook ads, you reset the algorithmic learning period. So try to avoid tweaking or adjusting your ad sets, particularly in the early stages of a campaign, to allow them to optimize effectively. This has always been advisable, and it seems like this will be more important than ever in 2023.
Monitor ad set delivery to ensure that your results are improving over time and stick to 20% scaling every couple of days to maintain optimal performance. If you need to scale faster, duplicate the ad set to experiment with different tactics.

6. Use multiple placements & formats
Facebook offers advertisers a wide range of high-performing placements and formats, so make sure you're capitalizing on these opportunities with a proper balance of image, video, and carousel ads.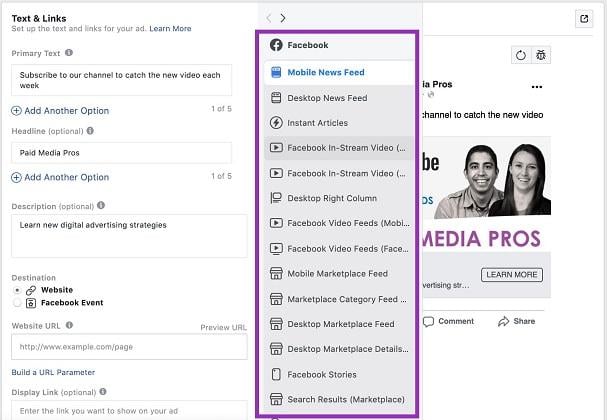 If you're in ecommerce, TikTok-style reel videos can also deliver tremendous performance, so be sure to jump on this trend before it becomes too saturated.
As I mentioned above, creativity will be key to differentiating yourself from the competition in 2023, so focus on engaging and unique executions. Adapt popular content styles from the likes of TikTok and Instagram Reels (e.g. presenters talking to members of the public, trending sounds, and hashtag challenges) and act decisively to avoid missing out.

7. Make the most of improved Facebook reporting features
iOS and other privacy updates have caused disruptions in the Facebook targeting and reporting ecosystem, but Facebook has been working on improvements and solutions that you can (and should) use to your advantage when optimizing your Facebook campaigns.
For example, the reintroduction of the 28-day click attribution window will be valuable for harvesting more granular insights and viewing demographic audience breakdowns in the ad account. Also, the Facebook Conversions API can help you close gaps in pixel data resulting from the deprecation of third-party cookies.

Facebook is likely to continue developing tools that enable brands to close the gap on attribution, so be sure to explore these new features to enhance your reports. The more campaign data you can access, the easier it will be to implement effective optimizations.
It's also worth noting that new terms for self-serve ads manager accounts suggest that Facebook is both reducing its accountability and tightening restrictions, so keep an eye on these updates to stay in the loop.
Use these Facebook advertising trends & tips to succeed in 2023
Social media advertising can deliver outstanding results for marketers, and if you're looking to drive business growth, there's never been a better time to start advertising on Facebook.
While some best practices will always remain true for advertisers, it's also crucial to explore new Facebook tools and features in 2023 that can help you to boost performance and outdo your competitors.
So, to recap:
The broader Facebook trends to watch out for in 2023 are:
Video advertising will remain insanely popular
Short-form video will reign supreme
The 'TikTokification' of creative content
Shoppable ads will be adopted at scale
And here are our top tips to outperform your competitors on Facebook in 2023:
Establish a clear creative direction
Try out Advantage+ campaigns
Use cost per result bidding to scale
Guide the algorithm with broad targeting
Be patient with your Facebook ad sets
Use multiple placements & formats
Make the most of improved Facebook reporting features