Are you thinking of expanding your Google Ads strategy beyond search? One of the most common campaign types to explore next would be an image-based campaign: Google Discovery or Display.
I've noticed a lot of confusion among business owners and practitioners alike around what's the same and what's different between Display and Discovery ads, and when it makes sense to use them. They are definitely not interchangeable!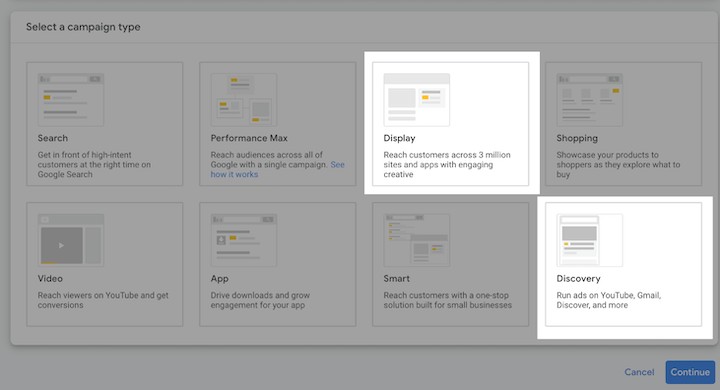 In this ultimate guide to Google Discovery ads vs. Display, we'll compare these two Google Ads campaign types with regard to:
Read on to get everything you need to know before adding these ad types to your paid media strategy.
Note: Google announced Discovery Ads will be upgraded to Demand Gen campaigns in early 2024. We cover what you need to know here.
Google Discovery ads vs. Display: Appearance
Google Ads Display and Discovery campaigns are both image-based formats. To create a Responsive Display ad, a Discovery ad, or a Discovery carousel ad, you provide headlines, descriptions, and images, which Google then adapts to various ad placements—much like a Responsive Search Ad.
Here are five subtle ways that Discovery ads differ from Display ads in their appearance:
Text specs: Discovery ad headlines can have up to 40 characters whereas Display ad headlines can have up to 30 characters (like search ads). Why? Who knows! But Google's own Discovery ad best practices suggest "medium length headlines" work best, so don't feel like you have to use up all those extra characters.
Image specs: While Display and Discovery ads both accept square (1:1) and landscape (1.91:1) images, Discovery campaigns also accept portrait (4:5) images. This is because Discovery campaigns were designed to accommodate Meta Ads assets. A common way for Google Ads advertisers to get started with Discovery campaigns is to take your existing ad creative from your top-performing Facebook and Instagram ads.
Video specs: You have the option to add video assets to your Display ads, and Google announced all the way back at Google Marketing Live 2022 that this feature is coming to Discovery, too—but as of this writing, video assets are not yet compatible with Discovery ads.
Shopping feed: One of the most common uses of Display campaigns is running dynamic remarketing; that is, connecting your Google Merchant Center feed to your Display campaign, and allowing the system to customize the ad creative based on previous user behavior on your website. Discovery campaigns recently launched a beta program that allows advertisers to connect a feed as well, though the campaign will work towards both prospecting and remarketing using the feed data, not just dynamic remarketing.

Source

Ad format: In another nod to Meta, Discovery campaigns give you the option of creating a Discovery carousel ad, featuring multiple images, headlines, and links within the same ad unit. Display campaigns do not offer Carousel ads.
Display vs. Discovery ads: Placements
A key difference between Google Ads Display campaigns and Discovery campaigns is that Display campaigns show ads across the Google Display Network, whereas Discovery campaigns show ads on Google-owned properties.
The Google Display Network is a collection of millions of websites and apps that monetize using Google AdSense. This is analogous to the Microsoft Audience Network, LinkedIn Audience Network, or Facebook Audience Network. Some examples of where your Display ads can show are websites like ebay.com, forbes.com, or tmz.com; apps like MyFitnessPal, TextNow, or Wordle; and YouTube. Yes, YouTube is part of the Google Display Network!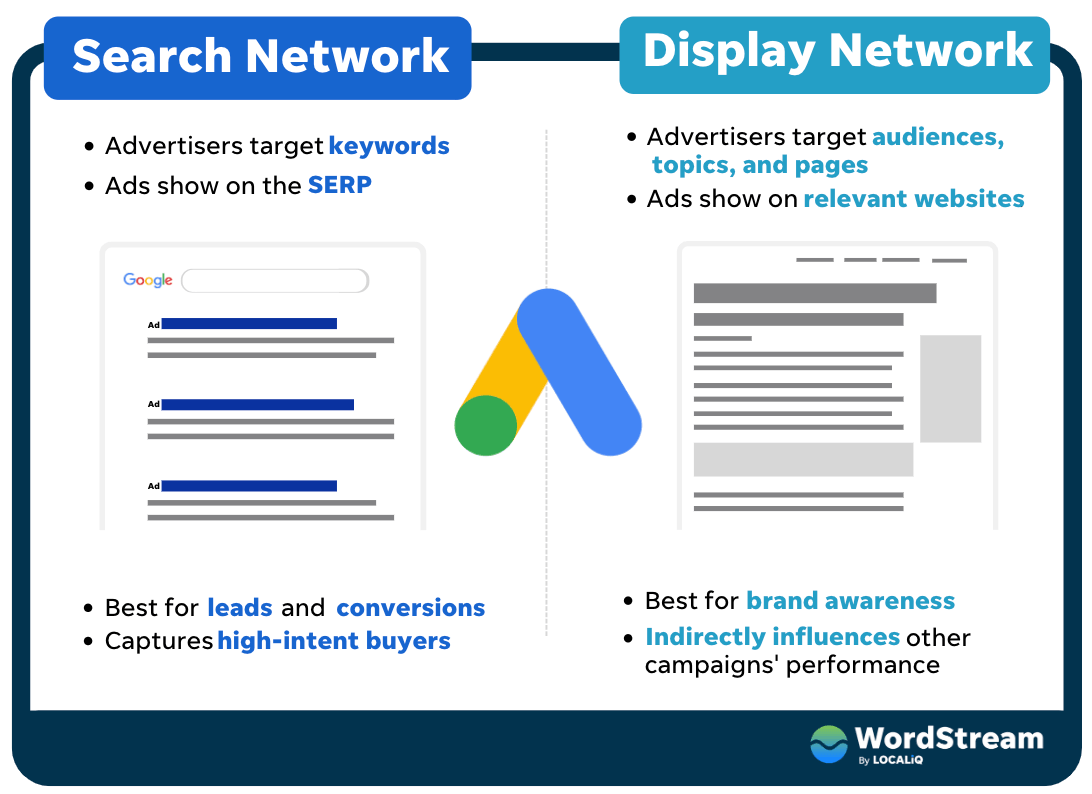 In contrast, Discovery campaigns can only show up in three places: YouTube, Gmail, and the Discover feed. Since these three places are all Google-owned and serve mostly signed-in users, I find audience targeting to be more accurate in Discovery campaigns vs. Display and traffic quality to be higher.
Note that there is no placement report in a Discovery campaign, so you won't know exactly where your ads showed, whereas Display campaigns do provide a detailed "Where ads showed" report.
Google Discovery ads vs. Display: Targeting
Google Display campaigns offer the full range of Google's audience and content targeting solutions. You can go as broad or as narrow as you like!
Keep in mind that Google recently announced a change to how content targeting works; if you add Placements, Topics, and/or Keywords to your Display campaign content targeting, Google Ads will treat those as "OR" options rather than "AND." For example, if you add five Topics and five Keywords to your ad group, your Display ad can now serve on any of those five topics OR any of those five keywords.
Note that audience targeting has always had an "OR" relationship. If you add multiple audiences to your ad group targeting, Google Ads will show your ads to any of those audiences. To create an "AND" relationship between audiences, you must create a Combined segment.
Google Discovery campaigns do not accept content targeting; only audience targeting. Your options are still quite vast: Demographics, affinity, in-market, life events, your data segments, custom segments, and combined segments.
And of course, you will be opted into optimized targeting by default for both campaign types, which you can turn off in your audience settings if you'd like.
Display vs. Discovery ads: Performance
For those who are used to PPC metrics for search and Shopping campaigns, navigating the performance of image-based formats can be a little tricky.
You're familiar with click-through rate (CTR) and cost per click (CPC) as key performance metrics, but are you familiar with interaction rate or cost per engagement?
Interactions
In Google Ads, a "click" is a paid click to your website. When someone clicks on a search ad or a Display ad, they land on your website and you pay Google for that click.
An "interaction," however, is any paid click in Google Ads, even if that click does not bring the user to your website. For example, if someone clicks on a Gmail ad, that "opens" the email— it does NOT bring the user to your website. The user would have to read the email and then, if they choose, click the call-to-action button to get to your website.
Because of this, a Gmail open is an "interaction," but not a "click." Gmail is one of the three Discovery placements, so you'll want to check your interactions, interaction rate, and cost per interaction as well as your clicks, click-through rate, and cost-per-click.
Engagements
And then there are "engagements" when the user completes a valuable action that is neither a click nor an interaction. For example, watching 10 seconds of your video counts as an engagement, but remember, you don't pay until someone watches at least 30 seconds of your video, or to the end of the video, whichever comes first.
Similarly, if someone forwards your Gmail ad to a friend, that's an engagement. If they "like" your Discovery ad, that's an engagement. While I don't generally look at the engagement, engagement rate, and cost per engagement columns, they can be helpful to check for troubleshooting purposes.
How can I improve the performance of my Display and Discovery campaign?
While Display campaigns and Discovery campaigns both have the usual performance levers—bid strategy, budget, targeting, campaign settings, etc.—the most important indicator of success is your ad creative.
This is a sentiment that will be very familiar to those who run Meta ads or TikTok ads, for example, but can be trickier for Google Ads practitioners—we're used to text-based formats!
Google conducted its own quantitative research on exactly what kind of text and image assets perform best in a Discovery campaign. Since Discovery is included as part of Performance Max, these best practices are also applicable to your Performance Max campaigns.
Five highlights of this research are:
Images should focus on a single object, centrally framed.
Images show real humans in real-life contexts using your products/services.
No overlaid text on images, or keep overlaid text minimal.
Headlines and descriptions should be "medium length," be specific and include a call to action.
Ad copy that highlights special offers works well, time pressure/FOMO does not.
You can view more great ad copy in these Google Ads examples.
If in doubt, test, test, test! You will get asset-level performance ratings in both Display and Discovery campaigns.
As far as how to improve your Display campaigns, you can check out these resources:
Display vs. Discovery ads: When to use which
Unsure when it would be best to use Discovery ads vs. Display ads? Let's explore.
When should I use Discovery campaigns?
Google Ads Discovery campaigns can only be used with conversion-based Smart Bidding strategies: Maximize Conversions (with optional target CPA) or Maximize Conversion Value (with optional target ROAS).
Due to their "bottom of funnel" optimization capabilities, high-quality traffic, and high-quality audience matching, I usually recommend testing Discovery campaigns before Display campaigns. Anecdotally, I've noticed that cost per click tends to be higher in Discovery vs. Display, but I've also observed higher conversion rates and higher lead quality, so it's worth it.
If you'd like to use Discovery campaigns on an awareness objective, you can "cheat the system" by creating a conversion action based on page views. This will essentially turn your Maximize Conversions bid strategy into a Maximize Clicks bid strategy.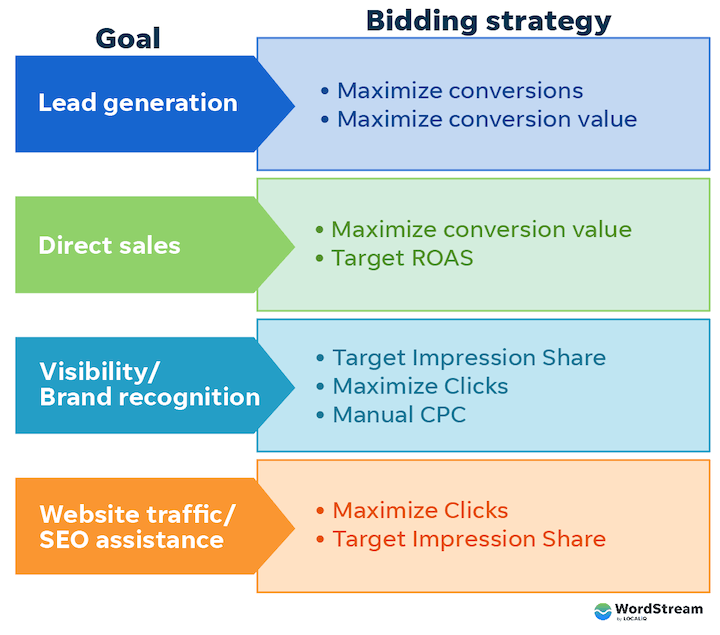 When should I use Display ads?
Google Ads Display campaigns have more broad applications, as they can be used with impression-, click- or conversion-based bid strategies. Because of this, Display campaigns can fit any campaign objective:
Top of funnel: Viewable CPM
Middle of funnel: Manual CPC (with optional enhanced CPC), Maximize Clicks
Bottom of funnel: Maximize Conversions (with optional target CPA) or Maximize Conversion Value (with optional target ROAS)
Some people prefer to go with Display campaigns because they offer a unique feature: Pay per conversion bidding. While there are plenty of limitations and rules around if and how you can use pay-per-conversion bidding, this is something that performance advertisers may want to experiment with if you're skeptical about whether Display campaigns are the right fit for your conversion objectives.
Google Discovery ads vs. Display ads: Which will you start with?
So, there you have it! We've taken an in-depth look at the similarities, differences, and options for Discovery vs. Display campaigns. Hopefully, this shines some light on which campaign type is best for you–and when to use it.