As online ad platforms evolve more privacy-friendly approaches to audience targeting, ad transparency naturally has grown into a need, not a want, for both consumers and advertisers.
Published ads on platforms like Google Ads, Facebook, and TikTok are public knowledge and should be treated as such. Consumers have a right to know about the ad being put in front of them, and advertisers should also be able to accurately evaluate their ad competition. That's why we're seeing the emergence of tools like the Facebook Ads library or Google's Ad Transparency Center, and now, the TikTok Ads library.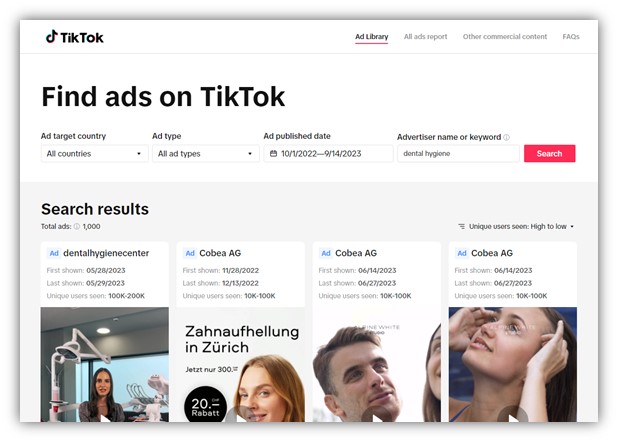 The TikTok Ads library is a directory of all ads that have been shown on TikTok. Both users and advertisers alike can use it as a tool to learn about what ads are being published by different businesses, what targeting tactics were applied, and more…
That "more" part will be precisely what we'll discuss today as we walk through all the important TikTok Ads library details you need to know.
Let's get started!
What is the TikTok Ads library?
The TikTok Ads library is a one-stop-shop for anyone around the world looking to gather information about an ad that's running on TikTok. You don't have to be a TikTok user or advertiser to access the TikTok Ads library. Currently, the TikTok Ads library only pulls data from ads running in Europe.

Now, that doesn't mean the TikTok Ads library can't be useful for your business if you're located outside of Europe. You can still use this tool to get a general idea of how TikTok Ads in your industry are being approached by businesses like yours (more on this later).
However, if you're looking for insight on TikTok ads from businesses located outside the countries outlined in the TikTok Ads library, you can head to the TikTok Creative Center. The "Top Ads Dashboard" within the TikTok Creative Center's "Inspiration" tab allows you to search top-performing ads on TikTok from all countries the app is available in. Yet, keep in mind that this will only show you a view of top performers and isn't necessarily an online directory of all ads running (regardless of performance) like the TikTok Ads library.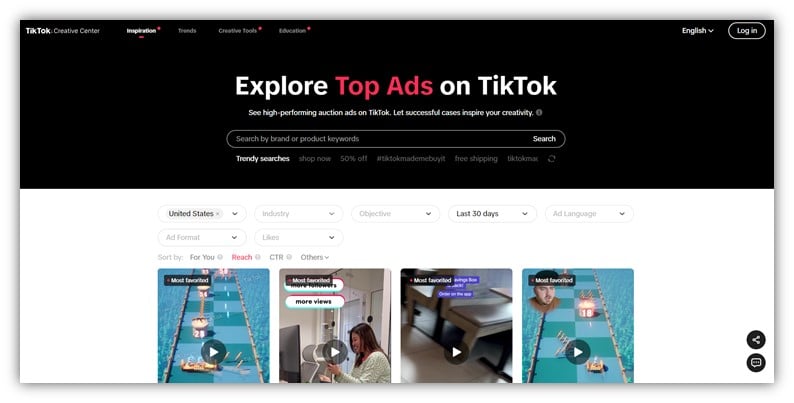 If you're familiar with the Facebook ads library, it can be helpful to know that the TikTok Ads library functions in the same way where it's meant to provide transparency for users and help businesses source inspiration for ads.
That said, the TikTok Ads library is arguably better than the Facebook Ads library since it provides sorting features to help you find the best (or worst) ads based on multiple filter parameters. Additionally, the TikTok Ads library detail pages are a bit more in-depth than the Facebook Ads library ad detail pages since they incorporate data on the ad's targeting and reach.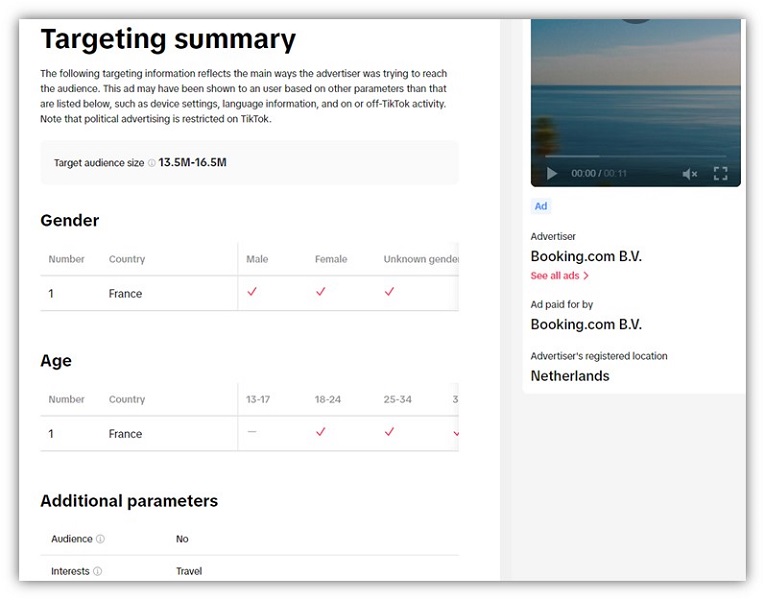 You can learn more about how TikTok Ads compare to Facebook Ads here.
More TikTok Ads library features and terms to know
The standard TikTok Ads library for European data branches out into a few more tabs if you're looking for general information on the patterns of TikTok advertising or organic TikTok content. For example, the "All ads report" shows you the total number of ads posted by country and by day, which can be interesting when planning your seasonal marketing.

For instance, you'll find below that more ads were posted during this past year's holiday season than during the summer season. This could mean that holiday marketing on TikTok is fiercely competitive, so you should plan your TikTok ad content accordingly. (Pro tip: find the best times to post on TikTok year-round here!)

For insight on non-paid, organic TikToks you can head over to the "Other commercial content" tab. This still focuses on content designated as "commercial" in nature by creators. So, it weeds any TikToks from users that are solely for entertainment purposes and focuses on TikToks meant to promote a product or service—whether it be from a business's direct account or an influencer.

The TikTok Creative Center also offers these types of resources for businesses around the world. For example, the TikTok Creative Center is where you can find TikTok's other popular library: the Commercial Music Library. You could use the TikTok Commercial Music Library in unison with the TikTok Ads library to find inspiration for video formats in combination with different audio clips.

Lastly, whether you're checking out TikToks within the TikTok Ads library or the Creative Center, there are few core terms you'll want to be familiar with:
First shown: First shown date is the day that the ad received its first impression, regardless of when it was published.
Last shown: Last shown date is the day when the ad received its last impression, regardless of when it was taken down.
Unique users seen: The estimated number of unique TikTok users who have seen the ad at least once.
Ready to put your foundational knowledge of the TikTok Ads library to work? Let's learn the steps to actually use the TikTok Ads library…
How to use the TikTok Ads library
Here's how you can access and use the TikTok Ads library:
Navigate to https://library.tiktok.com/ads/.
Follow the prompts to filter out for a specific type of TikTok Ad. This is where you can choose to see ads from specific countries, or find ads that fit different formats, publishing dates, keywords, or even a specific brand name.
Once your filters are set, click the red search box on the far right.
Sort your results using the drop-down menu on the right. This is where you can sort to quickly find the most or least popular ads, as well as the newest and oldest.
If you spot an ad in your results that you want to learn more about, you can click the play button to watch the TikTok ad. Alternatively, you can click anywhere on that ad's tile to be taken to a separate detail page to find information on the ad's target audience size, location, gender, and more.
Congratulations, you're now able to use the TikTok Ads library to help your business gain a competitive edge!

What to do when no ads show in your TikTok Ads library search results
Did you follow the steps above to use the TikTok Ads library, but nothing came up? That's okay! TikTok outlines this as a possibility on the TikTok Ads library home screen:

Basically, you might not always find what you're looking for on the TikTok Ads library because of the following:
You're looking for a specific advertiser that isn't currently running ads or doesn't run ads within your set country.
No ads match your filter criteria.
You're looking for a political or election ad, which is not currently supported by the TikTok Ads library.
The ads you're looking for are too fresh. There's a slight delay in the TikTok Ads library data where it can occasionally take up to 24 hours to process updates.
Luckily, there's no usage limits on the TikTok Ads library. Once you troubleshoot your initial search, you can run it again to bring up results. Now, it's time to use those results to your advantage!
11 ways to create better content using the TikTok Ads library
You have all the TikTok ad examples you need at your fingertips thanks to the TikTok Ads library, here's how you can take advantage of this unique resource for your business:
1. Filter to see top performers
Finding a high-performing TikTok ad from the TikTok Ads library filters alone can feel like you're searching for a needle in a haystack. It's a good idea to layer one of the sorting options from the drop-down menu on the right. For example, if you sort by "Unique users seen: high to low" you can find the ads that had the most reach out of all the ones that populated in your search.

2. Learn which content ideas you don't like
As you poke around in the TikTok Ads library, don't only admire ads you'd like to replicate. Instead, try taking a different approach to see the types of TikTok ads you don't like.
Of course, you can get an understanding of this by using the sorting filter to see an older ad or one with a lower number of unique users seen.
However, you can also learn which TikTok ad styles may be better performers but don't align with your brand or company core values. That way, you can start to understand which types of TikTok Ads to avoid over others when creating and editing your own TikTok videos.

3. Peek at your competitors' TikTok ads
One of the best parts of the TikTok Ads library? You can search for a specific advertiser's name! If you want to go after a competitor and you know their name on TikTok, you can plug it into the "Advertiser name or keyword" field when setting your search parameters. That way, you can see the ads they've posted and compare them against your own strategy.
Another approach would be to search by a core keyword term for your business to evaluate any new competitors on TikTok or to simply see the number and quality of TikTok Ads for that particular product or service offering.
🔍 Get ideas for keywords to search for in the TikTok Ads library using our
Free Keyword Tool
!
4. Check out stats and set goals
Another super stellar feature that the TikTok Ads library provides is basic performance stats for each ad. This can give you a real view of how ads like yours should be performing. Try searching for ads within your industry and take note of the number of unique users seen compared to the target audience size on the detail page.
To track your own TikTok Ads performance, you'll need baseline performance benchmarks to measure your progress against. That way, you can set trackable goals based on the average ad performance within your industry. Using this feature within the TikTok Ads library can help you do just that!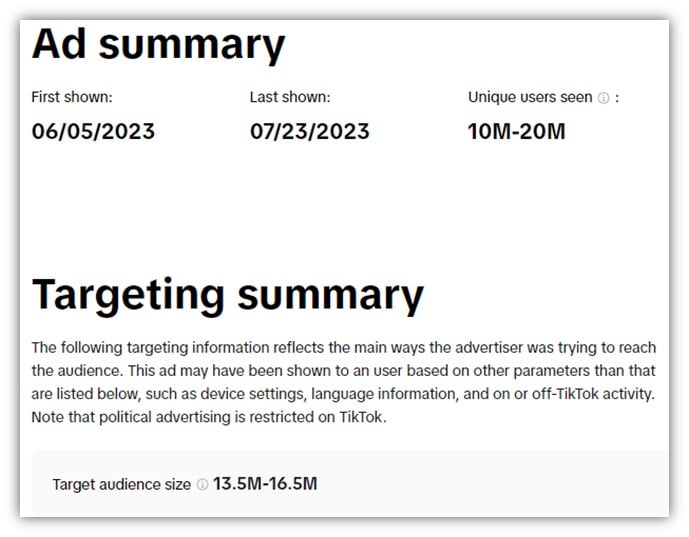 5. Find popular hashtags
Hashtags can be added to your TikTok ads to help interested users find your content. When you're short of TikTok hashtag ideas, the TikTok Ads library can help. When you watch each ad shown in a TikTok Ads library search, you're able to get an understanding of which captions or core hashtag terms that business might be using. This can help you find new or trending hashtags to use based on other top-performing ads, or it could even inspire you to create your own spin on a popular hashtag.
6. Get fresh audio ideas
Since you can playback TikTok ads right from within the TikTok Ads library search results, you can see which audio clips have brought other advertisers positive (or negative) results. This can help you pre-plan which audio you want to use in your next TikTok Ad clips. Additionally, if there's a trending audio clip that you want to use but can't think of a video script to go along with it, the TikTok Ads library can help with that, too.
7. See which trends are coming and going
There's nothing more "cringe" (as TikTokers would say) than creating a video based on a popular trend only to find that trend to be considered "old news" by the time it reaches your audience. TikTok trends are always rapidly changing, so you can use the TikTok Ads library to stay up to date on the latest and greatest of TikTok. Use the sort filter to compare and contrast new and old TikTok Ads. This can help you predict what types of TikTok ads will be more or less popular in the future.

8. Find the right influencer for your business
Influencer marketing is a great way to position your brand on TikTok—especially if you're struggling to establish a presence on the platform by yourself. However, sourcing influencers willing to partner with you can often be a small business challenge.
Luckily, many TikTok ads already feature influencers that specialize in creating branded content for businesses. In the TikTok Ads library, if you see a business similar to yours that is leveraging an influencer, that influencer (or other influencers in their circle) could be a potential target for you to partner with!

An example TikTok Ad created by an influencer rather than the business itself.
9. Source businesses for future partnerships
Along with influencers to partner with, you can also find businesses to collaborate with through the TikTok Ads library. Try searching for keywords that are complementary to your business and see which businesses are running high-performing ads for that topic.
You could reach out to the business directly or try to duet their video to connect with them. From there, you could shout one another out on TikTok or go live on TikTok together!
10. Client prospecting
Calling all PPC agencies! The TikTok Ads library isn't just for assessing your competition or potential promotional partners. Since you can search for TikTok Ads that fit within a certain industry, use this as an opportunity to identify poor-performing ads in your target client's verticals. This could be a great way to open the door for prospecting since you could use their TikTok Ad to start a conversation about how your agency could help them improve.
11. Learn new targeting tactics
Unlike the Facebook Ads library, the TikTok Ads library ad detail pages provide you with information on any given advertiser's targeting tactics. However, keep in mind that TikTok explains that there may be other targeting parameters involved that aren't shown on the detail page.
That said, you can get an idea of how other businesses are approaching their TikTok Ad targeting—which can be helpful when you need new ways to show to an ideal audience.

Get ahead with the TikTok Ads library
The TikTok Ads library is an open book chock full of information about what's hot for advertisers on the platform. You can use the TikTok Ads library to help your business stand out from the competition and squeeze the most out of your TikTok Ad spend. It can also be a useful tool when you want to discover new audience demographic combinations to target. If you still want more help with your TikTok Ads, see how our solutions can help your business get more customers from TikTok, and maybe even become the next viral sensation!
To recap, here are the top ways you can use the TikTok Ads library:
Filter to see top performers
Learn which content ideas you don't like
Peek at your competitors' TikTok ads
Check out stats and set goals
Find popular hashtags
Get fresh audio ideas
See which trends are coming and going
Find the right influencer for your business
Source businesses for future partnerships
Client prospecting
Learn new targeting tactics