Facebook is the most popular social media platform in the world. Not only does it have the largest userbase of any other platform, but it also has the most even age distribution and is the most frequented of social media apps.

This is why it is such a popular advertising platform, and also why we have a good fallback strategy in light of the limitations we're facing due to privacy: targeting ads based on on-platform engagement. Traditionally, these types of campaigns were less favorable than website traffic or conversion campaigns. But they're the new cool kids in town. Read on to find out why, and how to use them to get a leg up on your competitors.
Why on-platform Facebook engagement?
It's no secret that the digital advertising landscape has been changing over the last few years, specifically in regard to user privacy and third-party tracking. Whether it be GDPR or the most recent iOS updates, it's getting more difficult to track user behavior and Facebook Ads campaign performance.
One way to alleviate the pain you're feeling from these limitations is to leverage the power of Facebook itself and the user engagement on it (it's in our list of post-iOS Facebook strategies).
Since the user has already signed any terms and conditions for using Facebook and no third-party tracking is involved, it means all behavior and engagement tracking is complete and accurate.
It's not necessarily a replacement for driving users to your website, but I would argue that on-platform Facebook engagement can still have a valuable place in your online marketing strategy.
So with that in mind, here are the ways you can leverage Facebook engagement to improve your marketing.
Strategy #1: Use engagement-focused campaign objectives
One of the things Facebook does best (in my opinion) is to help optimize toward your specific goals through their campaign objectives. Each time you create a new campaign, you tell Facebook what you're looking to focus on and they aim to achieve it.
Here is the full list of campaign objectives as it stands now:
Awareness: Brand Awareness, Reach
Consideration: Traffic, Engagement, App installs, Video views, Lead generation, Messages
Conversion: Conversions, Catalog sales, Store traffic

1. Engagement campaigns
The first objective that is the most focused on engagement is called, you guessed it, Engagement. It falls under the "Consideration" category of campaign objectives.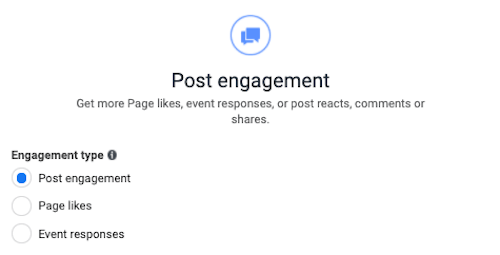 WIth this campaign type, you can choose whether to optimize for page likes, post engagements, or event responses.
The goal will be to get users to take specific actions on the site with actions that are housed entirely on the platform and lean into Facebook's interaction metrics: shares, likes, reactions, comments, etc.
Just like with a visit to a website, any user who takes these actions is engaging with your brand and is becoming more familiar with you. Although these actions might not have a monetary amount tied directly to them like online sales, that doesn't mean that they're not a valuable part of the buyer funnel (how to build a full-funnel Facebook strategy here).
Free guide >> 7 Fundamental Facebook Advertising Tips every advertiser should know.
2. Video views campaigns
With Video View campaigns, you can optimize for either ThruPlay or 2-second continuous views of your Facebook video ads.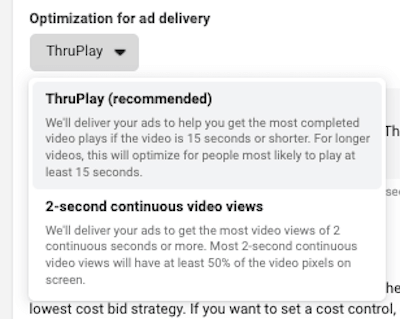 As you can see, Facebook recommends ThruPlay (as do I) as it will optimize to get the most completed video views if the video is 15 seconds or shorter. If it's longer than 15 seconds, it will optimize for people most likely to watch 15 seconds.
While that might not seem like a long time, think of how long you watch the video of an ad on Facebook or Instagram. Is the average usually under or over 15 seconds? My guess is under, by a lot.
But the ones you do watch for 15 or more seconds are usually pretty interesting to you. Capitalize on this behavior from people in your target audience and make sure to get the biggest bang for your buck by adding the important information at the beginning of the video. That way, even if they don't watch 15 seconds, you've still made an impact.
And would you look at that—we have a post for that! Check out these 11 Ways to Improve Your Facebook Video Ad with a Killer Hook.
3. Messages campaigns
Beyond video views or page and post engagements, you can also use Facebook Message campaigns to begin or reignite conversations with users on the platform.

Think of this as a direct chatbot with your company, but without needing to add more friction by sending someone to your website.
You can also choose which platform you want to have these conversations: Messenger, WhatsApp, or Instagram Direct.
If your customers want to get in touch with you, make it simple. PPC expert Brett McHale tells us how to create Messenger ads in this post.
4. Lead generation campaigns
Similar to Message ads, you can use Lead Gen forms to gather user information directly on Facebook without them needing to come to your site before filling out the form.

Facebook lead gen ad forms have lots of ways you can customize them. So much so that it doesn't make sense for me to outline all of them in this post. You can learn how to customize your Facebook lead ads here or watch this video, but for today's purposes, it's important to know that Facebook lead ads have the following benefits:
Users can submit forms without having to leave Facebook.
The lead information can be integrated directly with your CRM or marketing automation platform to connect to your workflows.
Questions can have answers auto-populated by Facebook to help limit friction from filling out the form.
Forms can be customized to ask nearly any question you want.
Overall, Facebook lead generation campaigns are one of my favorite ways to target users on Facebook and can provide a lot of value for nearly all businesses. Not to mention, they help build first-party data in a world where third-party data is becoming harder to come by.
Strategy #2: Retarget page engagers
Facebook retargeting doesn't just apply to website visitors. You can retarget those who have visited and engaged with your page as well. Once someone has engaged with your page, that person is of higher value than someone else who hasn't. In theory, you shouldn't have to introduce them to your brand anymore. Now you can focus more on creating a connection with them, just like you would someone who visits your website.
For website visitors, we create website audiences and target people who have been cookied by the Facebook pixel (which as we know has lost much of its power).
With Engagement audiences, we can retarget people not only if they engaged with your brand on Facebook (or Instagram), but also how they engaged.

The list above shows all the different types of audiences you can create on Facebook. The first set is going to be from your sources. There are four total lists including Website visitors, Customer uploads, App activity, and Offline activity.
The bottom section ("Facebook Sources"), which is much larger, is the full list of all sources of engagement-only audiences. There's a lot! I also talk about using these sources in my post on Facebook ad targeting in a privacy-first world.
Video
Lead form
Instant experience
Shopping
Instagram account
Events
Facebook page
On-Facebook listings
Depending on what campaign types you're using from the previous two sections or how you're engaging organically on Facebook, you'll want to choose different sources. For lead generation campaigns, you can create lists based on people who opened your form, opened and submitted the form, or opened and did not submit.

But if you choose the Facebook Page source, for example, you get a much more robust list that looks like this.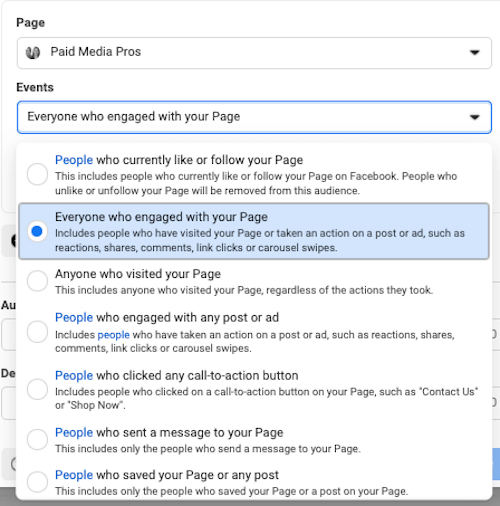 You can then create audiences of users based on criteria like:
People who currently like or follow your Page
Everyone who engaged with your Page
Anyone who visited your Page
People who engaged with any post or ad
People who clicked any call-to-action button
People who sent a message to your Page
People who saved your Page or any post.
…and either target them for a nurture flow or you can exclude them to ensure your messaging is tailored to the audience.
Treat these audiences just as you would website visitors. If they came to your page but haven't purchased something from your shop, maybe send them Catalog campaigns to encourage them to do so. If they have liked a number of your posts or watched a handful of videos, send them a lead gen form to sign up for your newsletter. Just because it happens on Facebook and not your website, doesn't mean it's not user behavior that should be taken advantage of.
Strategy #3: Expand your audience with lookalikes
To this point, we've discussed how to generate engagement through campaign objectives and then retarget the users who have taken those actions.
But how can we use those same lists of users to help find new customers to target?
Simple: lookalike audiences.

Facebook's bread and butter targeting option, lookalike audiences, allows you to use nearly any audience list you can create and find new users who are similar to the people in those lists.
If you find that you're seeing good performance from people who have liked your page, try creating a lookalike of those users and target them in a similar fashion, but in a new ad set or campaign. This way, you'll be targeting people who act like your Page Like audience, but you'll be able to see how their performance differs from your original list of Page Likes.
Not sure what "good performance" means? Use our free Facebook Ads Performance Grader to find out!
One caveat to this strategy has to do with funnel building and patience.
If you have been working for years to generate a large list of users who like your Facebook page through lots of relevant content and community engagement (Facebook marketing in a nutshell), then retarget them with a website purchase and if the return is strong, then you might think that creating a Lookalike of those Page Likes and doing the same thing is a strong strategy, right?
Yes and no.
While we do want to leverage the Page Likes Lookalike to help build our audience, don't forget about the years of brand connection you made with those users before pushing them to purchase.

Instead of creating a Page Likes Lookalike and sending them directly to a bottom-funnel call to action, it's likely best that you use that Lookalike to generate actual Page Likes from that audience first, then later retarget them based on that secondary engagement.
This strategy certainly takes longer than simply jumping directly to the bottom of the funnel, but online marketing isn't a quick way to circumvent good branding and customer connection. It should be used to help fuel it.
On-platform interactions are making a comeback—use them!
For quite a long time, the on-platform interactions that brands had with customers were ignored for a higher value, quicker road to revenue with website traffic and conversion campaigns. While those absolutely still have their part to play in nearly all buyer journeys, they shouldn't be the only thing you're focusing on. Use the on-platform engagement to your advantage. Get an understanding of how it fuels your customer's purchase behavior and lean into it. I guarantee that if you do that over the next couple of years, you'll have a leg up on your competition and, likely, closer ties with your customers. 
To recap:
Use engagement-focused campaign objectives
Retarget page engagers
Expand your audience with lookalikes