It's never a dull day in PPC, and 2022 proved that at every opportunity. Small and medium businesses were pushed above and beyond this year by supply chain disruptions, shifting consumer behaviors, and skyrocketing inflation—and along the way, Google, of course, made some moves of its own.

In this post, we're going to highlight the 10 biggest changes to Google Ads from this past year that you should know about going into 2023, and for each one, share practical tips for adapting your strategy. As you'll see, there's a mix of good, bad, and even a little dicey…
Let's jump in.
The top Google Ads updates you need to know for 2023
Here's the list:
Cost per lead increases (nearly) across the board
Expanded text ads meet their end
As do Smart Shopping and local campaigns
And similar audiences are next
New competitor advertising insights on the SERP
Automotive gets new ad type
New business name and logo ad assets
New voiceover feature in video ads
Audio ads hit YouTube and smart speakers
Broad match beta test leaves us uncertain
1. Cost per lead increases (nearly) across the board
WordStream's recently released Google Ads benchmarks report shows that cost per lead has increased significantly—for 91% of industries. While the average overall increase is 19%, the Arts/Entertainment, Travel, and Furniture industries saw increases of 134%, 69%, and 54% respectively.
The data suggests that factors like high prices due to inflation, plus ads showing for low commercial intent queries, have led to a decrease in conversion rates and therefore an increase in CPL.
Lower your cost per lead in 2023:
2. Expanded text ads finally meet their end...
Every marketer puts pride into crafting the perfect text ad, and for the past 22 years, advertisers have been manually writing, testing, and optimizing their PPC ads on Google. Over the years, Google's introduced several new search ad formats. In 2016, Google doubled the size of its standard text ads with Expanded Text Ads. And in 2018, Expanded Text Ads grew even larger again. But after several years of change, Google finally killed off Expanded Text Ads in June, no longer allowing advertisers to create the format that defined PPC advertising for years.

Instead, Google's new default ad type is the responsive search ad (RSA), which allows advertisers to provide multiple different text assets for Google to piece together to build the ad that loads on the SERP for every search.
This asset-driven and machine learning-powered ad format has considerable potential to serve over 40,000 unique variations of an ad with enough assets. But critics are quick to note that RSAs can create some poor combinations and may not always perform well. The change effectively limits brands' control of their ads' messages and testing processes on the SERP.

Microsoft had planned to follow Google's change and end support for their Expanded Text Ad over the summer as well, but they've since pushed that deadline for ETAs back to February 2023.
Make RSAs a breeze in 2023:
RSAs are going nowhere fast. Use our responsive search ad template to come up with the perfect assets for Google to combine.
3. ...as do Smart Shopping and local campaigns...
Ecommerce advertisers know shopping ads well. In 2018, Google released its Smart Shopping campaign type to help businesses promote their shopping ads across Search, Display, and YouTube. With just a product feed in Google Merchant Center, Google's reach of high-value placements across the web was easily available for all small businesses. Similarly, Google introduced Local Campaigns in 2019 to help local businesses promote their Google Business Profile across Google Search, Maps, Gmail, Display, and YouTube.
Both of these campaigns offered small businesses great ROI on smaller budgets and helped automate much of their campaign management. However, earlier this year, Google stopped allowing advertisers to create both these campaign types and began automating "upgrading" them to Google's newest campaign type, Performance Max.
Google's Performance Max campaigns have several unique features and offer even more reach across new ad placements, including Google's Discovery feed. And to many, this is plenty to celebrate! More reach, more placements, and more automation let many advertisers boast a significant increase in conversions with a lower CPA without the hassle of managing more campaigns.


But not all advertisers are celebrating the loss of Smart Shopping and Local campaigns. Google's fully automated Performance Max campaigns require a healthy amount of data and budget before they hum along smoothly. Although you can technically run these campaigns at any budget, advertisers see better results with bigger budgets of at least $100/day. This new ad inventory included in Performance Max may be celebrated as incremental reach to some, while others may lament the additional uncontrolled costs.
Handle PMax with ease in 2023:
Google continues to come out with new features and tools for its new prize campaign type, but should you use it? Use our resources to find out:
4. ...and similar audiences are next
Google introduced Similar Audiences to complement advertisers' reach of their remarketing audiences nearly a decade ago. The success of rival Facebook's lookalike audiences brought Google to double down on its Similar Audiences. Since then, they've become a cornerstone of many advertisers' Google Ad campaigns. However, new privacy standards have hit both Google and Facebook's audience solutions hard. That's why in November, Google announced that it plans to transition away from Similar Audiences for "more powerful and durable" audience solutions next year.
Advertisers have about six more months to use Google's Similar Audiences in their campaigns. Then starting in May 2023, Similar Audiences will no longer be available to add to new campaigns or ad groups. Shortly after, in August 2023, they will be removed from all campaign targeting.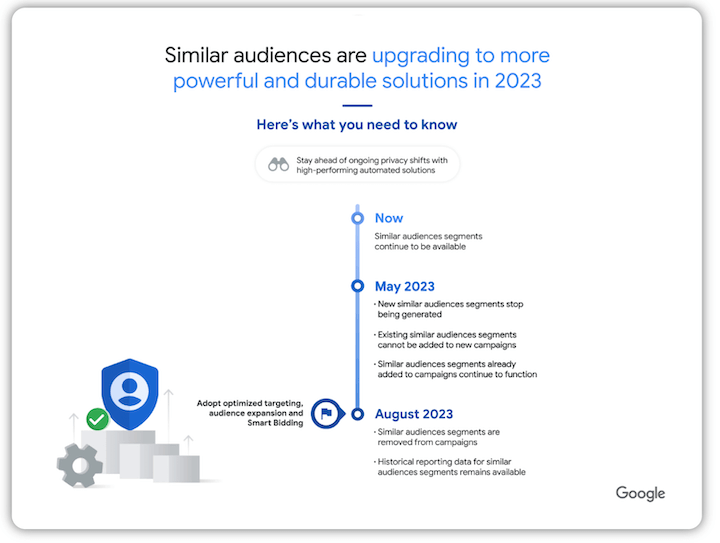 Google urges advertisers to update their audiences ahead of the migration. Google recommends that all advertisers make a habit of relying on their first-party data, such as Customer Match data, to create new audiences for their campaigns. Additionally, Google recommends taking advantage of Smart Bidding strategies and optimized targeting to continue optimizing their campaigns' performance. Advertisers looking to scale their reach beyond their first-party data may benefit from Google's audience expansion after Similar Audiences is sunset.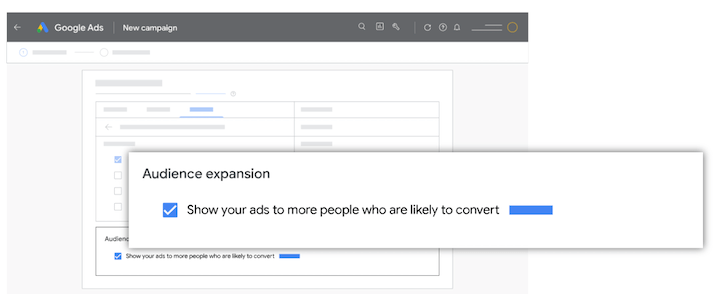 Interestingly, Microsoft does not seem to be following Google's lead in this. The same day that Google announced its plans to end Similar Audiences, Microsoft Advertising announced it would be expanding its Similar Audience solutions to more markets internationally.
Target the right peeps in 2023:
Use our Google Ads Audience Targeting Cheatsheet to fully understand all of the options available to you and harness their power. You have a lot to work with!
5. New competitor advertising insights on the SERP
Let's counter those three bits of sad news with some positive updates.
In 2021, Google announced that it would expand its advertiser verification program and offer more ad transparency to users who see targeted ads on and off the SERP. With those efforts, Google launched My Ad Center in October, allowing searchers to explore how advertisers reach them.
Among the features within My Ad Center is a powerful new tool called "Advertiser Pages." These Advertiser Pages let users see all the other ads that the advertiser has run over the past 30 days.
To view a company's Advertiser Page, you'll need to click on the three stacked dots next to an ad. From there, you can view details from Verified Advertisers, such as their legal business name and location. More interestingly, you can also click to "See more ads by this advertiser."

From here, you can see all the ads that the advertiser has been running over the past 30 days. You can even filter these results between text, image, and video ads.

This new tool is designed to offer more transparency to Google's users, but it has amazing potential to help existing advertisers spy on their competition as well!
Truly compete in 2023:
Speaking of competitors, we know the search ad space gets more and more competitive every year, so arm yourself to stand out above the rest with these posts:
6. Automotive gets a new ad type
The past two years have forced several industries to constantly adjust their strategies as supply chain issues, pandemic restrictions, and economic turbulence continue to upend our lives. While some changes to Google Ads have felt more like salt on the wound, there are some that have been positive. For example, back in March at NADA, Google introduced Vehicle Listing Ads to help car dealerships highlight the new and used cars they had on their lot.
Similar to a Local Inventory Ad on Google, this new Vehicle Listings Ad is featured prominently at the top of the SERP and highlights the cars' image, price, condition, and location. Microsoft Advertising also introduced a similar Automotive Ad format for local dealerships (as well as a few other ad formats for verticals like finance and travel).

These new Vehicle Listing Ads are managed nearly identically to Shopping Ads and require an active inventory feed to be regularly submitted and approved through Google Merchant Center. Previously, Google Merchant Center had strict policies prohibiting most motor vehicles from their platform.
For economic peace in 2023:
At the end of the day, every industry is experiencing the impact of the pandemic and its economic repercussions. Here are some super helpful posts from LocaliQ to help you navigate economic challenges.
7. New business name and logo ad assets
Businesses often struggle to differentiate themselves on a crowded SERP and sometimes have to defend their own brand name from competitors or other advertisers trying to ride their coat tales illegitimately. Verified advertisers are now getting some protection from Google with new business name and logo ad assets on the SERP.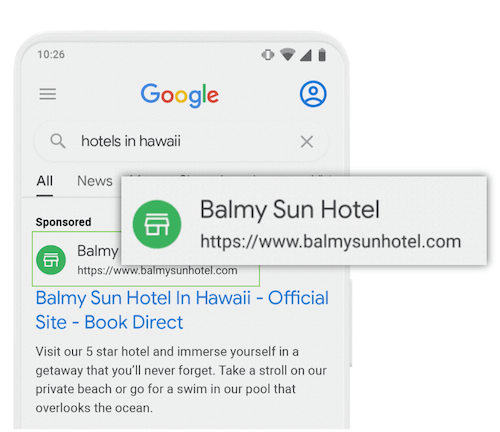 These new assets are exclusively available to verified advertisers. Not only are these new ad assets a visually compelling addition to their ads that should help improve performance, but Google also hopes that its policies for these business name and logo assets help reduce impersonation and fraud. To use these new features, advertisers must complete the verification process with Google.
Additionally, advertisers can only use this feature to highlight their legal business name or a strict match with their domain name. Logos assets must also be prominently displayed and match the verified advertisers' identity.
More asset reads for 2023:
Speaking of assets:
8. New voiceover features for video ads
In part driven by the rapid rise of TikTok and its easily accessible editing features, Google introduced new features for its video ad content this summer. Among the improvements, advertisers can now add a voice-over to their existing YouTube video ads without additional editing. Previously, Google shared that fewer than half of video ads included a voice-over. According to Google's research, including a voice-over in these ads can increase ad recall by 25% and lower the cost per lifted user by 50% compared to the original advertisements.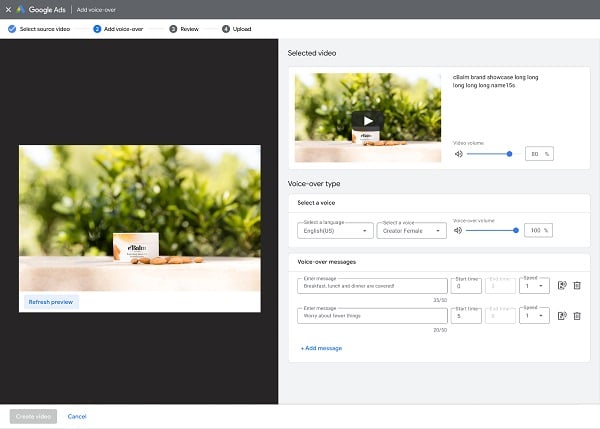 Advertisers can choose eight different voices (four male, four female) for their voice-overs and provide their script, preview, and edit their voice-overs directly within Google Ads without any additional video editing software or video experience.
Turn up the video heat in 2023:
Video marketing gets more popular every year, and Google isn't the only platform helping us to make better video ad content:
9. Audio ads hit YouTube & smart speakers
As streaming content and other OTT services become the norm for most consumers, many advertisers are beginning to pivot their strategy and budget. Google eagerly announced that it'd be meeting this demand on its growing audiences of music and podcast listeners across YouTube earlier this year with its new audio ad campaigns.
This new video campaign subtype is designed for advertisers to reach users while listening to music or podcasts, where highly visual video content wouldn't typically perform well.
Here's an example of an audio ad from Google:
Make your ads speak in 2023:
Google's best practices for Audio Ads recommend using a static image or simple animation and focusing on sound quality, a conversational tone, and a short effective call to action.
To complement this new Audio Ad format, Google also rolled out targeting for new content placements across YouTube, such as Music Mood Lineups and Podcast Lineups, so that advertisers can target their audio ads to the placements where they're most likely to find their target audience listening.
10. A broad match beta test leaves us...uncertain
So there has been a mix of positive and negative changes. This last one we'll leave up to you...
In October, Google launched a limited beta feature that allows advertisers to turn on broad keyword targeting at the campaign level. This is not surprising, given its constant push for broad match plus Smart Bidding, but it was a little scary to see an option with no match types—even if just a beta test.
Is a future with no keyword match types in sight? We don't know. Google has confirmed that keyword match types aren't going anywhere, but Ginny Marvin's statement that "We have nothing else to share at this time" doesn't exactly settle things...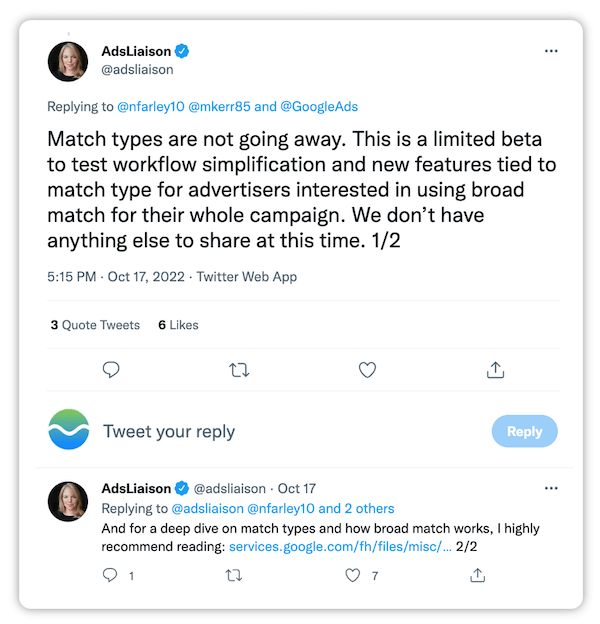 Get up to keyword speed in 2023:
While keyword match types are still going strong, here are some popular reads to help you get the most out of them:
Succeed with PPC in 2023
While changes in the economy and the SERP have given us a run for our money, and while we've lost some noticeable features in Google Ads this year, there have certainly been several welcome additions to our PPC campaigns. We may not be sure what Google has planned for us next year—the only certainty is even more change—but with these tips and resources, you have plenty of ways to succeed in 2023.
Want more news from Google? Read about the new Google Search Generative Experience here.